Postcards from:


Big Bear Lake
Hong Kong China
Bangkok Thailand
Calcutta India
Guwahati India
Shillong India
Kaziranga India
Agartala India
Dhaka Bangladesh
Bodhgaya India
Varanasi India
Agra India
New Delhi India
Kathmandu Nepal
Bangkok Thailand
Xi'an China
Tianshui China
Lanzhou China 1
Urumqi China 1
Turpan China
Korla China


Kuqa China
Aksu China
Kashgar China
Urumqi China 2
Bishkek Kyrgyzstan 1
Cholponata Kyrgyzstan
Balykchy Kyrgyzstan
Bishkek Kyrgyzstan 2
Almaty Kazakhstan 1
Zharkent Kazakhstan 1
Almaty Kazakhstan 2
Zharkent Kazakhstan 2
Korghas China
Yining China
Urumqi China 3
Dunhuang China
Jiayuguan China
Zhang Ye China
Wu Wei China
Lanzhou China 2
Zhongwei China
Yinchuan China
Shanghai China
California USA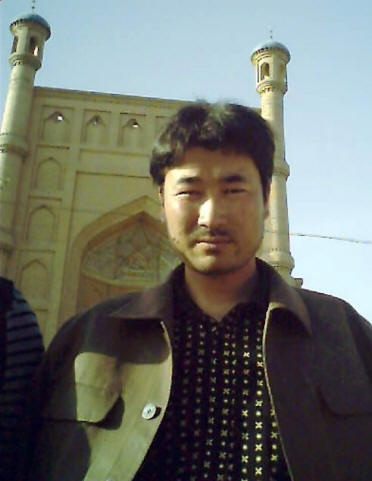 KUQA: Meet Habibulla, a Uygur native of Kuqa now living in Urumqi and making his living driving a cab. His English is perfect and he seemed delighted to be able to use it. He had come back to his home town to meet a girl he discovered on the Internet... object: marriage. Later, I ran into the shy couple sitting on a park bench. He introduced me to the earthy young lady who I imagined would be a great cook.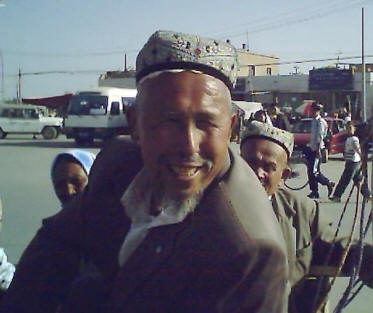 KUQA: Habibulla chatted with this old guy explaining my presence. As attention turned to me I snapped this picture. The guy is a donkey cart driver. Cost of a short "taxi ride" is about six cents... for as many people as can crowd onto the flat cart.
Hello from Kuqa,
Kuqa (pronounced koo-ja) is an interesting small town along the railroad route to Kashgar in the middle of the Taklamakan Desert, or perhaps I should say pair of towns as the "new town" and "old town" are quite separate and distinct. The old town is still much like it has been for centuries and is home to the Uyghur people. New town is what the central Chinese government has promoted and consists mostly of Han Chinese settlers who have created a very modern enclave.
My 200-Yuan ($24) hotel, the Ku Che Qiu Ci Hotel is halfway between the two and also halfway between the two worlds as well. The architecture and facilities look modern, but inside it is obvious third world mentality dominates. Immediately on checking in for my single night layover I spotted an enormous mosquito. Fortunately, this one failed to spot me and I escaped unscathed. But, the size of that sucker kept me alert.
Hot water disappeared after seven PM and still had not made reappearance by 8AM, so no shower. At that early hour the hotel still slumbered, front gate to the parking lot locked and doors to the breakfast room barred. Eventually staff saw me pacing around the door and got fixings for a breakfast underway.
The afternoon I arrived I took my usual exploration walk. After a half hour of wandering, Habibulla approached me wanting to practice his English and offered any assistance I might need. The original people of this entire region are of the Uyghur minority. Habibulla, also a Uyghur is in Kuqa to check out a potential bride he met on the Internet. He is thirty-four. Kuqa is his hometown and he still knows many people, though he now lives near Urumqi making his living driving a cab. His mannerisms quickly put me at ease. He joined me on a city bus for the three kilometers ride over to the old town and walked with me for a while. As he spoke the Uyghur language and obviously felt like "one of them," I too became quickly accepted by the locals. We walked the back streets and visited an important mosque. Finally, he indicated he needed to take care of some business and suggested we use one of the donkey cart taxis to get back to the city bus stop.
What a hoot. He and I and several others climbed onto the flat bed covered with heavy blankets and off we rocked. The driver used a combination of snake hissing sounds, tongue clicks, Uyghur words and a strategic waving of a whip to keep the beast trotting on course. When the five-minute ride ended Habibulla handed the old guy a five jiao note (about six cents), which seemed to make him happy.
Again walking on my own I notice people staring as usual. Every now and then I'll hear an attempt at "hello," often accompanied by hysterical giggling. If the "greeting" came from an aggressive clutch of school kids, I'll sometimes turn abruptly and shout "Nee How" at them! Startled, they always jump back and excitedly chatter among themselves until they figure out the joke. Dinner this evening consisted of five skewers of lamb kabobs and a bottle of local beer consumed at a street table under the watchful eyes of every passerby.
The train onward toward Aksuma and Kashgar left at an inconveniently early hour, but I managed to get up in time to catch it. Short stay; short postcard.
Peace,
Fred L Bellomy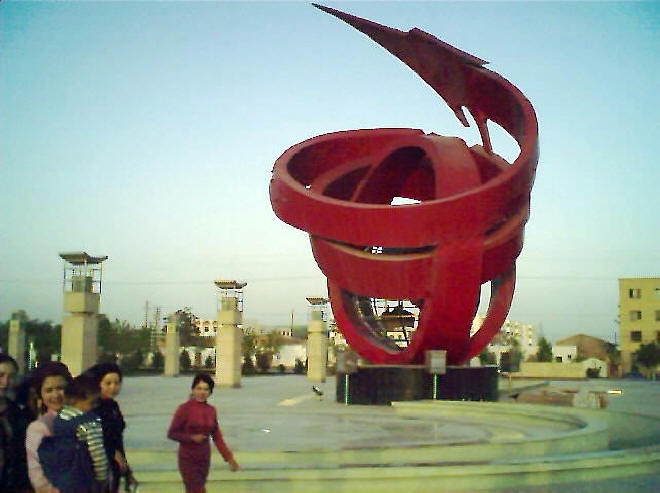 KUQA: This is the major sculpture in the People's Park. Like all Chinese cities it is the focus for all sorts of social activities. As you can see, my presence did not go unnoticed.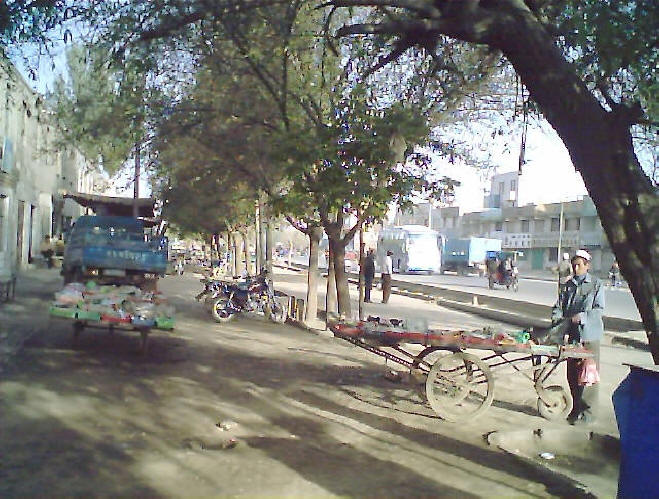 KUQA: The morning I prepared to leave the city I took this picture of a typical street scene. A short time later a #2 bus got me to the train station on my way to Aksu.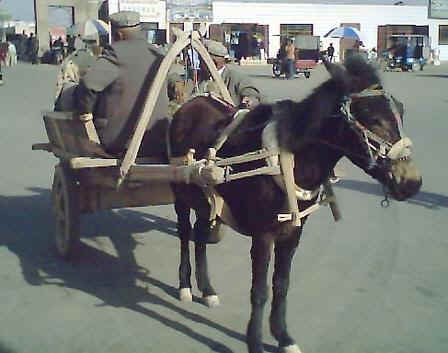 KUQA: The settlement of Kuqa is divided into two parts: the old and new. In the old area people still follow the old ways and donkey carts like this are the primary means of public transportation. The city buses stop where the old area begins. My impromptu guide, Habibulla spoke his native Uygur and made it possible for me to be instantly accepted by the people of the area who are generally wary of strangers.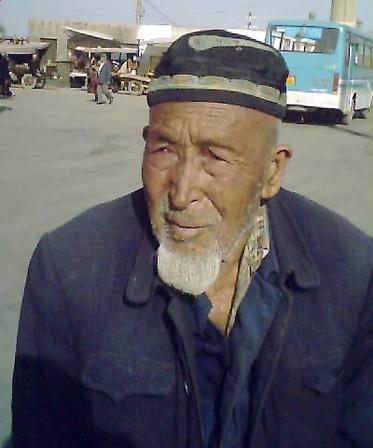 KUQA: My new found friend, Habibulla took me into "old town" where his Uygur countrymen still live as they have for centuries. This old guy is 87 years old, partially blind and still cheerful in the hot sun.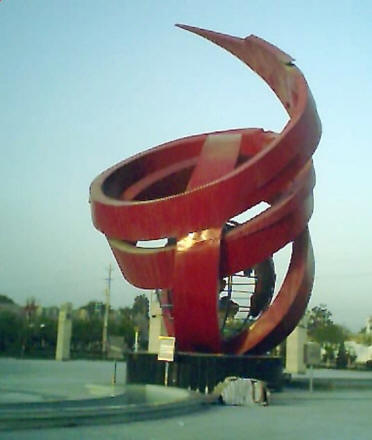 KUQA: This is the major sculpture in the People's Park. Like all Chinese cities it is the focus for all sorts of social activities.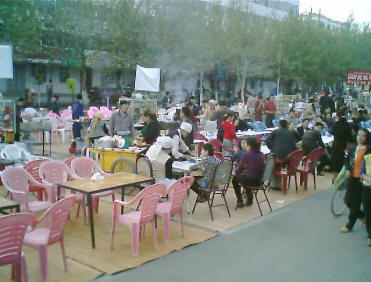 KUQA: Near the People's Park one entire city block is converted into a nightly food bazaar. As I walked along the area several diners motioned me to join them. I snapped this picture instead.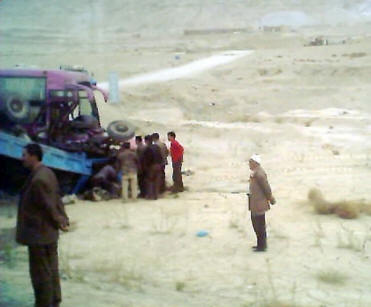 KUQA: We passed this aftermath of a truck-bus head-on collision. Both vehicles sustained massive damage. Someone surely died in the wreck.