G'day mates from Brisbane Australia,
Seven nights in Port Moresby Papua New Guinea and I'd had enough. Not really sure where to go next, Brisbane seemed like it might be a good place to rest and consider options, one of which would be to head back home right away. I'd stopped in Brisbane on the way to PNG and the experience left me feeling like everywhere in this part of the world would be costly... well above my comfort zone. Another passenger waiting for our flight in the PNG airport departure lounge inquired about my destination and when I told her: "East or West... I'm not really sure at this point." her reply puzzled me.
"Ah, the World is your oyster." she smirked. I've heard that expression many times and have assumed from the context without checking that it meant something like: "The world awaits your bidding, anything is possible."
"What does that mean?" I asked.
"You know, I'm not really sure. I think it refers to being rich enough to do anything you want." she replied, wrinkling her nose. So, I looked it up! The quotation is from Shakespeare's The Merry Wives of Windsor and might mean pretty much what she suggested... or something quite different, depending on your interpretation of Shakespeare's words.
A lifetime of penny pinching has made me compulsively frugal, expending enormous amounts of time and energy in shopping for the absolute best value every time a need arises, be it for a hundred dollar hotel room or a one dollar pocket protector. I'll shop for weeks on eBay looking for the comparatively best value computer gadget. Early in life I embraced the axioms: "Watch the pennies and the dollars will take care of themselves." and "A penny saved is a penny earned." So habitual is this behavior I have actually come to truly enjoy the game. Anything else feels sinful and succeeding feels almost sacramental, like a devotional commitment worthy of sainthood! This, mind you, conflicts uncomfortably with my Buddhist beliefs and I struggle with the disturbing dichotomy all the time.
Realistically looking at the number of years I may have yet to live and the size of my retirement savings, almost certainly there is no longer any real need for extreme pecuniarity. However, embracing this reality is easier said than done. Nudging budgetary limitations upward remains a painful exercise even in the face of obviously uglier comfort and safety considerations. Being miserly is the greater virtue as a consequence of being born just as America's Great Depression reached its zenith.
As a kid I remember being amazed by a newspaper story describing a "bag lady" found dead in her cluttered shanty sleeping on a lumpy mattress stuffed with many hundreds of thousands of dollars in cash, a millionaire by today's standards. Now at eighty, I understand the mentality that leads to such irrational hoarding: the future is uncertain and one can never have too much "saved for a rainy day!" Today, with periodic market crashes to remind us of that uncertainty, it is prudent to maintain a big surplus in reserve as insurance should such a catastrophic economic disruption occur again in our lifetime. During the 2008 stock market crash I briefly lost a third of my retirement savings, a somber event when it occurs during our twilight years.
I have always been very happy with the simple Accor IBIS brand business hotels around the world, using them often. So, pre-arrival research led me to book a room at the Brisbane IBIS Budget Airport Hotel, overlooking the word "BUDGET" added to the name this time. Not cheap, but at $109AUD, the least expensive reputable house near the airport which might be needed for an early escape from Australia.
For the first time in my experience an IBIS hotel failed to live up to its reputation. Poor room layout with no storage space, inconvenient location with an entry driveway hidden in an industrial complex pretty much requiring arrival by personal car or taxi, cheap and few amenities, $11 toast or cereal breakfast, closest city bus stop six blocks away and a reception desk open only between 06:00 and 22:00! (After hours arrival requires the use of a credit card activated automated check in machine near the front door.) I stayed there my first two nights in the city. It is the poorest example of the IBIS brand I have ever used. Only a mile or so from the Airport Novotel which is reachable from the airport by the free T-bus, the short walk between the two Accor hotels is confusing.
The Brisbane CBD, by contrast is an exciting, vibrant shopping extravaganza with a pedestrian mall extending several blocks in both directions and a number of major indoor department store complexes. Compared to provincial Darwin, Brisbane is an ultra modern metropolis. Whereas Darwin's central business district served as a favorite hangout for idle Aboriginal people, I saw not a single Aboriginal in Brisbane. What I did see a lot of were girls using their phone cameras as primping mirrors. With the back facing camera selected the display shows their face for cosmetic touch ups. Clever. Many of the snack shops in the shopping centers use a machine to apply a film cover to drink cups after filling, a system I first saw used in China earlier. Virtually spill proof, straws are punched through the membrane for drinking the contents. Convenient and sanitary.
I'd previously visited Brisbane in 1995 while still running a small international computer club, the Oasis Users Group. Much has changed in the intervening twenty years and I remember little of that previous visit. One of our members, Don ? lived there and graciously showed me some of the popular tourist attractions around his town. As a farewell hospitality gesture, he took me to a place where I had an enormous hunk of tasty, tender beef in one of the "best steak houses in the country," the name of which also is lost to memory.
As recently as the second half of last century, selecting a hotel in much of the world required checking to see if the bathroom had hot water. Limited or none could be expected in many of the lower and midrange houses found in the Developing World and such limitations were expected throughout the Third World. The situation today in the budget priced, but great value, YMCA Brisbane George Williams Hotel is different: there is no cold water in the morning when the plumbing is being heavily used! The sink tap supplies warm or hot water, but no cold water... until the faucet has been running for a few minutes, no doubt the result of poor plumbing design. That is a first for me. Mind you, the situation is nothing more than a minor oddity, but it is certainly unexpected in this 3+ star lodge.
The WiFi when connected is fast, but the ISP repeatedly cautions the connection is not secure and the tedious logon routine requires remembering a complicated ID and password good for 24 hours only... and a different one for each device I want to connect! (I've got three!) Otherwise, the room is excellent and I am more than satisfied with what they are providing for $105AUD ($88US)... about 20% less than the nearby $130AUD IBIS Hotel offering comparable quality and amenities. Most hotels in the CBD demand MUCH higher rates!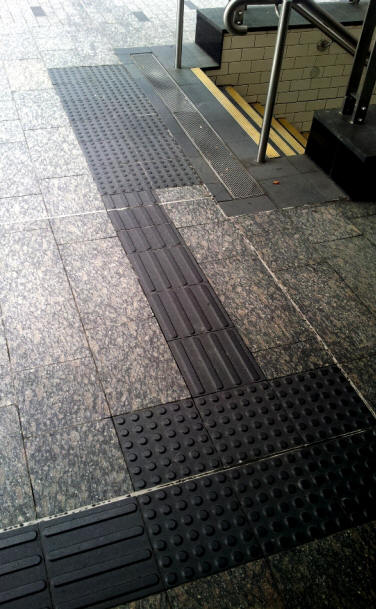 Another first is discovering the function of those bumpy tiles imbedded in concrete sidewalks around the world. The Braille Trail installed throughout and around the Queen Street Mall is provided for the blind. I've always presumed those bumpy patches in sidewalks were merely designs imbedded in the concrete for esthetic reasons. Not so! They are "invisible" walkways for sight impaired pedestrians and here in Brisbane an extensive network of Braille Trails has been installed. I assume the ADA (Americans with Disabilities Act) has issued guidelines for the implementation of such aids in America. Where they exist they must be a real blessing for the sightless.
During breakfast in the hotel dining room yesterday morning around 10AM two men wearing ties at an adjacent table nursing schooners of beer discussed political issues just loud enough so I could hear. The quieter one announced: "You know the true meaning of politics, don't you?" Not waiting for an answer he continued: "'POLI' means many and TICS are those blood sucking insects." The second guy exploded in laughter, causing his abundant red hair to go flying before taking another sip of beer. The hotel restaurant seems to be a popular coffee break venue for office workers around the hotel (Most drinking coffee, not beer!). During that same breakfast two barristers in their black robes passed by the open front of the restaurant carrying their curly white wigs... a reminder that British law is the foundation of Australia law.
Though we share the same language, conversation with the Aussies is next to impossible because of their odd accent, poor diction, rapid speech and my deteriorating hearing. So, there has been very little social interaction with the natives. Probably half of the people on the street are foreigners in any case. Everything feels TOO familiar and at the same time strangely foreign. I'd need to get a big tattoo on some visible part of my body to ever fit in... and learn to enjoy drinking beer at odd times of day. Saturday and Sunday all day are eerily quiet in the central shopping area... like a Sunday morning in the US. More than half the stores are closed both days.
After considering an immediate return to North America I decided to continue west to somewhere in Europe where I could use my accumulating frequent flyer miles to get home; a one way trip is currently only 20,000 miles and I have over 100,000 (business class is only 50,000 so that also is a possibility!). Going this direction means I will now have circumnavigated the globe four times! I chose the flight to Istanbul with the shortest flying time from the budget options hoping the 19 hours layover in Kuala Lumpur could be handled with rest in one of the fancy transit lounges I'd seen on previous stops there.
When I arrived after the first leg in the wee hours I started the investigation of possibilities for getting some real sleep after the ten hour, mostly sleepless flight. The Sama Sama Transit Hotel turned out to be fully booked, but the receptionist suggested I try the Plaza Premium Lounge. The congenial receptionist there informed me they had plenty of ways to make my long wait more comfortable, but no place to really sleep and suggested I try their affiliated Wellness Spa in the same section of the airport departure lounge.
There I met young Hakqum in reception who eagerly described how I might use the system to get some sleep, a shower and food during my nineteen hours in his country. By purchasing the services of the spa I could avail myself of the LazyBoy lounge chair for some nearly horizontal time, get an included half hour back massage, take a shower and have access to the Plaza Premium Lounge where food is served 24 hours a day to registered guests. Very comfortable cushioned chairs, Internet terminals, WiFi access, and a no host bar make waiting less onerous. An announcer calls out boarding times for guests who have registered.
The young kids on the Wellness Spa night shift eagerly offered various incentives to use their currently idle services and the 15% discount plus assurances I could sleep and eat all I wanted for 19 hours by paying the discounted spa fee of $50 convinced me to sign up. That day passed slowly as sleep came in fits and starts and every awakening served as motivation to visit the lounge area where an adequate selection of food sat waiting. The little private bathroom next to the LazyBoy recliner includes a shower with towels and I refreshed myself before relinquishing the little room for another sleepy waiting passenger. For long layovers these lounges are marvelous and a good value considering all you get.
After paying my spa registration fee and dropping my bag in the tiny room I went over to the lounge for some coffee and a bit of food. When I returned several hours later, Siti asked if I was ready for my massage. At first reluctant, she let me know she had been waiting for me since her shift ended at 7:30AM, three hours earlier. So, naturally grateful I let her knead my sore, tired muscles. I'd changed some of my Australian dollars into Malaysian Ringgit for which I discovered I had no need during my short stay in the country, so I gave Siti what I had, about $20. She displayed both surprise and gratitude by my generosity.
The story will continue once I have some time in Istanbul.
Peace,
Fred L Bellomy