Greetings from Las Vegas
Planning for my next, long delayed adventure has been underway for a while: I leave for Bangkok on 12 August. This has been a busy eight months since the discovery of active prostatic neoplasia. Potentially life threatening, the condition allowed me to take full advantage of my Buddhist training. One friend noted how calm I seemed despite all the fuss the condition has entailed. After an initial week of disorientation following the histopathologic findings, I got to work studying everything I could about this very common condition in elderly men. While it certainly can be life threatening left untreated, anyone my age will almost certainly die of something totally unrelated to the neoplastic activity going on down in that little walnut sized organ.
It is amazing how much is now known about the condition and how advanced the treatment technology has become during the past twenty years. As I assessed the options and began the research into appropriate steps to be taken by an eighty year old white male, my attitude soon settled into a firm grasp of the reality that the condition is only rarely eminently life threatening. It definitely is on the long "cause of death" list for men of advanced age and therefore is to be taken seriously! As I have accepted my mortality a long time ago, this particular situation does not come as a surprise. It is a fresh reminder that all any of us ever has is THIS present moment. Nothing ever changes that, though most Western cultures have traditionally taught otherwise!
My first inkling something might be happening with the prostate came with the PSA blood test results included in the very comprehensive "Executive Physical Checkup" I have been getting every year or so at the famous Bumrungrad Hospital in Bangkok. That test revealed a dramatic jump in the level of Prostate Specific Antigen found in my blood: up from around 4ng/ml to more like 14ng/ml during the preceding year. My Thai urologist advised an immediate biopsy to determine if I had the "tiger" or "pussycat" version of the disease. Eighty year old pussycaters usually are just watched with periodic retesting of the PSA levels accompanied by that ever so enjoyable DRE (don't ask).
I debated interrupting my travel plans, but then decided to schedule a retest after eliminating any possible infection my body might be fighting that could have caused the elevated PSA with a course of antibiotic. Pondering options I concluded the antibiotic treatment could just as well be taken while touring the interesting island of Sri Lanka, so I continued with my planned visit to that island nation.
A month later on return to Bangkok, the retest showed an even higher level of the prostate antigen and the possibility of a tiger in my tank prompted new plans to head back home for the biopsy and possible treatments that might be required.
Safely back home, the first task needed to be a survey of available specialists and treatment centers, not only those in my current home town of Las Vegas, but anywhere the expertise might have been highly developed. As there are a lot of options; some controversial and opinions vary quite a lot, the study turned out to be decidedly complex for a finicky scientific type like me. In the end, I settled on a local medical practice, the Las Vegas Urology group which included several urologists and an affiliated radiation treatment center, the Las Vegas Prostate Cancer Center in possession of one of the most advanced image guided radiation therapy machines, the Varian XXX123? (need model number).
Reviewing the biographies of numerous local urologists became problematic as there are so many variables to consider. In the end I chose a fellow University of California at Berkeley graduate as much out of respect for the quality of education delivered by our old alma mater as anything. That turned out to be an excellent choice. I felt an immediate rapport with young Dr. Steven Kurtz and I could see his clinical experience provided the level of expertise I sought plus he displayed a flattering appreciation of my scientific background in physics.
We chatted quite a while about our common knowledge of UC campus life and he made it easy for me to raise peripheral and collateral issues regarding my specific treatment options. In the end, all of his professional judgments corroborated my own research findings. As he described the sequence of procedures to be undertaken he put a naturally optimistic spin on each bit of information presented.
After the twelve core biopsy results came back from the pathologist, he phoned me with the news that two of the cores had exhibited "tiger" level activity: Gleason 4+3 and 3+4, meaning aggressive treatment is indicated immediately. That treatment involved a combination of androgen deprivation therapy and a course of forty-four image guided radiation treatments starting as soon as arrangements could be made with a treatment center.
There are several radiation treatment centers in the Las Vegas area, but one is affiliated with the Las Vegas Urology practice of which Dr Kurtz is a part. The chemical treatment involved injecting a small blob of time release material into the belly fat around my waist. The pea sized lump slowly dissolves releasing a measured amount of the medicine for about 4-6 months, reducing the amount of testosterone produced by my body and slowing rapid cell division in the prostate.
To assist with the radiation targeting, Kurtz injected two tiny fiducial gold coils into precisely specified locations in the prostate. As a precaution, he also ordered a whole body bone scan to insure no unlikely metastases had occurred ... and to provide a baseline measurement for possible future comparison should that become necessary. The bones showed no invasions.
After all those preparations the real fun began, and continued daily for nine weeks, with no treatment during holidays or weekends. The regimen means I'm stuck at home for a couple months... and must keep my body prepared for the morning radiation treatments. Foods that cause gas must be avoided, I must stay hydrated AND must show up with a just barely full bladder... the hardest part of the preparation! Probably most important, I must continue my regular vigorous daily exercise.
"When life deals you a lemon, make lemon aid!" the old saying goes. Limitations on my travel options meant I could enjoy one of my other hobbies: education! I'm a knowledge omnivore. I have an enormous collection of university courses on DVD bought cheaply on eBay. For many years I've been working my way through the titles, generally emphasizing subjects selected by whim. I soon settled into a routine: eat that special diet, pee on arising each morning, drink an espresso cup of coffee and watch the next lesson of the current Great Courses... initially starting with the medical courses not previously completed... and finally, at precisely 08:30 drink the large 12 once glass of water to insure just the right amount of fluid in my bladder at 09:15 when the radiation treatments would rejoice upon finding bladder tissues distended exactly the right amount and I would rejoice at not feeling a painful urgency to heed the call of nature.
Here are the Teaching Company courses completed during those several months of cooperating with the medical establishment:
- What Science Knows about Cancer
- The Science of Natural Healing
- Lifelong Health: Achieving Optimum Well-Being at Any Age
- History of Science: 1700–1900
- Big History: The Big Bang, Life on Earth, and the Rise of Humanity
- Origins of Life
- Cosmology: The History and Nature of Our Universe
- Black Holes Explained
- Dark Matter, Dark Energy: The Dark Side of the Universe
- Understanding Complexity
- Mysteries of the Microscopic World
- Great Minds of the Eastern Intellectual Tradition
- Great American Bestsellers: The Books That Shaped America
- Emerson, Thoreau, and the Transcendentalist Movement
- The World's Greatest Geological Wonders: 36 Spectacular Sites
- Lost Worlds of South America
- London: A Short History of the Greatest City in the Western World
- Great Tours: Experiencing Medieval Europe
- Great Tours: Greece and Turkey, from Athens to Istanbul
- Espionage and Covert Operations: A Global History
- Trails of Evidence: How Forensic Science Works
- How Conversation Works: 6 Lessons for Better Communication
My neighbor, Winda Sholes with whom I frequently walk after Sunday Brunches at the Red Rock Resort and Casino has been hinting she would enjoy traveling like I do, but would prefer to have a guide for her first experience. Even after repeated descriptions of my bizarre travel idiosyncrasies she persisted with her hints for an invitation. Focused on all the enjoyable conversations we have had over the years, I imagined how her presence might add a welcome dimension to at least a short portion of my next moderately tame adventure. So, I agreed and helped her start the involved process of preparing for travel through foreign countries for the first time. Her enthusiasm became contagious and I actually began to look forward to her arrival in Bangkok for a two week exploration of Thailand and Vietnam. She repeated her observation that with all my medical challenges it would not be a bad idea if someone were around for a while to keep an eye on my "health." No argument there.
Peace,
Fred L Bellomy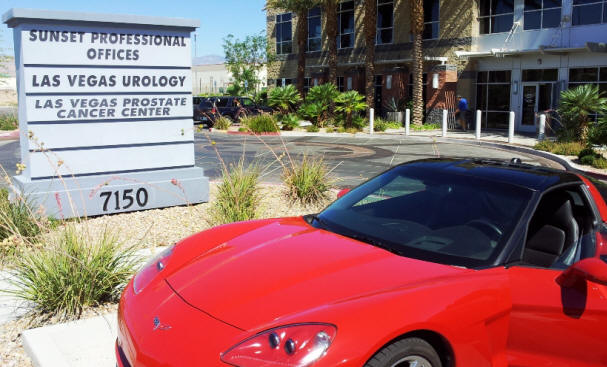 Las Vegas 2014: This is the entrance to the Las Vegas Prostate Cancer Center treatment clinic where I arrived every weekday morning at 09:15 for my 15 minute radiation treatment.