Hello from Spain,
Across the channel from Tangier Morocco by ferry and I am now back in the "real world." Not that Morocco is anything like Third World. It is quite European in many respects. But, the overall feeling is Arabic. Spain on the other hand is so much like Southern California it is easy to forget I am still a half a world away from home.
If you listen carefully you may think you can hear the clicking of castanets or the sounds of someone crunching on a Spanish taco. But you'd be wrong; it's my teeth chattering so loudly the joyous jingle of festive Christmas bells here in Salamanca is hard to hear. It is that cold. Incidentally, I've seen not a single taco in Spain, probably because it is a Mexican concoction.
My "Christmas" dinner at the Mediterranea la Cocina cafe/bar (On most nights it reminds me of the bar in the Frazer TV series) consisted of sopa de pescado, five fat lamb chops, vegetables, vino de copa (lots of cheap great table wine) and Cream Caramel for desert. No dry turkey with sour cranberry sauce for me... Perhaps another five parties dined while I ate my meal. Yesterday a light snow blanketed the entire area, transforming this ancient city of countless churches, high walls and narrow walkways into a fluffy fairyland.
Worldwide, it's been a bad year for Santa Claus. In Demra Turkey old Saint Nick's church is falling down with funds unavailable for needed repairs. Here in Spain, they call him Noel Papa and have slowly been making him irrelevant since the 1990's. To be fair, I have seen a few old bewhiskered guys in red suits trying to be jolly around the shopping areas. But for the most part, gift giving is now delayed until 6 January, the day associated with the three legendary gift bearing "wise men." Not a bad idea to separate the commercial aspects of the season from the spiritual. I'm waiting to see what it does to the annual after Christmas sales... Grandparents are likely to give the kids small gifts for Christmas morning, I'm told, but that's it.
But, there I go again, getting ahead of myself. Crossing the Straits of Gibraltar from Morocco took about two hours, as we had to go all the way to Algeciras on the Spanish side. Closer by one hour, Tarifa is not an international port of entry. My first afternoon in Spain found me in lovely Seville. One night there and then on up to Madrid (My photos ) where I familiarized myself with the city for eight days until my baby sister arrived. Two full days were spent riding the double decked tourists bus around three routes, getting off occasionally to walk a museum or shop in one of the many high fashion shopping malls.
In the middle of the Madrid is Retiro Park, large and full of attractions, where I spent another of the days. Walking a leaf-strewn lawn at one point I stooped to pick up a Chestnut, then discovered many hiding under the light cover of leaves. In the old days people ground them into a flower I read, from which they made a satisfying bread.
After my sister's arrival we spent another three days in Madrid with a day trip over to the Escorial Monastery (My photos ) before jumping on the one hour train South to Toledo (My photos ) After two days of sightseeing in places infamous for some of the most brutal acts committed in the name of religion during the Inquisition, we went back to Madrid for two more days prior to her departure for the U.S.
Throughout the parts of Spain I've visited during the Christmas shopping frenzy, I have observed a number of rituals somewhat different from those seen in America. Kids strap Halloween masks to their faces; adults cover their natural hair with tinsel "wigs," rebellious teenagers set off loud firecrackers and everyone waves lighted sparklers around like it is the Fourth of July in Wyoming.
The main shopping districts are mobbed with happy celebrants, street musicians, mimes, hit-and-run street hawkers playing tag with cops only half heartedly trying to chase them away from wherever they have settled for the moment.
The game is quite amusing, actually. African, gypsy, and South American foreigners unfold their "table clothes" and spread out whatever merchandise they have been carrying in them. Everyone watches for the police who make frequent sweeps of the main shopping malls... occasionally catching one of the illicit merchants who failed to jump fast enough, detaining him/her and confiscating their stock of merchandise. The police obviously don't like the job and only make theatrical attempts to stop the illegal street selling. I watched the expressions on one policeman's face as he first screwed it up to "look" mean for his obligatory argument with one big black guy scrambling to get all his stock of CD's back into a makeshift bag, and then relaxed in resignation finally grinning as he noticed my observance of the whole farce.
During the Christmas shopping season downtown Madrid is mobbed. The festive frenzy is not unpleasant. The stores are full of (American!) Christmas music and the malls host street musicians featuring familiar carols. People wear Santa caps, some with flashing red lights. Most women wear the furs of dead animals and men commonly wear black leather jackets (also of dead animals, as I recall). Young lovers passionately kiss anywhere a hormone flood strikes until they must be starved for air, oblivious to the throngs of people bumping their way around them. On the mall smells of cotton candy mingles with those of popcorn and other sweets.
Twice I witnessed police checking the papers of young black men, once while his (white) companions watched on in obvious disgust. When the cops had distanced themselves the irate college age group yelled obscenities at the retreating policemen. Another time I saw police chase and arrest a black man. Spain has a severe illegal alien problem: TV news reports cover successful and unsuccessful attempts by boatloads of Africans to sneak into Spain across the narrow Straits of Gibraltar every single day! Those who don't make it wash up on the shores of southern Spain creating a continuing daily health and corpse disposal problem.
A lot has changed in the year I have been away from western civilization. Most of the computer displays on sale here are flat and a lot cheaper than they were a year ago. Cyber cafes in Madrid are extraordinary: super fast, cheap ($1.10/hr) and offering large flat displays. Several have opened with nearly a hundred terminal and their own gateways to the Internet. High definition TV's with wide screens are featured in the entertainment sections of all department stores.
Twenty-five years ago during my previous visit to Madrid, gypsy kids in traditional dress buzzed around tourists creating confusion accompanied by some rather blatant pick-pocketing attempts. The colorful costumes and harassment are gone, but I did witness the new version of the old game. This time a well-dressed young woman of dark non-Castilian ethnicity approached an obvious camera toting tourist, waving a map and jabbering Spanish at the confused young Japanese girl. Eventually the two were standing so that the map covered the tourist's large handbag. After some jostling, the "gypsy" girl abruptly turned and dashed off leaving the victim checking her bag.
The gypsy moved quickly in the same direction I had been walking and dashed into a cafe. I lingered and now curious, followed her into the cafe. There she sat at the cleared table closest to the door with another girl about the same age and ethnicity, talking and examining something at the edge of the table. As I ordered my coffee I noticed the two furtively glancing in my direction. In the 60 seconds during which I became distracted with paying my bill, the pair vanished... no doubt along with what ever the tourist missed from her bag.
A fine commercial site covering all of Spain is here. ...worth a look.
After my sister left I bused up to Salamanca (My photos ) to wait out the holiday lull. Dead week here in this university town is invigorating as well as entertaining. The city hosts throngs of tourists even in the cold winter months, so plenty of the stores and cafes are open... even on Christmas day. When I leave here in a few days I'll be heading on over to the seaside city of Porto in Portugal.
Being in Morocco during the Muslim lunar month of Ramadan, gave me time to think a lot about the Prophet of Islam and how the period commemorates Mohammed's fasting while he repeated the words Allah announced to the angle Gabriel who then transferred them silently to him, words which were to become the text of the Koran. Presumably the fasting encourages devout Muslims to do the same, thus reinforcing their faith.
Here in Catholic Spain this month there is a preoccupation with the symbols of Christ's birth, of course. Displaying a multitude of crèches, organizations from banks to museums keep the legends of Christianity's origin in front of the faithful here. As I did while the Muslims celebrated the birth of their religion, I am again doing while the Christians commemorate the dawning of their faith. Both experiences warm my soul and provide insights into the kind of brain Evolution has selected for us.
With this postcard I send my wishes for a joyful, meaningful and spiritual holiday season where ever you are. Merry Christmas, Happy Hanukkah (a little late, I know), happy dieting for all my Muslim friends who gained weight from all that recent "fasting!" during Ramadan, and a prosperous new year for all the rest of you enjoying the secularity of it all.
Peace
Fred L Bellomy
25 December 2001
PS: Friends in Colorado sent me the following link showing a picture of the earth at night from the space station. Compare the African continent with most of the areas in the northern hemisphere to see the disparity between energy usage north and south. It's a fascinating picture. F
PPS: The little PenCam I have been using on this trip is now obsolete! The company has developed several new models in similar packages, the best of which is the PenCam 400. This little devil boasts 400 VGA resolution images compressed with the JPEG technology all inside the camera. However, I now spend about an hour processing 50-80 photos, so 400 may take all day! Hmm... Never the less, I can hardly wait to get my hands on the new version.
PPPS: A few more lessons learned during my year of unorthodox travel.
Reliable scheduled transportation by and large is a luxury reserved for developed countries in the northern hemisphere. One can always get from one place to another anywhere in Africa with enough patience and perseverance, discovering the secrets of it is often daunting. Much travel negotiation is not for the faint of heart outside the major capital cities.
A full sized bar of bath soap is a sensible investment for hotel stays of more than a single night. Such a cheap investment increases the joy of a shower even in most first class hotels and makes washing clothes each evening practical. The laundry services of many hotels are outrageously expensive and waiting for clothes to be returned can complicate departure planning.
Traveling in the developing world with contact lenses presents occasional problems, but all are easily solvable. Sealed bottled water makes absolute cleanliness possible and cleaning/storage solutions can be obtained with delays of a few days at most anywhere in the bush.
Away from the major cities in east/west/central Africa white skin actually does denote wealth. The poorest white person is almost always far richer than the wealthiest black person in a village. The range of reaction to this reality runs the spectrum from awe to envy. Perhaps more important, poverty does not equate with lives devoid of abundant joy; preoccupation with those in more affluent circumstances does.
PPPPS: More thoughts about smokers in Spain:
I have been a militant anti-smoking advocate for decades. A smoking friend recently castigated me for my fanatical attitudes on the subject: "You are as bad as those religious fanatics you are always condemning." She is right, of course... just can't help myself.
About one in three adults in Spain smokes, but that third must all be on the streets of Madrid. In that city everyone smokes in public places. The lack of concern for the adverse health effects on others is quite severe there. These "suicide smokers," like their terrorist counterparts, unleash their stealthy toxins in crowded places... including all the posted NO FUMAR (No smoking!) areas... apparently oblivious to the ultimately lethal effects on innocent civilians around them. While their actions result in hastened death for some of those innocents, we would never brand them killers, would we? Why not? Are they innocent by reason of insanity? Ignorance of the law? Or, is merely indirectly contributing to the untimely death of another person too minor an offense to prosecute? Do we have different criteria of culpability for suicide bombers and suicide smokers? The smokers certainly cause infinitely more dying than the terrorists of our world!
I met the manager of a Burger King Restaurant in Madrid and pointed out all the smokers in his non-smoking section that day. The next time I visited the store his security guard made it clear they now were enforcing the posted health rules. Score one point for our side. All the now unemployed anti-smoking activists in California might consider immigrating to Spain. The Spanish children sure could use some help, not to mention the minority of health conscious adults I watched quietly avoiding the smokiest places in silence.
Ah hum... I don't seem to have any place around here to store my soapbox. Oh well, I don't need it all that often any more. FB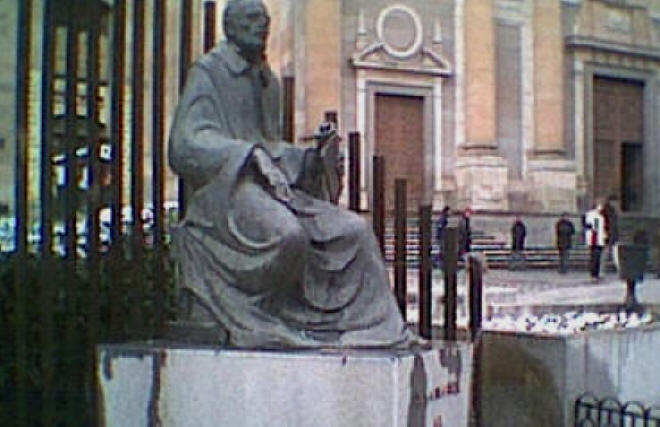 Salamanca Spain: Inside the main shopping areas of the old town. A statue of the patron saint of Salamanca has been erected on one of the traffic islands in the old city.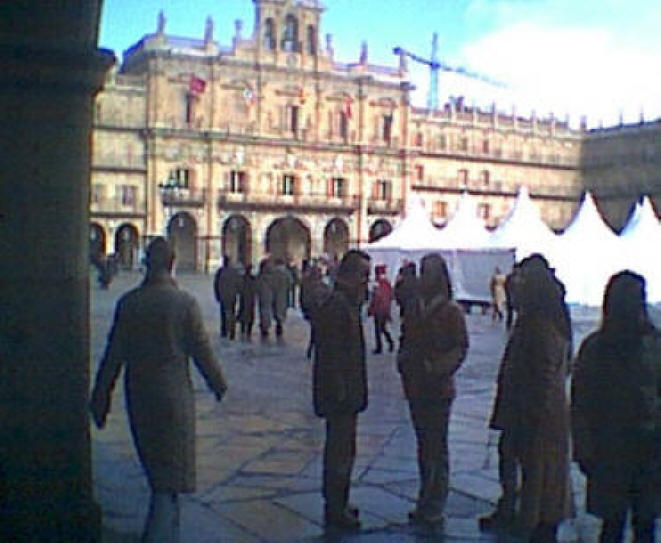 Salamanca Spain: Inside the Plaza Mayor shopping area of the old town. This area becomes crowded with people socializing during the late evening hours... everyday, even Christmas eve.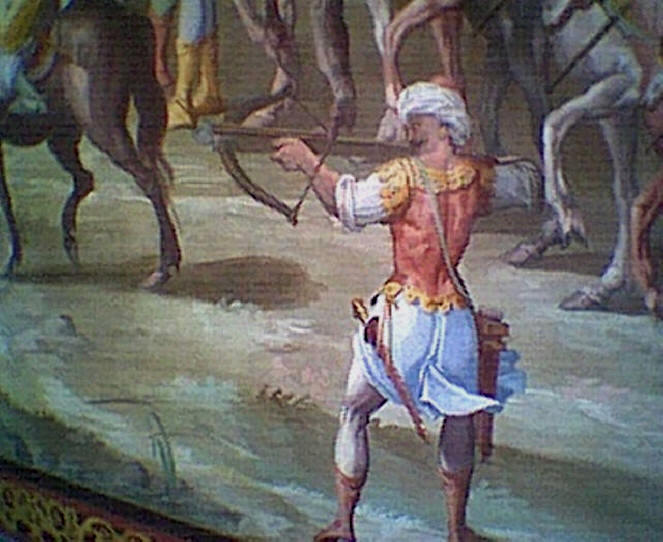 El Escorial Spain: A detail in one of the large murals inside the monastery.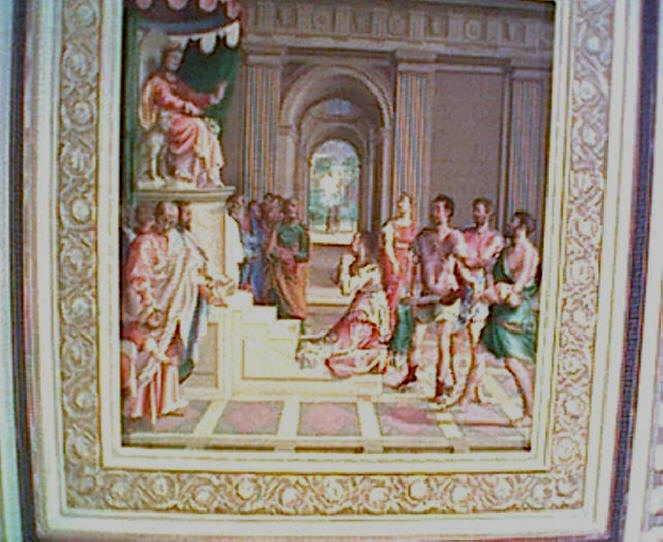 El Escorial Spain: One of the many illustrated ceilings in the El Escorial.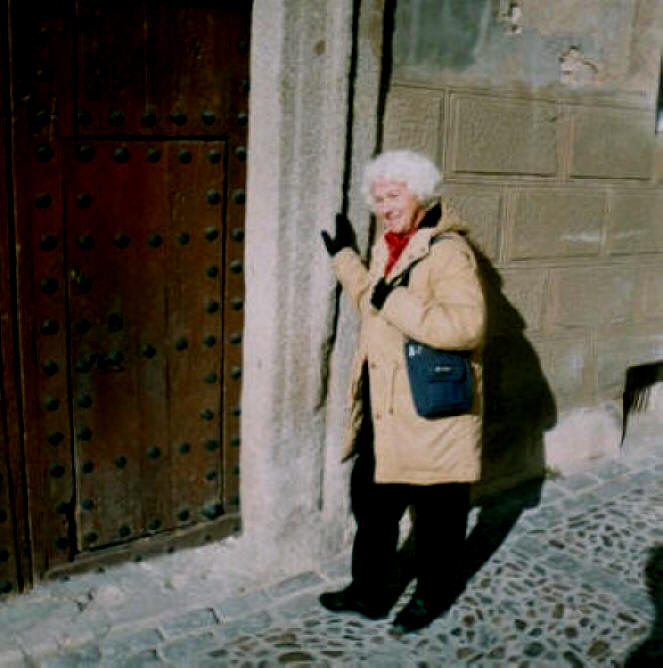 Toledo Spain: This old door is typical of many seen on homes along the alleyways of the old city.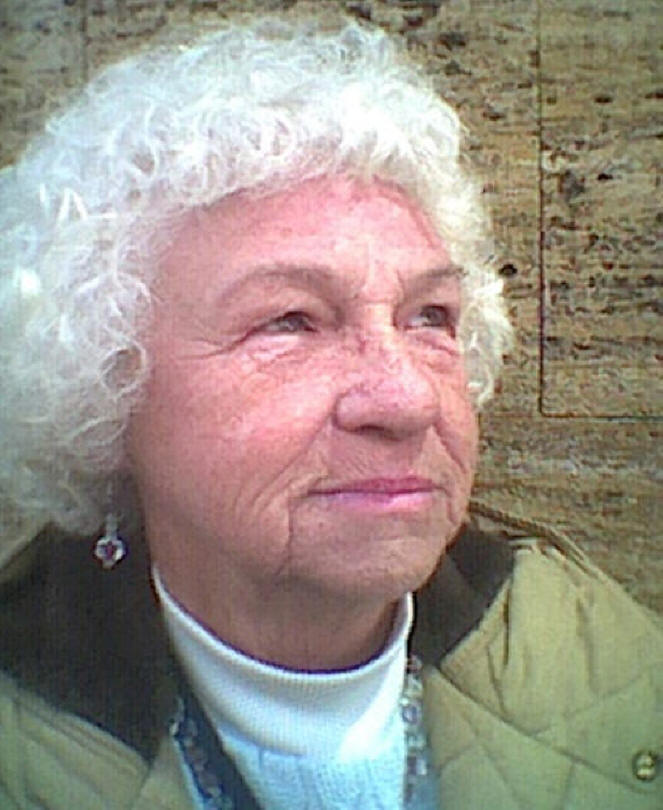 Madrid Spain: My sister, Joyce Carol Bellomy Barney Carson at the monument in Plaza de Espania. This is the last time we spent time together before she died from lung cancer exacerbated by cigarette smoking and an irascible personality.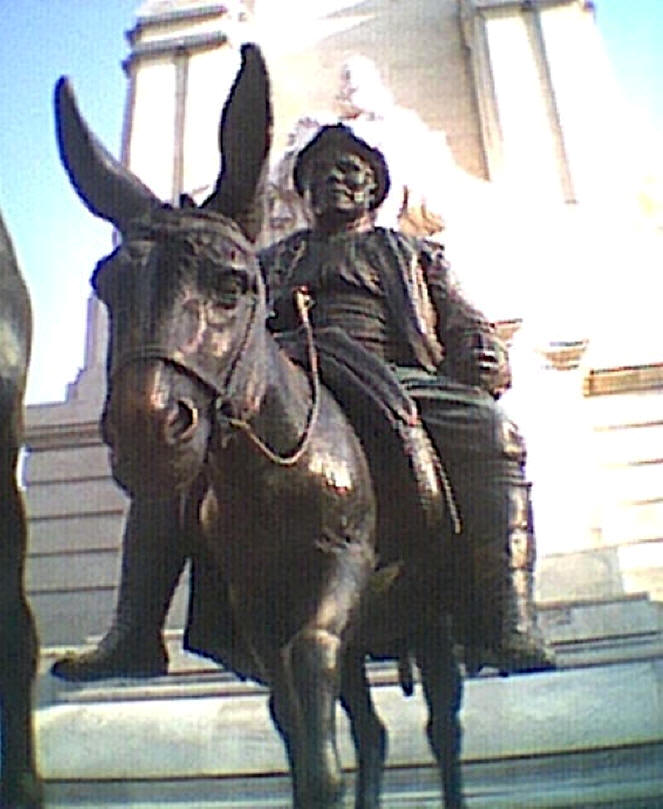 Madrid Spain: Monument in the Plaza de Espania.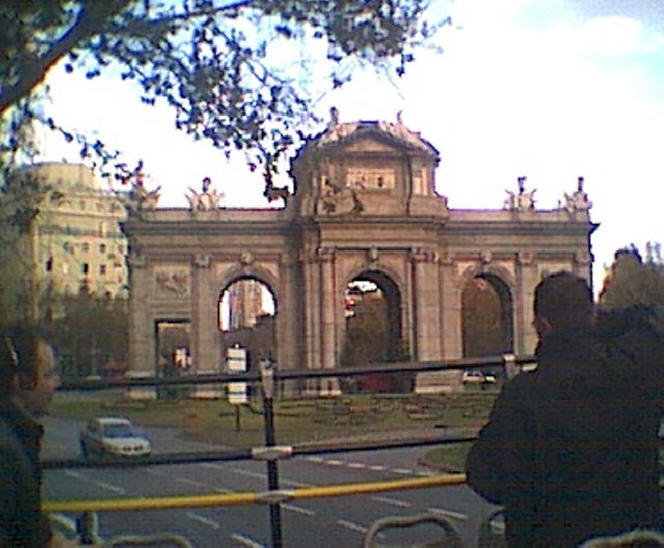 Madrid Spain: Monument "gazebo" in Retiro Park near downtown Madrid.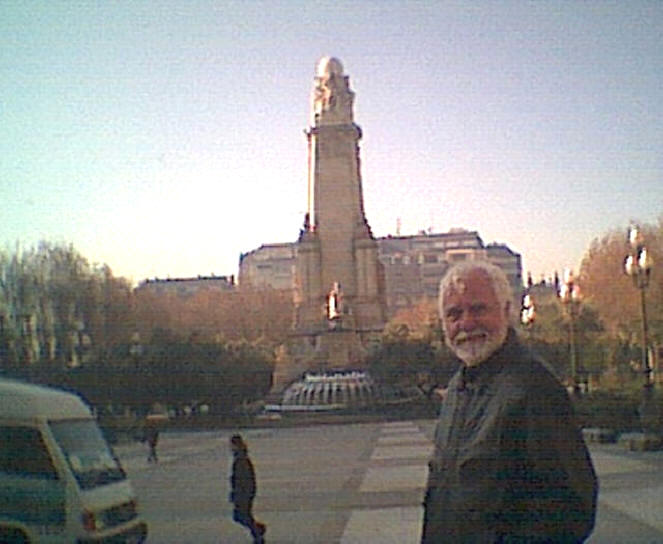 Madrid Spain: Monument in the Plaza de Espania. It is amazing how much I look like my brother, Don in this shot.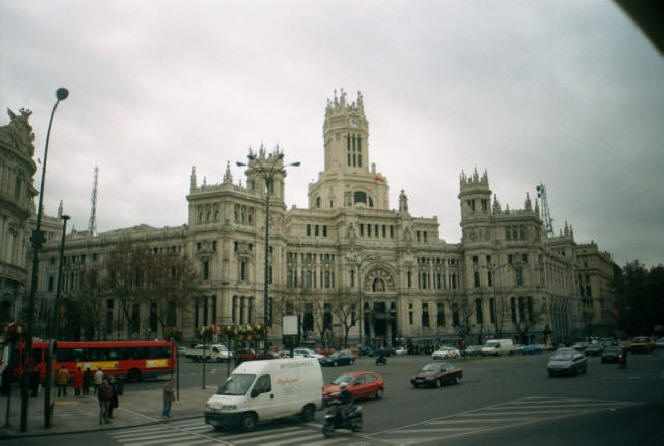 Madrid Spain: Government building as seen from the tourist bus.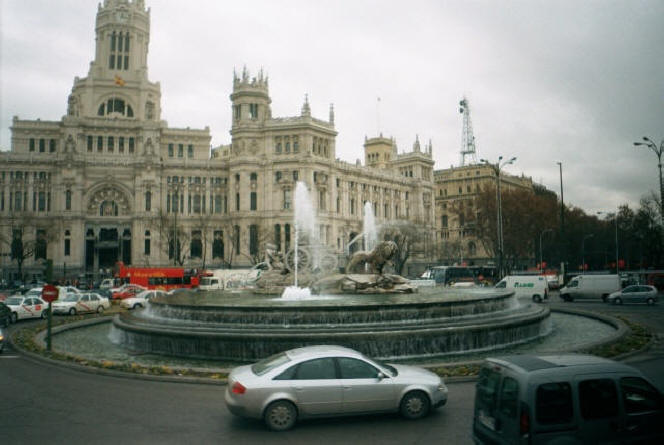 Madrid Spain: Fountain in the middle of a round-about near a government building as seen from the tourist bus.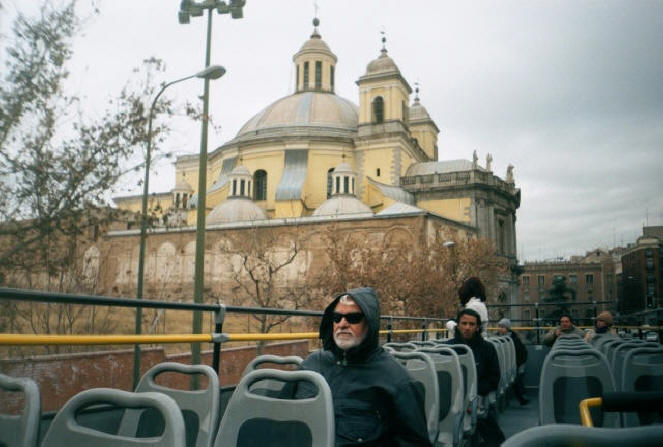 Madrid Spain: Author enjoying the city sights from the upper observation deck of the tourist bus.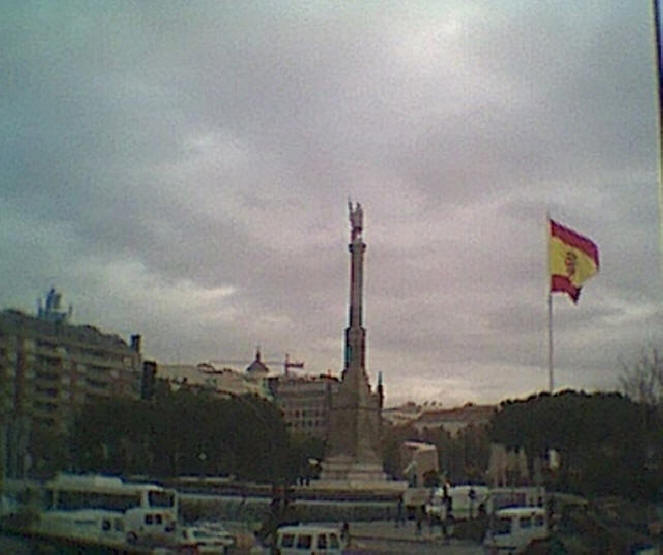 Madrid Spain: Monument to Christopher Columbus, the Portuguese explorer sponsored by the Queen of Spain in 1492.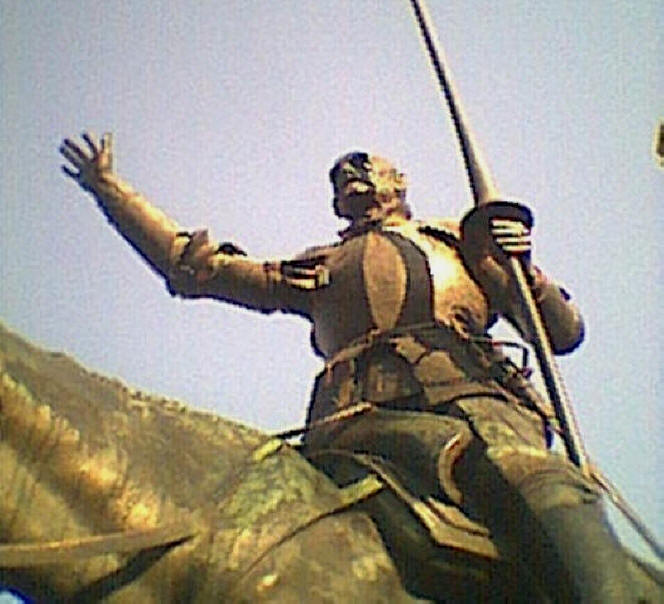 Madrid Spain: Monument in the Plaza de Espania.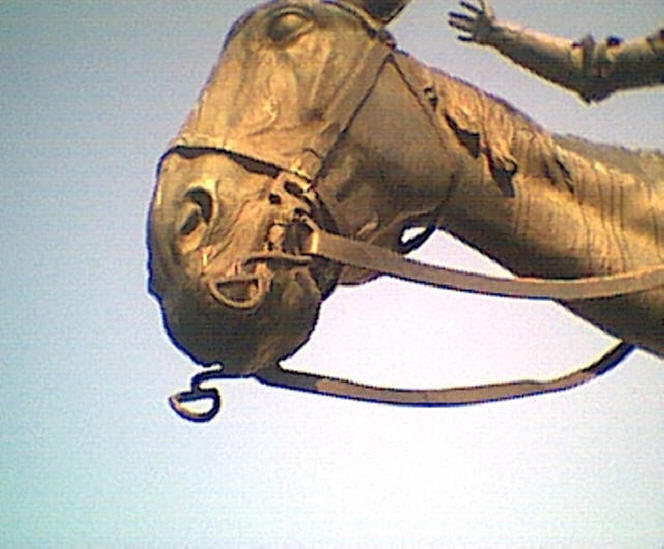 Madrid Spain: Monument in the Plaza de Espania. Detail of the horse.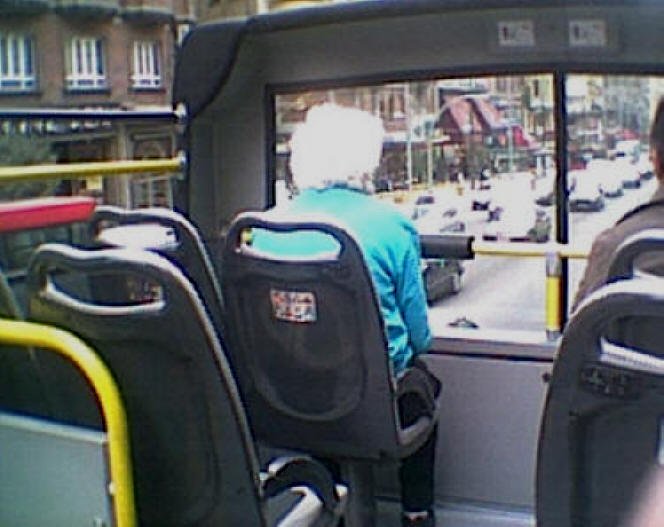 Madrid Spain: View from the upper observation deck of the tourist bus prowling the city on three routes. That's my sister sitting up where it is warmer.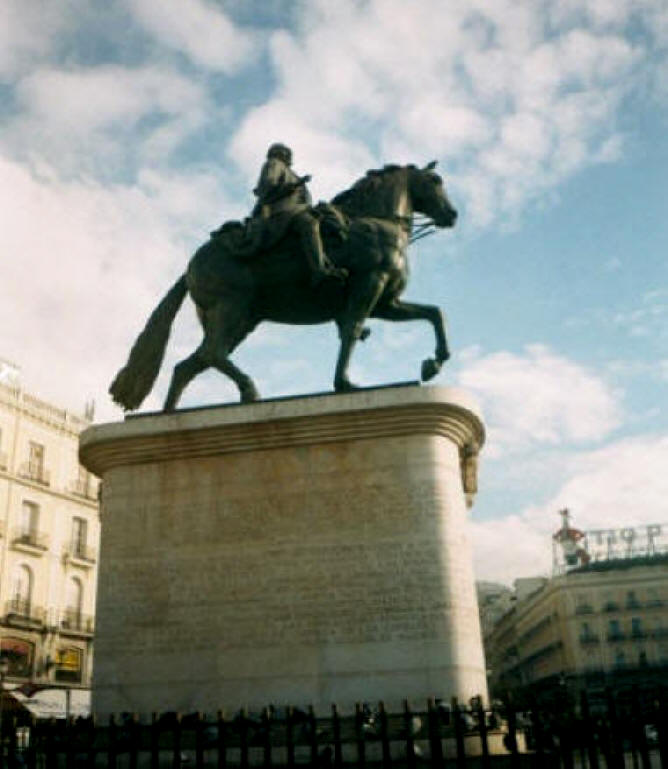 Madrid Spain: Another of the iconic monuments often used as a meeting point near the center of the city.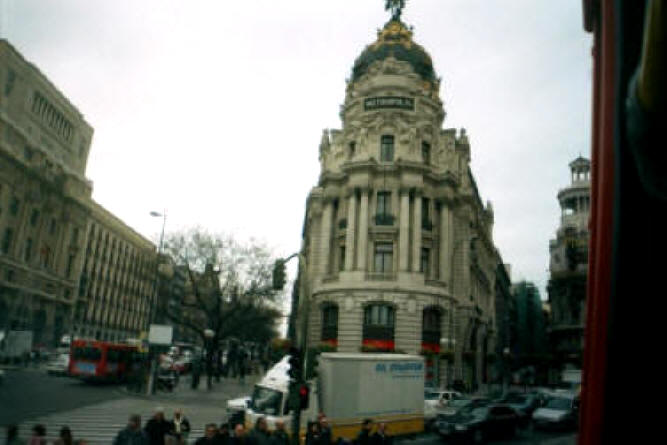 Madrid Spain: View from the upper observation deck of the tourist bus prowling the city on three routes.