21 January 2002
Hello from "the land of the free, the home of the brave."
For the curious among my loyal African "postcard" readers, I did make it back safely to the U.S. After several messages from concerned friends, I realize there might be others following my journeys that also crave closure.
As I look back on my foolhardy antics of the past year, I cannot help but read new meaning into those words from The Star Spangled Banner, America's national anthem. How fortunate I am to be an American; how American it is to be fortunate. Free spirits like me overrun the neighborhoods of America and their relative affluence, by world standards, makes it possible for them to do frivolous things unthinkable in most of the towns and villages I visited throughout Africa last year.
Immediately after returning to the developed world, I found myself overwhelmed by the hemispheric contrasts of complexity, choices, and affluence. Hectic and anxious, I began paying unfamiliar attention to little things like choosing among a dozen brands of shaving razors, preoccupied with selecting among so many choices. Only a few weeks ago, my concerns naturally focused on finding rather than choosing. If I were asked to compare Africa and America with single words, it would be "simplicity" and "complexity."
America's technology and economic prowess are the envy of Africans. Americans are admired, viewed with awe, expected to provide solutions to every African ill… personal and national. Still, I have found populations in both places are pretty much the same in their basic human traits. Small fractions of humanity anywhere will prey on the vulnerable; small fractions are exceptionally generous, altruistic, even saintly. Most are like the rest of us, just regular folks with unpredictable talents and foibles.
As we approached the Miami tarmac, I wondered how much life in my country had changed as a result of the 11 September terrorist attacks a few months earlier. Immediately upon disembarking I noticed the American flags. The last time I saw so many flags displayed publicly, American Independence Day calibrations were in full swing. The Stars and Stripes were everywhere: on patriotic posters in the airline lobbies, on luggage coming and going, on tee-shirts, in windows along the roads, from the antennae and on the bumpers of cars; and even some in the gutters lost and forgotten. The nationalist fervor remains palpable.
But there is something else, too: people going out of their way to be nice to one another. Traffic pauses atypically to let other vehicles merge into the stream without the usual jostling, and obvious strangers smiling and greeting one another like long lost friends recently reunited. Apparently the 9/11 tragedies have made many of us realize how much we need one another… or, is it just the way I see things that has changed?
My meandering track home took me through Miami, Orlando, Los Angeles, Big Bear Lake, and Santa Barbara. In a couple weeks it will be back up to Big Bear Lake for a few months of solitude and quiet work. At the moment I am hunkered down sharing a hiking friend's house in Santa Barbara, conveniently located only blocks from the Wake Adult Education campus where I monopolize one of their free Computer-Lab terminals and have access to the Internet. My own new 2.0 Ghz P4 machine still sits isolated from the rest of the world, but it is FAST. Windows XP is a delight. The newest PenCam 400 arrived last week and I am still marveling at its extraordinary XGA resolution and enormous 400 image capacity. Battery life of only one full photo session appears to be its main limitation.
Since my last postcard from Portugal, drifting back to Southern California has been relatively tame. After a few more days in Madrid and numerous conversations with American Airline representatives regarding my cancelled reservation on the recently defunct Sabina Airline, they finally found me a return flight by way of Miami. Perfect. I've been longing to visit Walt Disney's Epcot Center for decades and Sabina's misfortune made it possible.
Epcot is truly wonderful, though a mere crust of Walt's original pie-in-the-sky dream. One of the four kingdoms of Disney World, there is just enough forward looking technology to make the place much more than an amusement park. To my surprise, the Animal Kingdom far exceeded my expectations. The featured African Safari is better than some of the game drives I took while exploring the real Dark Continent. The rest of the Orlando theme parks are pretty much like Disneyland in Anaheim California or Paris France or Tokyo Japan. I'm sure the same grubby set of plans served the Magic Kingdom construction crews in all four locations.
The flight to Los Angeles on 21 January got me back in the vicinity of where "home" has been for most of my life. An un-crowded train and buses whisked me back up the hill... no need to buy two seats for safety and comfort on these. The tiny cramped apartment where I've stored all my stuff in Big Bear felt like a palace after some of the "make do" lodgings I enjoyed this past year. The ancient Vette started instantly; one tire had lost its oomph, but a little mountain air fixed that. A week after arriving, I finally finished reading through all the mail and managed to get the few problems that had accumulated, at least prioritized.
Located near Los Angeles high in the San Bernardino Mountains, Big Bear Lake in the winter could be paradise for penguins... skiers flock there for the celebrated slippery slopes. My initial brief stop in Big Bear Lake gave me a chance to become reacquainted with that frigid conical ice-cube factory. January icicles hanging from the eaves sometimes grow seven feet in length. After Africa, I found it rather chilly... 10 degrees Fahrenheit one night... very freezing. Even cold Spain felt warm by comparison.
From my perspective, this adventure is not over. After the initial week in Big Bear Lake, I'm now enjoying some of the amazing Adult Education programs offered each semester in Santa Barbara and renewing old friendships. Returning alive from such a lengthy and unpredictable adventure has produced a brief period of minor celebrity status with many invitations to lunches, parties and coffees. It seems that almost everyone wants to hear a bit about about places they would never dream of visiting themselves. Of course, they might also just want to get a close, first hand look at a certified idiot. Either way, it has been an enjoyable and interesting period for me.
My piles of notes, journals, records, and reference materials are waiting to be turned into something coherent. Cleaning up the travelogue will put me well on the path to creating what I hope will be both a unique and interesting personal commentary on my experiences in Africa. Already I have hypertexturized the postcards and produced a story freer of the disjointedness, which characterized the original missives sent from the field. By the time you get this I will have put everything together with navigation links and nice graphics in a special website on the Internet. I'm still working on revisions and augmentations, but progress comes daily. Even now the collection is eminently more readable and slowly grows fatter with added text and a few of the better pictures. If you'd like to see my progress, take a look at the website Fredbellomy.com where I keep all the drafts of my various writing projects. I intend to complete some of them before flying off on my next ill-advised adventure later this year.
With that, I close this series of Postcards.
Until our next cyber-meeting,
Peace
Fred L Bellomy
22 March 2002 (Actual date when I finished this)
13 May 2012 (Actual date when I got all the Kodak Gallery photos transferred to this page!)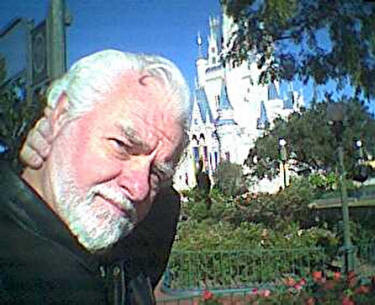 Orlando Florida: Disney Magic Kingdom Castle with me wondering why I needed to do it again.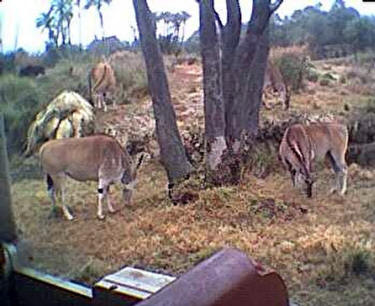 Orlando Florida: Disney Animal Kingdom African Safari.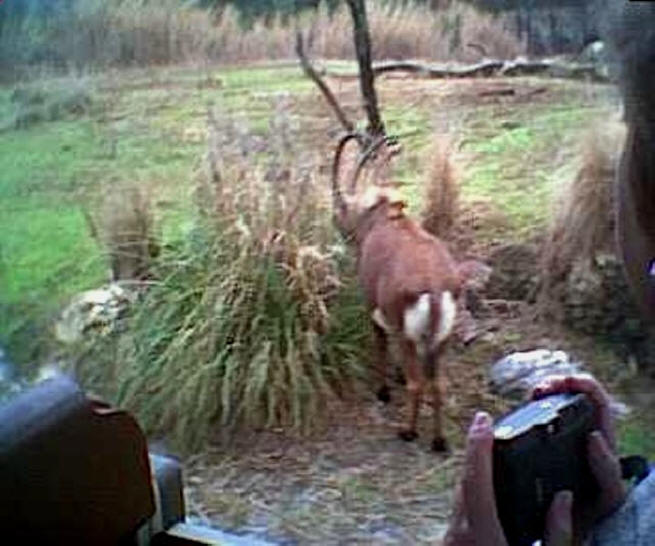 Orlando Florida: Disney Animal Kingdom African Safari.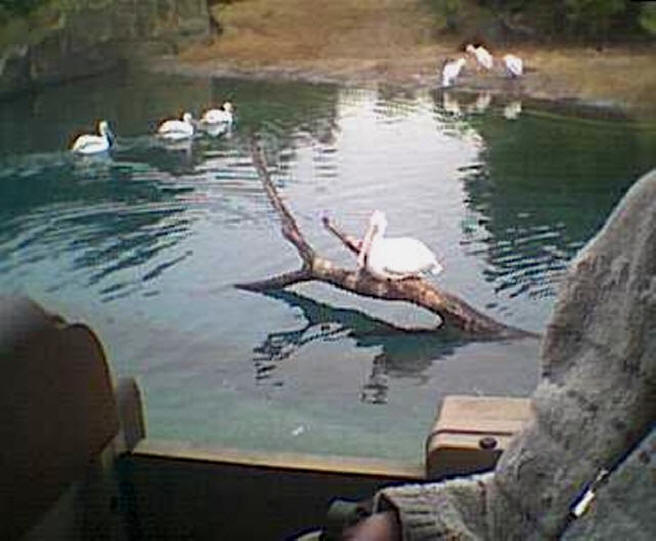 Orlando Florida: Pelican pond at Disney Animal Kingdom African Safari.