Ignorant and curious
Drums still remind me of Africa. They bring back vivid childhood memories full of mystery and foreboding. Ominously portrayed in films and books of the time as the "Dark Continent," the Africa revealed to my hungry young eyes included a land cloaked in dark steaming jungles teeming with hideous wild animals and naked black savages. I still remember what horror I felt watching one particularly gruesome movie (before the days of PG ratings) about a hapless expedition of "great white hunters" captured and tormented by screaming hoards of wild natives. Frenzied feathered warriors stomped menacingly around a big blazing bonfire eventually taking some of the expedition's black porters and ripping limbs from their bodies with a frighteningly primitive mechanism.
National Geographic magazines helped dispel some of my earliest juvenile misconceptions, but left me with others persisting far into mature adulthood. What red blooded American boy hasn't snickered over detailed photos of bare breasted black girls liberally sprinkled throughout the pages of every article on Africa during the mid-1900's? I dare say my most reliable early knowledge of female anatomy came from my treasured collection of the those thick magazines with the distinctive slick yellow covers and freshly printed smell.
Years of education have changed little my gut feel for what goes on down there in that mysterious land. A constant barrage of troublesome news reports arriving during most of my adult life has created confusing images of a continent in turmoil, perpetually struggling to shake itself loose from the duel yokes of economic colonialism and religious hegemony.
True Life Adventure programs aired on public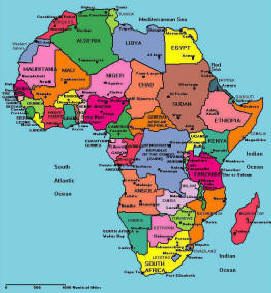 television left me seriously misinformed about the relationships between wild animals and the burgeoning human populations, too. As I prepared to travel there, my vague expectations for Africa still included hungry man-eating lions lurking in the tall grasses everywhere; primitive social, political, religious and cultural practices; savage tribalism culminating in violent bloody clashes between uncivilized groups and rampant political corruption.
Exploring Africa early in 2001, my fresh education along the road progressed slowly as I sought to see with the eyes of a child. I wanted to discover for myself how things really are without preconceived notions of how others think they are, trusting in fate and serendipity to see me through unforeseen ordeals, unexpected challenges.
Come along with me now as I reveal what I actually found while traveling under often uncomfortable conditions to places no sane tourist would have any difficulty avoiding, places which took me through twenty-one of the more than fifty countries on the vast African continent and through towns, villages and neighborhoods where a white face is so rare it always draws crowds of the curious; children boisterous, their parents shy. (cont.)
Fred L Bellomy 2001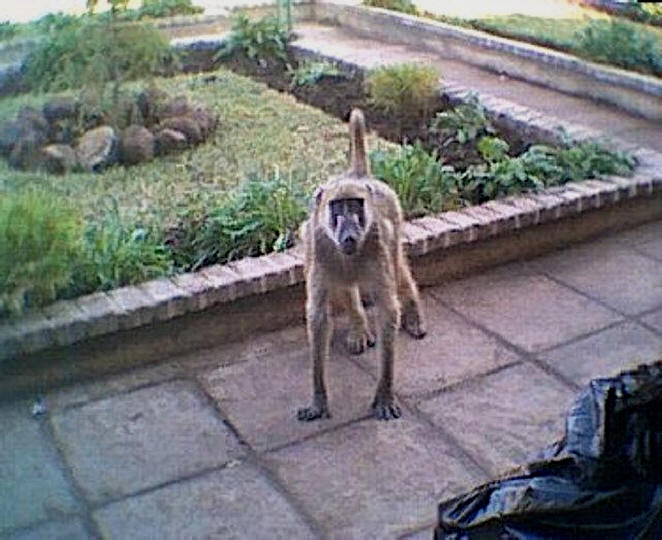 Victoria Falls Zambia & Livingstone: This baboon is looking for unattended luggage to pilfer according to one of the Zambian border guards who chased him away.

Sun City South Africa: We got a lot closer to the herd of elephants on our game drive through the Pilanesberg Game Preserve adjacent to Sun City South Africa.