Greetings from Bangalore/Bengaluru
Arriving in the Bangalore airport near midnight on the $270 (r/t) Air Asia non-stop flight FD137 from Bangkok, immigration fortunately took only a few minutes without any visa complications! A quick stop at one of the airport money changers and I sold my remaining Thai Baht for some Indian Rupees, just enough for a bus ticket into the city to a stop near my prebooked hotel where I hoped to find a Citibank ATM.
On the map it appeared my hotel would be a mere block from the Richmond Circle scheduled Air Bus stop on a street named General KS Thimayya. What I had failed to note, walking the broken sidewalk in the dark on wobbly legs carrying a heavy backpack might be a challenge... and it was! The "block" turned out to be more like a half kilometer and the sidewalk without effective street lights, a series of jagged stone slabs interspersed with empty hole death traps! Walking against the oncoming one-way traffic, headlights provided intermittent illumination of the stones serving as my walkway (see the photos) but also momentarily blinded me unless I shaded my eyes against the glare. Such excitement!
Arriving at the hotel after a fifteen minute stumbling walk I almost passed the obscure fenced entrance with a closed and locked gate. Fortunately, another late night pedestrian happened by and confirmed I had reached the hotel pointing to the sign high above. In the dimly illuminated lobby visible from the street I could see people moving about and frantically waved my arms to attract their attention. Finally after a minute or so the night guard saw me and came out to open the gate.
My 1AM arrival with a prebooked room should have guaranteed prompt attention by the hotel staff. But, as luck would have it the room had not been prepared and it would be another half hour before I could shed my sweaty clothes, get a shower and finally crawl into bed. If I had needed any more encouragement to avoid late night arrivals in the future, this experience provided it.
I'm in Bangalore or as the locals now call it, Bengaluru as I write this and in the $55 Elanza Hotel... where the WiFi Internet is frequently disconnected and always with aggravating connectivity problems. At one point in desperation I summoned the IT staff member who provided an administrator ID and password, but as soon as I signed off the next sign-on renewed the aggravations. Internet access is the weakest feature of this hotel!

Breakfast is 100% Indian, but dining room staff go out of their way to accommodate foreign diners preferences, though with local peculiarities like an omelet cooked flat as a pancake and spiced with stinging red pepper! Everything is likely to be liberally spiked with hot red chili pepper, for that matter. The breakfast selections gratefully include several unusual fresh blended juices. Many dishes use rice as their main ingredient. Compared to people I've seen elsewhere in the world, Indians are a skinny bunch and I wonder if it is all the rice they eat, though grossly obese Indian guests in the hotels are not uncommon.
Every meal is likely to include a variety of "dips" to accompany pancake-like breads which in earlier times served as "finger gloves" for getting food from plate to mouth... even though most Indians I've watched these days now use western utensils. Indians eat a lot of "pre-masticated" mushy foods which remind me of the stuff made by Gerber's for babies. The hotel restaurant seems to operate 24/7 and provides economical dishes al-la-carte with a few international items like grilled chicken sandwiches available. The waiters are particularly attentive and several speak good English. On two occasions I bit into prepared food containing grit... ouch. Food preparation needs better quality control.
The hotel manager came on board only four days ago and still is making his presence felt. He introduced himself as Joseph and personally filled my empty coffee cup while we chatted about our mutual international exploits. He recently worked in Dubai and Bahrain where I experienced some excitement back in 2010-11 during the revolts!
The standard rooms are deluxe in most ways except view as the city sprouted tall buildings around it after construction. Arriving at night no one notices, but for a long stay it can become depressing. Controls in the room are much too complex for short term guests: several banks of light switches with tiny markings require better eyesight and memory than mine. The satellite TV has plenty of options, but again is much too complicated for a casual guest. Air-conditioning keeps the room pleasantly cool, but has strange controls. The bathroom sink does not have a stopper, so washing clothes requires falling back on techniques learned while travelling in rural Africa! Housekeeping does an outstanding job and the laundry service is cheap and prompt making the missing stopper less of a problem.
Yesterday after getting lost, I succumbed to the temptation of using a Tuktuk and the guy scammed me. Instead of taking me to my Elanza Hotel as requested, he zigzagged all over the twisting streets for ten minutes, finally stopping in an area without much traffic and pointing down an alleyway announced: "A good hotel."
"What the hell? I told you I wanted my hotel, the Elanza!" I blurted out in an exasperated tone, again showing him my slip of paper with the name written out in large letters. He shrugged and I huffed out of his contraption with yet another experience to add to my many of how devious cab drivers can be anywhere in the world. But walking the streets has its hazards as well.
As so much of Indian cooking requires hot pepper, toxic pepper spray vapors inevitably waft across the sidewalks attacking oblivious pedestrians like me. That usually leads to a violent sneezing fit. On the opposite end of the pollution spectrum, the Indian government has undertaken a vigorous, no holds barred, anti-smoking campaign... and, it seems to be working! Indian air is far from odor free, however. Some exotic smells are so strong even I, with my declining sense of smell am treated to a smorgasbord of unusual scents found nowhere else in the world... Take that Alzheimer's!
- ! Yikes! A half inch cockroach just crawled across my breakfast table here in the Panaji Fidalgo Hotel where I'm working! -
Betel Nut chewing with its red juice spitting so obnoxiously prevalent during previous trips in the north has been replaced down here by something similar and still using the Betel Nut leaf, without the red juice.
After two days of walking at least 17,000 steps I am today mostly riding buses, first the fancy air conditioned airport bus to check out hotels near the terminal, riding the full route in relative comfort to see what is along the way. Ordinary city buses are old, dirty and always crowded, so I'll avoid them as much as possible. The bus stops are not identified by the routes served, so one must either already know which buses stop there or ask those waiting.
Of course I took many walks away from the Elanza Hotel, always looking for better hotels and one of the shopping malls rumored to exist in the area. Finally, I found the UB City Shopping Center, one of the largest in the city, but not really very large by western standards. In it I did find the barber/beauty shop, 'Mirrors and Within' and stopped for one of the most elegant haircut experiences I've ever had. The barber, Sumit shared details of his life and ended the "haircut" session with a cup of hot Indian tea! Total cost (including the hefty 28% tax!) with tip: about $16!
On the way back to the hotel after finding the UB City Shopping Center I passed the Indian Army recruiting center where a series of informational displays caught my attention. The requirements young Indian men must meet to join the Army at various grades are extensive. The information fascinated me, so I snapped some photographs while official looking guys watched my activities the whole time. I wondered if they might be security agents. (I appended the photos to the end of this e-postcard.)
Motorcycles outnumber cars by a large margin and follow only one traffic rule: don't get killed. Operators of all vehicles are predominantly inconsiderate of pedestrians, requiring anyone foolish enough to get around on foot to practice defensive walking to avoid being squashed by some crazy rolling maniac. That is made difficult by the general state of disrepair of sidewalks and open utility ditches waiting completion. I've seen not a single blind pedestrian... and it is no wonder.
"Bombay HC decriminalises possession of beef" Now there is a headline unlikely to be seen outside of India. In the same paper I found another provocative article: "Centre asks all states to make Yoga compulsory in school." For contrast, checkout this article in an American newspaper: "Georgia Parents Raise Hell About Yoga, Non-Christian 'Ideology' In Kids' Classes" We do live in interesting times. In some ways America is so advanced; in others so retarded!
Now it is back to planning the next leg of my Goan explorations. More when there is more to tell.
Peace,
Fred L Bellomy
PS: The old reliable Elanza Hotel managed to be fully booked for my brief one night stop over on the way back to Bangkok. A half block back down the street is the five star Melange Astris Hotel which felt too expensive at $73. But, this night that seemed like a bargain, so in the Elanza's lobby I hastily made an online booking and dashed back in the fading light for some pampering. While the room assigned me definitely deserves the 5 stars and the WiFi is perfect, the limited English TV channels and the dysfunctional room air conditioner tarnishes some of the stars; actually, the uncomfortably warm room warrants the removal of at least a half star! Breakfast, always important in how a lodge ranks in my book, is spectacular/mediocre/awful... As my plane doesn't leave until midnight, a late checkout allowed me to use the room until 1PM to finish this postcard before heading back to the airport on the 210 Rupee BMTC bus. FB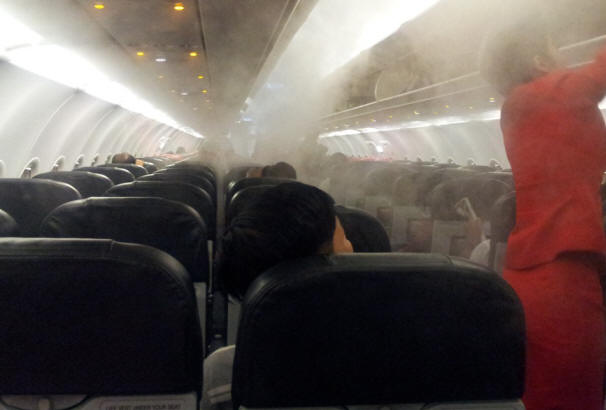 Bangalore: AirAsia flight FD137 out of Bangkok bound for Bangalore. The passenger cabin filled with fog as we sat waiting for take off. No explanation was given. It cleared up once we became airborne.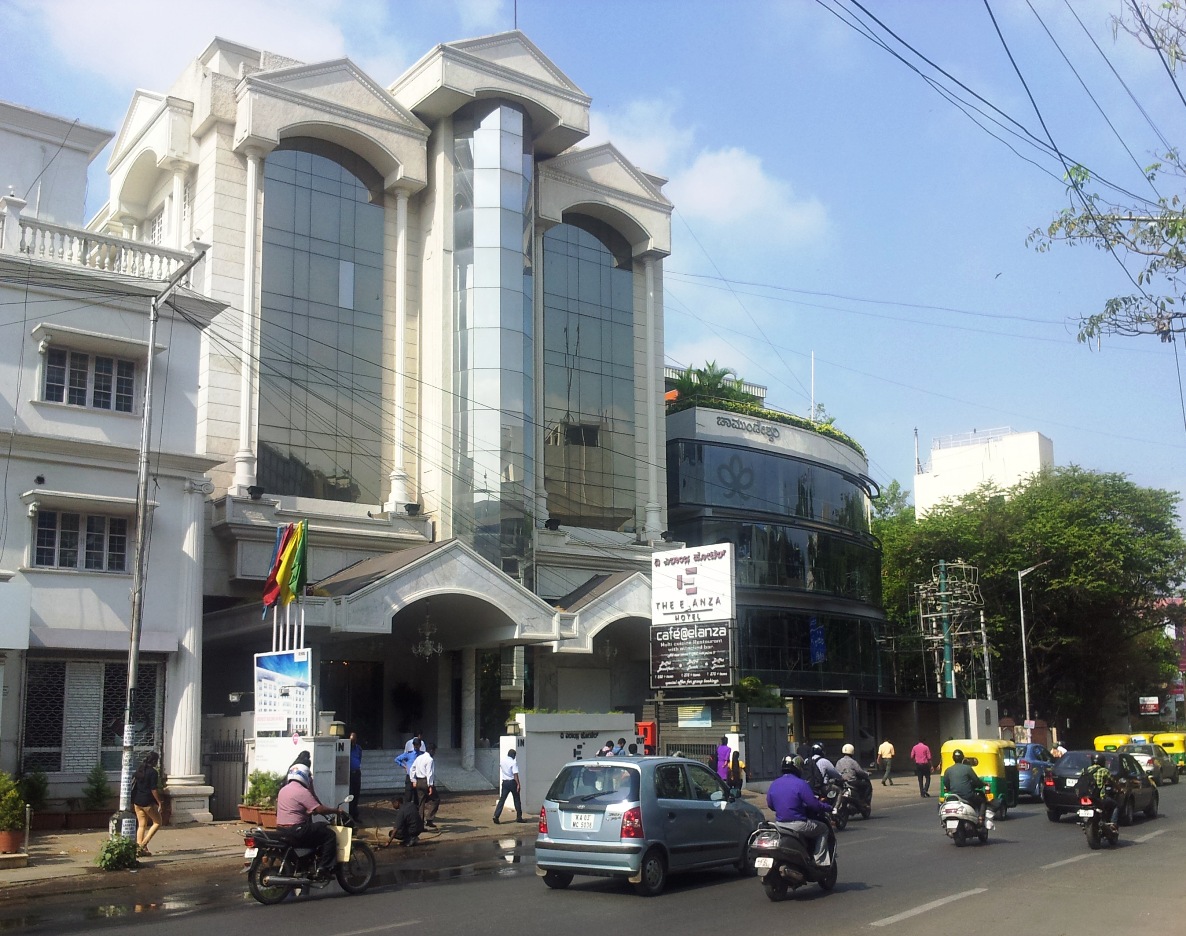 Bangalore: View of the $55 Elanza Hotel where I stayed six nights in the city. It is the only hotel I could find in the block... but, there are others hidden on side streets.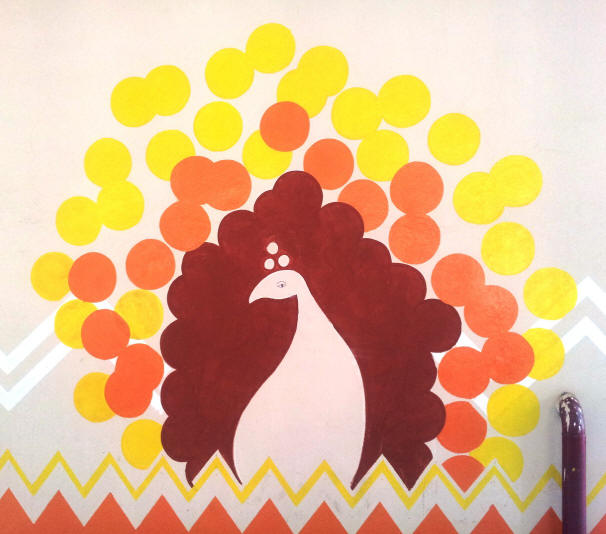 Bangalore: Public art adorns one of the support structures for an overpass.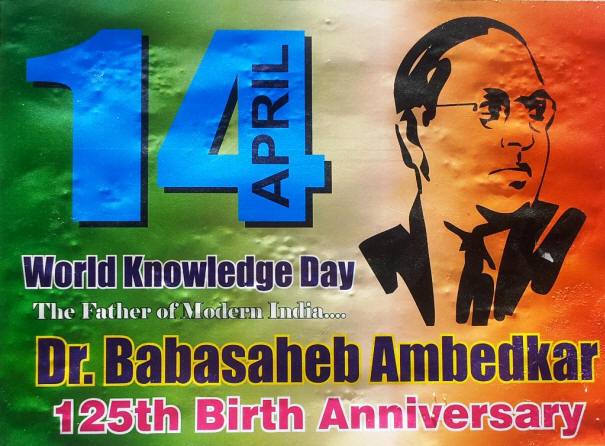 Bangalore: This poster on a suburb wall caught my attention and as I prepared to photograph it a well dressed fellow approached me with explanations I found hard to understand. Later I looked for information on the Internet and found a YouTube three hour biography: (Dr Babasaheb Ambedkar full movie english) The idea of a world knowledge day continues to be promoted by various Indian organizations, but apparently has not caught on widely outside the country. However, as we rapidly approach the year 2020 when computers might out think humans, WorldKnowlege might well take center stage in our thinking.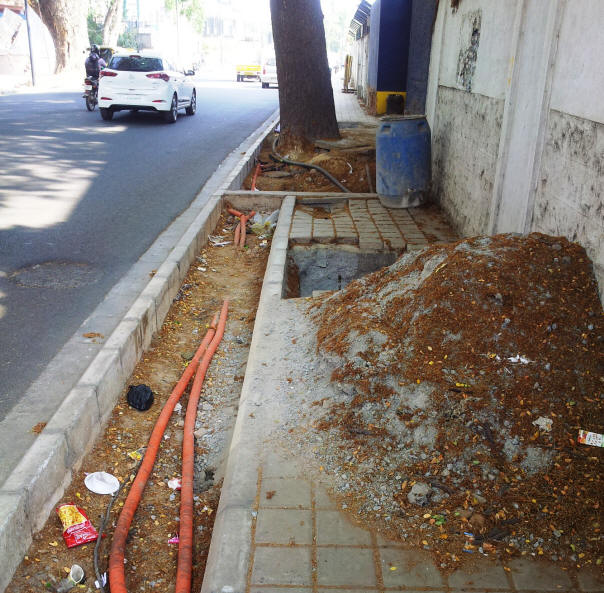 Bangalore: Blind pedestrians might have more difficulty walking the sidewalks of Bangalore than I did. Even fully sighted the obstacles present a daunting challenge for this octogenarian.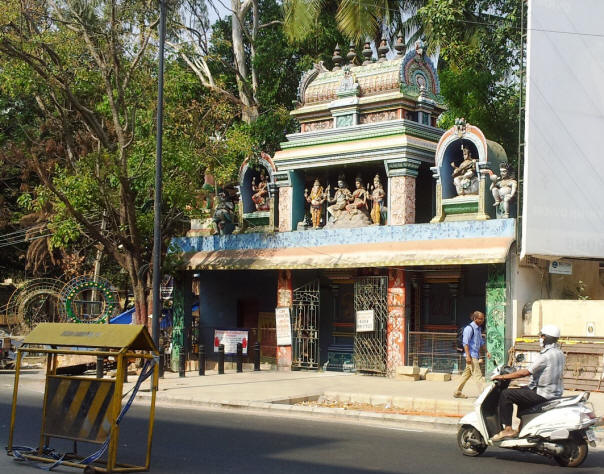 Bangalore: Hindu temple near the Elanza Hotel where I stayed a week while in the city.

Bangalore: After observing several groups of men relieving themselves in public without the slightest suggestion of embarrassment, I found this sign amusing as I speculated what the obscured last word might be: PROSECUTED OR EXECUTED? Given how common the practice still seems to be, I doubt any punishment at all is administered.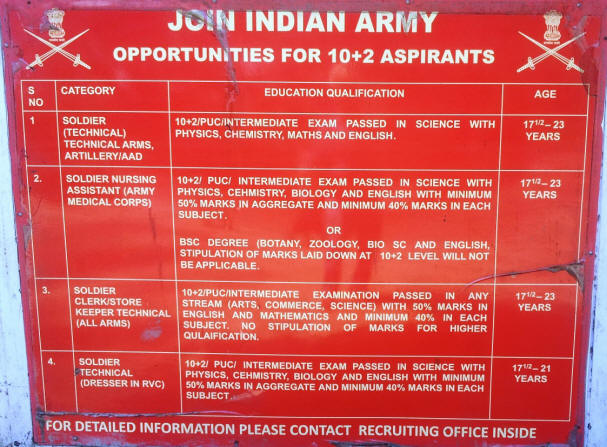 Bangalore: Information displays posted around the street entrance to an Indian Army recruiting station where a score of young men loitered.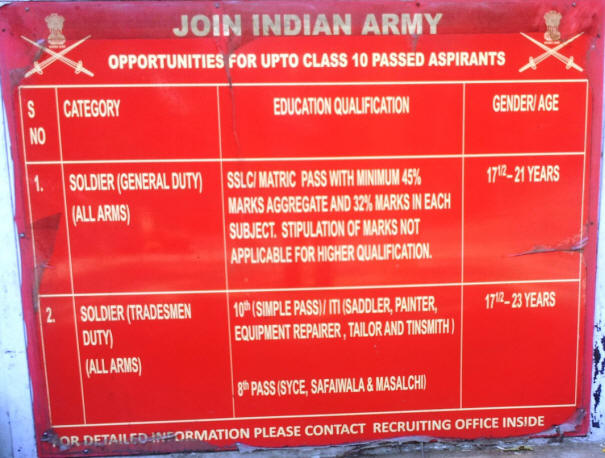 Bangalore: Information displays posted around the street entrance to an Indian Army recruiting station where a score of young men loitered.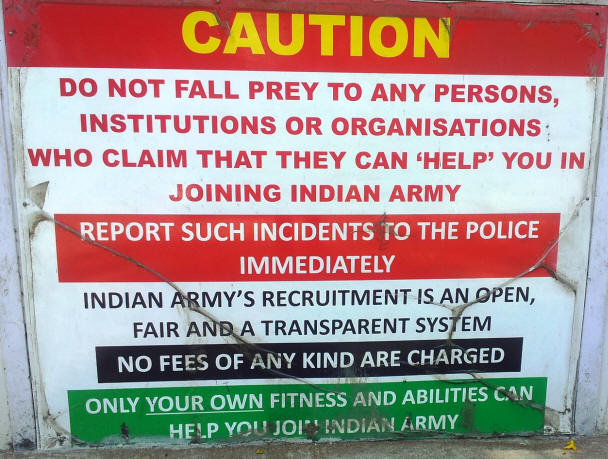 Bangalore: Information displays posted around the street entrance to an Indian Army recruiting station where a score of young men loitered. This display suggests unscrupulous people are taking advantage of the young people interested in joining the army. (YouTube).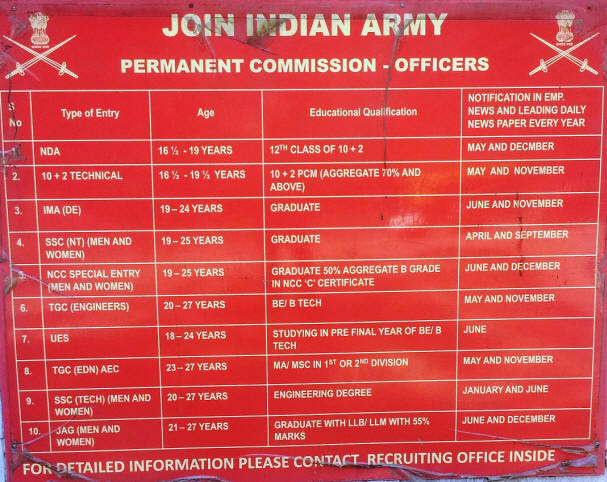 Bangalore: Information displays posted around the street entrance to an Indian Army recruiting station where a score of young men loitered.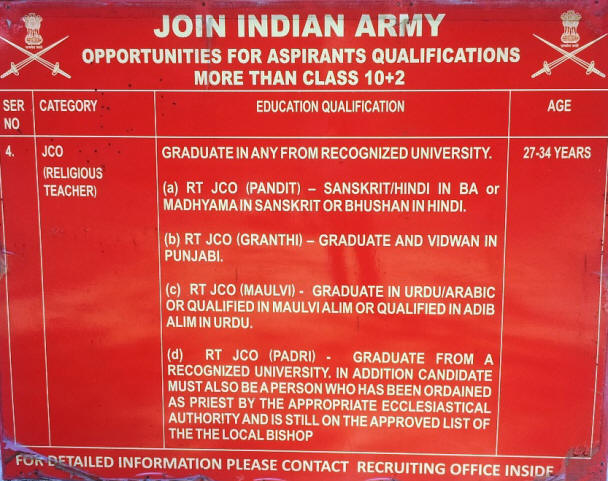 Bangalore: Information displays posted around the street entrance to an Indian Army recruiting station where a score of young men loitered.