Hello from Bangkok, Thailand
As this is my 21st visit to this Southeast Asian transportation hub, I worried there might be little left to be said about it. But, as confessed to a few of those following my exploits, these e-postcards are as much a record of adventures for my own personal edification as "entertainment and reassurances" for friends and family. So, I'll keep it up as long as my failing eyesight permits.
Bangkok is now like a second home for me. I come here so often because it is a good jumping off point for travel in Southeast Asia and because of the great affordable dental and medical values. I'm also impressed by the many good hotels. My first hotel this time has been the Dream Hotel again. As room rates have gone up, $72 per night is not the great value I enjoyed during previous trips. Housekeeping has always been exceptional and WiFi Internet access is usually flawless. Located a block down a busy alley, current construction activity makes the walk hazardous and inconvenient. However, it is near the Dental Design Clinic&Lab office where my dentist, Dr. Nattaya Chinnapongsanont practices next to the Asoke BTS station.
Walking the streets of the city this past week has provided some unusual experiences. First, blossoming trees suddenly expelled their white flowers en-mass, creating a storm of falling blooms and covering the sidewalks with so many posies I felt like a guest walking down the isle of an elegant church wedding. For anyone who still wonders what Bangkok nightlife is all about I'll let this YouTube video found by a Las Vegas friend fill in the gaps.
Then, during the past three days (12-15 April) bands of armed marauders roamed the streets firing at any one failing to duck out of the way. Officially sanctioned by the city government, the Water Festival (known as Songkran) is a gay celebration with special activities along the Chao Phraya River. Throwing, squirting, dumping water on others is encouraged... even on hapless, clueless tourists! The first time it happened to me from behind I became furious at being drenched... until I understood the good natured custom mostly welcomed in the intensely hot weather.
Awaking this morning to the friendly "chirp" of my phone announcing the arrival of a new email message, imagine my delight and surprise to find the Indian e-visa enclosed two days ahead of schedule! The Indian immigration service in its wisdom has automated the tourist visa process (for their convenience!). The process for applicants is vastly more confusing and complicated than it used to be, requiring information about prior visits to the country available only to those who have all their old passports for reference... and for those of us who figure out the "invitation letter" really is only a first hotel booking on arriving in India. Without those items of information the application process locks up and refuses to proceed.
Walking over to the nearby Indian consulate I learned from an embassy staff that it no longer provides ANY assistance for tourist visas and that in any case records older than five years are discarded! The only way to get the online application process to continue meant denying any previous visit to the country... which made the automated system happy! Having determined my first hotel in Bangalore might be the Ramada, I listed that as the source of my "invitation" and the system happily accepted it! ... but not before grilling me on my every possible nefarious Pakistani connection! Fortunately for the visa application process I have no such connections and it appears I may never even be able to visit the country as a tourist.
If you have an Android powered smart phone prepare for a glimpse at the future of artificial intelligence. Last century many predicted by 2020 computer capabilities would eclipse those of their human masters. As a computer pioneer I had no trouble believing this to be an inevitable result of Moore's Law. With only four years to go one should expect hints of that capability by now and Google Now is that hint as far as I'm concerned.
For kicks I tried the "Hello Google" application and thought to give it a tough question! "What is the meaning of life?" I intoned. The response astounded me. Try it yourself to see what I mean. Convinced my question might have prompted a pre-programmed answer, I tried something more controversial: "Is Islam good?" and the follow up: "Is Islam evil?" After these simple tests I am convinced humanity is heading for an unbelievably amazing future. Machines with access to vast stores of human knowledge (See this video about the Google "cloud.") and artificial intelligence more sophisticated than the best human intelligence, may help humanity avoid the inevitable extinction of our specie... which threatens without it.
During the first nine nights in the city I naturally visited my dentist who confirmed a deep cavity to be the cause of mild pain and that repair would require another root canal procedure and crown. Unfortunately, manufacturing the crown right now takes two weeks. So, when life deals you a lemon, you make lemonade, right; a perfect time to dash up to Ayutthaya to watch the river barges for a few days.
After having completed my first two dental appointments I moved over to the $65 Mandarin Hotel Managed by Centre Point on Rama IV nearer the train station for two nights before hopping a train north to Ayutthaya where I dreamt of whiling away the hours watching river traffic from a window in the Kungsri River Hotel. Unfortunately, Wifi in the Mandarin Hotel requires a new login for every session and is unreliable much of the time; signals vary quite a lot, sometimes disappearing all together. The rooms are ultra modern and even have Japanese automated toilets!
Ayutthaya: The 15 Baht (about 45 cents) two hour train ride stopped just about everywhere, but eventually we reached the easy to recognize Ayutthaya station and tumbled off into the arms of taxi touts. The hotel is only a block back down the road and is reached in a few minutes hike. As in the past, I got a high floor room facing the river to the north. I'd planned to stay a week or more, but the online Indian visa application required information which I judged might be more easily obtained at the Indian consulate in Bangkok and decided to head back early.
Bangkok: So, after only three nights I grabbed the train back down to the city where I had prebooked an $88 room in the deluxe Sukosol Hotel for four nights. Still struggling with the "automated" visa application process and learning at the Indian consulate it could offer no assistance, I made up some acceptable answers, paid my $60 fee by credit card and hit the "submit" button. To my surprise and delight all went well and the e-visa arrived in an email two days later ahead of the quoted usual four day delay. Just before hitting the "submit" button there is a harsh warning that any false statements could result in arrest and/or immediate deportation! It appears the immigration service also ignores prior visits older than five years as my applications received such prompt processing... still, don't be surprised if my next missive is a plea for help while incarcerated!
With the visa problem solved I quickly selected a roundtrip plane reservation and booked what I believe is the best arrival hotel for me in downtown Bangalore, India: the four star $51 Elanza Hotel. I managed to get nonstop flights to and from Bangalore. Unfortunately, the best nonstop flight gets in at 11PM so I'll probably have to take a taxi, something I always hate to do. Flights within the country are cheap so I'll fly over to Goa after a few days in the big city.
After moving over to the $61 (Now down to $51 with FuramaFirst booking) Furama Silom Hotel with its great $11 buffet lunches & excellent WiFi throughout the complex. With logistics out of the way for the next leg of my adventure, I now focused on the remaining dental appointments to get the crown installed the first day and deal with a half dozen small cavities the following day. My American friends back home might be interested in dental costs here: Checkup and cleaning: $34, Preparation for root canal: $110, Root canal endodontic procedure: $260, Crown fabrication: $286, Restorations for 5 small cavities: $146. Total dental costs: $836! Except for the two weeks it took to get the crown itself, all appointments made in two days or less!
I'll end this now and prepare to leave on the 9PM Bangalore flight tomorrow night. More when something noteworthy happens.
Peace,
Fred L Bellomy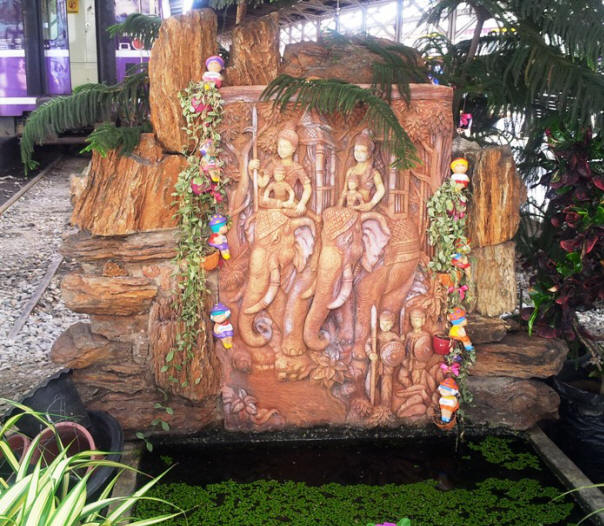 Ayutthaya 2016: Decoration in one of the small gardens near the Krungsri River Hotel.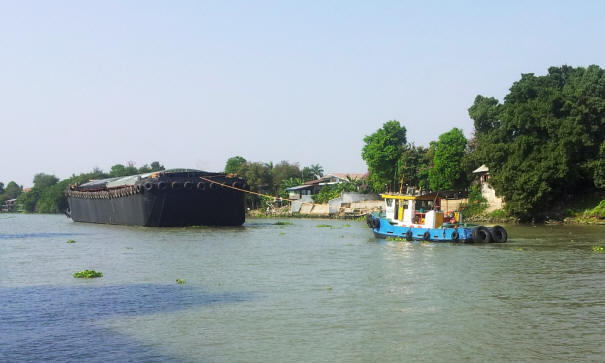 Ayutthaya 2016: One of the many barge trains plying the river near the Krungsri River Hotel.

Bangkok 2016: View from my 18th floor room in the Sukosol Hotel.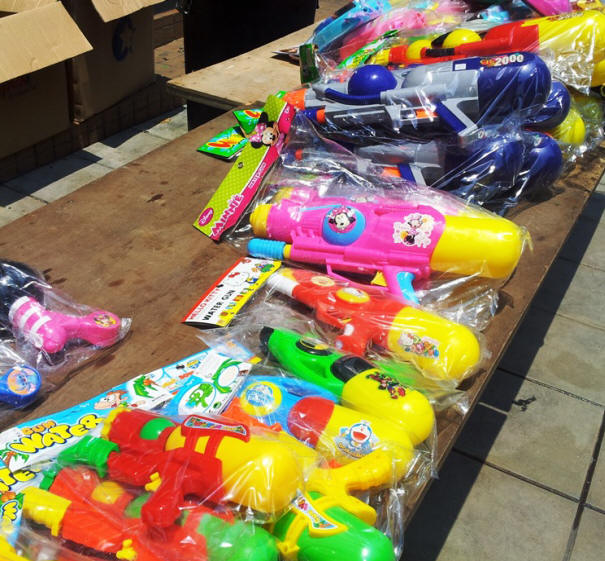 Bangkok 2016: During the 12-15 April Water Festival-Songkran water "pistols" of every description are being sold by eager vendors throughout the city. This sidewalk display I found nearest the Furama Silom Hotel where I stayed my last week in the city this segment.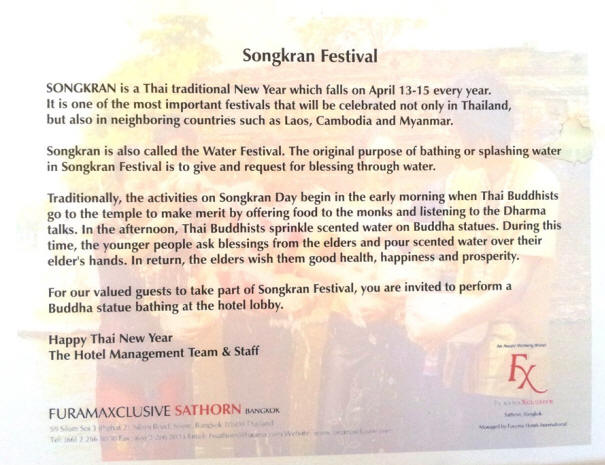 Bangkok 2016: During the 12-15 April Water Festival-Songkran water "pistols" of every description are being sold by eager vendors throughout the city.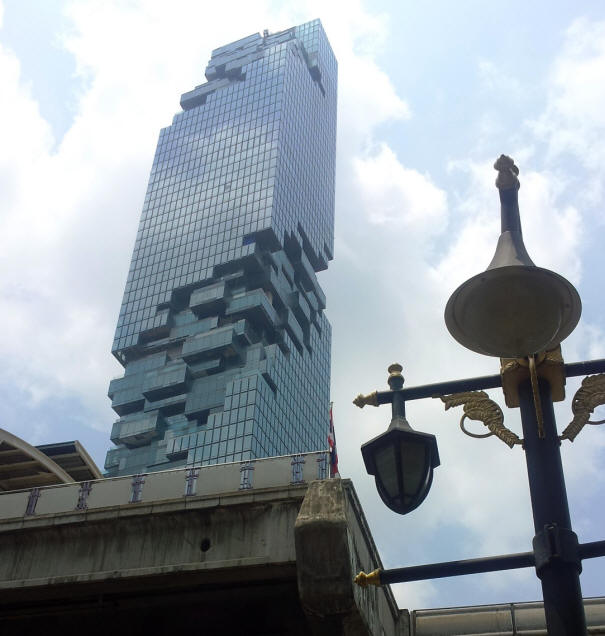 Bangkok 2016: This spectacular architecture caught my attention near the Furama Silom Hotel where I stayed my last week in the city this segment.