Hello again from Bangkok
Right now as I write this, the BIG story dominating the international news on TV is BREXIT. On Sunday, 26 June 2016 the people of Great Britain voted to leave the European Union! There has been hysterical speculation about the effects it will have on the world economy. Immediately, the financial markets all took a precipitous plunge; a situation which warrants careful monitoring.
My plans to find a way into Tibet starting in Xian came to an unpleasant halt when I learned the Chinese government's essential Tibet Travel Permit can be obtained only as an integral part of a group tour package. Learning that, I made new plans to head down to Kunming to spend the time remaining before returning to Bangkok on the 28th of June or later. With that now established, I started the Internet search for optimum flight and hotel arrangements... always with an eye on the financial aspects.
The best flight left at 07:45 in the morning requiring arrival at the airport by 05:45! The hour airport shuttle ride in from the city would mean starting everything as early as 4AM! So, I considered using one of the four hotels conveniently located right in the terminal. Had I been feeling affluent, the $104 Regal Airport Hotel Xian would have been an appropriate choice, but the $7.50/hr Sleeping Box also looked intriguing. During an earlier exploratory visit to the terminal I'd noticed two other possibilities inside the terminals. The Hour-rate Hotel in the lower level of departure terminal T2 looked quite nice with reasonable rates, but I could find no booking information on the Internet, other than a phone.
The obscure Traveler Star Hotel where no one speaks English on the balcony at the end of the Terminal 3 departure area offered a "double" room for $67. While far from "regal," it did seem optimum for the brief time I'd need to be horizontal before the 5AM check-in time the next morning. I had no way of knowing the overnight staff would sleep through my 5AM wakeup call request or that one of the hotel's swarm of BEDBUGS would choose me for a late night snack - Ouch! The twin bed room just barely met my absolute minimum standards; I do not recommend it other than being the closest to the China Eastern Airline check in counters right at the bottom of the connecting escalator next to the passageway leading over to Terminal 2.
The plan to head down to Kunming for the rest of the month changed when another dental infection flare-up made seeing a dentist urgently advisable. Some of the dentists in China perform their activities in public view behind plate glass windows along boulevard sidewalks where pedestrians can pause to enjoy the agony of patients taking the needle! See the photo in the Xian postcard previously released.

Because I'd already booked the Kunming flight, I hurried to find a convenient connecting flight on to Bangkok soon after arrival and found a good one. So, on the 13th after a few hours in the barely adequate Xian airport transit hotel I started the two leg trip back to Bangkok.

Now back in Bangkok, I'm in the great $59 Furama Silom Hotel with Executive Club privileges (obtained by joining the FuramaFirst loyalty club). The basic superior rooms with breakfast go for only $48 net, making the Furama-Silom one of the best 4-star hotel values in Bangkok! The day following my return I dashed over to the dentist and got an appointment that very afternoon where I learned the pain is being caused by a reoccurring gum line infection at the bottom of a deep pocket at the lower right molar. The dentist prescribed deep cleaning of the area and C-20 antiseptic mouth washes for two weeks after which we would reassess the problems. In the meantime I needed to avoid anything sweet on that side of my mouth... and it is virtually impossible to enjoy something sweet on the unaffected side without sweet seeping over to the other side! So, I tolerated bitter days for the next two weeks.
As I used up the supply of Amoxicillin in my travelling pharmacy and the problems had not yet fully resolved, I checked the Internet for other pharmaceuticals which should be in that medicine bag. There I found Clindamycin commonly prescribed for resistant infections and have added a supply to my emergency kit... a mere $7 precaution here in Bangkok. The continuous gum line irritation seemed to diminish after the root planing of affected teeth followed by aggressive flossing with the C-20 antiseptic, but there still is a problem. I'll return to Bangkok for an "annual" executive physical checkup at the fabulous Bumrungrad Hospital a week or so before my return flight home and will check in with the dentist then.
As my current Thai visa expires before the 27 July flight home, I'm planning to make another short visit outside the country, this time to Mandalay Myanmar. So my next report should come from a place Bob Hope never managed to visit. More when I reach Mandalay.
Peace,
Fred L Bellomy
PS: Like so many others, I've been agonizing over the horrors of extremist violence throughout the world, trying to imagine how humankind might dramatically reduce it without significantly impinging on the human rights of law abiding people. Investigation and intelligence gathering with apprehension of individuals in the process of planning acts of violence must remain our first line of defense, but rapid response to a developing incident by improved surveillance also is important. Looking at possible solutions discussed so far has left me feeling frustrated.
Then I recalled a study I did for the University of California when first hired as the library system analyst at the Santa Barbara campus back in 1969. Reluctantly on the brink of automation, some in the library administration insisted they considered book theft a bigger problem than "installing fancy computers to replace people." So, I looked into the problem eating into every academic library's always inadequate book budget.
My investigation found a variety of exotic technological means to minimize theft, but the most cost/effective turned out to be psychological... and totally unacceptable to the idealistically principled librarians! Cheap to create, professional looking signs falsely stating: "Don't steal; theft detection systems are in use here!" or highly visible fake surveillance cameras produced a bigger reduction in theft losses per dollar spent on the solution than any other in a variety of industries, especially retail marketing. Of course anyone willing to sacrifice their life like a suicide bomber is unlikely to be intimidated by the possibility of detection as might be a common shoplifter. But, surveillance has other objectives than deterrence.
During the past couple decades I've noticed a rapid increase in the number of CCTV cameras visible in public places around the world where I've travelled, so increasing surveillance must be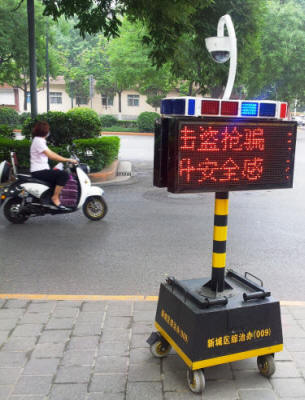 proving to be of value! Public safety authorities in Xian China now deploy a fleet of highly visible "robo cops" with both safety alert displays and monitoring cameras as I recently reported in my postcard from Xian. The increasing popularity and use of flying drones for remote viewing indicates this technology too is becoming increasingly important. Spectacular advances in artificial intelligence, as is now being demonstrated by the sophisticated self-driving automobile programs and others, will be necessary to process the huge amounts of data collected by any ubiquitous video monitoring program.
The TV series Person of Interest is a science fiction treatment of some dramatic aspects of the possibilities of pervasive surveillance with artificial intelligence data processing. There is widespread mistrust of government surveillance, but what if cheap means were developed which took a bottom up approach and put the capability of detecting possible dangers in the hands of ordinary people together with the means for rapidly alerting a connected network of trustworthy public and private security organizations?
It is possible a cheap mass produced, government subsidized stripped down version of the video and GPS features built into today's smart phones could provide the enabling technology. Such devices could be mounted anywhere anyone saw a need and their audio-video captures sent to public monitoring web pages available over the Internet. With such surveillance available to everyone (including commercial news organizations) and with action alert software highlighting any camera currently recording an event of potential interest, these sites could dramatically increase the possibility of eyeballs on a developing threat.
Such an ad-hoc rudimentary system already exists! Thousands of public Webcams are in continuous operation day and night right now, albeit without the machine intelligence needed to flag those recording events of interest to public security operations. Sophisticated facial recognition systems are in wide use in pseudo-public places like the casinos in my Las Vegas home town. How difficult would it be to augment these with body language analytical routines capable of spotting the unconscious behavior of someone up to "no good?" Impossible it surely is not!
Freelance stringers presently form the vanguard of an army of private individuals reporting newsworthy activity anywhere it occurs, generally without violating any American's constitutional right to privacy... the paparazzi excepted. Organized and coordinated, they could become the eyes and ears of a bottom-up surveillance system... side stepping some of the difficult government intrusion privacy issues. I will not try to minimize the many enormous difficulties of building a practicable system based on these ideas, but I do feel whatever effort is required might now be justified. Who would have thought anything like the Internet could be possible back in the days of Alexander Graham Bell? Are you listening DARPA? FB