Greetings from Kandy, Sri Lanka
The Sacred City of Kandy is a UNESCO World Heritage Site and attracts hoards of Buddhist pilgrims as well as foreign tourists. The city itself is a jumble of commercial shops clustered around a three block area with the lake bounding the north side and the train station on the south. Across from the lake is a very modern, but strangely organized shopping center... without a food court, or even many appealing restaurants. What it did have on the currently un-leased upper floor was what can only be described as a swap meet, dozens of hastily set up selling tables offering a boring array of ordinary goods. A wide array of spices are on sale there and in many stores around town making me wonder if there might be a connection between Ceylon, the name for Sri Lanka I knew as a kid, and the fabled ancient "spice islands."
But, this story must begin with the bus ride out of Colombo. I'd been assured by several reliable informants a big deluxe air-conditioned bus made the run to Kandy a couple times a day. Cautioned to select the correct departure location as there were two "bus stations," I scouted the area and found stands with the small A/C buses and figured this had to be the place for the big buses as well. The very helpful government information office staff next to the government run Sumadra Hotel had provided fare information and multiple departure times. At 540 Rupees (about $4) per seat, I'd planned to buy 2 seats as usual and prepared 1100 Rs for ready payment once on board.
Arriving early the day of departure I grabbed my two seats and waited to pay the conductor. Underway for twenty minutes and no longer picking up additional passengers now that all seats, including the previously unnoticed isle jump seats were filled I gave the conductor my 1100Rs. He immediately returned the 100Rs note and indicated I should wait... for what? Finally, he printed out my 2-seat ticket on his hand-held accounting machine and returned 380Rs. Checking the ticket I discovered seats on this bus only cost 310Rs, not the 540Rs my government informants had confirmed. In retrospect, it is clear I failed to find the "big" deluxe bus!
The last passenger to board the bus took the jump seat next to me. About 20 years old, he seemed overly anxious to be friendly and attempted urgent conversation with his nearly totally unintelligible command of English. Efforts to discourage him went mostly unheeded. Being so friendly, he naturally felt free to use my shoulder as a pillow during his many attempts to get some (feigned) sleep. What I learned only later, this guy had perfected a pickpocket routine of distraction and quick finger work, extracting the 1500 Rupees I kept tucked in my shirt pocket just below his "sleeping" eyes. I couldn't believe he had pulled it off during my brief periods of distraction while looking away from his unwelcome attempts to make social conversation. That kid had mastered his craft!
The pickpocket experience is hard to top, but the bus driver's skill in avoiding head-on collisions time and again comes close. The two lane road with wide dirt shoulders constantly provided space for three or four vehicles, mostly the small Tuk-Tuks, but plenty of huge cargo trucks and buses like ours. Drivers regularly pass anything going slower than they are and are rarely discouraged by road curves or oncoming traffic.
Hardly a minute passed without our driver playing "chicken" with some formidable vehicle in the "passing" lane he had chosen to claim from the opposite moving traffic. A hundred times during that harrowing three and a half hours head-on collisions were avoided by mere inches and microseconds. I have never seen such skillful driving... or reckless abandon for passenger safety! For my part, I reminded myself of the illusory character of even this experience and relaxed to enjoy every passing moment. (Thank you Buddha for showing humanity a better way of thinking.)
The small 28 passenger, air-conditioned bus dropped me off at a mobbed intersection a block from the train station. As I wanted to hotel shop the areas around the lake, my first task had to be finding it! No one seemed to speak any English I could understand, but one person did point to a spot on my city map as "here." Based on that scrap of information and my handy pocket compass plus the assumption a lake needed to lay in a topographical depression I started walking downhill: "Water runs downhill, right? ... and should end up in the lake... right?"
It soon became apparent downhill would not lead to anything like a lake so I redoubled my effort to get better current location information from strangers. Finally, one helpful guy appeared and got me walking in the right direction, albeit UPHILL!
Kandy Lake is a shallow man-made reservoir and teems with fish, mostly a variety of Thilapia. During one walk near the Temple of the Sacred Tooth on its northern shore I watched as three crows viciously attacked a fourth which finally barely escaped with its life. Continuing that walk around the north shore of the lake I noticed many more monkey groups than I'd seen on the south shore near the Hotel Suisse where I stayed most of the time.
In the last postcard from Colombo I mentioned how few beggars I encountered in the capital city. Just the opposite is the case here in this pilgrimage city famous for the Temple of the Sacred Tooth where both the Buddhist devout and curious foreign tourists crowd the holy places.
Toward the end of my stay there was a monkey troop invasion of the hotel grounds and I watched as an alpha-male challenged one of the guests reluctant to part with his personal property. The stand off proceeded with both males, monkey and man, charging and retreating until hotel staff members arrived and with a commanding monkey threat vocalization put the monkey on the run.
One of the Simians climbed into an open hotel room window and tossed several of the guest's personal items out where another guest fortunately spotted and retrieved them before they became permanent monkey property, including a wallet full of credit cards! With a hundred monkeys jumping all over the exterior of the hotel building before heading for the large tree in the garden, I noticed all of the balcony rooms like mine seemed to be out of their reach. In addition to the monkeys, Monitor Lizards, Ibis birds, huge flocks of noisy crows, pelicans, turtles all call the lake environs home.
I stayed in the Suisse Hotel seven days because it is the best value I could find and because the friendly and attentive attention my comfort concerns received from the staff... including the assistant manager: Kanishka Mallikarachchi. The walk-in rate for a single standard room with the usual offered "discount" is $83 with breakfast or only $88 with half board (either lunch or dinner), so I took it. WiFi is problematic: completely unavailable in most rooms and unreliable in the second floor dining room and bar areas where most guests attempt to use it. The only place I could get good connections happened to be in the first floor lobby where I finally spent much time processing photos and writing my tales for this postcard.
After reporting being bitten by BED BUGS during my first two nights in room #333 in the hotel, and noting I had hoped to stay at least a week, Kanishka promptly authorized a room upgrade and waved the Christmas Eve $50 room surcharge... and sent a beautiful bowl of fruit up to my new room. Questioning him at length about the bugs in the hotel, he admitted the problem and noted they had just increased the insect treatment frequency from once every three months to once every three weeks. Obviously, that is still not enough considering all the mosquito and bed bug bites I enjoyed during my week-long stay.
The new deluxe room #320 is larger, has a balcony, an LCD TV, a more modern bathroom with an easy walk-in shower (Ha) and monkey entertainment in the yard below. BUT, The shower is a trickle and either scalding or icy for the first five minutes. After several minutes of careful adjustment of the hot and cold valves a warm water dribble just adequate for a sponge bath is possible, so I accepted the trickle without further complaint.
Mosquitoes have harassed me throughout every night and even with the provided plug-in repellant tablet device and later a spray can of insecticide only intermittent relief resulted. From now on, whenever I think of Sri Lanka I'll also think of mosquitoes. I have been bedeviled by those little beasts since the day I arrived in Sri Lanka; mostly in Kandy around the lake. The sneaky pests come in two varieties here: midget stealth attack fighters and huge B52 bomber, Horsefly size. The Suisse hotel staff have cooperated with my efforts to outsmart the fiends, but the flying menace always wins in the end.
Hiking around the lake I explored all of the little dirt roads radiating up the hills away from the shoreline. On one of my meanderings I discovered Helga's Folly Hotel, a quite unusual lodge of sorts and ventured into the dark macabre lobby to check it out. With a rack rate of $240 according to a distracted receptionist, it looked highly over priced, but the morning I visited there were a dozen mid-thirties yuppie-types lounging over breakfast and Champaign glasses. One of the receptionists in the Suisse Hotel smirked and said: "No way; it is more like $40 a night!" The website is of no help, but is interesting in its descriptions, pictures and historical notes.
While the entire staff at the Suisse Hotel busied themselves with preparations for a Christmas Eve extravaganza in Kandy, one of the world's most famous weapon's designers lay dying of old age in Russia. "Mikhail Kalashnikov, Creator of AK-47, Dies at 94" reads the 23 December NY Times headline. Preoccupied with more immediate matters than historical news a world away, the kitchen staff outdid themselves producing an endless array of beautifully presented dishes for the viewing and dining pleasure of hotel guests.
While I have enjoyed much better gourmet fare, offerings at this feast were excellent. Unfortunately being Christmas, deserts dominated the overloaded tables and went un-sampled by this disciplined vegetarian. The quality of the massive Christmas Eve feast pretty much matched what I enjoyed from the kitchen on regular days. On days when there were few guests a set menu substituted for the buffet and neither menu changed very much, predictably becoming monotonous after a while.
After a week enjoying the deluxe room with a balcony overlooking the lake and monkey tree, I decided I'd had enough of the aggressive mosquitoes and planned my escape back to Colombo and/or Bangkok. Cathay Pacific flights leave for Bangkok only three times a week: Monday, Wednesday and Friday at 2:25AM, meaning I can skip a hotel the day before. Because of the riots in Bangkok Cathay Pacific Airline is waiving the rebooking surcharge of $50. News stories of the political turmoil in Thailand are not encouraging, but I know from long experience these civil disorders always are localized and easy to avoid unless one is foolhardy and looking for trouble. US Embassy travel advisories always include the admonition: "Avoid large crowds," something I have been known to ignore with extra caution.
That harrowing three and a half hour bus ride from Colombo made finding alternate transportation back a priority. There is a $145 pontoon-plane called a sea-plane service, but I could never get a straight answer to where the "airport" was located in either Colombo or Kandy. There also is a modern, air-conditioned fast express train between the two cities, but a 6:30AM departure from Kandy made it unattractive. The posted time-table showed several other trains with first and second-class cars and I mused: "How bad could they be?"
I've traveled on a lot of old trains in my far flung adventures, so nothing is a surprise anymore. These old legacies of British rule have seen better days, for sure. There are no first class cars on this train and the leather covering the second class car seats are now cracked and badly worn. The oscillating fans above are of Edison vintage, but functional... and a good thing, too. There is no air conditioning on this vintage train... other than the wind blowing through the cars from the open windows. This second class car is considerably better than the third class cars which have benches for two and three across... "In your dreams!" If my experience in the second class car is any indication, those two space benches held five and the three space nine! I'm amazed these runs do not report fatalities from suffocation!
Knowing I needed to arrive early to get a "good" seat on the shady side of the train next to a window I left the hotel right after breakfast and hired a tuk-tuk (200Rs) to take me the short distance to the station. Arriving about 8AM I did indeed have plenty of time and used some of it to learn more about the station procedures. A train sat on track #2, but I assumed it must be for an early departure to some other destination than Colombo and ignored passengers scrambling for space so early.
Wow, did I make a mistake! That train turned out to be mine and by the time I learned that important fact even most of the standing room had been claimed by anxious passengers! With no other options I planted myself at the end of one of the occupied seats with my shouldered backpack leaning against the seat end and my two feet spread out for stable support on a moving train. Forty-five minutes later when the train began to move the standing space had completely disappeared... or so I thought; people continued to jostle for preferable standing positions.
The two seats below the sign reading "Reserved for senior citizens" were occupied by an old lady... and a ten year old little princess! Proud parents stood in the isle next to me and just smiled when I drew attention to the Senior Citizen posting. I thought for a while the child might be ill justifying the bending of rules, but no, she showed no evidence of being sick as far as I could tell. A frail old lady with a blank expression who did indeed look ill, took her standing position across the isle from me one seat forward. She rested her forehead on her hands positioned for stability and remained motionless.
The car finally lurched into motion right on time at 10:30 and I pondered the wisdom of choosing the train over the risky bus. During that long wait to begin our trip I considered several times the advisability of abandoning this fool's mission and finding the bus station. I'd already been standing since 8AM and the train wouldn't reach the Fort Station in Colombo until 2PM. Six hours is not an impossible length of time to be on my feet, but here I couldn't even reach my water bottle in the bag on my back without wild contortions... which I undertook halfway through the trip as a dry mouth warned of dehydration... much to the amusement of several seated passengers watching the foreigner for unusual behavior.
Once moving I figured our situation at least would be stable for the rest of the trip. Boy, was I wrong! A huge crowd waited at every stop along the way and somehow managed to squeeze into one of the cars already packed so tightly with humanity it would be difficult for some to breath. My backpack protected my back and I made sure no one pressed very hard from the front... until the second stop when a family of six muscled their way into our midst.
The father, about 45 simply forced his way into the morass of people, muscling anyone in his way until he had managed to move to the middle of the car. His four kids, 8 to 13 being herded by their grossly overweight mother disappeared below the wreathing mass of adult bodies above by sliding into the cracks between the knees of seated people and the seat backs in front of them.
The mother brazenly oozed her corpulence between already tightly packed bodies like an octopus squeezing between cracks in ocean floor rocks until her gelatinous flesh surrounded me. I made a disagreeable sound at her rudeness and moved an elbow between me and her intruding bosom. She didn't move, but sent me a glance, no doubt meant to express her awareness of our shared discomfort. For the next twenty minutes I watched as this determined example of Sri Lankan civility ordered each of her children into increasingly more favorable locations at the feet of seated passengers while she herself connived to find more comfortable digs for herself... finally convincing someone else's boy of 10 to relinquish the arm of the seat next to my left leg where he had been sitting quietly.
Of course, the seat while adequate for a skinny 10 year old kid, provided only the most tenuous perch for such a bulky specimen of humanity and most of her bulging body again flowed out around my hips. When I made complaining noises she completely ignored them and just snuggled in more firmly. I couldn't move, my back wedged against the seat post, so I did the only thing I could think of: I closed my hand and placed it between my hip and her pressing shoulder fat hoping the discomfort might urge her to find some other solution to our dilemma. It finally did when she convinced the person sharing his seat with a child next to me to relinquish it for her use. Talk about pushy women... she is the one with the unbelievably aggressive husband who had forced his way into the middle of our car the second he got on, leaving wife and kids to fend for themselves.
Halfway through the trip that frail old lady I mentioned collapsed and slid toward the floor. Several younger passengers caught her and a young male seated passenger relinquished his seat so she could be lifted off the floor and into his now vacant seat. Completely limp the three or four rescuers struggled to get her into an upright seated position where she slumped like a dead body. Everyone around me now focused their attention on the drama and the crush subsided for a short period. Regaining dazed consciousness, the old lady took sips of offered water while others fanned her face. Eventually, that situation stabilized and we all went back to our own agonizing ordeals. On arrival in Colombo Fort Station the old lady had a miraculous recovery and got off the train without additional help.
The scenery along the way, what I could see of it from my elevated vantage point above the windows, looked green and beautiful. We passed through jungle, over rivers and through small villages where no one in their right mind would expect to find a railroad station. I saw very few people get off at any of the intermediate stops and new crowds get on. there must have been more space in some of the third class cars because our second class car already held its bursting capacity.
Whenever I felt I could take no more and should just get off and find an alternate way to reach Colombo, something less than a diminishing eighty miles distant, I thought of the valuable lessons taught by the Buddha and focused on the moment and how fortunate to be alive in this "marvelous" experience of existence. It worked... as it always does!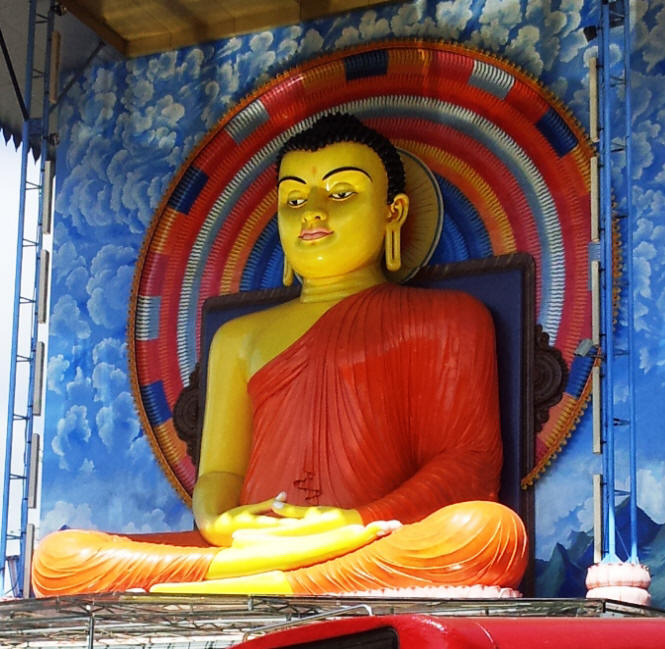 Kandy: This huge sitting Buddha sculpture dominated a hillside corner near the main railroad station. It is one of the first features I saw after being regurgitated from the small 28 passenger bus that miraculously got me from Colombo to Kandy.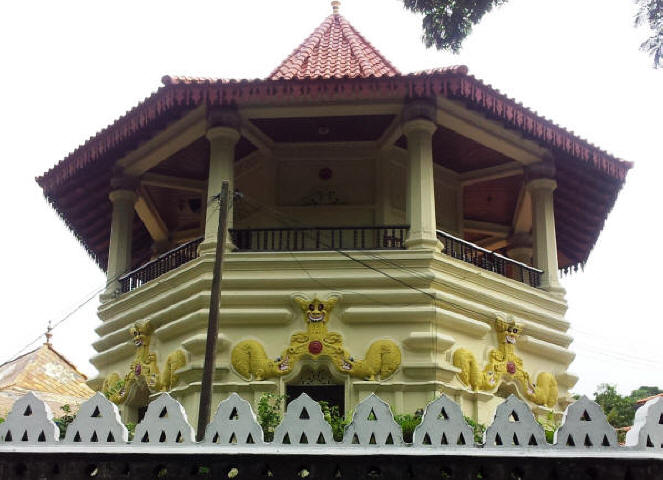 Kandy: This interesting structure is a part of a Buddhist Monastery located along the road that circles the lake not far from the Hotel Suisse where I stayed.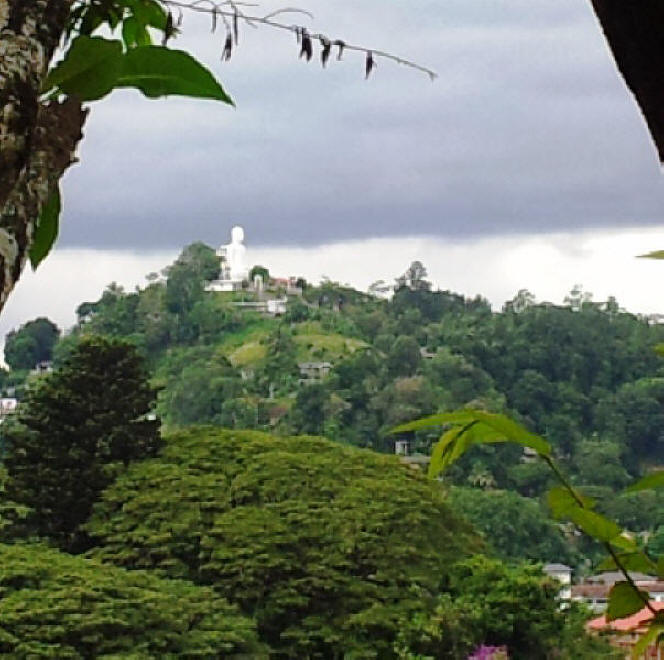 Kandy: The huge white sitting Buddha as seen from across the valley on the hill behind the Hotel Suisse where I stayed.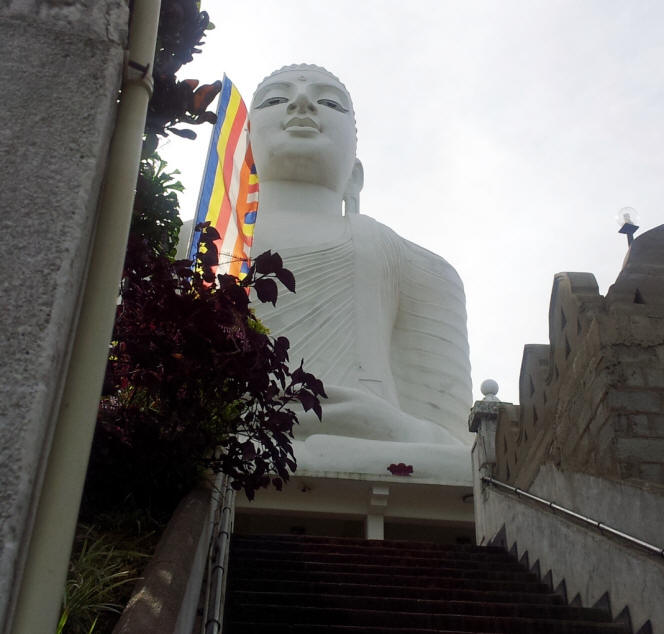 Kandy: Paying my 200Rs ($1.50) fee and removing my shoes I climbed the stairs leading to the monument itself and soon came to a place where I caught this view of the Sculpture.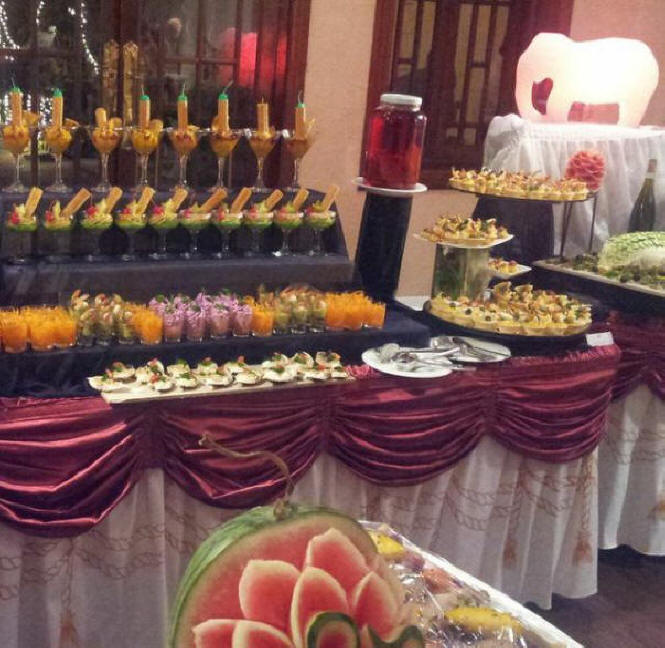 Kandy: Christmas Eve the Hotel Suisse produced an elaborate gourmet feast for guests who had paid a $50 hotel surcharge for their rooms. Deserts dominated the offerings, but several tables held low calorie treats like gelatin cups.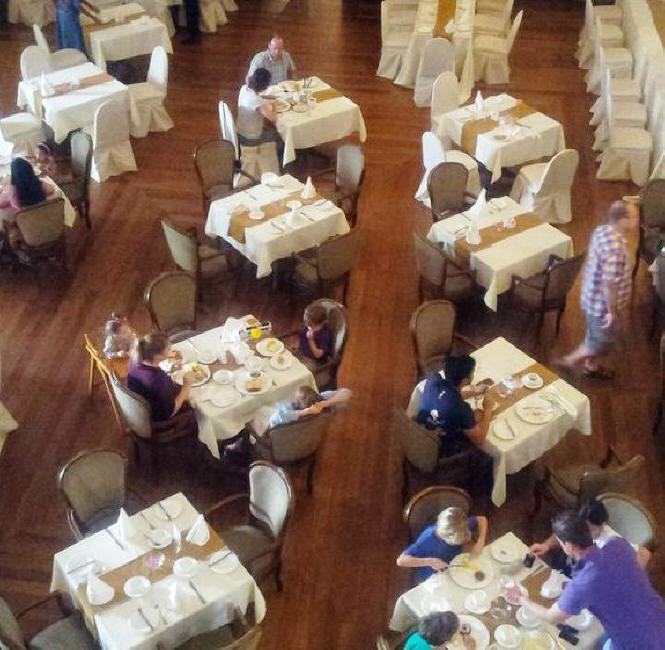 Kandy: This is the view I get from the third floor balcony surrounding the dining room every morning on my way to breakfast.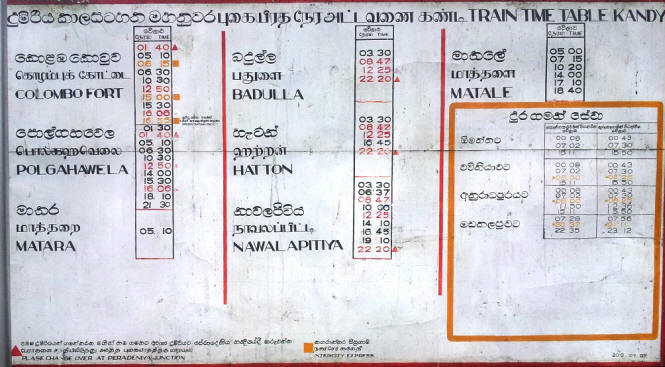 Kandy: Train time table posted outside the main train station in Kandy.


Kandy: One of a series of posters hanging over the departure platform in the train station.

Kandy: One of a series of posters hanging over the departure platform in the train station.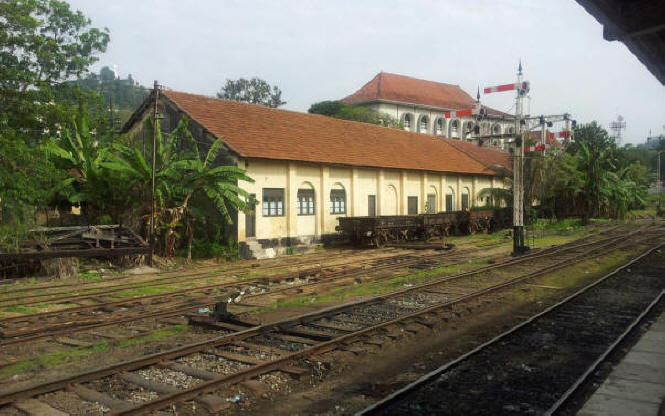 Kandy: Railroad yard next to the passenger platforms in the Kandy Train Station. The large white Buddha statue on the top of that distant hill is visible from the platform, but disappears in the photograph.