Greetings from Bangkok again,
The big news as I end my stay in Thailand today is the continuing political unrest. Hundreds of thousands of middleclass working people have taken to the streets again to focus attention on a government put into place by a small handful of wealthy people still led by the former premier, Thaksin Shinawatra now living in exile following his conviction for corruption. In his absence from the country, loyal supporters in the government elevated his sister, Yingluck Shinawatra to the vacated top position as his proxy, according to the opposition. Yingluck is Thailand's first female Prime Minister and at 45 is the youngest Thai head of state in over 60 years.
Everyone seems to acknowledge the central facts, but those supporting the current "corrupt" regime (the red shirts) justify their position noting: "money talks." One guy mused: "Every government has corruption, but this one gets things done and if the corrupt politicians didn't get rich from their schemes, someone else would. There just is no way to stop it all, so you take the crooks who do the most good for the most people." Democracy as it is practiced here and elsewhere does seem to justify their position. Continuing, he observes: "People deserve the government they elect. So, if you elect a bunch of crooks because they promise more of the things you want, you have no one to blame but yourself when they raid the treasury."
The opposition "yellow shirts" see it differently. "If you have a corrupt government, you throw it out and start over!" They propose doing away with the government as it is currently constituted all together and replacing it with an interim "constitutional convention" committee of sorts, composed of prominent citizens who would serve only so long as it takes to formulate a new, more workable and more transparent form of government.
Naturally, those in power oppose such a solution and maintain the existing constitution and body of law is the only legitimate and democratically established way of running the country. It is a complex mess. Both sides have valid points. Leaders on both sides of the divide are working to minimize the possibility of any more violent clashes: the police and military specifically have been given instructions to maintain order during the protest gatherings without the use of deadly force. The US State Department is predictably advising Americans to avoid the region.
Everyone I observed taking part in the marches seemed to be in a festive mood and street vendors are enjoying a great business as the throngs flock to buy the usual variety of products plus protest regalia like flags, plastic clappers and most importantly, whistles! Every participant in the anti-government (yellow shirt) contingent considers him or herself a "whistle blower!"
After spending a month on the island nation of Sri Lanka I returned to Bangkok to plan my next excursion... or a return home after pondering the results of a second follow-up PSA test occasioned by the high measured value last month.
Internet access had been poor and unreliable most of my time in Sri Lanka which made it difficult to make onward hotel reservations. At the airport in Colombo preparing to leave on New Years Eve, I discovered multiple kiosks offering excellent high speed Internet access for free. So, I set to work trying to find a last minute hotel accommodation. The Amari Boulevard still demanded high season rates, about $30 higher than other attractive available options, but prior experience led me to expect the quality and service would be great, so I decided to treat myself for at least the first few days with their "Hot Deal" promotion. Without considering the possibility things might have changed, I booked the 3-night $101 per night package with the standard room expecting I'd automatically get the advertised "Free Room Upgrade to Deluxe with a two nite booking." as in the past. (the included $30 meals credit brought the effective nightly rate down to $90)
That assumption proved to be unwarranted this time and led to an embarrassing dispute at the registration desk as the receptionists did their jobs and assigned me to one of the standard rooms with the difficult round-bottom tub showers... just as I'd booked it online at the Amari website.
Explaining the difficulty with the shower made no difference to the receptionists, so I made a snap decision to abandon my quest for luxury. Several of the other available hotels checked while online in Colombo offered rooms for much lower rates so I asked them to cancel my current reservation.
At that very moment the manager with whom I had some congenial history immerged from a meeting and appeared near the reception desk. Confident he would repeat the special treatment I'd enjoyed during my many earlier visits, I walked over to his smiling handshake and "welcome back" greeting. When asked if everything was "alright," I reported the unaccommodating treatment I seemed to be getting at the reception desk this time. Reacting with surprise, he asked me to stand by while he investigated, introducing me to his assistant manager who invited me to sit a while and enjoy a cup of coffee while I waited.
A few minutes later, the manager appeared across the lobby behind the reception desk with a totally changed demeanor. Now with an impersonal voice he indicated I had no right to assume I'd always be given an automatic upgrade to a deluxe room. He pointed out the significantly higher posted room rates should have alerted me to the fact they had moved into the "high season" and that the hotel might well to be fully booked, justifying higher premium rates.
Unsure how to respond to this unexpected formal turn about, I indicated I'd keep checking the Internet listings and return to the Amari when the rates again became closer to my comfort zone... and select one of the other less expensive options I'd found for the immediate period.
Still stiff and acting like the injured party, my "good friend" Alexandre, the general manager pointed out everything in town was fully booked and I'd have a hard time finding any accommodation anywhere... and that he had (grudgingly) found me a room meeting my requirements. At that point I really felt my most appropriate response would have been to get the hell out of there. But, apparently he had managed to juggle some of his other reservations and reluctantly had decided to grant me an upgraded deluxe room. Stunned, I realized leaving now would not only further complicate matters, but would seem ungrateful. So, pausing only a few seconds to weigh obvious alternatives, I nodded and mumbled, "Fine. Thank you." and allowed the check-in procedures to continue as he sulked off.
My otherwise perfect three day stay suffered from the awareness the manager considered me presumptuous... and reminded me of the Buddhist admonition to "expect nothing; appreciate everything and be here now!" Three days later when I did leave, I left feeling glad to be out of there, unlikely to ever feel welcome again and wondering if something in Alexandre's life unrelated to the reservation might have led to the less than hospitable turn of events this time around. During my three night stay I busied myself with hotel availability research in the evenings, finding many acceptable possibilities.
Before making the fateful decision to treat myself with an expensive stay in the Amari, I'd planned to enjoy another few days in the Ibis Riverfront Hotel remembered fondly from previous years. So, Internet booking in hand off I went to the modern $70 no-nonsense house by the riverbank.
With excellent WiFi and surprisingly good breakfast buffet choices, I enjoyed the river traffic scene for two days while pondering appropriate reactions to the Bumrungrad urologist's advice to get a prostate biopsy as soon as possible because the retest of the PSA level showed an accelerating increase in value and should the biopsy find a particularly aggressive cancer, early treatment could improve my life expectancy (Eighty year old guys usually die of something unrelated to most prostate cancers, I learned... unless he happens to have the "tiger" variety instead of the "pussycat" kind, according to my Thai urologist.). After a week mulling the options I decided to cut my planned many month travel adventure short and head back home where Medicare health insurance would offset any expensive medical treatments needed.
As this is the "high season" for the airline industry too, airfares also are flying high. That means I spent an inordinate amount of time looking for flights with "reasonable" fares and juggling hotel plans while doing the research. Across the boulevard from the American Embassy I found the CentrePoint Phoenchit. This serviced hotel is a deluxe residence with rates to match, but I stumbled on an Agoda booking agency listing that offered $97 rates. It is conveniently located right next to the Phoenchit BTS station. After visiting the hotel and checking it out during one of my long walks, I rushed to book a room for the remainder of my time in Bangkok, three days at a time.
Joe, the restaurant manager took an interest in my welfare and made sure his staff fetched a bowl of muesli each morning for my preferred fiber rich breakfast. While the special attention made it easier to overlook other shortcomings in the food service operation, some guests might be more aware of the absence of a coffee pot and the limited choices of fresh fruits in the buffet offerings. No one would go hungry, but healthy choices are problematic at the CentrePoint Ploenchit Hotel and it certainly falls far short of the lavish fare so delightful at the Amari Boulevard Hotel. Serving staff mostly stood around smiling while looking for dishes to bus, rarely asking guests if they needed anything... like more coffee... which had to be prepared by special request each time.
Naturally, I kept looking for better deals during my idle hours in the CentrePoint and found The Sukosol hotel right next to the Phaya Thai BTS station which is conveniently connected to the Airport Rail Link to Suvarnabhumi International Airport terminal. It is a five star hotel owned by Mrs. Kamala Sukosol, a popular local entertainer. I walked in to check it out knowing it would be expensive, but thinking I might again splurge for my last few days in the city. Quick access to airport transportation during a period when huge protest crowds are expected to be shutting down the city with traffic blockages seemed a prudent precaution as well.
The very polite receptionist confirmed the availability of rooms at 4002 Baht (about $125). Blanching briefly, I acknowledged the rate for such an elegant lodge probably justified, but with a wink asked the young receptionist if he thought I might do better by checking the Internet for discount rates. He nodded and replied: "Yes, I'd check the Internet." Check it I did, but online rates at the hotel website matched the walk-in rates! However, booking agent, Agoda currently offered significant promotional discounts. What a pleasant surprise: total cost with a fabulous buffet breakfast rivaling those at the Amari I paid $90.83 per night including the 17% all hotels tack on to advertised rates. (Checking rates a week later I discovered just how special that rate had been as 15%-25% higher rates seem to be the norm!). This is the best hotel I've enjoyed this entire trip Even the super promotional rates I enjoyed are a tiny bit above my comfort range, but the quality of everything is unsurpassed! The staff is uniformly polite and friendly.
While making late hotel checkout arrangements the day before my midnight "redeye" flight I met twenty-eight year old Harry (Liu Ting Hao) at the reception desk who took an interest in my extensive travel experiences. Explaining I needed somewhere to work for many hours until about 9PM after my 2PM checkout time the next day, he walked me up to the 21st floor executive lounge and arranged with the lounge receptionist to grant me special access the following evening.
Harry is Taiwanese Chinese, but has been living in Thailand for nearly twenty years since he was nine years old. A hotel management university graduate, his "Americanized" English is easily understandable and he enjoys meaningful conversations with guests like me... whom he mistakenly took for a retired college professor! He hopes to travel widely at some point himself and pumped me for information about destinations I've visited.
A huge bas relief of Thai royal history is mounted above the reception desk and Harry explained the significance of the representations. Chatting for quite some time we exchanged views on democracy in our two countries, Harry maintaining the Thai experience with a constitutional monarchy is unique. I'm not so sure and feel Americans can learn much from the current turmoil here in Thailand. Certainly the passion of the people on the street cannot be ignored. Why are Americans so much more passive by comparison? Is there an undercurrent of passion in our country waiting to boil over? I quiver at the thought of a half million Democrats and Republicans facing off around the Washington Monument, but equally improbably events are occurring throughout the world as I write. Recently discovered: "Revolution: An Instruction Manual" is a short YouTube video which could get both the disheartened and would-be revolutionaries stimulated... thought provoking and well done.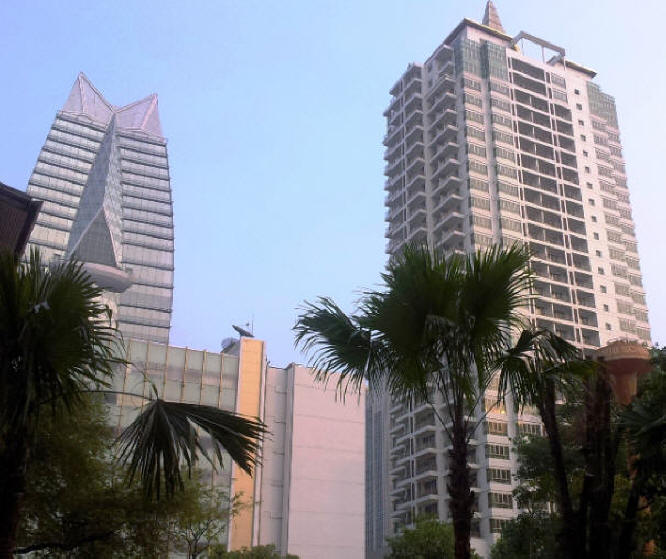 Bangkok: View of the exterior of the Centre Point Ploenchit Hotel from the north showing the side where my room is located on the 28th floor.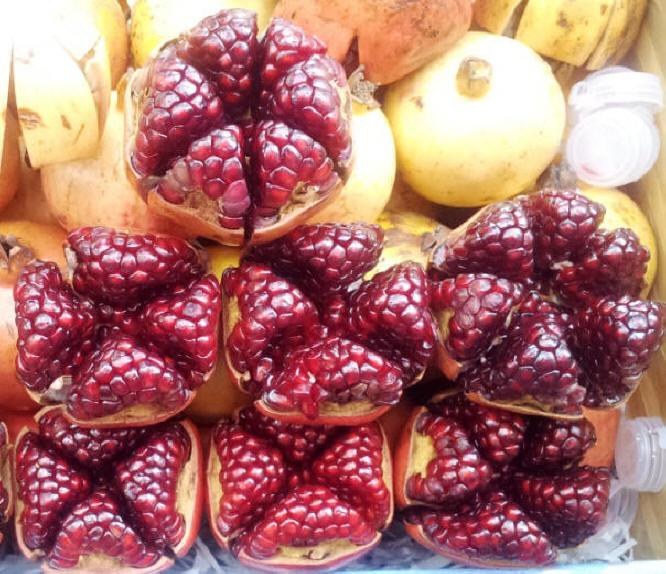 Bangkok: Street vendors offer pomegranates cut for display like this. So beautiful I couldn't resist taking a picture.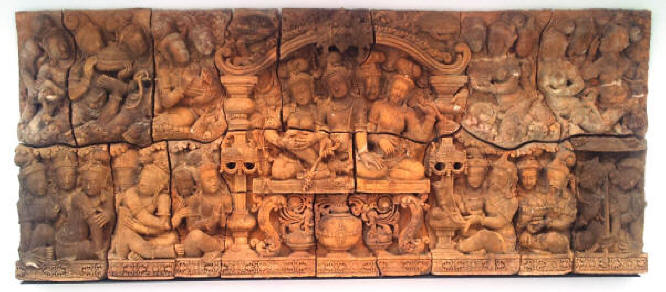 Bangkok: This assembled bas relief creation dominated a lobby wall in the Centre Point Ploenchit Hotel where I stayed six nights while trying to make flight reservations to return home.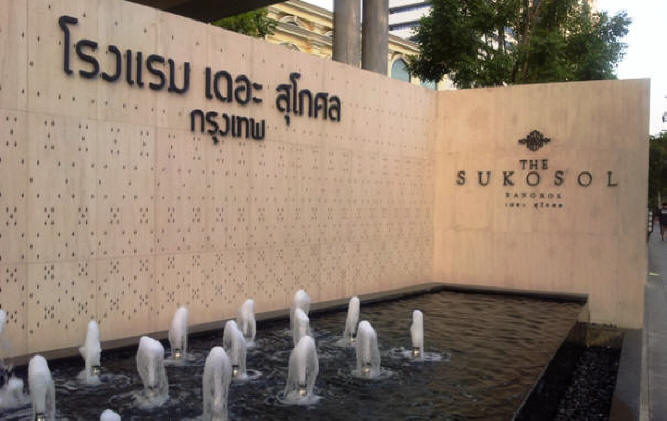 Bangkok: Decorative wall and fountain in front of the five star Sukosol Hotel where I stayed my last two nights in the city this visit. Had I discovered it earlier, I would have spent much more time in this amazing property.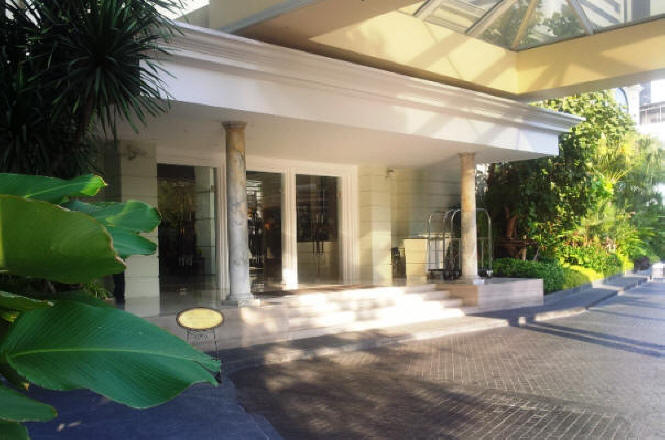 Bangkok: Main entrance into the lobby of the five star Sukosol Hotel where I enjoyed my last two days in the city.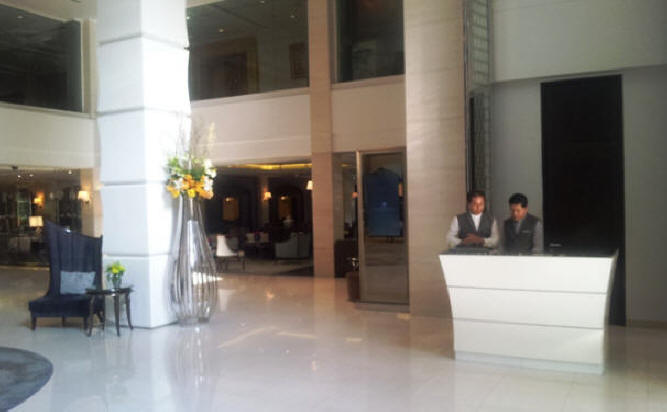 Bangkok: Concierge desk in the lobby of the five star Sukosol Hotel where I enjoyed my last two days in the city.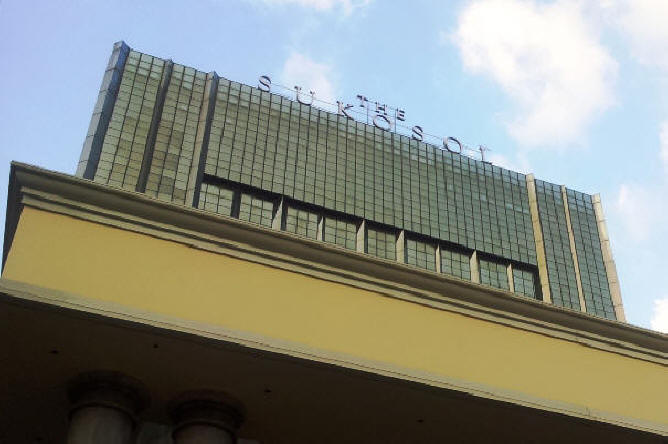 Bangkok: Looking up at the front of the five star Sukosol Hotel where I stayed my last two nights in the city this visit. My last long day in the hotel waiting out my midnight flight, the staff allowed me to relax in a lounge with access to an excellent Internet terminal.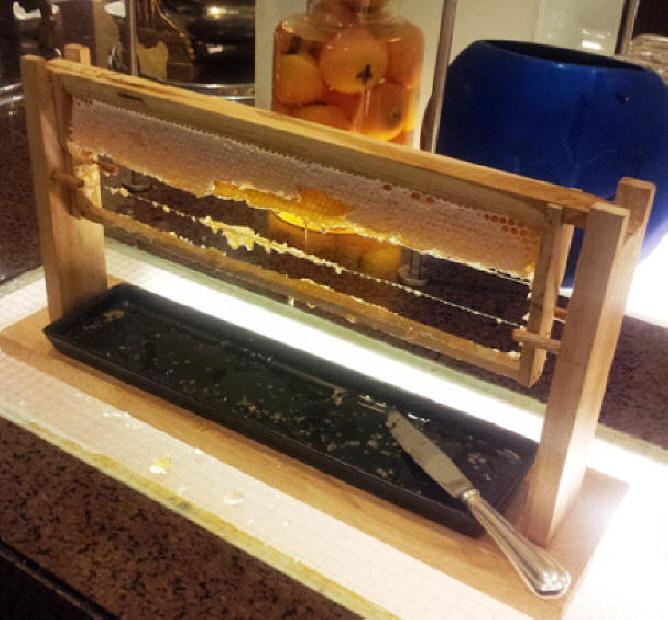 Bangkok: This unusual honeycomb presentation of the sweetener is part of the breakfast buffet at the five star Sukosol Hotel where I stayed my last two nights in the city this visit.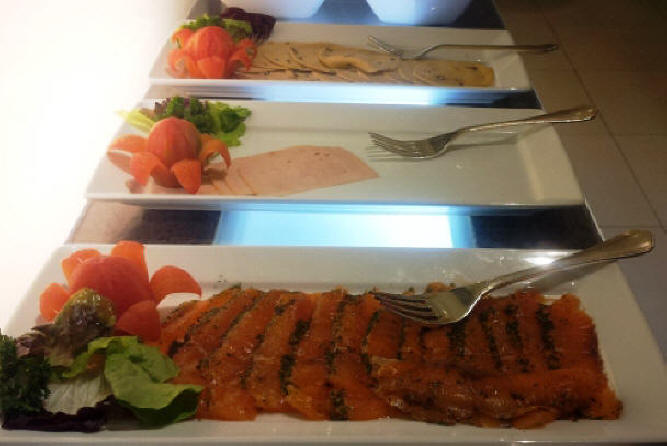 Bangkok: Smoked salmon is a part of the breakfast buffet at the five star Sukosol Hotel where I stayed my last two nights in the city this visit.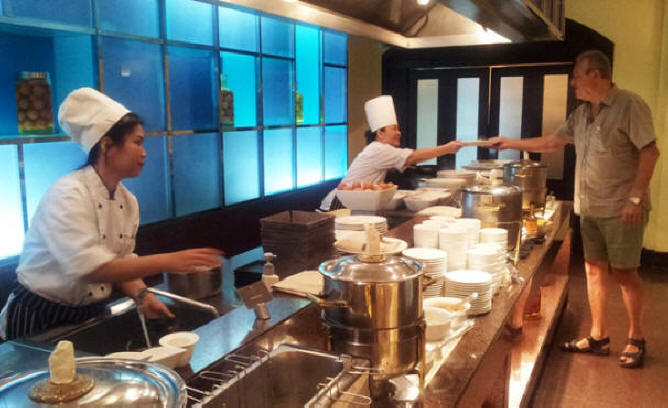 Bangkok: Part of the breakfast buffet at the five star Sukosol Hotel where I stayed my last two nights in the city this visit.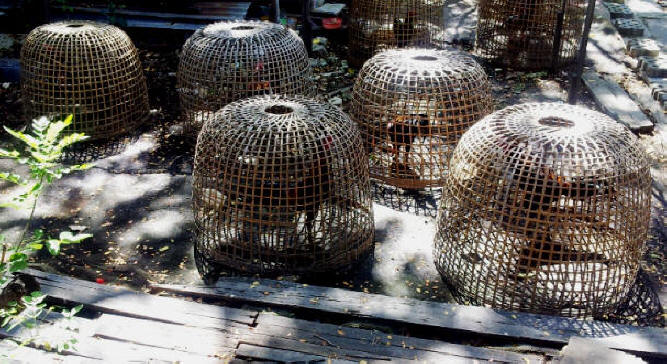 Bangkok: As I followed protestors around I noticed many walked along the train tracks and decided to investigate. The tracks are bordered by slum dwellings built right up to and on this broken walkway. In one yard I spotted these containers with "fighting cocks," at least I presume that is why each bird is in its own cage.


Bangkok: Tasty offers like this can be found in every block of this crowded residential neighborhood.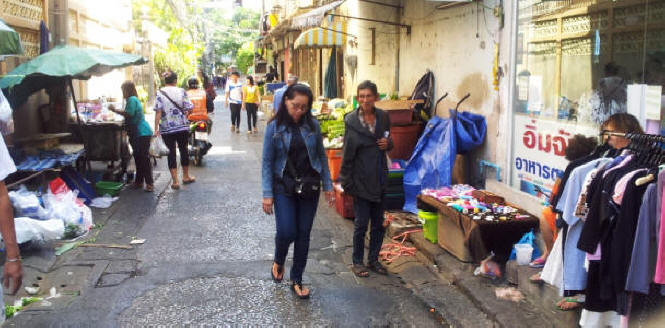 Bangkok: Railroad tracks are bordered by slum dwellings built right up to them with narrow streets branching off into makeshift neighborhoods like this one.