Greetings from Pyongyang DPRK - North Korea
We begin this trip at a time when diplomatic relations between China and their next-door neighbor client state, the DPRK have been cooling. I wondered why and checked for news and analysis of the evolving Chinese sponsorship. It turns out China is no more happy with the erratic diplomatic behavior of the DPRK leadership than is the rest of the world.
Day 1-Tuesday, 25 August 2015: Fifty brave or foolhardy souls assembled in front of the KFC restaurant near the Koryo Tours offices to wait for the 10AM airport transport bus as news broadcasts revealed ongoing purges of the top DPRK military brass... and closure to foreign tourists of the DMZ, one of the main attractions on our itinerary. The fifty people divided into two groups came from all over the world: Finland, England, Scotland, America, Canada, France, Singapore, Japan, et.al. Jessica led our group and Sarah led the "party" group of younger people. Several of us used the time to get a morning cup of coffee or breakfast. Dr Richard Birrer who has traveled even more widely than me shared a table and details about our professional backgrounds and travel interests until time to leave.
By accident or design the fifty participants were divided into "older" and younger groups. I discovered this on our last night when given a ride back to the hotel in Sarah's partying group bus which left earliest after watching the evening's dance performance. Singing, laughing, joke telling kept everyone in a jovial mood, in a youthful mood... compared to the relatively serious atmosphere obvious on our more "mature" bus with the several over fifty members.
The insurance company providing travel insurance for those of us who could not prove international coverage in our home medical insurance policy, does not cover travelers over eighty. So during our wait for the bus, one of the Koryo people approached to inform me they had decided my existing Blue Cross medical insurance would be adequate even without details and refunded my 45 Euro special insurance fee payment. If there were a medical emergency they assured me, a phone call to Blue Cross for the needed details could be made. Dr. Rich Birrer, a licensed New York M.D. in our tour group confided he would be my "private physician" for the duration of our time together should the need arise. His medical specialties are geriatrics(!), public health and sports medicine, now spending most of his time traveling around the world from one teaching assignment to another. At 65 he is an engaging and intelligent conversationalist. We had numerous delightful exchanges throughout our five days together.
Eventually, our Koryo Tours guide, Jessica Mader gathered her charges and hustled us onto the airport transfer bus. The short flight reached Pyongyang in a little under two hours. Immigration did not differ much from what I've experienced in other countries. Customs, however required a more thorough scrutiny. Everything electronic plus books and videos needed individual examination. My Asus T100 laptop attracted special attention. "Turn it on." demanded the customs agent. "Where are the movies?" he challenged. Satisfied nothing in my possession could subvert innocent Korean minds he motioned me on. Now cleared by DPRK customs I gathered up my scattered possessions, repacked and left the area out into the arrival lounge where others in our group milled around.
Jessica let us know it might take as much as a half hour for everyone to clear customs. So, after checking with a couple security guards to see what photos would cause no concern, I wandered around the lounge snapping pictures of other passengers in the lobby and features of the lobby itself. Take a photo of a security guard? That would be clearly prohibited. After ten minutes of unexciting photography around the lobby, Jessica approached with one of the security guards and asked for my passport. Promptly, I passed it to her with a question. The guard dashed away back into the customs area, but came back in a few minutes to return my passport. I never did get a complete explanation for the exceptional attention: something about reconfirming some item in the passport, but in North Korea no one wants special attention from the government security people.
After boarding our comfortable tour bus, one of the KITC government guides, Miss Han briefed us on security aspects of the activities planned for the rest of the day and we were then taken to a huge plaza next to the Arch of Triumph to witness students dancing to military/folk music before heading eventually to our first night hotel. The 25th of August in the DPRK is a national holiday and thousands of college students from 13 colleges and universities in Pyongyang dressed gaily in traditional attire filled a huge assembly area next to the Arch of Triumph to celebrate Day of Songun (Songun is the official military first ideology of the DPRK which dominates foreign policy.).
Martial music signaled the start of a series of traditional "folk" dances which reminded me of American square dancing. The kids performed like professionals, some even smiling, but most just doing their duty it seemed. I saw not a single over weight student during our couple hours watching... in fact, almost everyone we saw during our five days in the country looked slender and mostly physically fit... except for some of the foreign tourists!
Many people in olive uniforms hovered around the periphery maintaining security for the event. The whole scene could have been taking place in Santa Barbara except for the colorful traditional costumes. I must have taken a hundred photographs, expecting to discard most. Often I'll find some small detail in a picture which can be cropped out of a larger similar photo, so I keep shooting.
Pyongyang is a very orderly city; no clutter or trash on the public areas at all! Actually, I didn't even see trash cans! There are no overhead power lines visible anywhere in the city nor anywhere else we went for that matter. Air quality in the city made me feel like being in the countryside where oxygen producing plants out compete the pollution belching internal combustion engines. I could see a few roof mounted solar water heaters on some of the buildings and on the balconies of several apartment towers could see electrical solar cell arrays.
In addition to many convoys of construction dump trucks, public buses, tour buses and swarms of bicycles I saw a surprising number of private cars, only some of which could be identified as government official. I found that unusual as I understood there is officially no private ownership in the country - but, rumors of a thriving underground private informal economy abound. Roaming the city is a noticeable number of loudspeaker trucks, though I never heard any of them making announcements.
Entertaining us at numerous busy intersections around town are prim traffic cops in smart white uniforms executing precise mechanical movements calculated to catch the attention of anyone seeing them, including photographers on our bus who attempted repeatedly to catch one of them in a particularly striking pose. Traffic moved normally and people seemed to be polite... especially when compared to the many thoughtless contemporary Chinese I've been seeing in Tianjin and Beijing.
The first night Ryanggang Hotel is very basic. The architecture is old Soviet design and the place has not been well maintained. The room key fob is made from a clear plastic so looking at it from the wrong side, I read room 804... with a funny looking "4" and selected the wrong elevator floor button #8 the first time. My room 408 has two twin beds: planks with hard, two inch thick pads covered by a single duvet containing a lumpy comforter inside. Two small, very firm foam filled pillows are provided. Getting comfortable proved next to impossible. Most of the main lights are inoperative, making seeing things at night more than difficult. Radios installed between the twin beds in the hotel used for three of the four nights had no electronics behind the front panel, reflecting the poor maintenance obvious throughout the house. The old fixtures in the bathroom included a tub with shower surrounded by a plastic curtain. I skipped the shower and made do with a wash cloth this day.
Electrical outlets made it possible to recharge my phone and laptop. A water boiling pot made it possible to brew a cup of hot chocolate from my personal stash before plopping down on the most uncomfortable bed since I turned eighty. The Ryanggang Hotel might be rated one or two stars if hotels in the DPRK used a star system. There is, of course, no Internet access here at all. However, I have been able to use offline programs on the laptop in the evenings to edit notes while on the tour.
Dinner around circular tables seating six, while not gourmet, was plentiful and healthy. Fish, beef, plenty of rice and vegetables appeared, delivered by young maidens in colorful traditional dress. Beer is cheap and readily available to foreign tourists: a liter bottle of a local brew costs just a dollar and the men in our groups guzzled before dinner was served... I even had a couple glasses myself. Breakfast next morning in the same hotel dining room at 07:00 offered a selection of items each served on their individual dishes plus coffee.
I have seen three different kinds of chopsticks used around the world and wondered why. I asked our Korean guides about the unique metal chopsticks used in Korea; they didn't know much more about the utensils history than I did.
Just before the start of our tour national DPRK time was changed for political reasons and I am still struggling with learning exactly what time it is... a priority problem as the tour bus leaves with or without anyone late! (Not actually, but that is the threat...) Before the tour DPRK time was exactly one half hour earlier than time in Beijing. Ten days before the start of our tour they set their clocks another half hour earlier, something my Galaxy Note phone refuses to synchronize. That is clear enough now, but during the five days in the country I could never be absolutely sure of the time and a half hour error could have been embarrassing!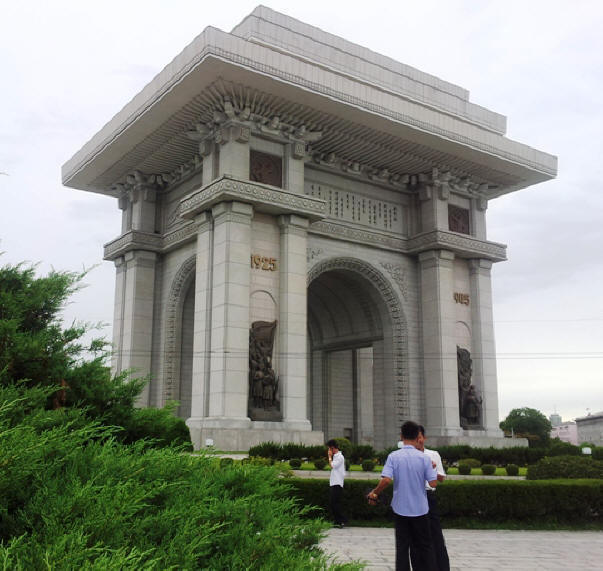 Pyongyang 2015: Our first stop after landing is the Arch of Triumph where thousands of brightly dressed college students performed folk dances to commemorate victory over Japan some seventy years ago.
Day 2-Wednesday, 26 August 2015: Breakfast on our second day at 07:00, leave on the bus at 08:00 taking all our stuff because we will be in a different hotel tonight. The buses could hold forty people so I always had an empty seat for my backpack. Today is bowing to statues day. After boarding the bus Kim, our government monitor delivered a long speech about the necessity of visitors showing respect at the tombs of the country's dead leaders and to do so in the custom of the Koreans. Later, I noted to our Koryo tours guide that every country has it's own way of demonstrating respect and wondered aloud if that might not be a more sincere way for foreign visitors to demonstrate their respect. She could not add anything to my question. Many people on foot or bike carried big soft filled bundles, but none looked like the typical homeless person seen in other countries. Eventually I became aware of the numerous men wearing odd haircuts popularized by the current young leader, Kim Jong Un.
We visited all the major presidential statues today, bowing in the Korean custom at each one and then went to the mausoleum to "show respect" for the embalmed bodies of the first two Kims, bowing in three locations around the remains of each great man.
The Kim Il Sung Mausoleum is entered by standing on a series of several block long moving sidewalks while somber "funeral" music is played to create an appropriately respectful atmosphere. Another recent visitor has provided an excellent detailed description of what we all experienced once entering the North Korean founding father's mausoleum. At every strategic corner an officer in full dress uniform, his epaulet showing three stars stood at attention in solemn silence, staring straight ahead, unblinking.
Adjacent to both mausoleum rooms containing the bodies of the father and son are special rooms devoted to all of the "honors" received by each leader while still in office... but, not yet the current living leader, Kim Jong Un!
While waiting to enter the mausoleum I spotted a group of five Westerners without ties and approached them to inquire how they had been granted entrance to the holy of holies without conforming to the strictly prescribed dress code. "I don't know; our Korean guide arranged it." seemed like an improbably reply. I now suspect the Koryo Tours company has contrived to look good in the eyes of KITC, the government agency responsible for managing foreign tour group companies. Certainly our well dressed and well behaved exceptionally respectful group must have made Koryo Tours look exemplary. Given the KITC representative's long speech full of admonitions about the proper way to "show respect" for the dead leaders so as not to offend the Korean mentality, nothing less could be expected. However, when the times for deep bowing arrived I could not bring myself to bend more than a token deep nod, making my meager effort stand out along the line of horizontal backs on either side.
In the honors room for the son, Kim Il Sung we saw a PhD degree awarded by a Kensington University in the U.S. (I checked on the current status of the "university" and discovered the notorious diploma mill is no longer in existence, disappointing as I thought how provocative it would have been to display a doctorate diploma from the same school as North Korea's Kim Il Sung!)
Every stop, no matter how brief included time for shopping. It soon became obvious the main reason we were here is to fill the coffers of the country with as many Dollars and Euros as possible... and I saw a lot of foreign exchange left in the country by visitors anxious to buy imported luxury goods unavailable to local citizens... why, I can't imagine! Souvenir prices tended to be higher than one might expect for a country like North Korea. The displayed exchange rate of 100:1 for North Korean Won to Euros made prices appear cheap... and some things like beer were indeed inexpensive using these numbers. But published official exchange rates provide another confusing picture: 1000:1 and one could never be sure how the government manipulated value and pricing. Two separate economies exist in the country: one for those with foreign exchange Euros and Dollars - and another for citizens of the country who receive "IOU's" in payment for work, according to one local informant who spoke English.
While I saw DPRK security people everywhere, there were no guns visible! I always felt watched, but never felt in any danger; quite the opposite. There were watchers in both hotel lobbies... just keeping an eye on things like in all upscale hotels around the world.
Lunch at the restaurant today turned out to be quite nice and included a glass of beer. So much hill climbing took its toll on this ancient one and my legs became wobbly toward the end of the day.
When we finally arrived at the second night Jangsusan Hotel in Phyongsong north of Pyongyang I discovered they had put me in a fourth floor walk-up! Tired and thirsty I climbed the four story mountain with some effort. The twin bed room has a single 25 Watt bulb for illumination making any activity a visual challenge. Hot water for tea is available in a huge thermos. The mattress is thicker and softer than the first hotel, but far from luxurious! I think I'm being punished for starting to wander away from the group a couple times today... and/or failing to bow deeply enough while showing "respect" for the North Korean leaders. After checking into our hotel many of the younger people walked outside the hotel building to a group of three tent enclosures which provided a place to drink beer and entertain one another with Karaoke singing.
Breakfast tomorrow morning is at 06:30 and we leave the hotel at 07:00... a quick breakfast! This evening Jessica let us know recent political changes now make it possible for our group to visit the canceled DMZ segment of our tour as originally scheduled. I will skip the shower again in this hotel. After four nights without a shower I should really appreciate a western quality hotel in China.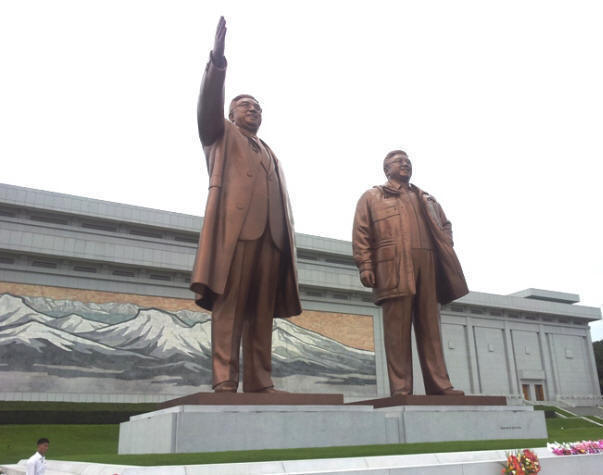 Pyongyang 2015: Our North Korean minders instructed us how to take pictures of statues of the country's leaders: include the entire statue; don't cut off any part of the figure! "Say what?" This image complies.
Day 3-Thursday, 27 August 2015: All restaurants and hotel lobbies had huge, monumental portraits/murals of the "great leaders." The dining rooms are designed to accommodate very large numbers of diners seated around 6 person tables. Each diner received his own collection of individual serving dishes with small portions of various foods. Less often, larger plates arrived with foods to be shared among several diners.
Wolfing down an early breakfast we headed south to the DMZ. The bumpy ride in our modern tour bus made it obvious highway maintenance is not a top priority in North Korea. On the other hand, an endless caravan of huge red dump trucks streamed in and out of the capital city; some carrying crushed rock. There are numerous high-rise construction projects underway, most deviating from the old Soviet style architectural designs common for the established structures.
From the nearly deserted highway between Pyongyang and Panmunjom-DMZ endless fields of many crops stretched into the distance. If what we were allowed to see is typical of the rest of the country, no one will starve this year. All fields contained companion planting: lots of corn, rice in multiple stages of growth and beans plus many other crop verities. Though our meals always included cabbage, I didn't see any growing. Half way to our destination our rest stop included yet another shopping "opportunity." Alan from Singapore and his son, Chris provided interesting events for our observation. At the rest stop he peeled fresh pears for several of us, always in a jovial, devil may care mood, a delightful contrast with his impressively mature son, Chris.
The livestock visible from the road included many goat herds, cows grazing in the green strips along the highway and... dogs roaming freely (They eat 'em, ya know!). There must be dairies in the vicinity because we encountered quite a few ice cream vendors around the popular tourist attractions. Local people appeared to be enjoying the extravagant treats as much as visitors from the "imperialist" countries some DPRK tour guides take pains to emphatically castigate, no doubt following scripts given them by the propaganda arm of the government which does not want anyone to forget they are still at war with the invaders of last century.
Near one of our restaurants I discovered a soft cone machine pumping out paper cups of something very close to a KFC soft cone for about a half dollar U.S. in foreign exchange. ALL commercial activity in the DPRK is handled by the government; there is no legitimate private enterprise in the country. That said, several of us witnessed what appeared to be individual ad hock selling of trinkets on the sidewalks, no doubt in violation of the law and probably very risky given the astoundingly harsh punishments rumored for any transgression.
After the Monday, 24 August military confrontation at the DMZ several generals got removed for sensibly disagreeing with the leader's threatened all out war with the South Korean allies on the other side. No one, with the possible exception of Kim Jung Un himself, took the threats seriously, though everyone remained alert lest the unexpected happened. While the armed forces of the DPRK is huge, old poorly maintained equipment, and man power mostly unavailable for combat make the military a Paper Tiger. The strategic situation is a different matter and casualties in and around Seoul would be horrendous even in an asymmetric military conflict with or without the threatened use of nuclear weapons.
The highway connecting Pyongyang and Panmunjom is punctuated by a half dozen security road blocks at which our bus had to be cleared before continuing. Our government minders repeatedly reminded us: "no pictures" of any military subject... "just put the cameras away so there is no chance they will be seen in the windows by the security people outside!" The admonition became particularly strident just before one of the half dozen highway tunnels on the way to the DMZ.
In the green building where the armistice was signed I sat on the North Korean side of the table while a DPRK officer delivered a lecture by rote with one of our government minders interpreting his speech. We then drove back up to Pyongyang over a nearly empty highway noting mostly tourist bus and construction truck traffic. I don't think I saw more than a couple dozen passenger cars during the two hour drive; most people walk or ride bicycles. Large bundles occupied the rack of probably half the bikes. Poorly dressed people who might have been homeless marched around with oversize bundles on their backs. At every comfort stop we found a bunch of tables full of snacks and souvenirs... all available for purchase with foreign currency. The selections included many imported luxury items like famous perfumes and liquors. The sales girls all wore uniforms identifying them as government employees.
Back in Pyongyang we first visited a middle-school where some of our members moved to the front of the class and carried on English language conversations with the students. One of the bright kids reviewing his ambitions said he wanted to study science to help the country. Looking in on several classrooms I saw busy students at work interacting with one another, the teacher wandering around from one group to another, much like one sees in American high schools.
After the school we visited the Military Museum (Fatherland War of Liberation museum) where uniformed guides dished out a heavy dose of DPRK propaganda about their view of the Korean Conflict. One guide in a crisp military uniform lectured us dramatically about the "imperialists" machines of war on display that were captured by the heroic forces of the DPRK, including a tour of the spy ship: the USS Pueblo taken while inside the Korean thirty mile limit territorial waters. My camera battery finally quit and the two month ago charge on my backup camera also failed, so no personal photos here, but there are several sites on the Internet with good photo collections.
A huge circular diorama with viewers seated on a moving carousel in the middle gave me a chance to share ideas about war and peace with a 25 year old government minder who's grandfathers have died and seemed to identify with me in that way. Miss Han Yong Un listened as I reacted honestly to my feelings about the horrendous battlefield displays we passed on our 360 degree tour of the presentations while the government narrator harangued the main body of our group seated out of my hearing range with the North Korean version of the atrocities suffered by the outmatched heroic people of the country at the hands of the pitiless imperial aggressors. After the serious subjects I asked about her family, her boyfriend, her plans. She shared many personal details of her life: being the youngest, her older brother worked in international trade and her sister in a government bureaucracy; both grandfathers are dead and her boyfriend is Kha. "Will you marry?" I asked.
Undecided she asked me how she could know if he would make a good husband. So, I gave her the best grandfatherly advice I could conjure: "Make sure you choose someone who is or can become your best friend... that he is someone who makes you feel good about yourself. Physical appearance and sex soon fade with age, but friendship is a lasting quality." Tiny Miss Han seemed to absorb my advice with an emotional intensity reserved for family. For the next couple days she treated me like a cherished grandfatherly old man, offering gentle assistance when really not needed.
Lunch in a delightful restaurant with Japanese-like food plus beer and for the most adventuresome, a $5 add-on dog meat dish which prompted a lot of humorous behavior including barking! Then over to the theme park where many in our group forked over about $5 to sample each thrill ride. The bumper car ride proved interesting as the Koreans drivers made a special effort to AVOID bumping into one another! We speculated this might be a reflection of the tightly constrained social order currently in the country. If the Leader had told everyone to bump hard, the scene might have been different. Thirty year old Chris from Washington DC in our group speaks excellent Korean, but did not like being interrupted to share what he was able to learn from his conversations with locals, so reluctantly I left him alone. Then, at 21:00 we finally headed over to a quite nice restaurant for "famous" cold noodles with entertainment joined by several of our talented members.
Reaching the Ryanggang Hotel about 22:00 the Koryo Tours guide, Jessica swapped rooms with me, but the new room #435 is really no better than the #408 I had before. However, taking the extra comforter from the unused bed and adding it to the thin cushion on the other bed created an arrangement more adequate for sleep.

Panmunjom/DMZ 2015: With Kim Jong Un threatening war the area had been off limits to foreigners, but a last minute decision by KITC allowed our group to visit Panmunjom where the armistice ending the Korean War was signed. The table straddles the 38th parallel so we easily walked back and forth between North and South Korea while in the building; no visas required.
Day 4-Friday, 28 August 2015: This day began after a very welcome good night's sleep for a change with breakfast at 08:00 and leaving at 09:00 to visit the Revolutionary Martyrs' Cemetery where a lifelike bust with a short biography has been erected for each fallen hero in the war with Japan. Then, on for an exploration of the "famous" subway system completed in 1973. The escalator goes deep; 100 meters down from the surface and is claimed to be the deepest in the world and also could serve as a bomb shelter in the event of war. The cars, manufactured in East Germany (DDR) during the 1970's are old and basic with benches along the length of the cars. Half the fluorescent bulbs are not working on the several cars we checked. The privilege seat in each car is reserved for veterans... not people with disabilities or the elderly. People entering a subway car are generally polite, allowing exiting passengers to get off before rushing inside for one of the available empty seats... unlike the inconsiderate subway behavior seen in eastern Chinese cities these days.
At one stop while standing, two seats became available and I moved toward them thinking to sit down. Two old ladies quickly moved toward them at the same time. As soon as they saw my intention, both ladies backed off and excitedly motioned for me to take a vacant seat. Seeing their decrepit condition, I made an even bigger fuss to indicate the old ladies should have the seats. But, they were adamant and everyone let the available seats stay vacant while they and several other passengers urged me to sit down. As we only wanted to ride a short distance to experience the subway operation, I relented and took one of the two spaces while one of the standing old ladies now moved tentatively into the other vacant seat, whereupon a congenial "conversation" with gestures ensued through one more stop before we all got off at the end of the short 17 stop line.
At the terminal station we exited close to the Arch of Triumph monument visited earlier in the tour. We next went to a bowling alley to watch every lane being used by obviously bowling neophytes as most balls moved down the alleys in a gutter! To be fair, some of the alleys appeared to be warped causing balls to veer from a straight path. Over priced snacks in the bowling ally made me suspect the entire setup might have been contrived to impress and fleece the foreign tourists.
During the afternoon those wanting to attend the hour and a half circus performance (additional 5 Euro fee) left Rich and I in the bowling alley with our government minder, Han. When we had enough of that she took us to an over priced "coffeehouse" nearby where we could sit and chat. Neither Rich nor I appreciated the unattractive tourist trap designed to extract more Euros from foreigners and wandered outside where another national day celebration would take place in the evening.
When the circus crowd returned some of us walked over to a volleyball court where an energetic game progressed on sand. I thought our next event would be dinner and looked forward to it. But, another mass dance presentation into the twilight would delay any eating. Our vantage point for the extravaganza seemed just fine to me, but our tour guides decided to move the groups to the other side of the enormous pavilion, some half kilometer away. Grudgingly, I started the trek with Rich, but halfway there decided to stop and sit on an available deserted wall until time to return to the hotel. Rich shortly decided to continue the walk and join the others, but Miss Han stayed with me. Finally, the guide for the younger group, Sarah approached and asked if Id like to ride on their bus back to the hotel as they had decided to return earlier than ours.
What an experience being on a bus full of young people turned out to be! The younger crowd was having a non-stop party. Everyone on the bus wanted to be an amplified entertainer; singing, jokes and hilarity kept everyone laughing the entire time. As soon as one performer had finished another jumped up to take the microphone at the front of the bus.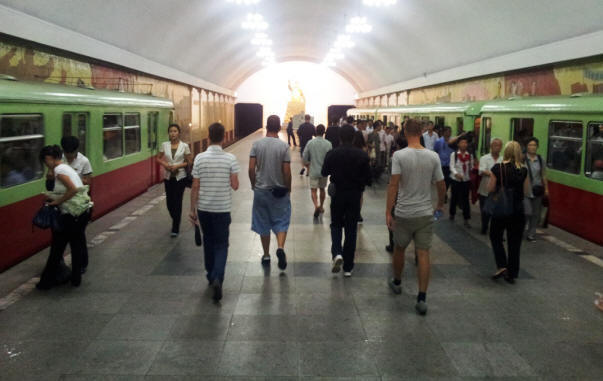 Pyongyang 2015: On our last full day in the country we visited the country's only subway transportation system/bomb shelter! Old East German cars with half the light bulbs not working, but glorious decorations and heroic murals on the walls, I found it hard to be impressed. On the other hand, people were very polite compared to the Chinese I've been watching lately. With only 17 stops, we visited three of them.
Day 5-Saturday, 29 August: Up early in time for a last breakfast at the hotel and airport bus departure at 07:00. Many heart felt farewells among tour guests and Korean guides/minders... especially with Miss Han in my case. After our conversation about her deceased grandfathers, she chose to treat me like a segregate grandfather... very sweet... and helpful. Overly solicitous, I never needed the ever ready assistance and felt self conscious each time she attempted to help me climb stairs or stand up when seated. These vignettes are necessarily an incomplete record of everything that happened, but the more accurate itinerary plan produced by Koryo Tours is reproduced at the end of the column to the right.
I end this trip with reflections. North Korea, like all other "dangerous" places I have visited, presents no greater hazards to sensible foreign tourists than parts of their own home town! Trouble makers will find what they look for, but the merely curious sightseer will almost certainly enjoy the show the DPRK government puts on for them, albeit with the undisguised intention of extracting as many Dollars and Euros as possible for their constrained foreign exchange coffers.
If I had thoroughly read "Commission of Inquiry on Human Rights in the Democratic People's Republic of Korea" report before the trip, I still might have chosen to make the trip despite the gruesome indictments made in the report. Not all accusations reflect a politics free reality and need to be checked by independent observers. The problem here is that the DPRK has created a pristine showcase for foreign visitors which in all likelihood is not an accurate reflection of the situation in the rest of the country!
The government propaganda arm will applaud my observation that abundant agricultural crops could be seen for miles along the north-south highway connecting the capital, Pyongyang and Panmunjom-DMZ and that if the rest of the country produced as much crop as is evident here, there would be no starvation this year. What we were allowed to see is but a tiny fraction of the total arable land in the country. I searched the Internet for DPRK remote sensing articles and found:
Studying North Korea via satellite
The Koreas at Night : Image of the Day - NASA
Food security situation in North Korea
...and others. The stories they tell are less optimistic. On reviewing the aerial photographs I took from the flight between Pyongyang and Beijing I see a lot of green fields stretching off into the distance and suggesting a healthy agricultural region. Is it typical or did someone contrive to show intensive cultivation under important airline corridors? I don't know; do you?
Reexamining the ethics of North Korean tourism, it does appear to me like foreign visitors and the foreign exchange they bring to the country are undercutting international diplomatic efforts designed to encourage the DPRK to rejoin the world community. The scare tactics used by the U.S. State Department to discourage visits by American citizens probably is counter productive... making the forbidden fruit even more attractive. Certainly that played a role in my decision to undertake this expensive and complicated adventure.
This trip more than others before makes me aware of age related physical challenges. Also, it has been a sharp reminder of why I choose independent wandering over organized packaged tours. I once remarked to a friend that I could walk any distance, climb any mountain if allowed to do so at my own pace. After dashing a couple kilometers or climbing four flights of stairs my body wants to sit a spell and group itineraries rarely take individual needs like that into account.
I am preparing this postcard in the happy arms of the Tianjin Radisson Blu Plaza Hotel which has been my de facto home most of the time in China this time. Now that it is finished I'll head north to the Mongolian border by over night sleeper bus out of Beijing and make onward plans when Saint Serendipity reveals her plans for me... and then return for my booked Beijing to Bangkok flight on 23 September. After some rest and relaxation in Bangkok I'll probably use my American Airline return ticket back to Las Vegas on 21 October... which I bought because a round trip ticket only cost a few hundred dollars more than one way!... and a Tran Siberian Railroad trip looked like a possibility.

Peace,
Fred L Bellomy
Prescript 31 August: I just got off the plane in Beijing from Pyongyang, North Korea and know more than a couple of souls following my reckless wandering will appreciate being assured I made it out with all fingernails intact. The five days and four nights in old hotels with hot water three hours a night and sleeping pads so thin uncomfortable sleep came in fits and starts, the non-stop jogging between statues and stair climbing insured I'd be so exhausted anything horizontal made comfort considerations secondary. For some reason, all of our lunch and dinner venues required climbing several flights of stairs.

On our last full day I finally ran out of steam and collapsed on a wall facing the huge plaza where gaily dressed college kids danced and flirted with one another while celebrating another of their national days. Our main group continued on to a better viewing location while I and Miss Han, a charming 25 year old government "minder" waited for the close of the festivities. (I was never allowed to wander beyond the observation of government minders.)

From the Beijing airport, the express train got me to the subway station where with only one transfer I reached the Southern Railroad Station to catch the next "bullet train" to Tianjin. Tired and thoroughly discombobulated, I need time to plan the Mongolian part of this craziness and write a DPRK postcard with a small selection of the 700 photos taken while in the country. The excellent Radisson Blu Hotel in Tianjin is the perfect place to do it. I'll begin working on a proper report once I"m again rested.

Internet access is still aggravatingly difficult; email is impossible and I apologize for not answering all of the many very welcome messages received during this difficult time. Unfamiliarity with all the peculiarities of Hotmail, my automatic forwarding of messages to other email services and the confusing arrangement of intermingled sent and received messages means I'm never sure what has been answered and what is till pending. Also, both the Galaxy Note phone and Asus T100 laptop may have been compromised. The batteries in both devices suddenly went into hyper-discharge mode. It now looks like I will once again need to restore the Galaxy to the factory configuration... a problem as the android device relies heavily on Google services which are unavailable in China!
The postcard from North Korea may take some time; there is a lot to think about before sharing any insights. Weeding the photographs alone will take hours and then processing the ones to be used in a postcard even more time. My cryptic notes and subjects suggested by the photos will need to be crafted into a readable narrative. So, be patient. It is in the works... and thanks for remaining interested in my adventures. FB