Greetings from Bangkok :
Being bitten by one of those elusive Mongolian Death Worms might have been less irksome than the travel tribulations experienced in getting back to Bangkok for my Las Vegas return flight. I arrived here on 23 September after several difficulties which included a plane delayed six hours by high winds in Ulaanbaatar and a desperate overnight bare bones sleeping cell in the Beijing airport before the final Bangkok connecting flight leg.
Reaching Bangkok late in the evening and in need of some serious R&R, I had prebooked a $97 room in the 5 star Sukosol Hotel known to be excellent and convenient from previous trips: this is my twentieth visit to the land of smiles. Head cold symptoms starting on 10 September back in Ulaanbaatar while in the Platinum Hotel are still sapping my energy. After two nights in the more expensive Sukosol I moved over to the 5 star Dream Hotel where I'd been able to negotiate a long term rate of $65 per night for an eighth floor premier king room... and immediately again received VIP treatment which included artistic presentations of smoked salmon delivered with a flourish periodically by the chef during breakfast. Daily fresh fruit in my room also continued, so I always had bananas and apples for snacks. Then, nightly plates of cookies started... to all guests on the eighth floor I surmise from the carts full of goodies I saw with deliveries under way to other rooms. This hotel definitely knows how to please their long term guests. While Pope Francis visited Cuba and the United States during my first week back in Bangkok, his historic mission dominated the news broadcasts on the television.
On Tuesday, 29 September what seemed to be a sinus infection, prompted me to start a course of Doxycycline before making another dental appointment with my Thai dentist. Sure enough, we discovered a deep cavity under a molar crown requiring replacement after a root canal treatment (total cost about $700US)... all squeezed into the remaining two weeks before that return flight home.
The first day in the Bangkok Dream Hotel I found a mosquito and asked Front Office Manager, Rasa from Lithuania to spray the room. She said all rooms had been sprayed two weeks previously. Then, during the first dental appointment to prepare for a root canal procedure, another of the little buggers bit me. Apparently, none of the mosquitoes I encountered carried the dreaded Dengue Fever virus so much in the news right now. There has been an epidemic of Dengue Fever south of the border in Malaysia with many deaths and mosquitoes are its vector.
The Dream Hotel has been both comfortable and an excellent value compared to other five star hotels in the city. However, eventually I became bored and craved the changing scenery of a river view. Studying the possibilities on the Internet made it clear most houses with that venue needed room rates well above my comfort zone. Eventually I found the AsiaTravel.com listing for the Ramada Plaza Bangkok Menam Riverside Hotel with rates only a little outrageous and made arrangements to spend some of my last nights there.
The hotel sits on the banks of the Chao Phraya River which is visible from my 14th floor room. The river sometimes reverses direction with the tidal flow, a mystery until I realized the cause. "Freight trains" move up and down the river: four barges lashed together pulled by a tiny tug so small it is hard to believe how much power it must have. With so many hotels along the river in this region of the city, shuttle boats operate continuously and offer free transportation.
My first night in that riverside hotel mosquitoes bit me in three places as I lay on the bed watching TV. The hotel reception staff offered to change my room... or spray. I chose to have them spray. The breakfast buffet is extensive, but not lavish and staff throughout the hotel avoid being either friendly or helpful! WiFi is unreliable both in the room and breakfast dining room area. That and the fact there is almost nothing in English on the TV with sound limited to an inaudible level, prompted me to end my riverside experience earlier than planned and dash back to the reliable Dream Hotel for my last three nights.
Back in the Dream Hotel I struggled with another dental infection following the root canal treatment. Another twenty capsules of Amoxicillin produced immediate relief from the pain and apparently knocked the infection. I've been tired a lot, so the bed has been a comfortable friend.
My 21 October flight (JL708/AA8412) back to Las Vegas leaves at 08:10 in the morning forcing me to make new hotel arrangements to be at the airport at least an hour before the flight... two hours recommended, but never necessary! The NASA Vegas Hotel located right next to the Ramkhamhaeng airport rail station has been a practical choice in the past and certainly beats sleeping on benches in the Suvarnabhumi International Airport waiting areas.
Rest and Relaxation doesn't make for terribly exciting reports, but it is an essential part of any major adventure experienced by youthful octogenarians. This last month in Bangkok certainly managed to be filled with very welcome recovery and recuperation intermingled with professional medical treatments!
The next epistle should come from the Hermitage in Las Vegas as I'm on my way home for an extended period of vegetating intermingled with some serious cogitating as my list of troubling puzzles has grown large. Stay tuned...

Peace,
Fred L Bellomy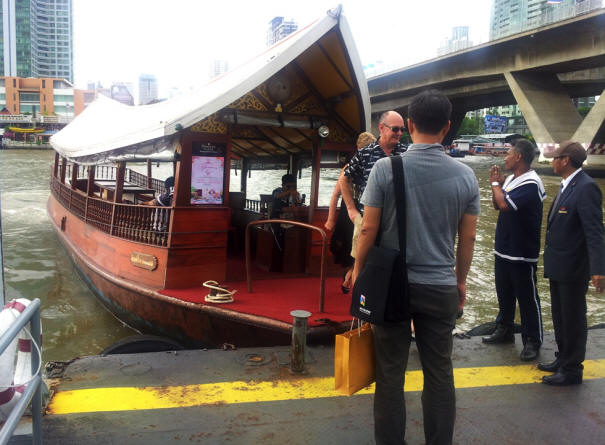 Bangkok 2015: Standing at the shuttle boat dock and looking at the Ramada Plaza Bangkok Menam Riverside hotel.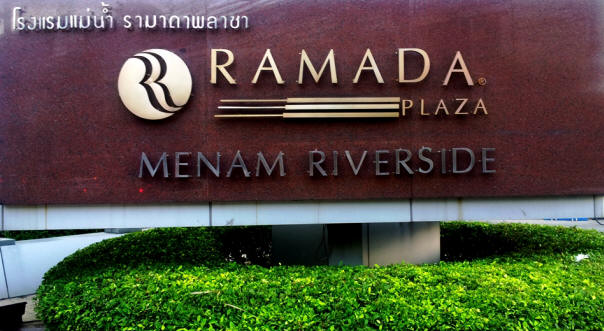 Bangkok 2015: Sign at the entrance to the Ramada Plaza Bangkok Menam Riverside hotel from Charoen Krung Rd.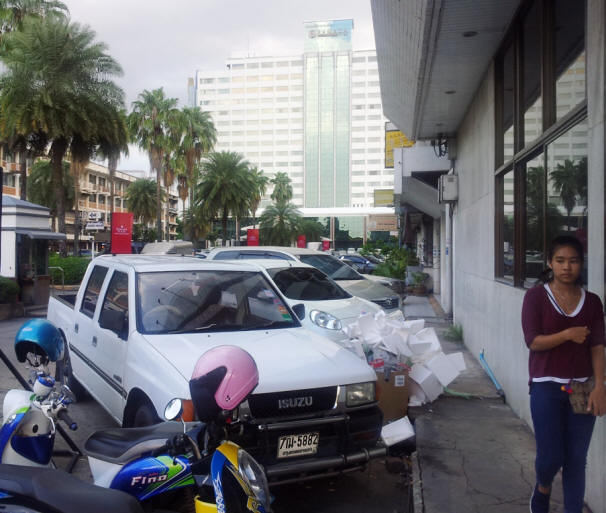 Bangkok 2015: View of the Ramada Plaza Bangkok Menam Riverside hotel from Charoen Krung Rd.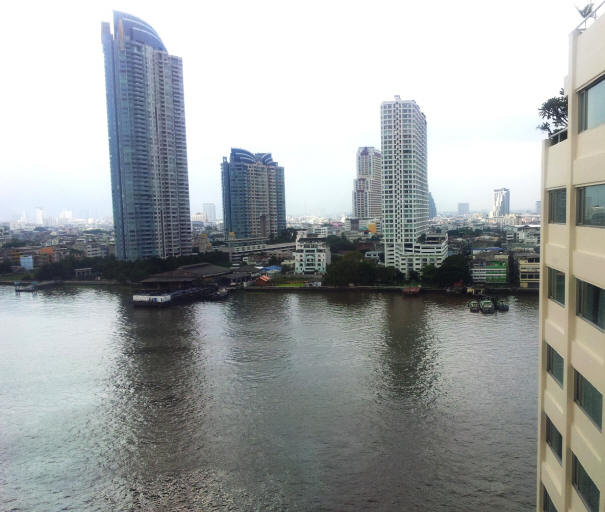 Bangkok 2015: Looking across the Chao Phraya River from my 14th floor room in the Ramada Plaza Bangkok Menam Riverside hotel I used during my last week in the city this time.


Bangkok 2015: Portion of a four barge train as seen from the riverside near the Ramada Plaza Bangkok Menam Riverside Hotel where I stayed four nights this time.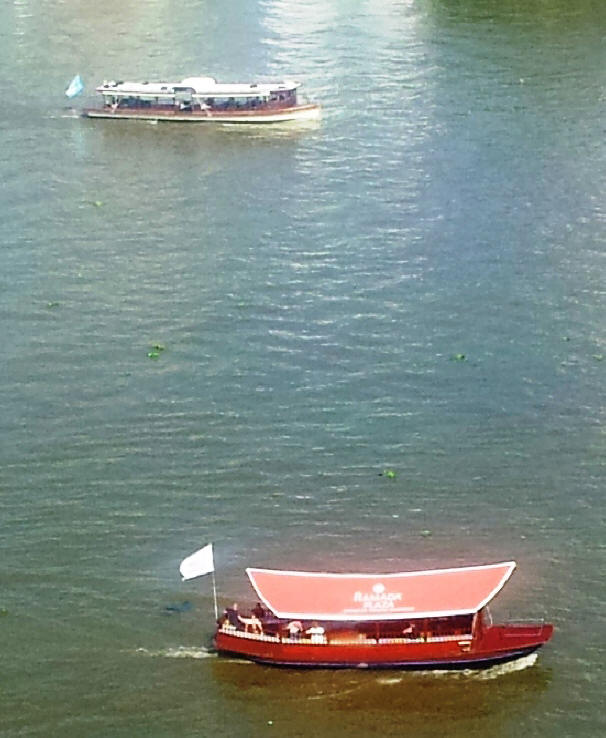 Bangkok 2015: Ramada Plaza Bangkok Menam Riverside Hotel shuttle boat heads back up stream to the Sathorn Central Pier near the Saphan Taksin BTS station. While there are many frequent buses connecting the two locations, I enjoyed the (free) ten minute river boat rides each time.


Bangkok 2015: One of the newer barges as seen from the riverside near the Ramada Plaza Bangkok Menam Riverside Hotel where I stayed four nights this time.


Bangkok 2015: This is a painting on the wall behind my bed in the Ramada Plaza Bangkok Menam Riverside Hotel where I stayed four nights.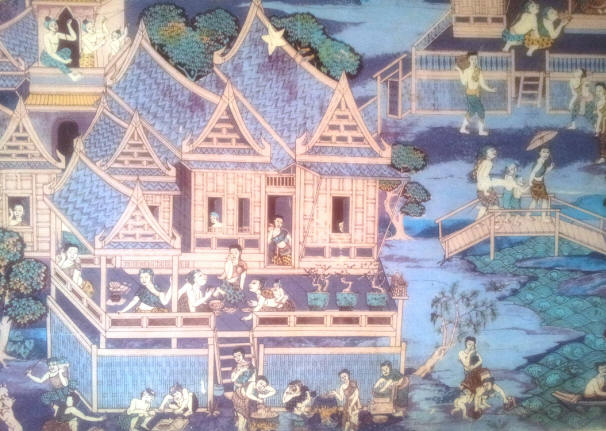 Bangkok 2015: Close up of the lower left-hand portion of the painting on the wall behind my bed in the Ramada Plaza Bangkok Menam Riverside Hotel where I stayed four nights.