Postcards from:


Before entering Africa
California
Prague Czech Rep.
Istanbul Turkey
Ankara Turkey
Konya Turkey
Antalia Turkey
Side Turkey
Demre Turkey
Cirali Turkey
Fethiye Turkey
Kayakoy Turkey
Marmaris Turkey
Rhodes Greece
Athens Greece
Enter Africa by Egypt

Ankara Turkey: A Bird's Eye View of Dikmen Valley.
8 February 2001
Hello from Ankara,
The trip from Istanbul to Konya has taken me through Ankara again. The modern capital city is spread out. I switch from trains to a bus for the ride south tomorrow. No photos during this short stop over.
Cheers,
Fred L Bellomy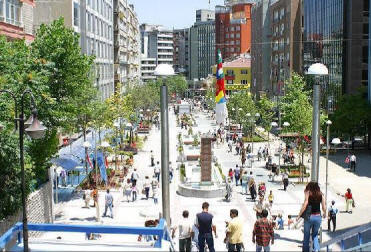 Ankara Turkey: Downtown parkway. Ankara is located in the state of Ankara, which is in the country of Turkey. With an estimated population of 3,519,177, Ankara follows the Asia/Istanbul time zone.