Greetings from Bar,
Bar, with a resident population of about fifteen thousand, is a unique little seaside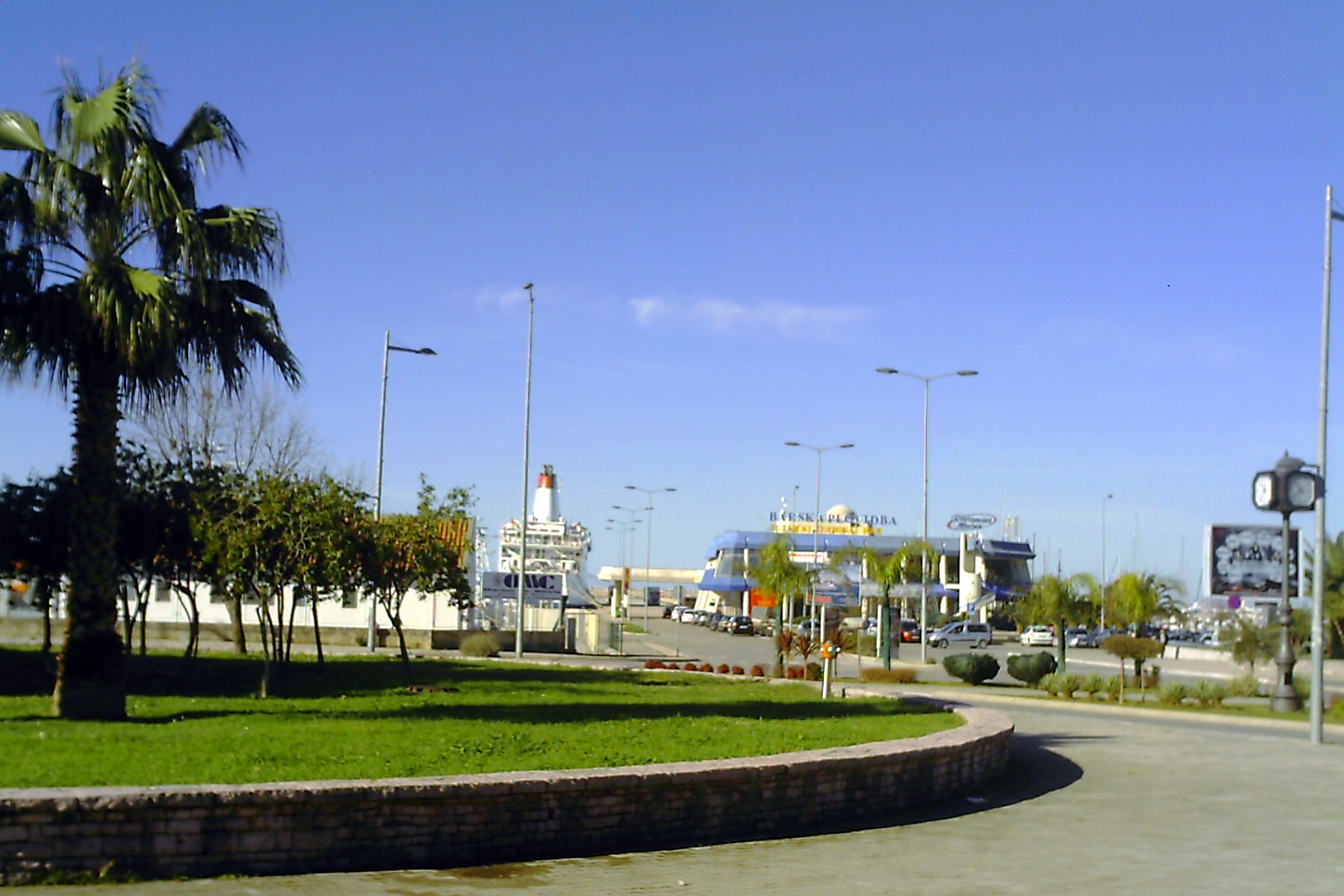 resort town in southern Montenegro, in many ways similar to Santa Barbara where I spent so much of my adult life. While wandering the city streets and harbor walks I rarely spotted anyone hurrying for any reason and often saw people paused to chat with a friend during a chance encounter. However, unlike my California home town, I see vary few oldsters. Apparently Bar is not a popular place to retire, though I can't imagine why not. Interestingly, Montenegro does not have its own language or currency! People here speak Serbian and financial transactions are handled in Euros, though the country is not yet a full member of the European Union.
My Macedonian adventure began with the 300 mile train ride down from Belgrade as the mountainous terrain required an endless series of tunnels for the rail line, actually 254 in all. Twenty-five percent of the track has been laid inside tunnels. The border itself occurred between two closely spaced tunnels where Serbian officials boarded the train and checked our passports. Every time the train emerged from darkness a new spectacular snowy vista presented itself.
With no assigned seats or compartments, everyone just grabs an unoccupied seat. I had my compartment initially to myself, but soon a series of groups joined me for portions of the ride. The first group consisted of a harassed woman and her three rambunctious or moody kids. Getting all of her luggage stowed and the kids settled nearly proved impossible for the poor woman. With freezing cold temperatures outside I wanted the heated compartment closed from the weather, but the sullen teen age daughter opened the outside window opposite our open compartment door to enjoy the blast of frigid air. The mother appeared too frazzled to notice the temperature change so I got up and closed the sliding door commenting on the cold temperature.
Apparently she needed the door open to allow her kids quick access to the adjacent compartment where the father had adjusted all the seats down into one big "bed" and sprawled. After a few minutes of this commotion the lady disappeared and returned with the guy who asked in English where I was going. When I told him, he had a brief discussion with the woman I presumed to be his wife and she proceeded with great urgency to relocated kids and belongings to the still empty compartment on the other side of mine. Once again alone the husband poked his head into the blissfully quiet compartment and announced in halting English: "Now you can have everything to your comfort." For the following many hours I watched a constant stream of kids and adults transferring back and forth in between the two family compounds on either side of mine.
Toward the end of the trip a matronly woman and her colorful hen pecked husband joined me in my compartment. The poor guy sat listening attentively, nodding and smiling benignly as the woman engaged in nonstop haranguing about something she found disturbing in her life or the world. Her screeching voice carried so much vitriolic energy I found it impossible to ignore, at one point putting fingers in both ears while the poor guy and I exchanged amused eye contact. There were other transient visitors to our compartment during the long seven hour ride, but these made indelible impressions.
The train from Belgrade arrived in Bar Montenegro on time at 20:30 and I immediately started my hike of discovery guided by helpful comments from others still wandering the streets at that late hour. One of my many train compartment companions currently lived in Bar and suggested the Princess Hotel might be a good choice for anyone wanting to squander a lot of money on a deluxe hotel.
Heading toward what I thought would be the "Centrum" or city center nothing looked like a hotel! Most hotels around the world are not shy about announcing their presence with big signs visible from a distance, but not here in little Bar. Using the Princess Hotel as a target for inquiries, slowly I worked my way through the obvious business center and finally found the Princess. Previous experiences with Princess Hotels have left ambiguous expectations for quality and value. This four star house, though expensive seemed to be a fairly good value at 69 Euros on first examination, especially for someone near desperation for a place to rest. However, after checking in I discovered the heater failed to warm the cold room, the room safe turned out to be defective and the bed featured two crib sized duvets for warmth (something which apparently is a cultural oddity in this part of the world).
Next morning, the breakfast buffet prepared for the dozen guests registered in the hotel during this Winter off season would not win any gourmet contests, but the large selection of meats alone gave it a passing score. The brewed coffee came from one of the commonly seen automated machines and actually tasted pretty good. The dining room faces the Adriatic Sea and a harbor full of moored sailboats created a picturesque backdrop for my first meal in Montenegro.
Without WiFi in the room I decided this Princess would be a one night stand and after breakfast started a fresh daylight exploration. The Bar street map provided by the hotel receptionist suggested a half dozen other possible hotels in the city center area. The next two houses I checked failed on both the quality and value scales and it looked like my one night in Bar might be my last. Heading back towards the train station and the nearby bus station I planned to make a quick one hour dash up to the close by capital city of Podgorica. As rain is expected for tomorrow, I'd like to hibernate someplace for a couple days at least before making my way east into Kosovo.
One last hotel on the way intrigued me and I paused to check it out The Hotel Sidro displayed only two stars and the outside of the building complex did not suggest a deluxe facility, but everything looked well designed and maintained. So, I ventured in, walking past a group of athletes doing calisthenics to the barking orders of their trainer. All wore red sweat suit uniforms bearing a unique insignia suggesting they were members of the same team.
Inside, the no nonsense receptionist spoke understandable English and seemed to take pride in her ability to use the language. Her answers to my questions reflected long practice in dealing with foreigners: "Yes. We do have rooms. Twenty-two Euros per night including breakfast. Yes, we do have WiFi on every floor and it is good."
Unsure I had heard the thirty dollar room rate correctly I asked her to confirm the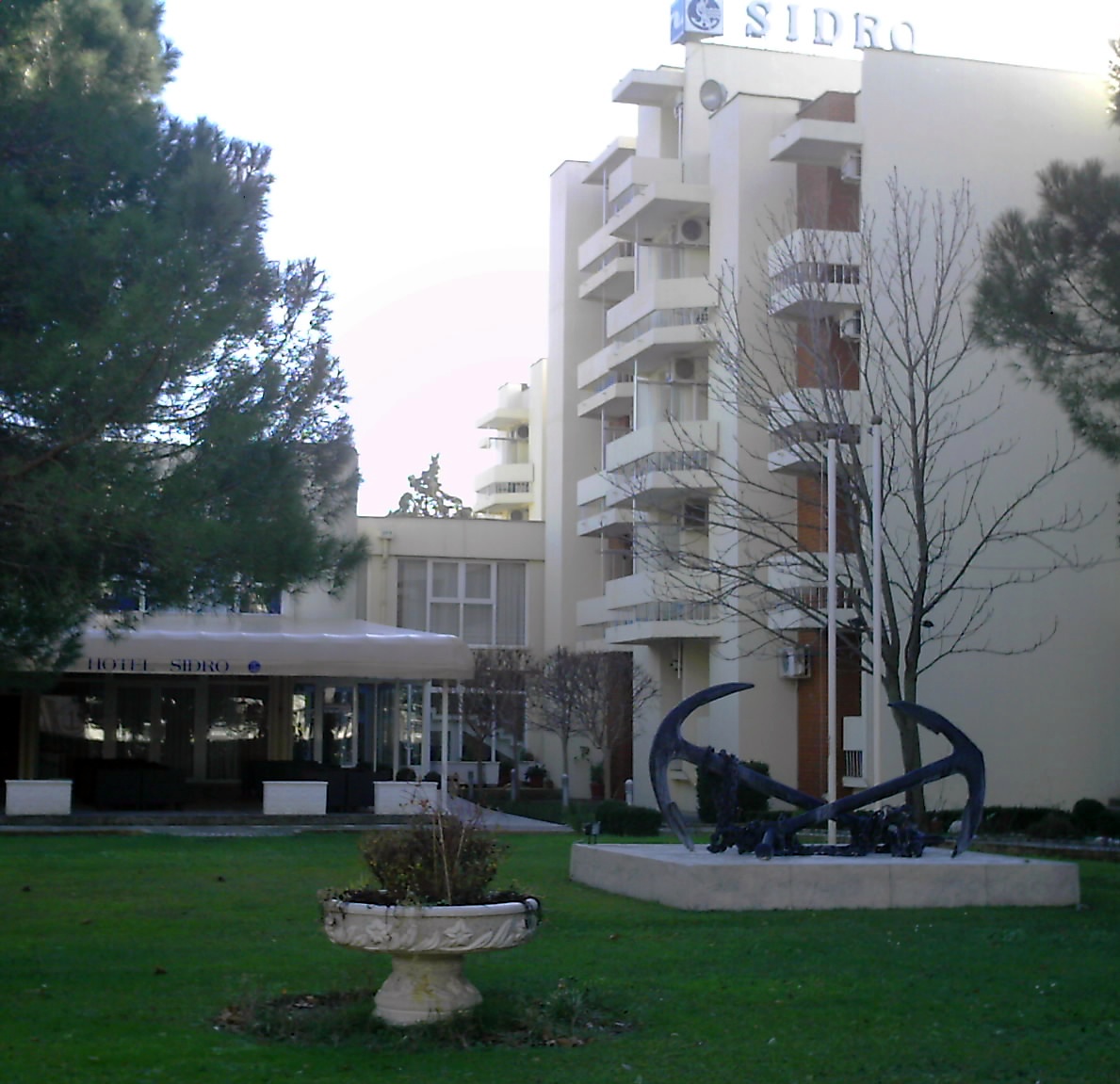 twenty-two Euros per night, which she did with a smile. Now I wondered if I'd walked into another flea trap and asked to see the room, not really expecting anything I'd consider acceptable. To my great surprise and delight the rooms, while simple are more than adequate; not luxurious, but well designed, clean and comfortable, and most importantly, the WiFi signal is strong. There is no in room security box, which is a miner concern, but everything else is fine for a few nights while I wait for some good weather.
After checking in and arranging my things in the closets I studied the hotel information sheets and discovered an option for taking both lunch and dinner. Checking the time, I saw lunch would soon be served and returned to the reception desk to inquire how the hotel handled the additional meals. "Lunch is five Euros and dinner is seven Euros, but you might like to consider the full board option for twenty seven Euros." she added with twinkle in her eyes. Grinning, she added: "That is only an additional five Euros for both meals on the 'full board' option."
Well, that is a no brainer for a cheap skate like me and I quickly accepted her offer. A half hour later I timidly returned again to the reception desk to learn where and how I could get my lunch. In the first floor dining room I discovered seven tables, five of which bore "reserved" placards. The other two had place settings for six diners and a group wearing orange uniform sweat suits occupied all the places at the first table. Unsure where to sit I loitered around trying to figure out the system in use when a dining room staff member gestured for me to sit at a place in the still unoccupied, unreserved table.
The minute I sat down she reappeared with a tureen of soup and ladled some into the dish at my place. Chicken noodle soup is one of my favorites, sick or not. That finished, I ventured over to the row of serving dishes: breaded chicken cutlets, pasta with beef chunks, beef stew, fixings for garden salad, buttered carrots, buttered string beans, a dish of fresh oranges and a basket full of bread chunks. The selections on offer hardly represented a fancy gourmet feast, but the home cooking like your mother always made insured a healthy diet and this lodge is characterized as a sports hotel.
Shortly after returning with my filled plate two other members of the team at the first table joined me at mine and carried on an amiable conversation in Serbian, the language used by most citizens of Montenegro. As I speak no Serbian (other than "twalla" for thank you!) and they apparently spoke no English we conversed with eye contact only. After lunch I returned to the room to try the Internet and found it the best so far during this trip... amazing for a two star house.
This unique lodge is designed to host sports groups and offers quite a selection of sporting facilities in addition to the hotel rooms and dining service. If sports minded tourists ever discover it, the hotel should enjoy an instant success with the limited budget crowd. Over the years as I grow older and appreciate more comfortable hotels, my minimum standards have escalated from two star quality to much higher star ratings. Still, I find this simple daily boarding house with its meager two stars a delight.
Walking the downtown part of the city I could not help noticing how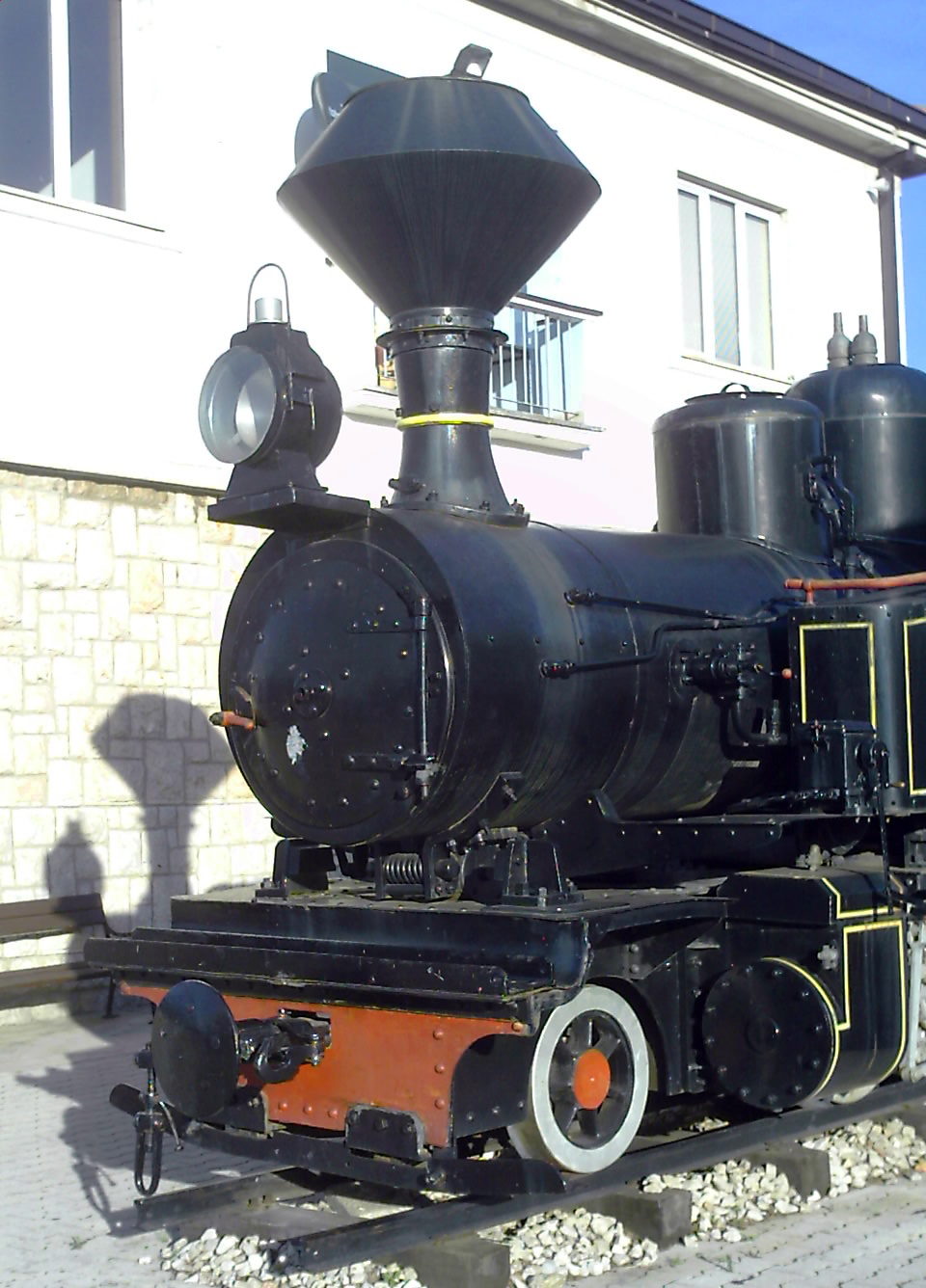 similar everything felt to my recollections of Santa Barbara. People are in a holiday, care free mood. Gone is the hustle bustle of Belgrade or even tourist crowded Istanbul. Relaxed strolling with pauses to enjoy the sailboats or chat with a passing friend characterize the behavior of most people on the streets. Down at the train station steam railroad enthusiasts have rescued and restored a beautiful old engine. Located in a prominent place near the tracks used by more modern equipment, locals loiter in the area drinking hot coffee while waiting for trains and friends oblivious to all the snow piling up on every exposed surface. After one night in the Princess and one in the 2 star Sidro I decided to ignore the weather in my quest for a taste of Kosovo, hiked over to the train station and bought my 6.20 Euro ticket for the 14:50 train up to Bijelo Polje. The 3 hour and 20 minute ride got me in after dark, but that is a story for the next postcard.
Peace
Fred L Bellomy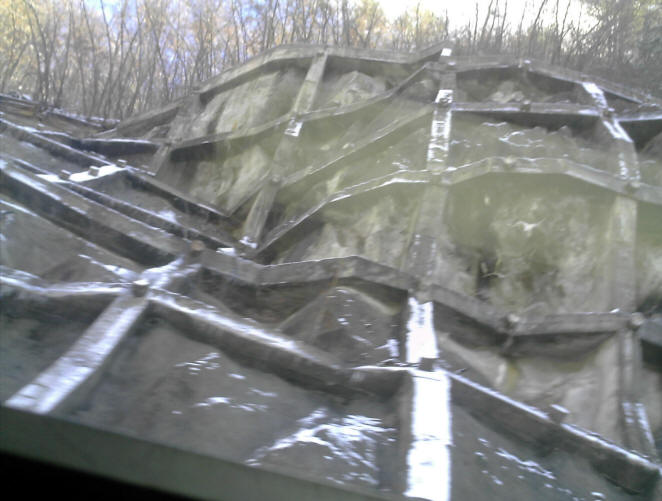 Bar - Along the tracks which pass close to crumbling stone cliff faces like this one, engineers have erected innovative retainer braces which follow the natural contours of the surface.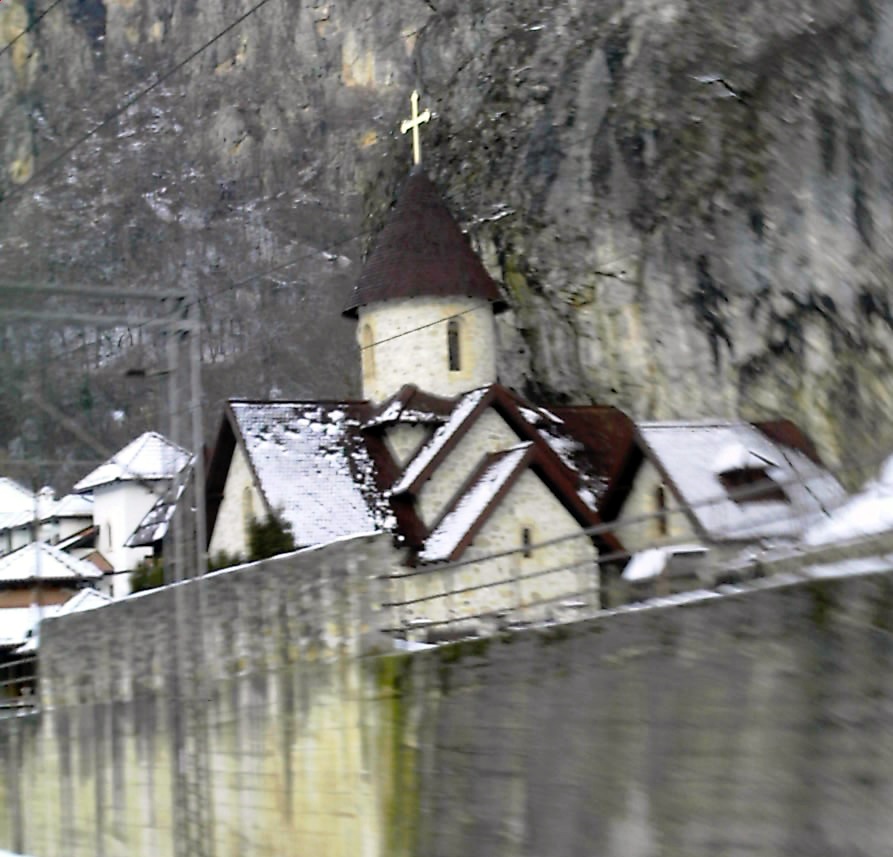 Bar - Seen along the rail line connecting Belgrade with Bar Montenegro to the south: this looks like a church in one of the many small villages we passed.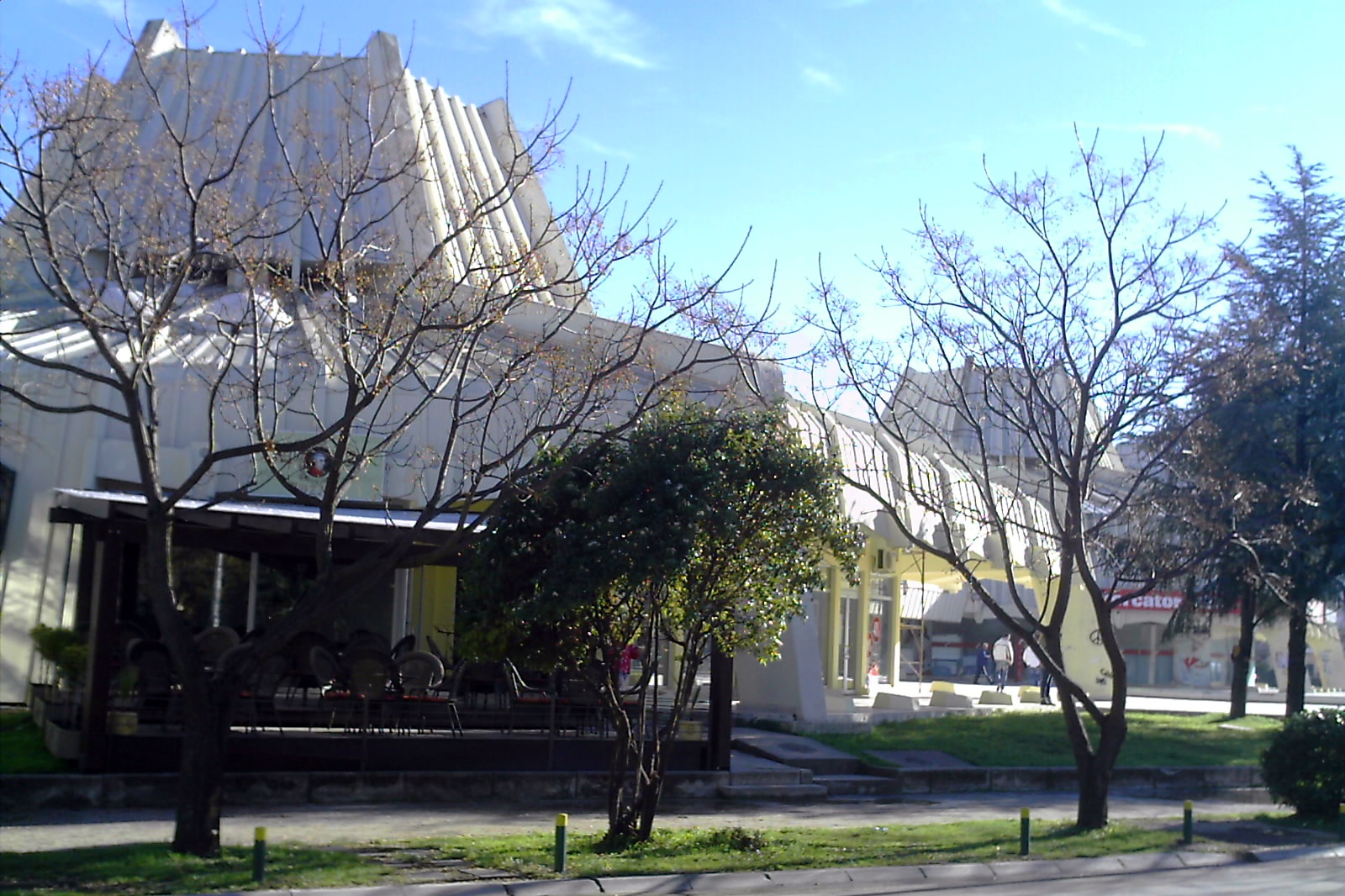 Bar - Interesting architecture for one of the buildings in a shopping center complex at the very heart of downtown.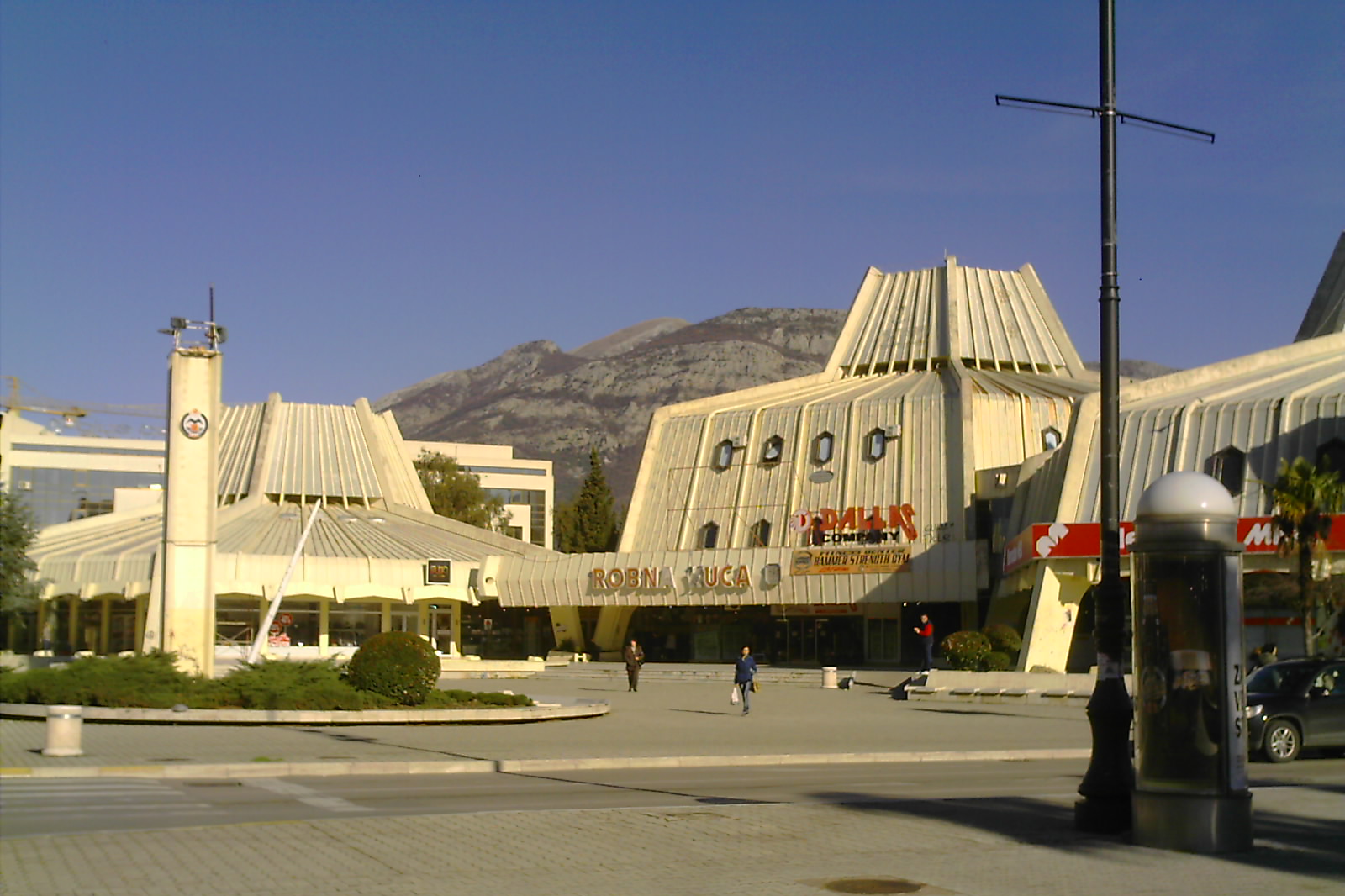 Bar - Interesting architecture for one of the buildings in a shopping center complex at the very heart of downtown.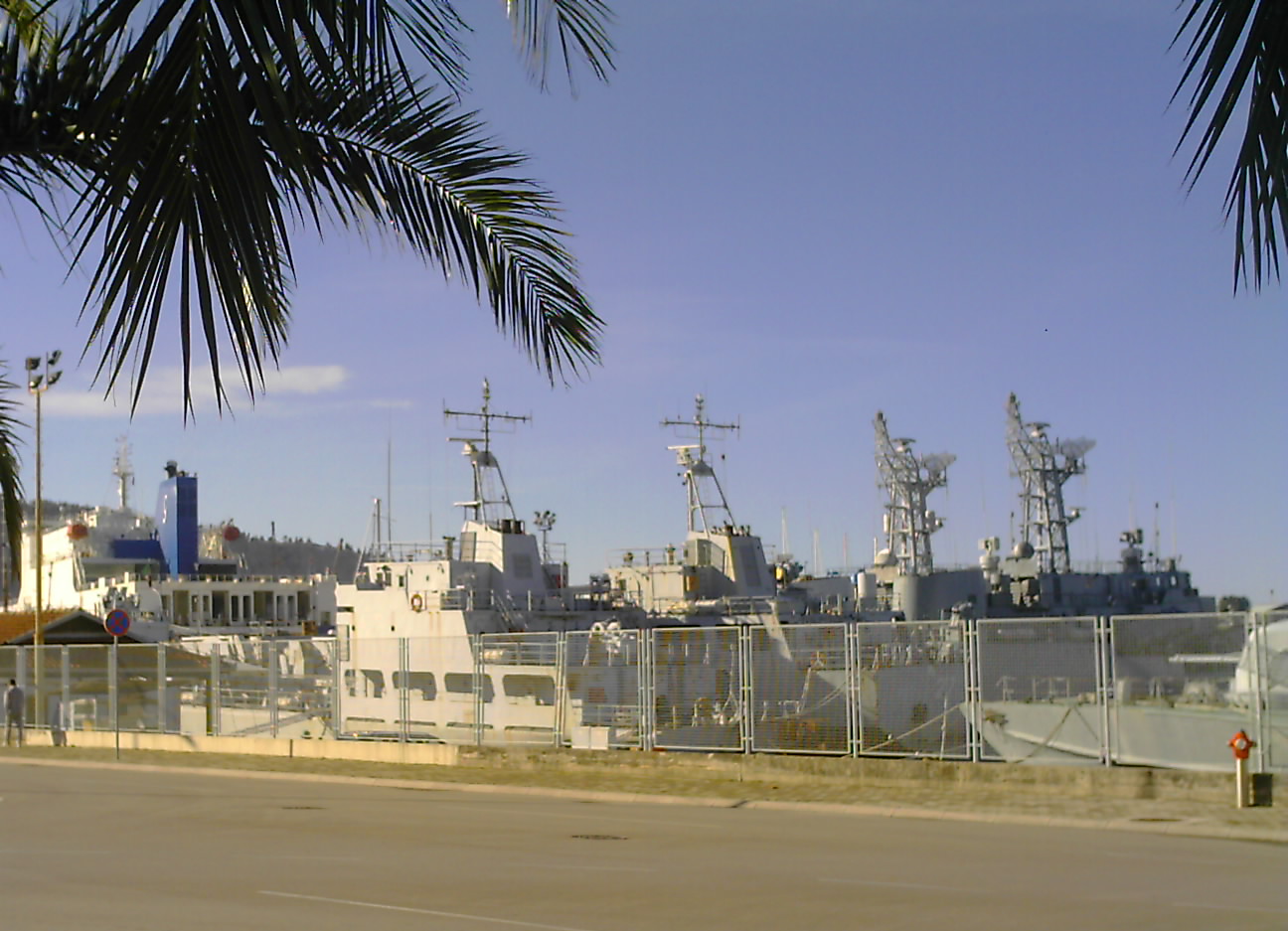 Bar - These look like military naval vessels moored in the harbor along with many sailing vessels.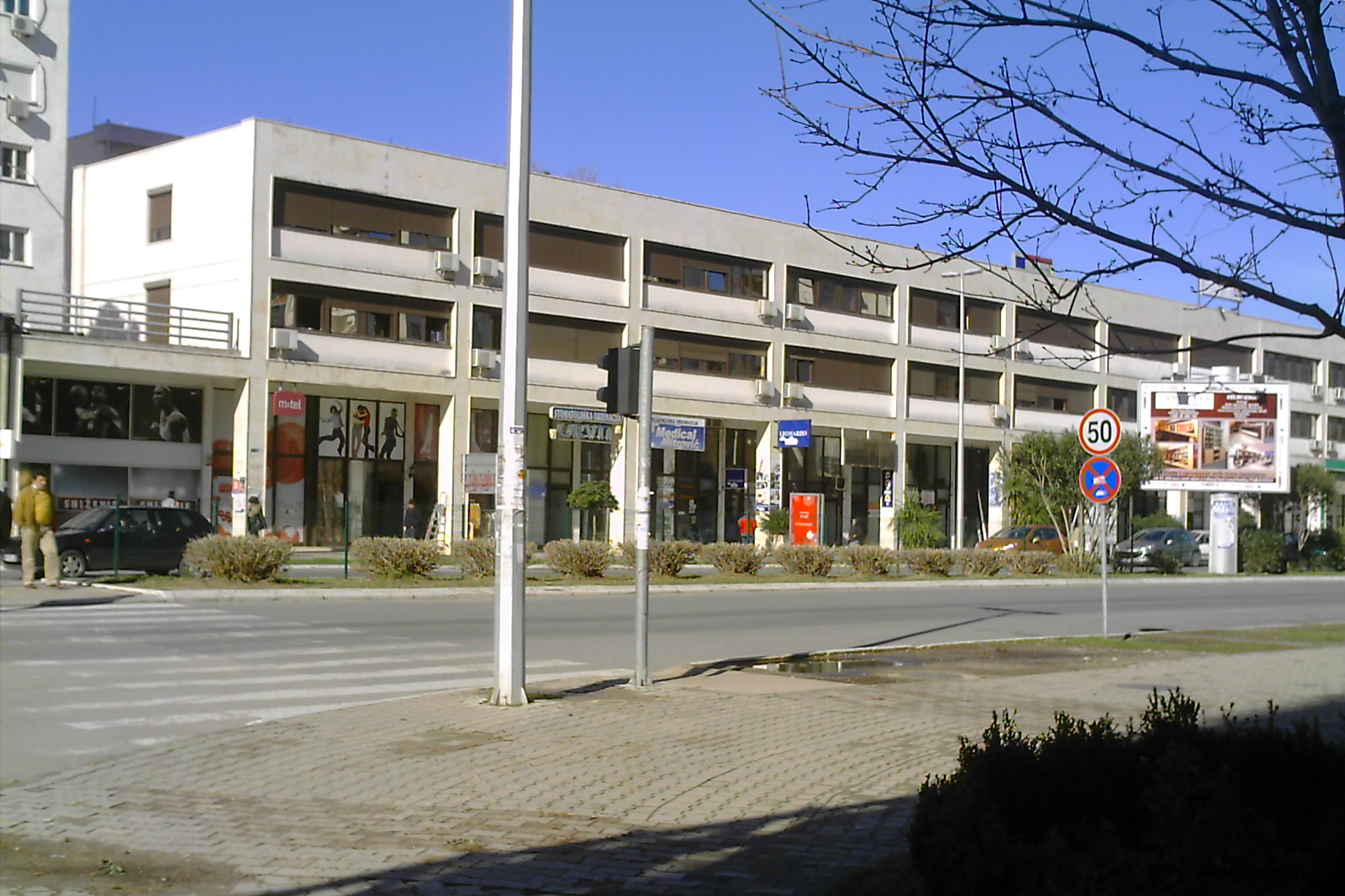 Bar - One of the office building along a principle highway near the central part of the town.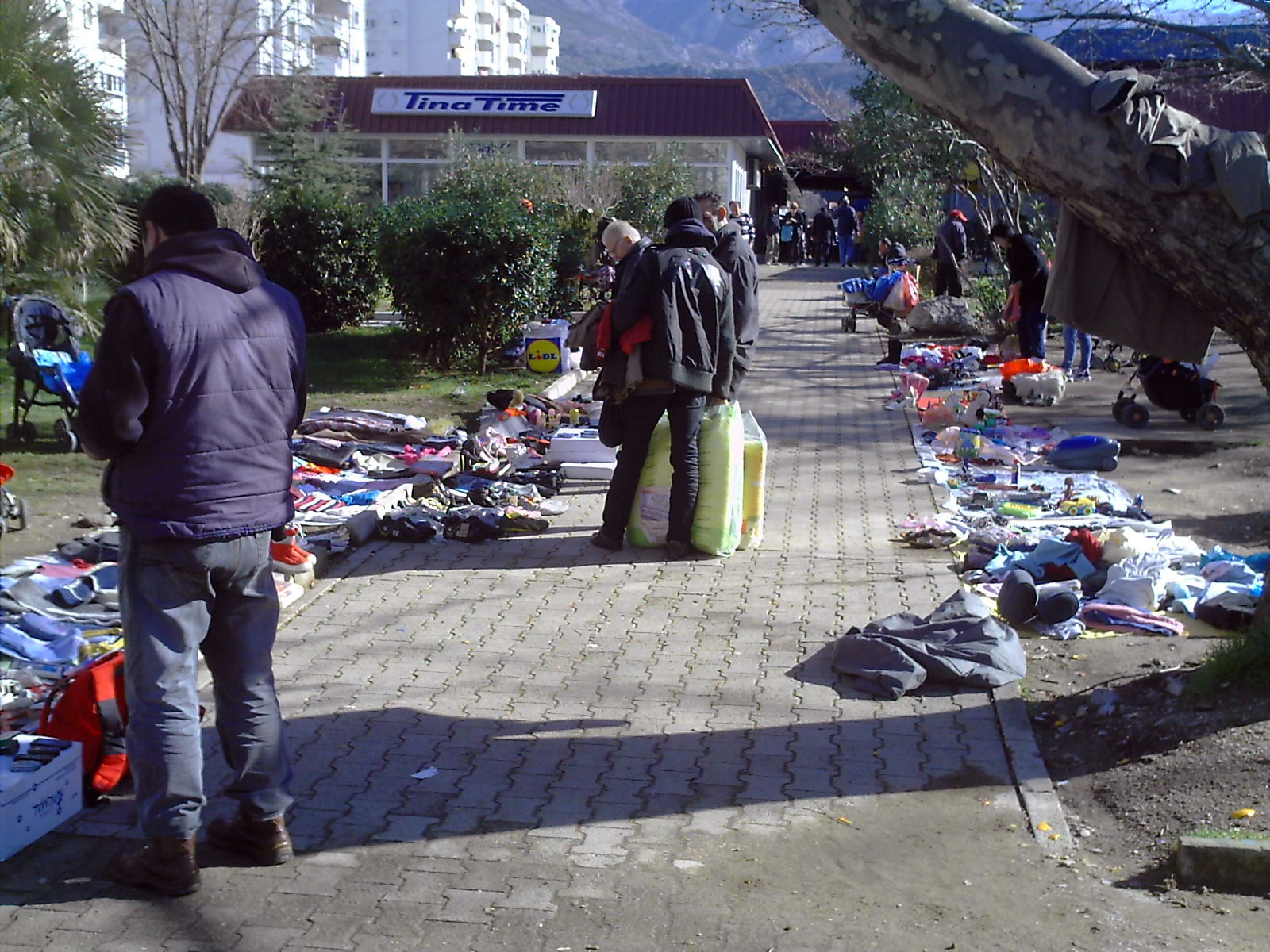 Bar - Even in Montenegro people hold swap meets on Saturdays.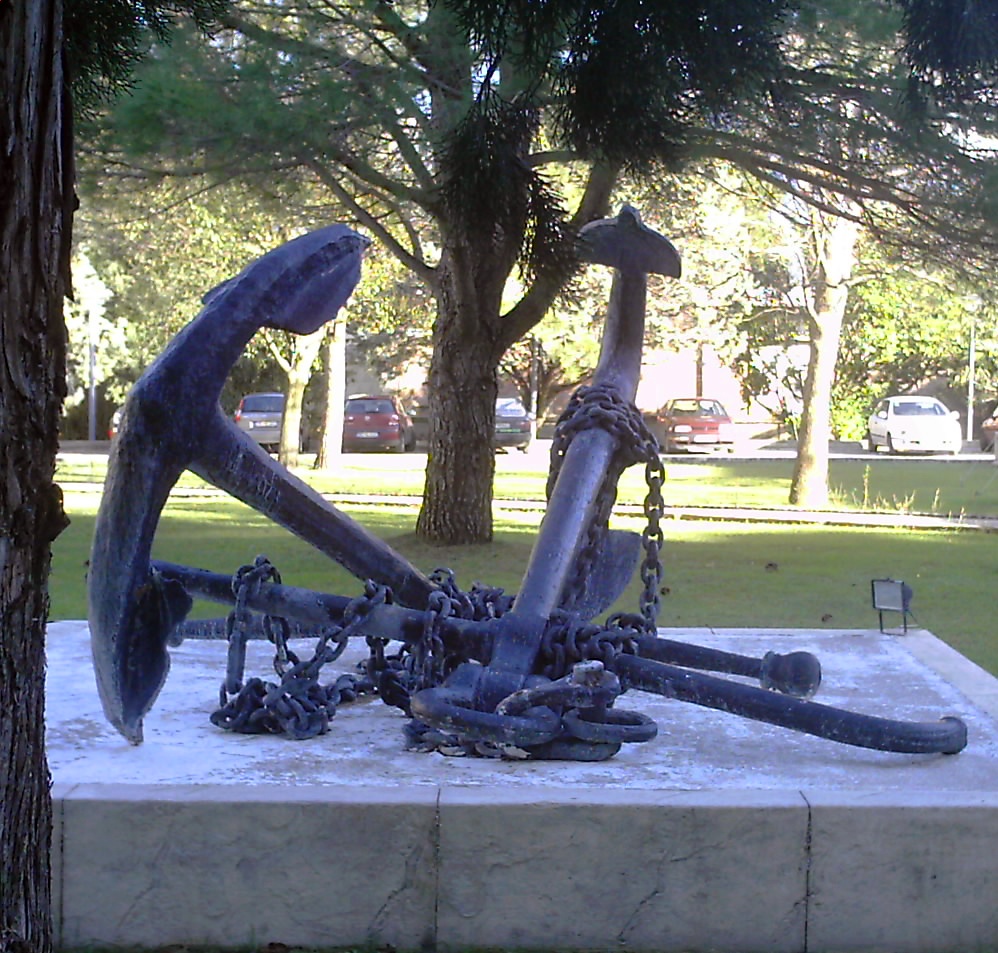 Bar - Anchor display in front of the 22 Euro two star Hotel Sidro where I stayed one night.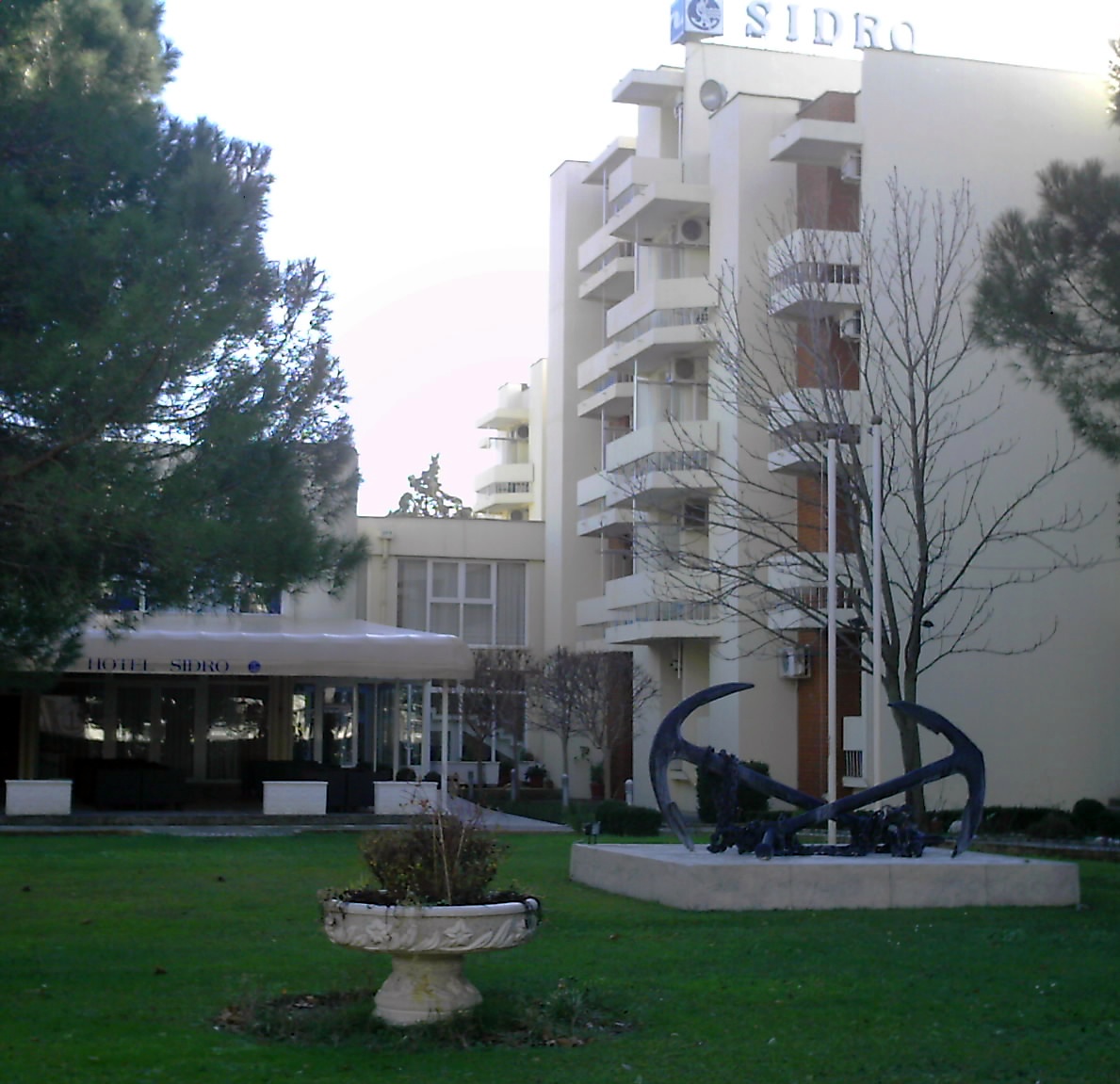 Bar - Anchor display in front of the 22 Euro two star Hotel Sidro where I stayed one night.

Bar - Magnificent new cathedral under construction with mountains in the background.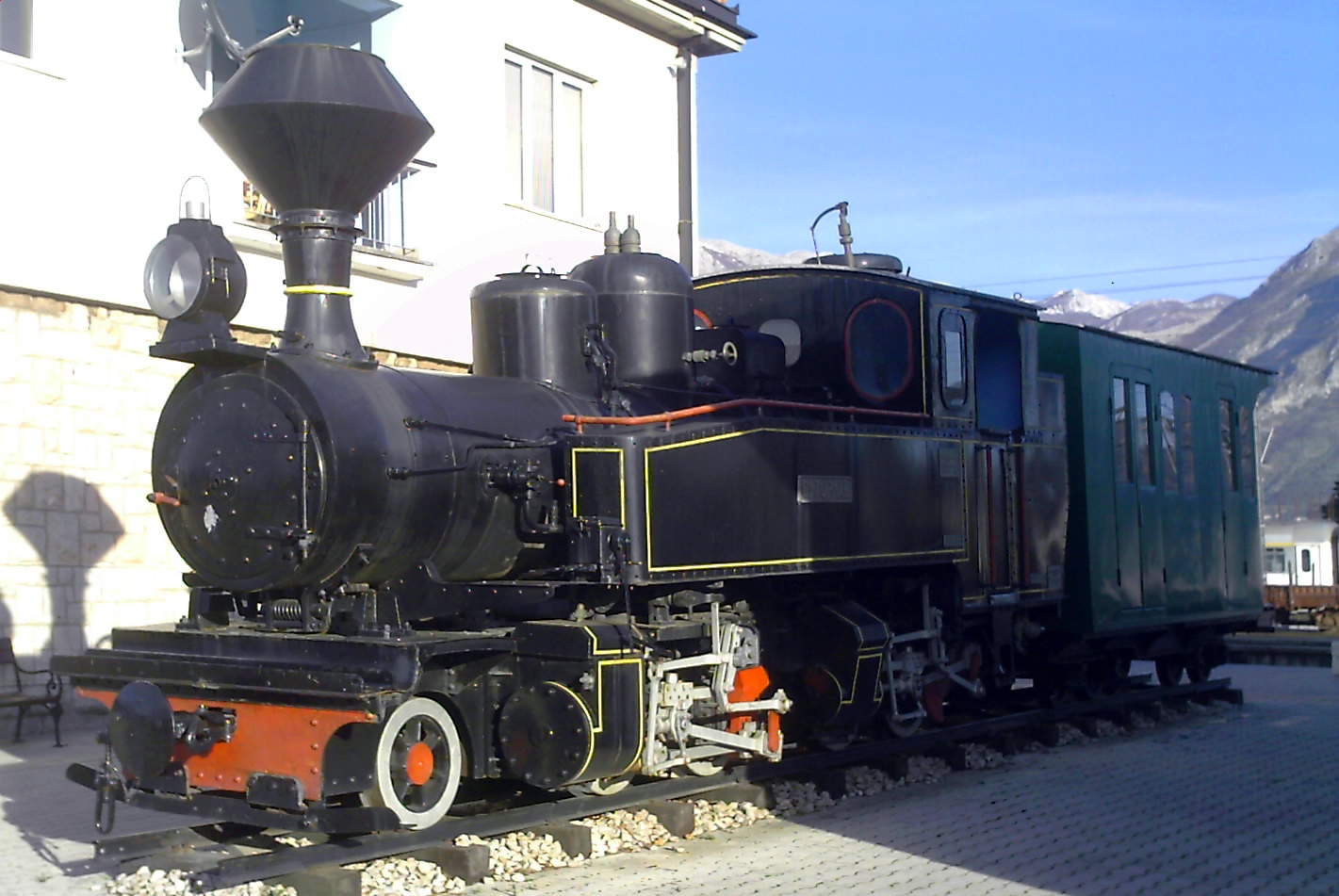 Bar - Old steam engine display on the grounds of the present railway station.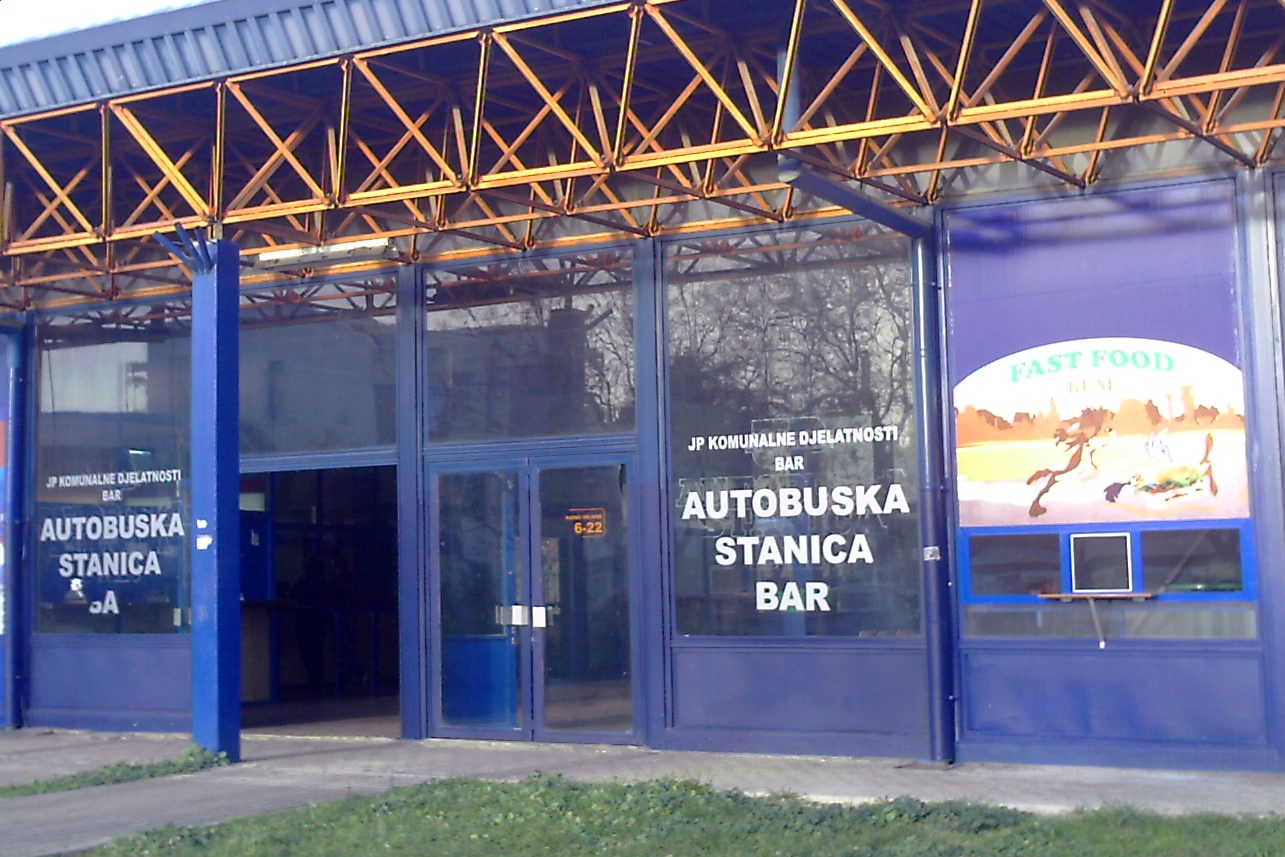 Bar - this is the bus station not far from the railway station.

Bar - Bulletin board devoted to the posting of funeral notices. These are usually just stapled to a telephone pole or tree.