Greetings from Bijelo Polje Montenegro,
After two nights in the seaside resort town of Bar I caught the 14:50 train back north to a city closer to the Kosovo border. Arriving in Bijelo Polje Montenegro at 18:10 the sun had long disappeared leaving everything dark and cold. Bijelo Polje is a fairly large city, but feels like a small village. The train conductor managed to read my ticket literally and dissuaded me for leaving the train with the large crowd which got off at the business district location some five kilometers before the actual train station named Bijelo Polje! Either he wanted to make business for the hoard of taxis waiting at the nearly deserted station or he knew how much I like to test myself with long walks into a new city. However, in the freezing cold with darkened streets, this would have been a very good time to have taken the easy way out.
My Galaxy Note GPS display had alerted me to our actual arrival in the city so joining the crowd getting off would have been totally sensible. Five kilometers is about an hour's walk. The threatening drizzle eventually turned to actual light rain just as I found the central part of the city. But, nothing looked like a hotel and people on the street provided ambiguous gestures to my proffered "Hotel?" question with pointing. The one hotel several people suggested and helped me find turned out to be a ONE star affair. A quick look at the dirty third floor walk up with Army cot beds convinced me I'd be better off drinking coffee all night. The place didn't even have a sign that included the word "Hotel" in the Roman alphabet, something common in all countries which do not use a Romance Language (Russian Cyrillic is used in Montenegro.).
After wandering around the area slowly becoming drenched I entered a small dimly lit coffee house and ordered a cup of the hot stimulant, more as an excuse for being in the place than out of desire for coffee. Studying my GPS display I noticed two fellows at an adjacent table watching my activity and started the gesture/question dialog. My "Hotel?" with pointing produced an animated conversation between the two guys eventually leading to what must have been an attempt to provide me with some suggestions, but whatever information they were concocting got badly garbled in the transmission.
Suddenly I remembered the fantastic translation application on my Galaxy and pulled it out as my two would be informants watched on. When I managed to get everything loaded and typed: "I need a good hotel. Can you help?" and then pressed the "translate into Serbian" button, the results were miraculous. Instantly meaningful information exchange emerged, now with the cafe waiter joining our little experiment as he also had a translation application loaded into his telephone.
The first suggestion they made I recognized as that fabulous one star disaster I'd previously discovered and quickly typed a new message into the translator: "I need a better hotel. 3 or 4 or 5 star hotel!" For a moment after all of my advisers listened to and studied the message, the consultations became murmurs as the three guys discussed the problem. Then the largest of the two friends brightened and initiated an animated conversation with the other two, none of which I could understand, of course. But, here is where the waiter and his translator joined the act: "Go down Zivka Zizica Street, turn right for up then see easy hotel. Not far." Clearly, something important was getting lost in the translation and a good reminder that machine translation is still far from perfect.
As I considered the garbled instructions more conversations were in progress and the waiter again presented his phone translation of the essence: "This gentleman will take you to a good hotel." nodding at the big guy... who turned out to be an off duty city policeman! I'm sure my enthusiastic reaction conveyed acceptance and appreciation. So, paying my coffee bill and hoisting my back pack I followed the two guys, and the policeman's nine year old daughter, out to their car parked directly across the street. The light drizzle had subsided and after only a few blocks drive we approached what looked like one of those small country inns seen in foreign movies nestled among other small cottages. The three star Hotel Dominus at 35 Euros certainly beat the one star 18 Euro disaster I'd seen earlier downtown main street.
At this point I would have been happy with a sleeping bag in a dry tent, so eagerly joined my benefactor as he led the way into the hotel lobby. The owner/manager happened to be on duty AND spoke a smattering of English! Through his translation efforts I thanked my Good Samaritans and learned a bit about them. They in turn wanted to know something about me. So, I pulled out the Galaxy and brought up my "Topsy Turvy" page and activated the translation feature for Serbian. The hotel manager read the translated version of my travel odyssey introduction for the others who reacted approvingly, questioning me on several points, no doubt partially as a result of the rough machine translation.
When the manager and I were again alone he insisted I have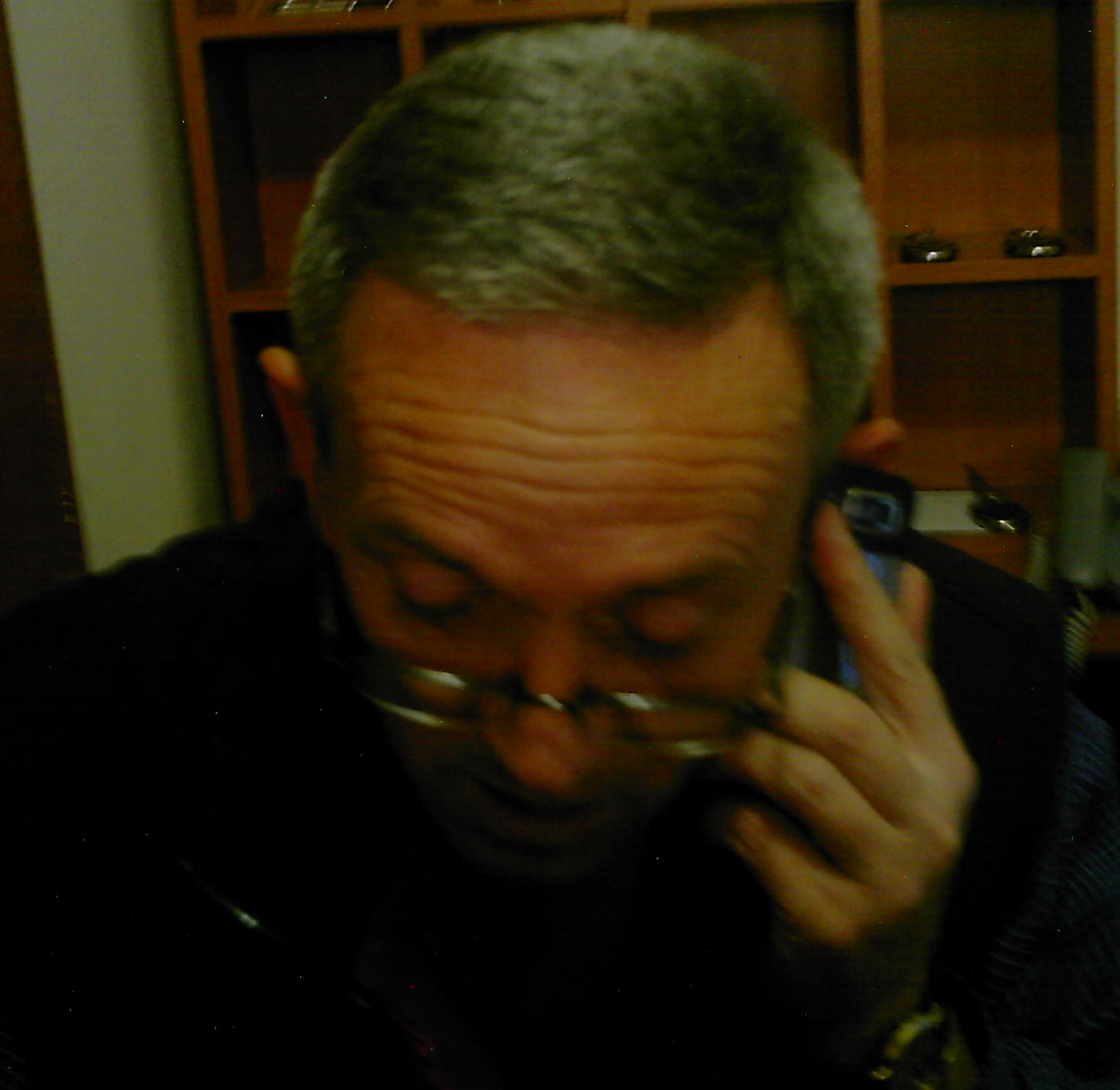 some juice which he delivered in an unopened bottle while continuing to interrogate me about my travel activities. During this refreshment break two other hotel guests who spoke fairly good English joined us in the lobby area while the manager related an embellished version of my exploits gleaned from that short translated introduction I'd shown him. One of the other guests prompted me for clarifications of the material: "How old are you?", "how many countries have you visited?", etc. Finally pausing in the inquisition he announced: "You are a hero!"
Unsure exactly what about my chosen lifestyle he considered heroic I asked what he meant and learned his and my ideas about heroism didn't seem to be the same. What he meant was my activities at this late stage of life were inspirational for younger people like him. So, I acknowledged that might be a reasonable observation and thanked him for the compliment.
As soon as I got to my room I started evaluating the WiFi capabilities available in this quaint little country inn. The Galaxy performed perfectly on the weak signal, but the still limping netbook failed to connect. That disappointed me because I'd considered staying a few days and getting some work done... assuming the breakfast provided by the hotel turned out to be acceptable. But, the breakfast served left me longing for five star luxury: several slices of cucumber, a tablespoon of cheese, an omelet with ham pieces, a basket of dry bread and a single cup of Turkish coffee... no refills here.
Wolfing down the egg omelet all that remained to satisfy my hunger was the dry bread. The English version of the breakfast offerings menu included a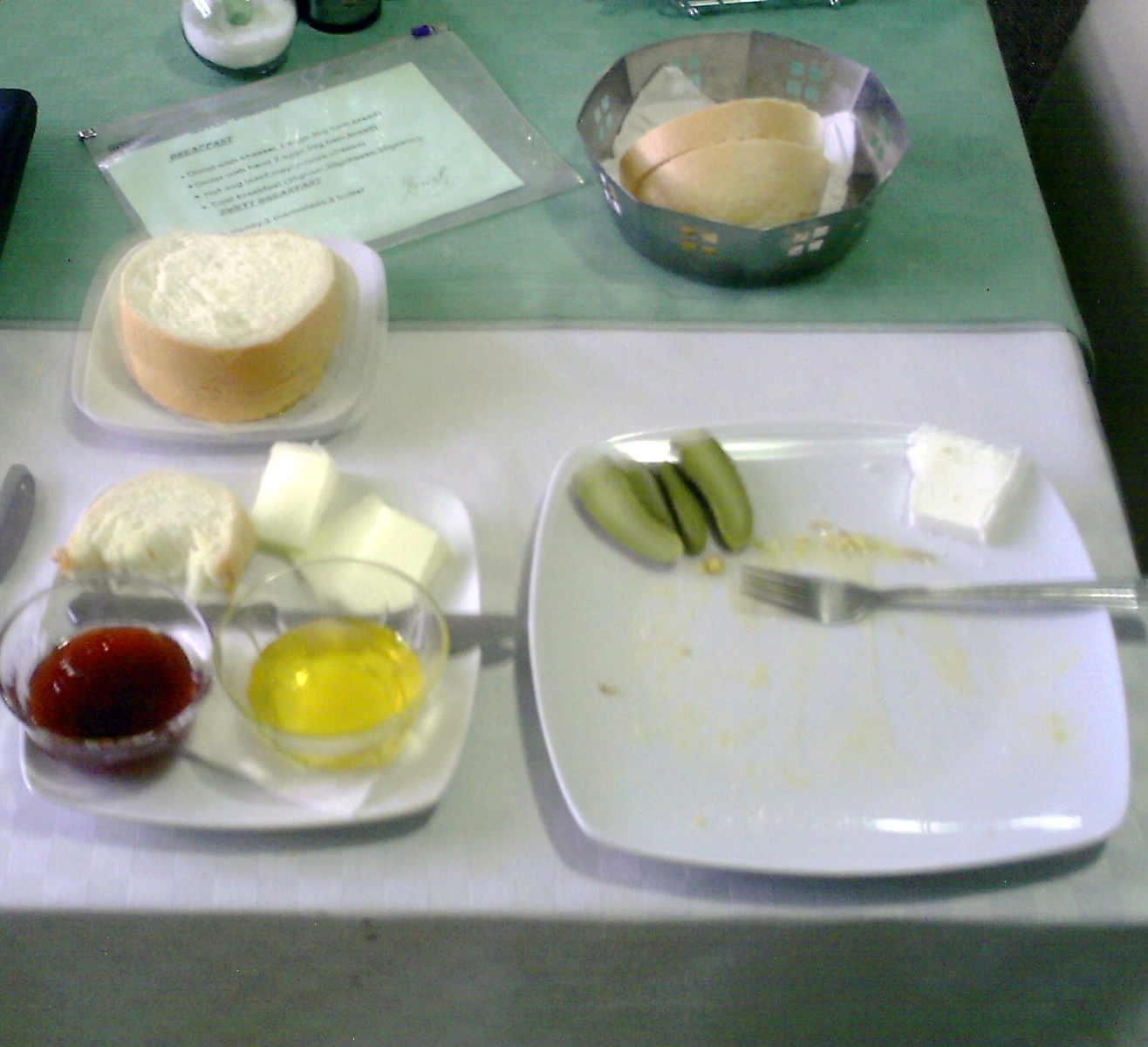 "Sweet menu" item consisting of honey, jam, butter and bread... but, only INSTEAD of the omelet selection I later learned. Summoning the lady serving such meager portions I indicated I'd like something for my dry bread and pointed at the "Sweet menu" listing. She jabbered something in Serbian while displaying an exasperated expression and left, taking my empty coffee cup as she went. Soon, she returned with what clearly was meant to be the full "sweet menu" breakfast setup. Even with the jam and honey I still felt unsatisfied, but decided I'd had more than enough calories for the morning and left to pack.
The manager the night before had promised to assist me with logistics for getting into Kosovo by bus and started a convoluted explanation of the process during which he phoned someone for time and location details. His poor English and energetic attempt to be thorough made what information he had acquired nearly unintelligible. I already knew the location of the Autobuska Stanica or bus station and reasoned I'd figure out the cost and time once I'd gotten there.
What he had learned apparently is that there is no bus leaving Bijelo Polje Montenegro that goes all the way to Pec Kosovo. I would need to take a local bus to Berane some forty miles south-east where I could then book an international bus into Kosovo.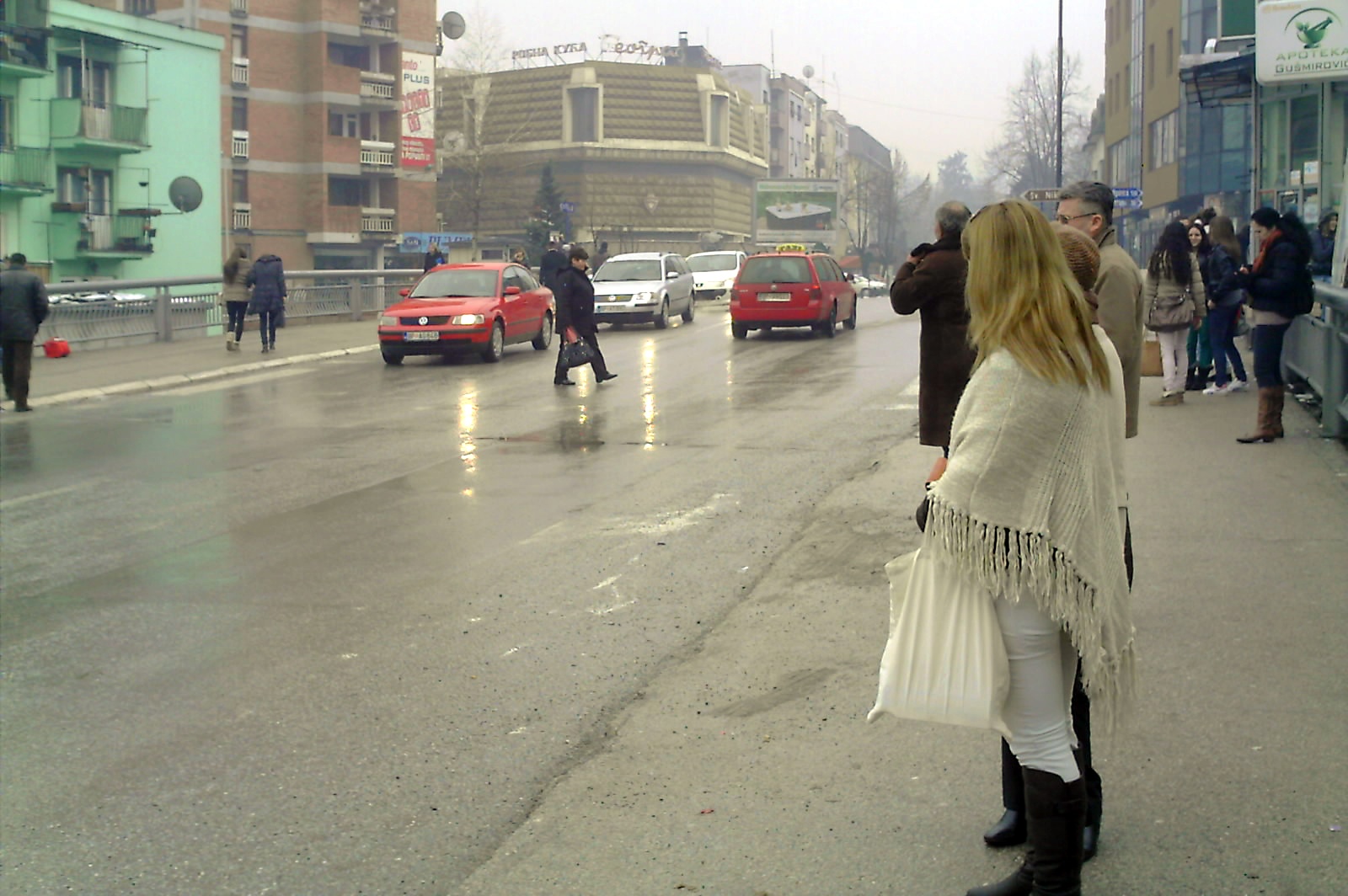 When I got to the bus station one of the bus ticket sellers understood enough of my needs to call a friend who spoke English. He showed me where to wait for the Berane bus. At the indicated, but unmarked curb side location I tried to confirm the Berane bus actually would stop here at 09:30 with a woman and her elderly mother standing at the presumed bus stop location. It turned out she spoke almost no English, but was fluent in German. So, with great effort I dredged up the required phrases in German needed to confirm we were both waiting for the same Berane bus and that the fare would be two Euros.
A half hour later we arrived at the Berane bus terminal and the clerk at the ticket window did speak enough English to accept my nine Euro fare for the bus leaving at 10:45 and got me onto the right bus for Pec Kosovo. What she didn't mention was that the thirty miles as the crow flies would be a ninety minute trip over snow covered narrow mountain roads with brief stops on both sides of the border for immigration formalities. But, that's a story for another day.
Peace
Fred L Bellomy
No more photos from this visit.