Greetings from Warsaw Poland,
After only two nights in Bratislava Slovakia I boarded the 10:13 Warsaw train for a seven and a half hour trip north. Unlike the miserable sleeping car I had out of Belgrade, the second class coach on this train felt first class in every way.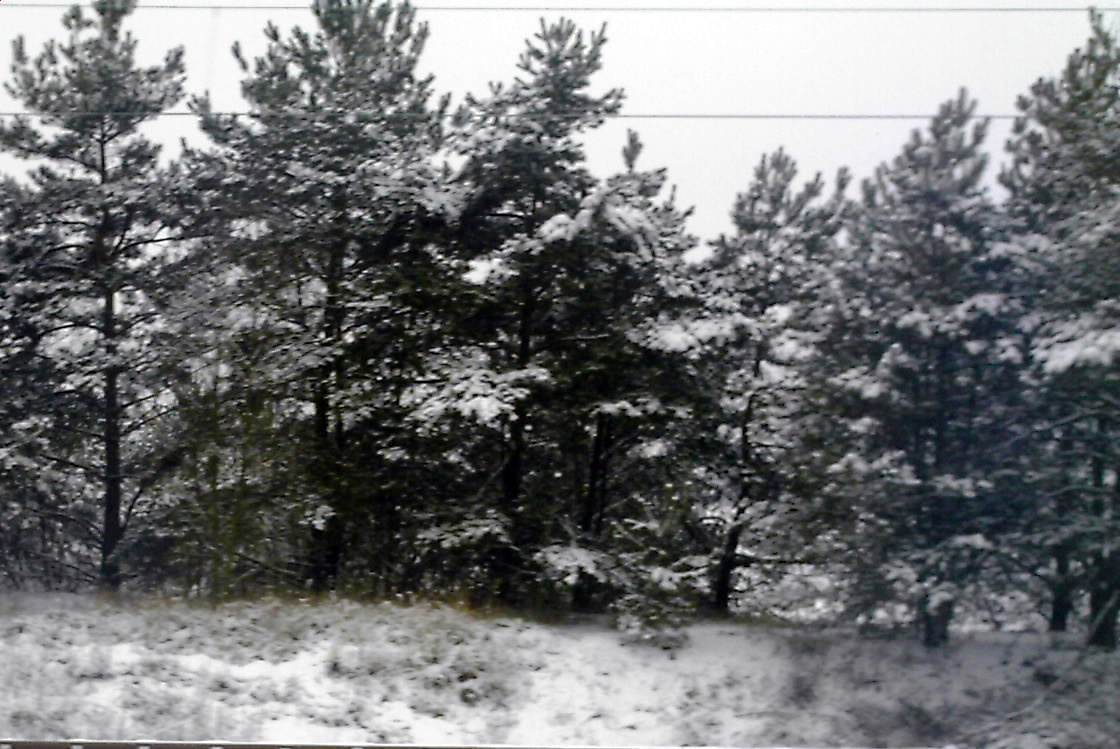 My compartment had a dozen big, comfortable seats with table surfaces between the facing rows of three seats. During the trip we passed endless vistas of snow covered farm land and clumps of pine trees along the rails dusted by recent snow falls. I imagined photographs of the trees must have found their way onto numerous Christmas cards. There are two major railroad terminals on the line into Warsaw and while at least half of the passengers got off at the first stop, everyone I asked assured me the train would go a bit further before reaching the final, Centrum stop I would want. The train arrived in Warsaw Central after dark at 17:45
The Central Train Station in Warsaw is enormous, but well laid out. Still, just finding an exit door proved a challenge as everything is geared to keeping people out of the weather as much as possible. So, tunnels and corridors meander around the complex of structures leading to subway lobbies and passageways to shopping centers. The minute I got out of the confusing station I started my hotel search in the freezing cold by heading for the closest hotel I could see, a Novotel. On the way I spotted the modern looking three star Hotel Metropol and entered to check it out, but found it fully booked. The receptionist speaking excellent English suggested the MDM Hotel and called them to verify availability for me. As I have not yet learned even my obligatory "thank you" in Polish, his English pleased me enormously.
When I asked for directions the receptionist pointed saying: "Only a ten minute walk..." Well, walking gingerly to avoid falling on the ice and splashing through puddles of slush every other step, that ten minutes soon became twenty, freezing cold minutes. I really must learn to better calibrate information provided by healthy young people with no idea at all what a fall means to an eighty year old!
The rooms still available when I got there did not excite me, but by then I would have taken just about anything to stay inside out of the unbearable cold. The room contained two single beds, make do linens and mismatched furniture, but the warmth made me forget all the missing creature comforts. The 55 Euro room rate did not make it a very attractive value, either. The receptionist promised to move me to a better room the following day, if I stayed more than one night... which she did. Unimpressed by my circumstances that evening I toyed with the idea of leaving the next day for Gdansk where I imagined hotels might be better values and arrangements for travel into Kaliningrad easier.
Based on the quality of my room the night before, I expected to be dissatisfied with breakfast as well and did not eagerly anticipate another disappointment. However, this time the surprise turned out to be a pleasant one. I couldn't believe the fantastic breakfast buffet laid out for guests; clearly gourmet quality with a wide selection. So satisfied with the breakfast experience I momentarily forgot the depressing room.
After breakfast I walked back down to the Hotel Metropol and learned rooms in the fully booked hotel would become available the next day... and that the bargain week-end rates of 40 Euros would be in effect for the three nights starting Friday. The accommodating receptionist took me up to see the excellent, recently renovated rooms and then noted even better "executive rooms" could be had over the weekend for 60 Euros per night . After she showed me an example I decided to splurge. With so many quixotic experiences like this one in the past, I should know by now to be patient when initial circumstances appear glum. Nearly always, Saint Serendipity comes to the rescue and cuddles me in her arms. But, here I am pushing eighty and still learning lessons. I guess I should have paid more attention to acquiring an understanding of the value of patience while getting my kindergarten education.
As I now planned to be in the city for several days I bought a 72 hour all public transportation pass for 30 Zloty (about $9.60) and rode trams all that afternoon, but taking time to check out a nearby boutique hotel I'd noted on the map. The 110 Euro Hotel Rialto is a gem; every floor has been decorated with a theme reflecting a different region of the world. The rooms I examined contained elegant African furniture and artifacts, tastefully arranged for guest comfort. The receptionist confided weekend rates had a lot of flexibility and a 50 Euro rate might be possible for a single... half the rack rate. Having already decided to take a room in the Hotel Metropol, I thanked the accommodating receptionist and left.
The potentially easy option of visiting Kaliningrad as a part of a Baltic Sea cruise turns out to be unavailable during Winter months, so that is out. Getting into Kaliningrad is presenting numerous other problems. First, one must have an "invitation" from a hotel in the Russian city they plan to visit, and a return ticket out of the country. Then, there is a minimum of seven days waiting for the visa to be processed and various fees to be paid: travel agent fees to get the hotel reservation and government visa processing fees. There are airline connections into the enclave as well as bus and railroad services (but, it is a 32 hour trip from Warsaw with three train changes and an over night wait in Kuzlu Ruda Lithuania!). Saturday morning I checked out the Russian Federation consulate in Warsaw, but found everything closed. The consulate in Gdansk can handle the paperwork I am told and the distance into the Kaliningrad by bus is a much shorter trip from Gdansk.
After leaving the train station I walked next door to check out a structure with an unusual roof line.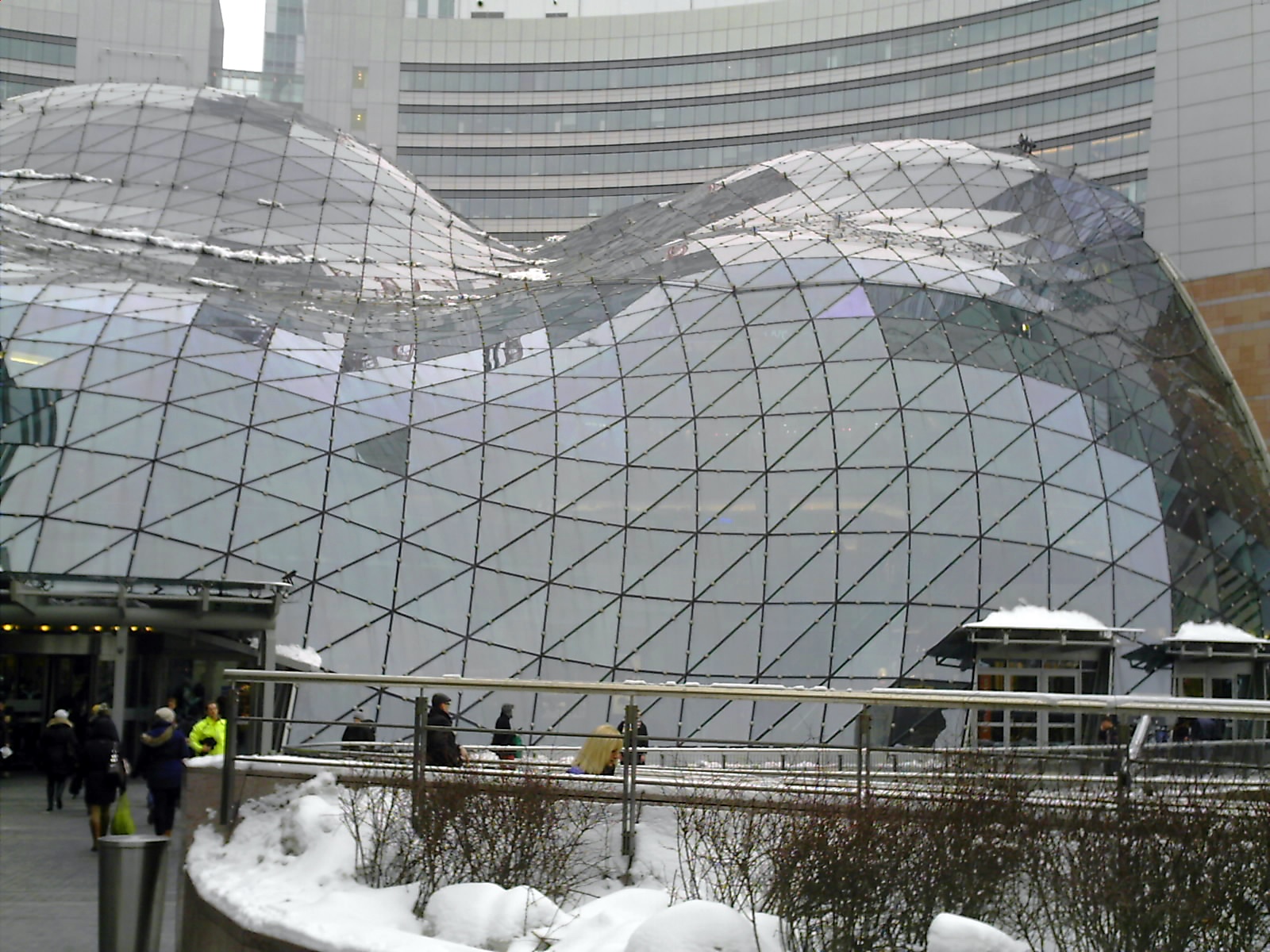 From the outside the roof looks like rolling hills made of triangular pieces of glass. An obscure underground entrance finally opened into a voluminous shopping mall of such an unusual design I couldn't figure it out for a while. The Zlote Tarasy shopping complex near the Central Train Station could be a candidate for an eighth wonder of the world in my book. Multistory cantilevered levels interconnected by escalators and wide stairways eventually reveal clusters of shops and restaurants.
Reaching the top level I found myself staring down into a deep "well" full of frenetic escalator activity with crowds of people going many different directions. While the organization of the escalators did not seem systematic, shoppers hurried along their way unconcerned by the chaos that so puzzled me. What makes it so fabulous is the imaginative architecture which shuns sharp angles. The glass canopy looks organic and allows natural sunlight to illuminate the interior (when there is any sunlight!). I have enjoyed lots of modern shopping centers around the world in my travels, but this one is truly unique. It of course, has a full compliment of Western fast food restaurants including McDonald's, Burger King and Kentucky Fried Chicken. A helpful staff member at an information desk assured me this shopping complex is only one of three in the city, the other two being equally impressive! Warsaw is a truly amazing city... despite the unbearable cold during Winter months. "Everything is up to date in Warsaw city. They've gone about as far as they can go..."
Either I never knew or had long forgotten that Nicholaus Copernicus was Polish. The country celebrated his birthday some five hundred years ago the day before I arrived in Poland. The science museum in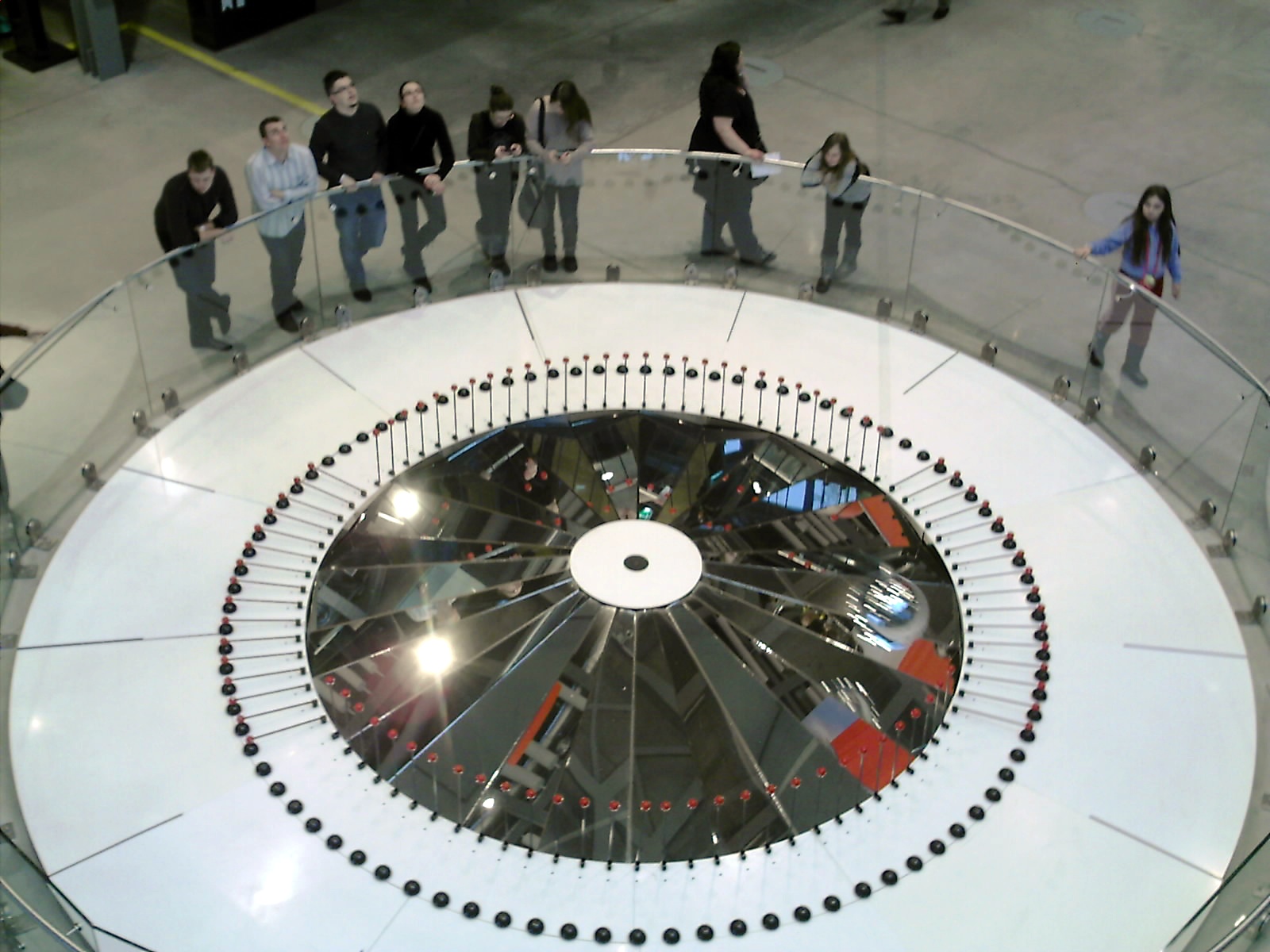 Warsaw is called Copernicus Science Center (Polish: Centrum Nauki Kopernik) so I naturally thought there would be materials related to this great scientist's revolutionary ideas and eagerly headed over to the museum late one morning. People waiting to buy admission tickets stood in a line a block long. Daunted, I nearly turned around on seeing what turned out to be an hour and a half wait in the freezing air. Then I remembered all the other regretted missed opportunities during other trips and meekly joined the throngs patiently waiting: first get inside the warm building and then make it up to the ticket window to buy a 16 Zloty ticket. Now past 14:00 my first task after scoring a ticket had to be getting something to eat in the museum cafeteria. A quick salad, plus coke and berry desert for 21 Zloty ($6.75) and I marched inside to see the displays.
With no understanding of Polish, the many posters around town promoting the current exhibits revealed little of what to expect inside. What I found disappointed me. The museum had concocted a rich collection of hands-on science demonstration exhibits, much like what we have in the Exploratorium in San Francisco. Clearly popular with most of the young visitors, I found it redundant and boring. So much for my quest for things Copernicus in the land of his birth. Another of Poland's famous native sons, Frederic Chopin is acknowledged in monuments and the names of things like the airport around the city.
Smoking is effectively totally prohibited inside all buildings, though there are clutches of social smokers here and there at popular outdoor gathering places like cafes or around the windows of snack shops outside. I imagine the cold weather must be a deterrent in addition to the recently enacted laws.
Traffic engineers have gone to great lengths to separate pedestrians from vehicular traffic and occupied crosswalks are strictly for pedestrians: step one foot on the painted markings and traffic in all directions comes to a screeching halt! Pedestrian underpasses predominate in the city center, though crosswalks are usual further away from the center. In the city center itself near the railroad terminal no one ventures out into the traffic lanes on foot at all, partially due to the forbidding barriers. I think it must be a Polish sin to dodge moving traffic on foot. Trams have their own lanes, too. Cars obey traffic laws like it makes a difference and I never saw anyone crowding the line at stop lights. Police mostly stand around and watch, with apparently little to do otherwise.
I have kept alert for anyone changing a light bulb so I can know once and for all exactly how many Poles it takes, but so far there haven't been any dead light bulbs needing replacement. However, I couldn't help but notice only down escalators running along side up stairs in the main hall of the train station. I guess the Poles have a sense of humor, too. I leave tomorrow morning by train for Gdansk to the north of the country near the Baltic Sea coast... and then hopefully over to Kaliningrad Russia.
Peace,
Fred L Bellomy

Warsaw - Map of Poland.

Warsaw - This is an indication of my response to the bitter cold of Poland. Windy freezing weather produced some tight squints and stupendous shivers. Hat? Who needs a hat when they have a bushy head of hair like mine? Skiing goggles might make sense, though.

Warsaw - One of the snow burdened tree scenes along the tracks during my ride from Bratislava up to Warsaw.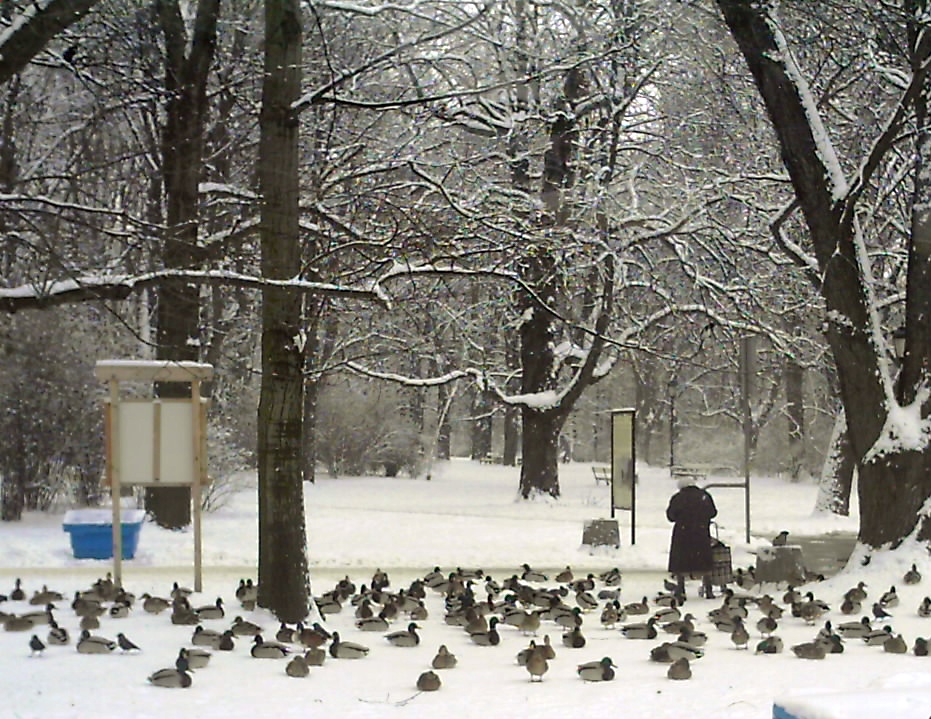 Warsaw - While riding trams around the city I spotted this lady feeding a huge flock of ducks and remembered our own "duck lady" up in Big Bear Lake who who would scatter bread crumbs to waiting ducks during our regular morning walks.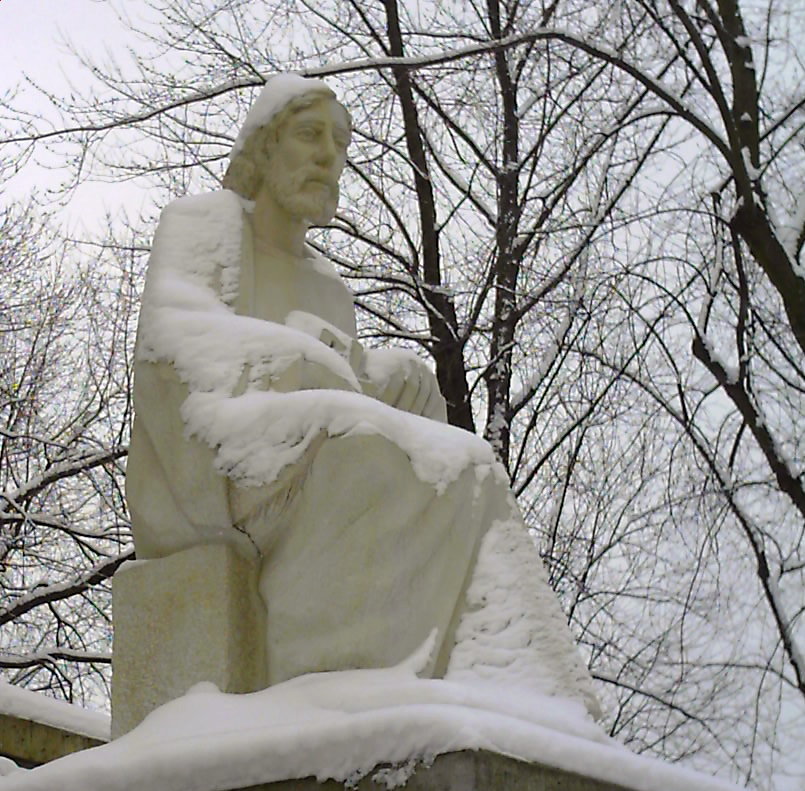 Warsaw - Riding trams we came to the end of the line where I noted a handsome church with the sculpture in the yard. Covered in snow it made a unique religious statement.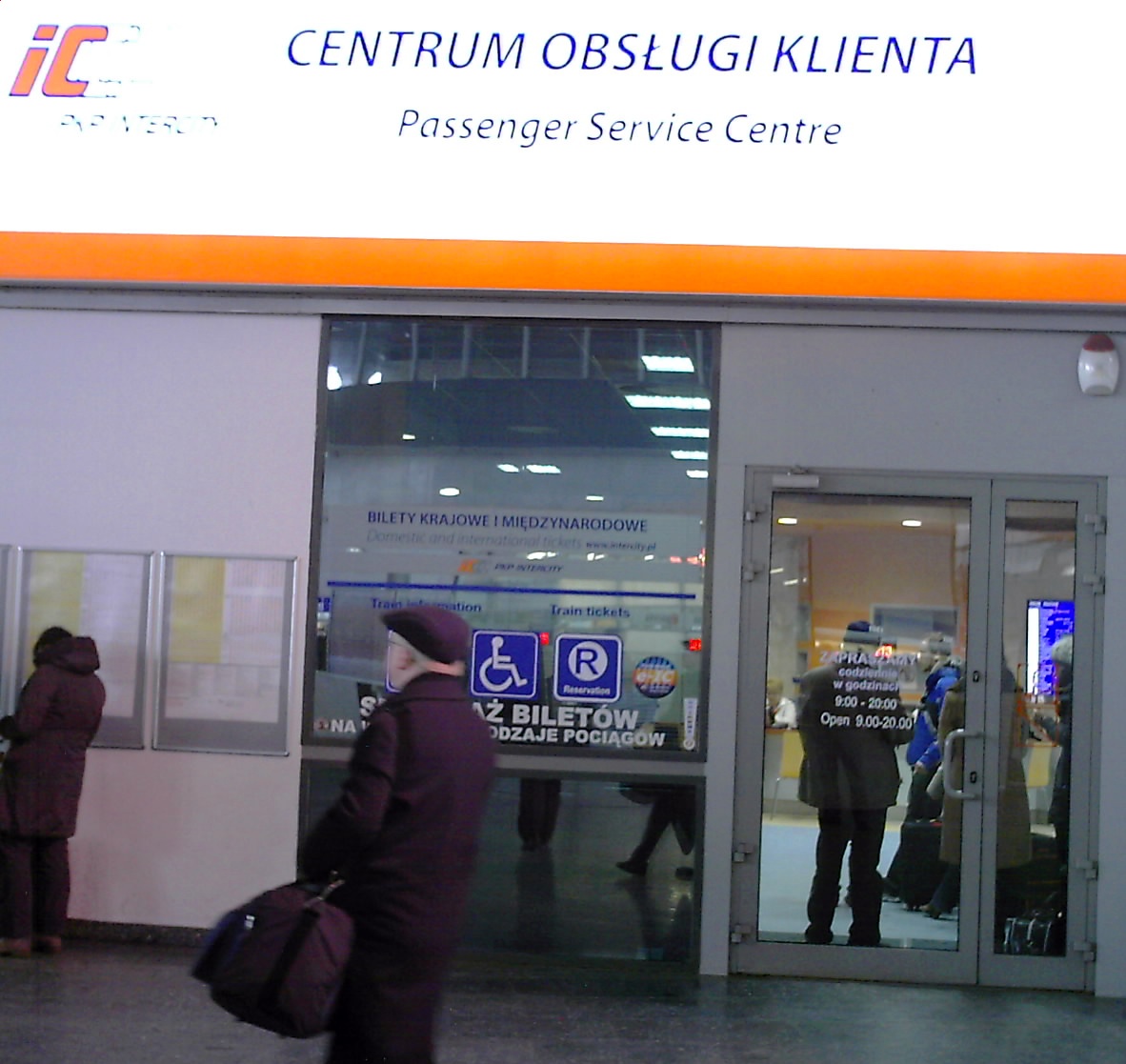 Warsaw - This is the main information and reservation office in the Central Railroad Terminal where I learned schedules for trains down to Gdansk.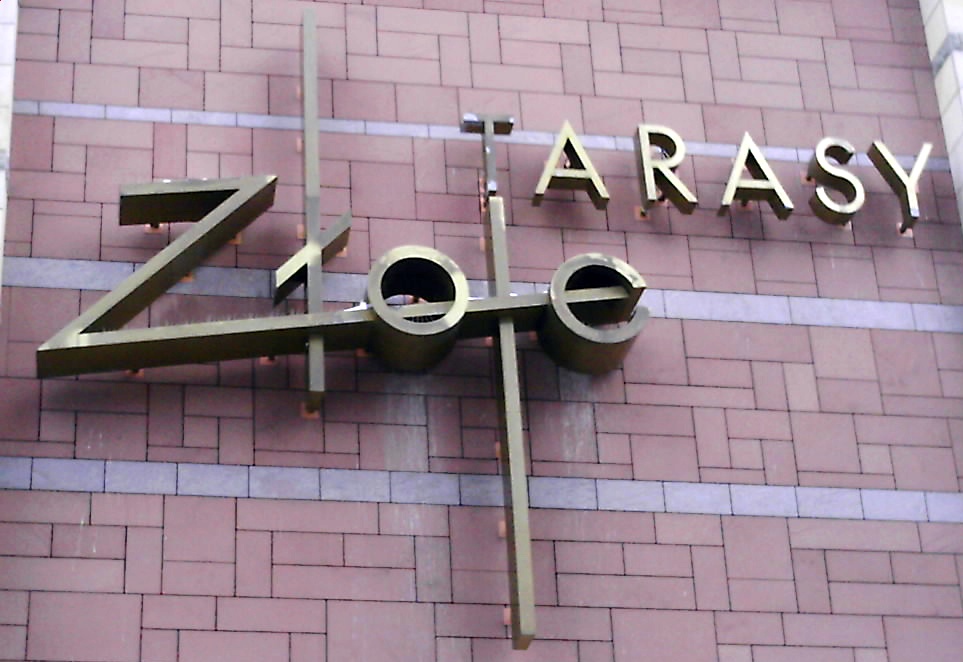 Warsaw - Zlote Tarasy shopping complex near the Central Train Station.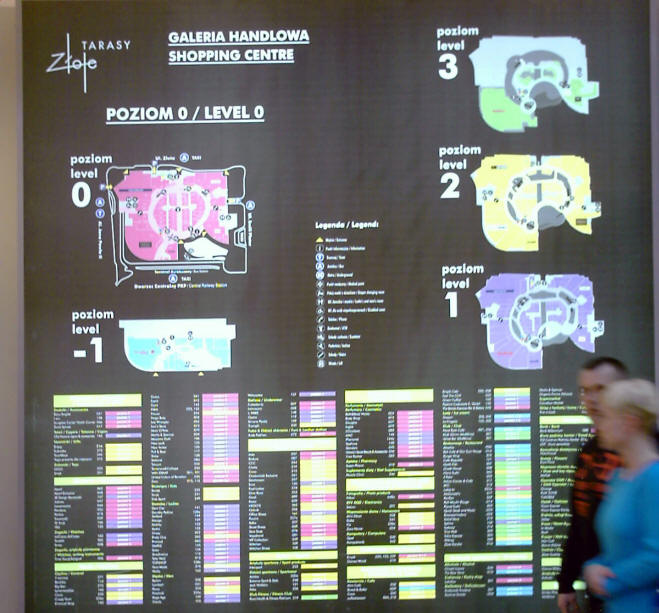 Warsaw - Zlote Tarasy shopping complex near the Central Train Station. This is one of the store directories.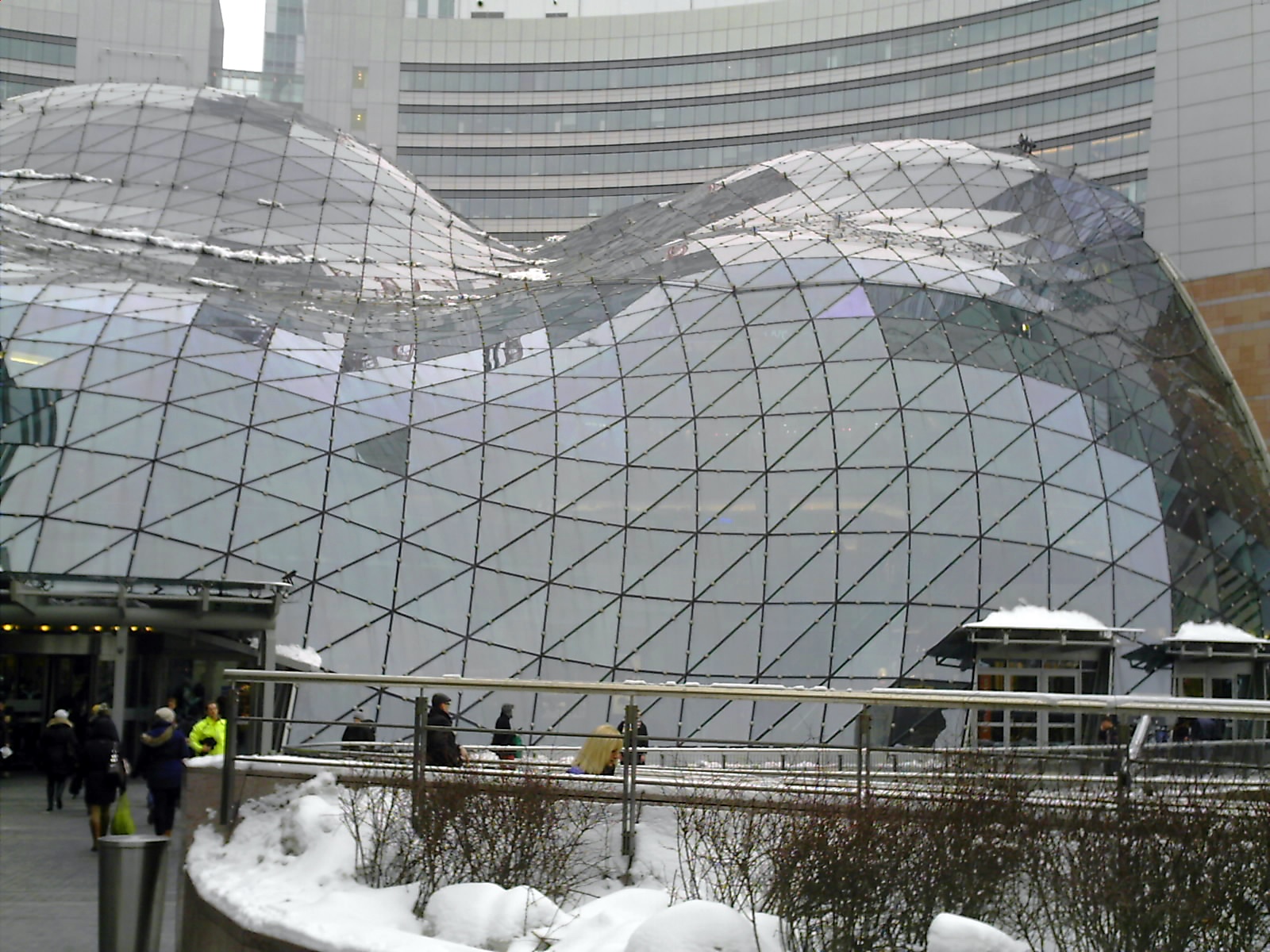 Warsaw - Exterior of the amazing Zlote Tarasy shopping complex near the Central Train Station. This free form glass covering allows plenty of light to illuminate the interior naturally.

Warsaw - Zlote Tarasy shopping complex near the Central Train Station. Some of the structural details.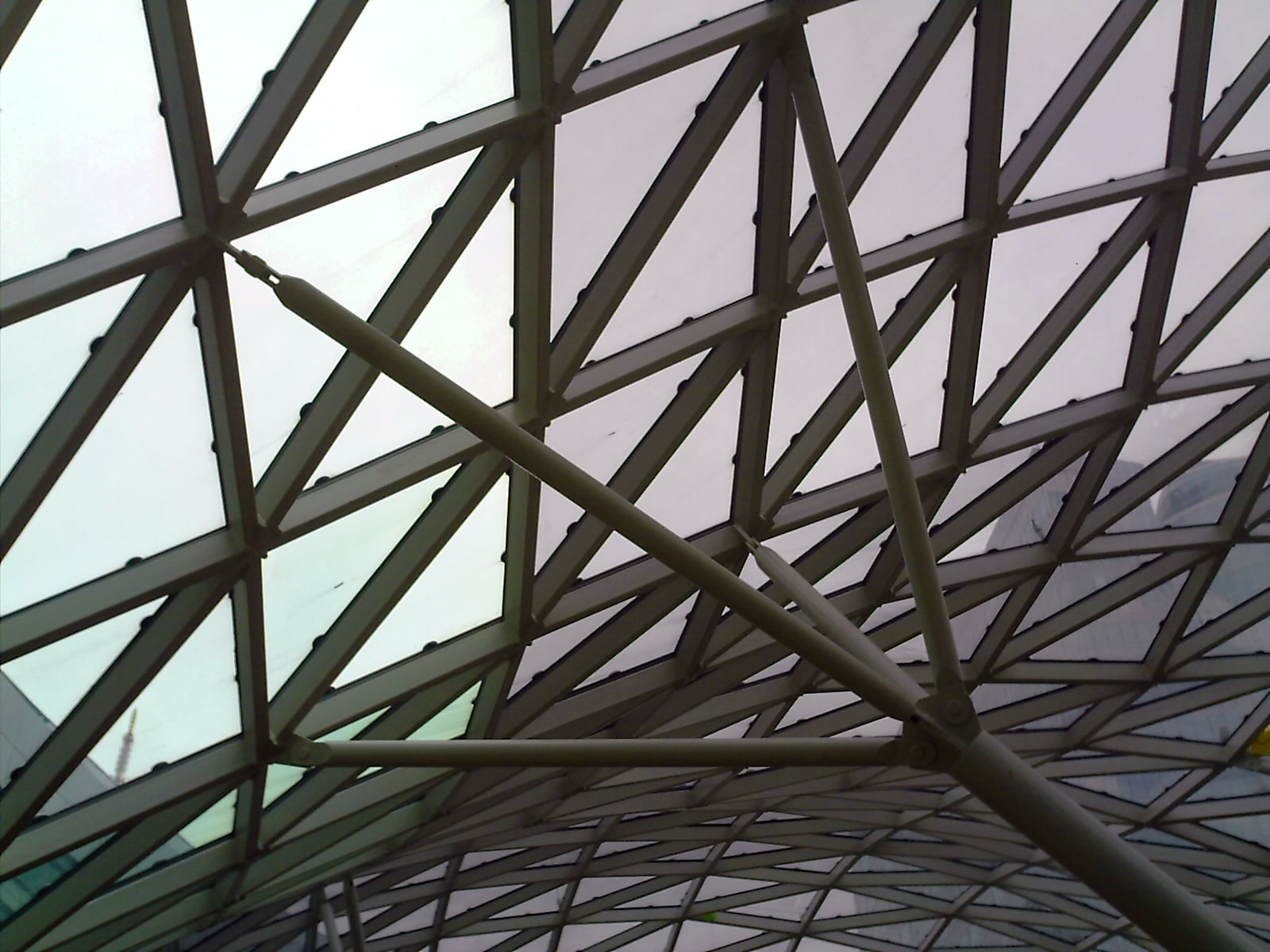 Warsaw - Zlote Tarasy shopping complex near the Central Train Station. Some of the structural details.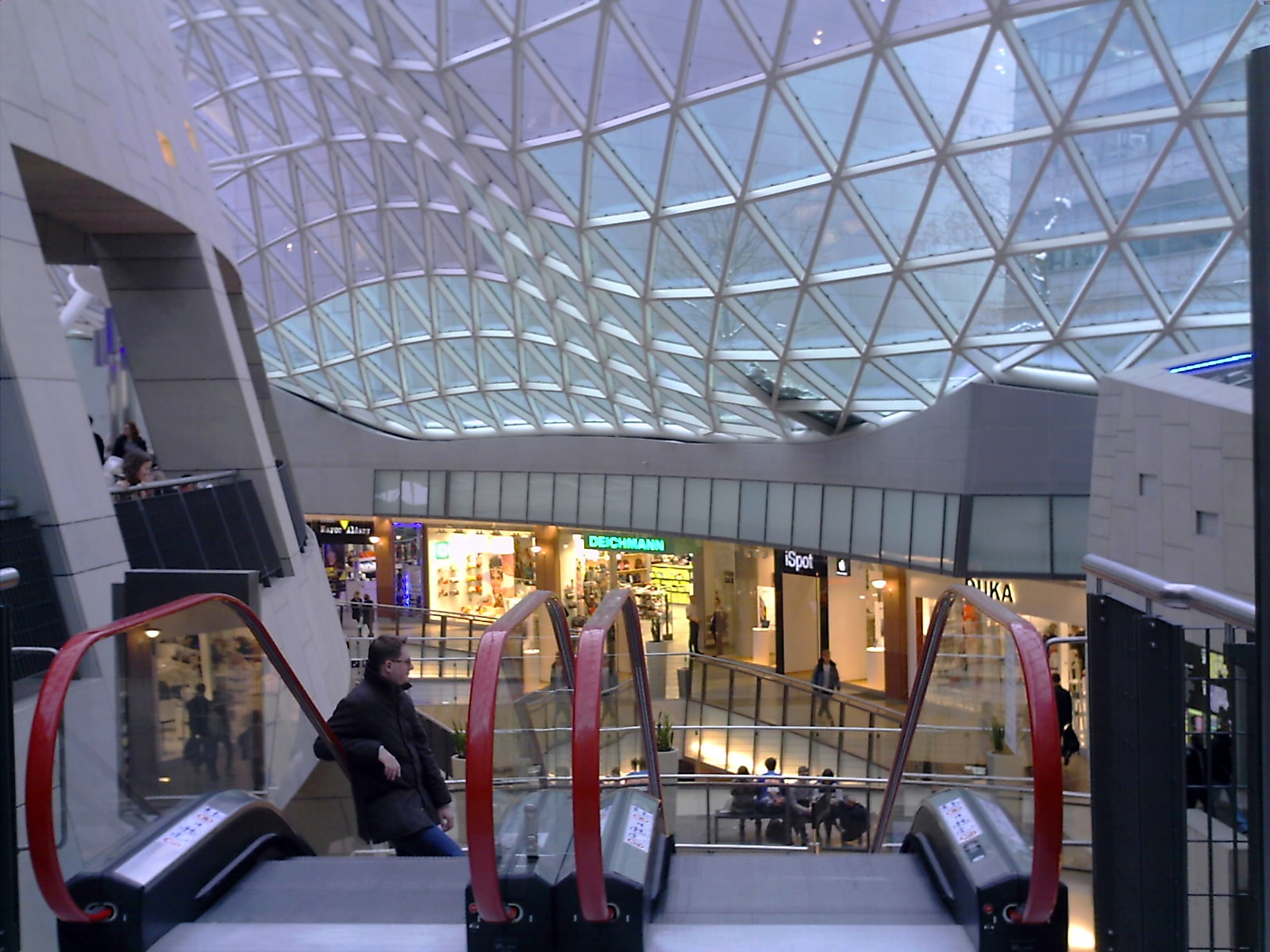 Warsaw - Zlote Tarasy shopping complex near the Central Train Station. This is one of the entrances to the amazing tower of escalators. Looking down one sees people going many directions at different levels. I feel dizzy just looking at the picture.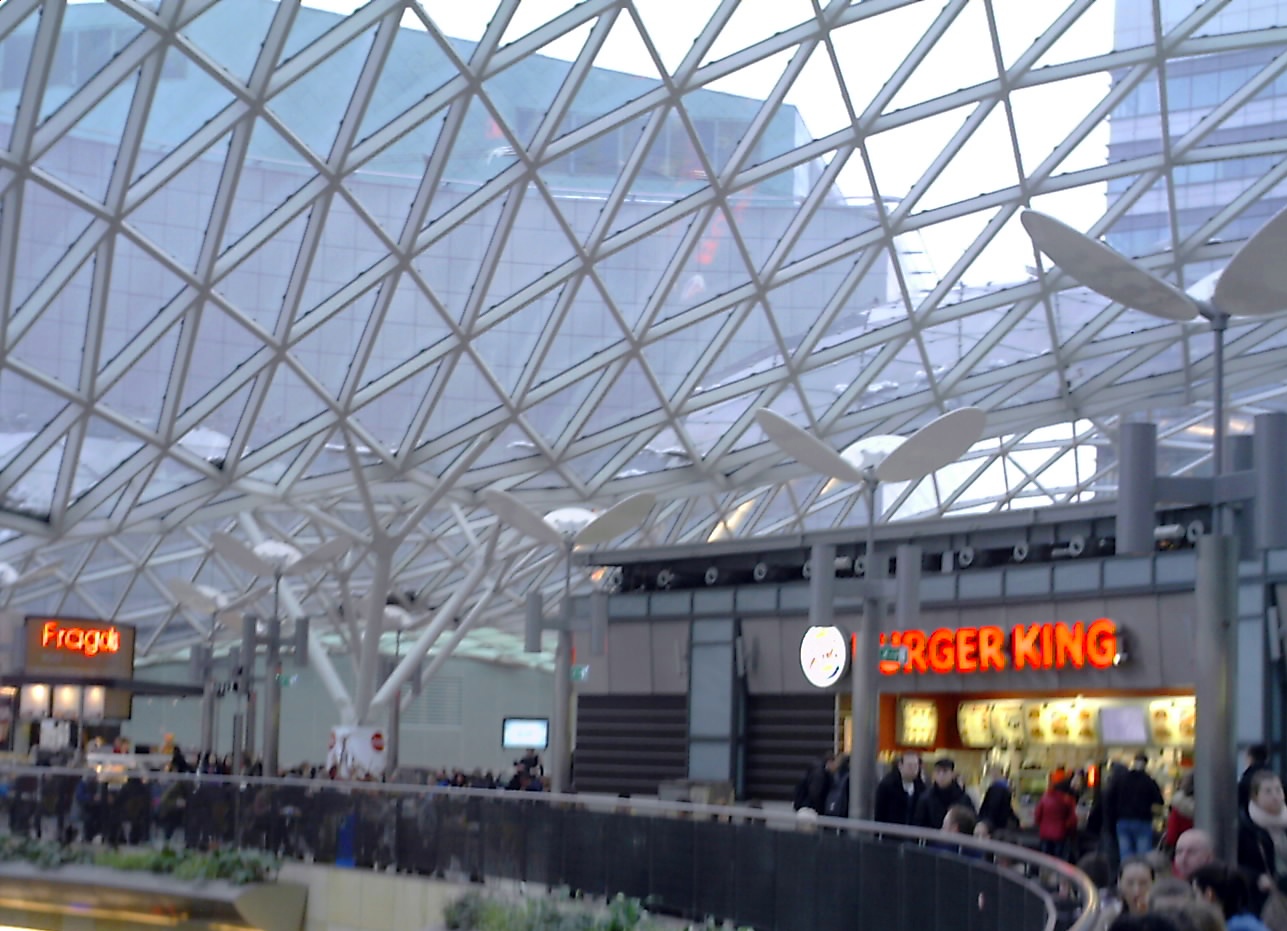 Warsaw - Zlote Tarasy shopping complex near the Central Train Station. This Burger King restaurant is proof this shopping mall is up to date.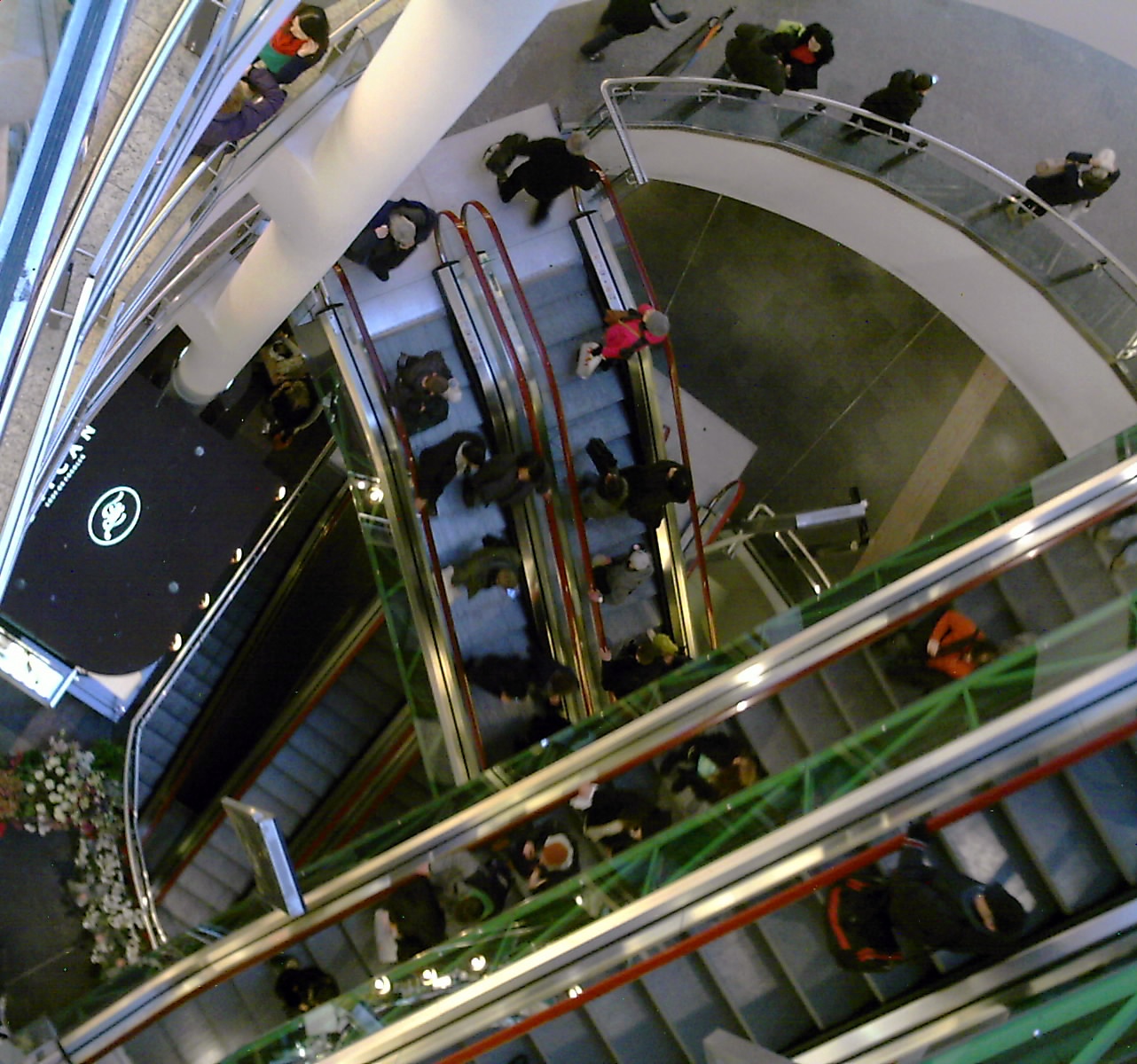 Warsaw - Zlote Tarasy shopping complex near the Central Train Station. This is the amazing tower of escalators. Looking down one sees people going many directions at different levels. I feel dizzy just looking at the picture.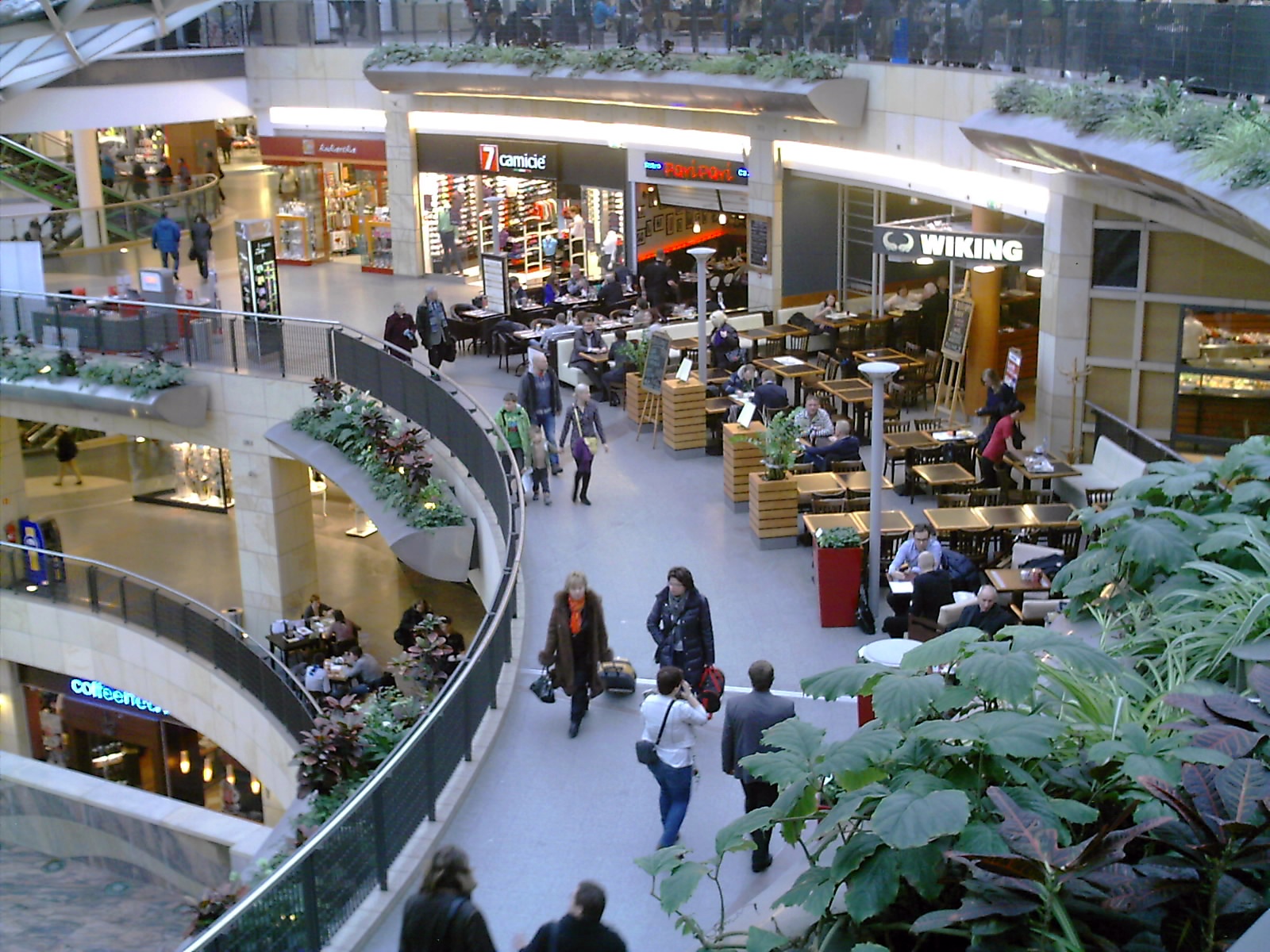 Warsaw - Zlote Tarasy shopping complex near the Central Train Station. Interior landscaping adds to the enjoyable ambiance of this place.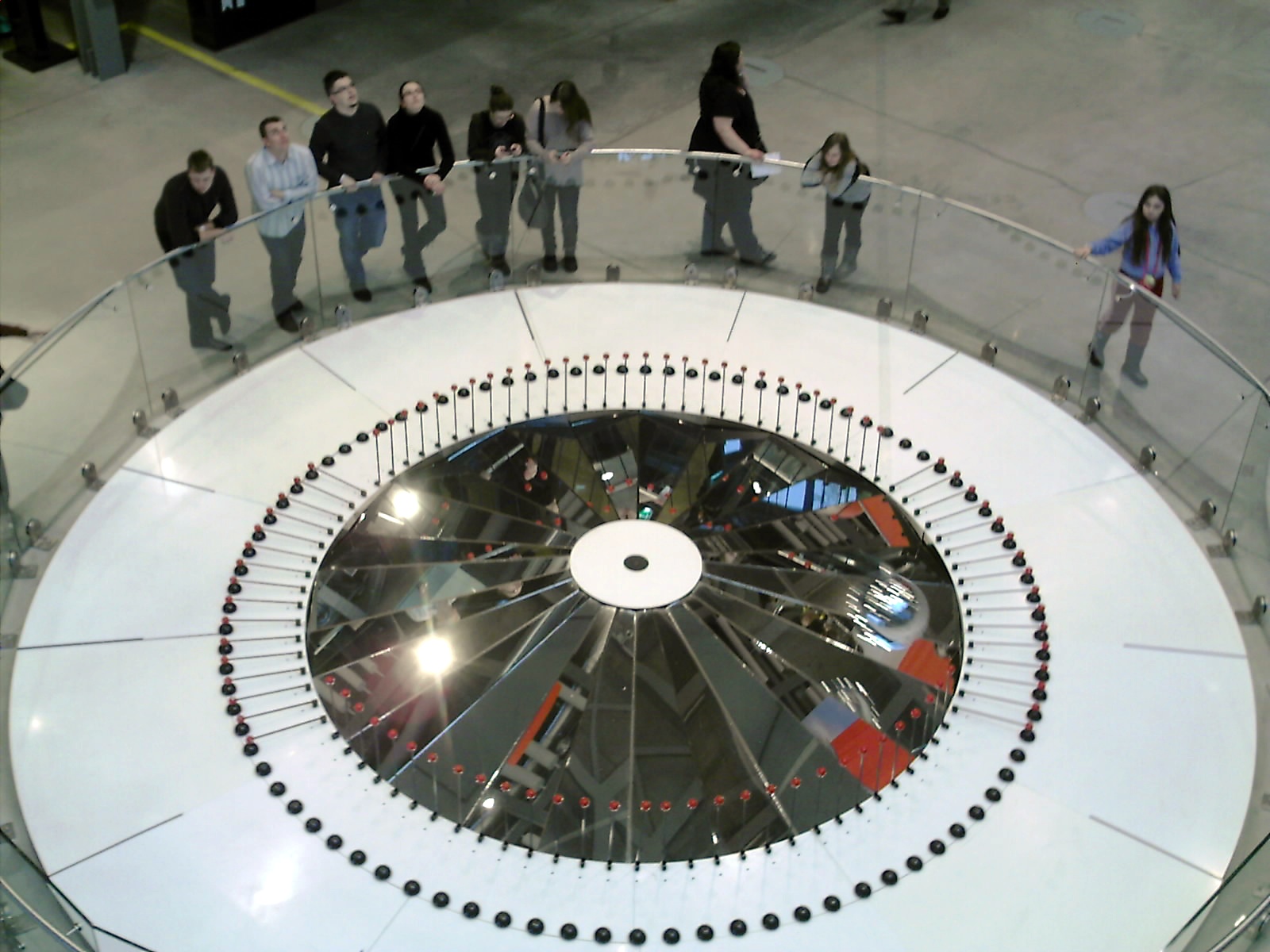 Warsaw - This is the Foucault Pendulum in the Kopernik Museum which has a collection of hands on science education displays much like those in the Exploratorium in San Francisco. I waited out in the cold for nearly 2 hours for a $5 ticket not knowing exactly what to expect in a museum bearing Copernicus name, but thinking it should have something to do with the great astronomer; it didn't!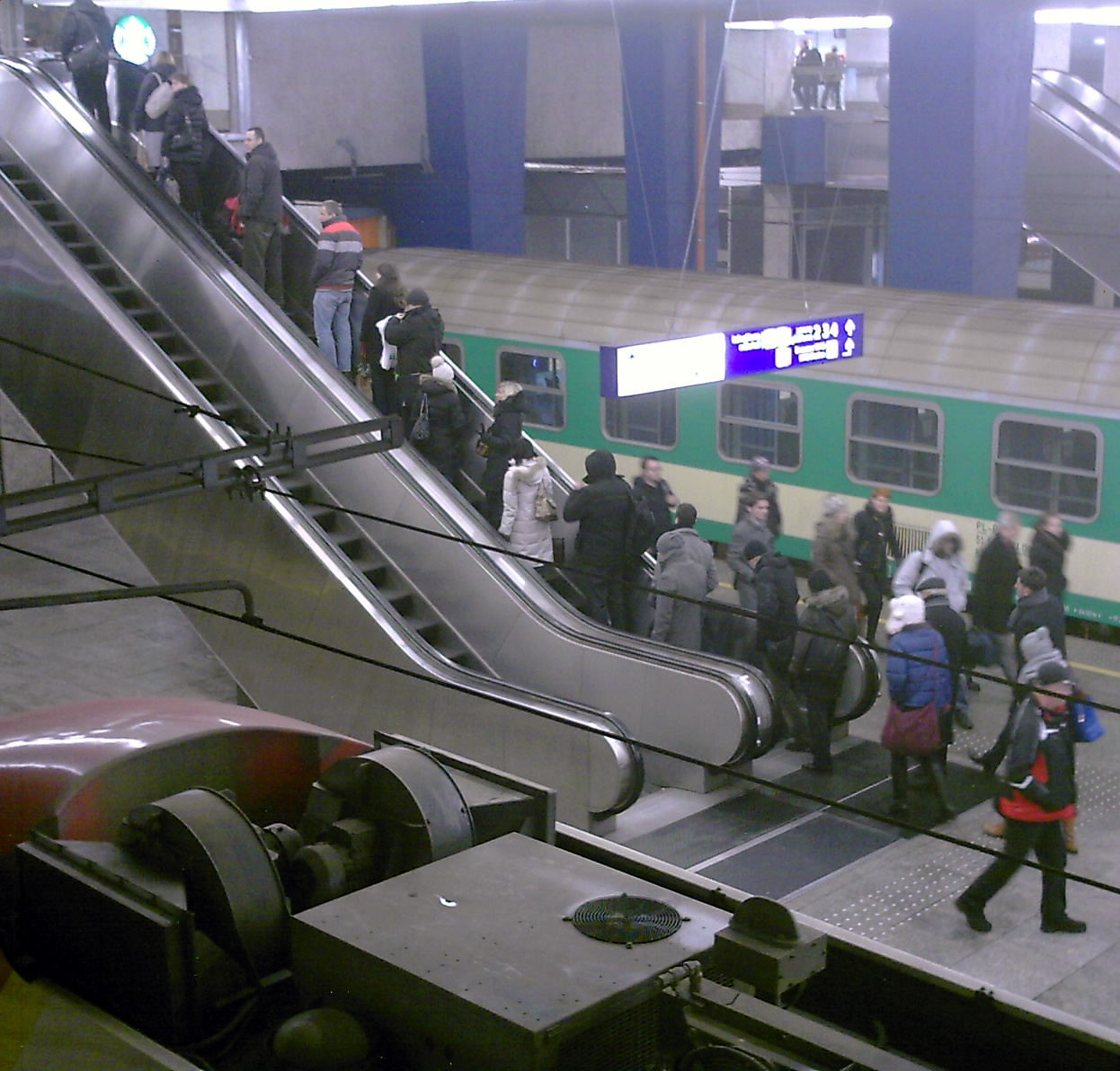 Warsaw - The departure and arrival platforms in the Central Train Station are under roof, but the area is not heated. Here arriving passengers use the escalator to get out.