Hello from Santa Cruz Bolivia,
Located near the geographical center of the country with a million and a half residents, Santa Cruz is Bolivia's largest city. Hotels don't offer guests free coca leaf tea to combat altitude sickness as the city is just over 1000 feet above sea level. The streets are laid out in concentric circles around the plaza and central business district. Streets radiate out spoke-like across the annular rings. The domestic airport sits directly south of the second ring, a moderate walk from the center. Gasoline is cheap by U.S. standards: 3.74 Bolivianos per liter or about $2/gal for mid-grade. Internet shops are easy to find: one or two in nearly every block and cheap at 2-3 Bolivianos per hour. Of course, my hotel provides guests fast Internet access in the lobby.
Arriving late Sunday afternoon 16 September, the lack of activity and emptiness of the city center bewildered me. Santa Cruz Bolivia served as a welcome rest stop after the disappointment of Trinidad and a skipped river trip into the Bolivian Amazon. The central plaza on this Sunday afternoon looked like it belonged in one of the tiny provincial villages. As I scoured the blocks around the plaza for someplace to spend the night it became clear something significant had gripped the city. All the hotels I checked were either now fully booked or could only guarantee one or two nights. In desperation I took the single night offered by the receptionist at the four star $35 Hotel Las Americas with the hope of at least one more night should an unexpected cancellation occur. One did, but no luck for a third night. During those first two days I continued looking for a place to stay longer and eventually found an excellent hotel that could confirm space for a week. The $55 Hotel Canciller is worth five stars, though it only claims four. Compared to the "four star" dumps in Trinidad this place would deserve ten stars!
The hotel is a block from the main central plaza called Plaza 24 de Septembre. It turns out 24 September is the day Santa Cruz was founded. The entire city is gearing up for a big celebration next week. The Hotel Canciller, only a block from the plaza is very comfortable and their dining-room serves gourmet meals... at truly bargain prices. The white tablecloth luncheon special with a small steak and desert came to a mere 25 Bolivianos (8 Bolivianos per dollar). My big fat Fillet Minion dinner one night ran 61 Bolivianos. The buffet breakfasts always include bacon and eggs, fruit, juices, strange tasting coffee that finishes with black mud in the bottom of the cup, a selection of cereals and a variety of pastries that include little "pillows" full of cheese. If I were to hang around here much longer, I'd surely gain back what weight I've lost so far this trip.
Most streets in the vicinity of the central plaza have cool covered sidewalks... and on any day but that first Sunday are cluttered with people of all ages fighting with ice-cream cones, noisy street vendors selling useless do-dads and brightly clad indigenous people using their small children as proxy beggars. There are several fabulously popular Bits & Cream ice-cream counters in the area. The scruffy little beggar tots recognize foreigners and immediately begin hounding them as they leave with their sloppy frozen treats in hand. So aggressive and pathetic are the tiny ones it is apparent their antics must occasionally produce results. While only a few men plead for handouts, there are hoards of women up to grandmother age with two to four unruly preschoolers urged to interrupt their normal hectic childhood chaos on the sidewalks to aggressively pester well dressed pedestrians. In the area immediately adjacent to the ice-cream stand Sunday afternoon I counted seven groups of grannies and their underage helpers.
During my morning walk last Sunday down a street deserted at the time near the center of the city a car pulled over to the curb next to where I had paused to snap a photo. The guy leaned over to the passenger window and motioned for me to approach, gesturing it would only take a minute. As I got closer he flashed a photo ID jabbering something in unintelligible Spanish. Recognizing the behavior as the opening gambit described in my Lonely Planet guide for one of the most common robbery ruses I backed off, shook my head and walked on. Undeterred, he crept his car keeping pace with my brisk walk all the while trying to sound official and yelling at me in a commanding voice... which I ignored. He did finally give up and drive on. Only after he reached the next intersection and stopped did I think to snap a photo of his car... too far away to read his license plate in the picture.
Before arriving I had planned to ride the "Death Train." However, after talking to a couple travel agents and studying reports by other travelers, I abandoned that idea. It turns out the intriguing "death" moniker was added to attract ridership! Some long ago forgotten minor accident resulted in a fatality or two and was used as justification for suggesting the 20 hour long ride has danger associated with it. The only death now associated with the long, long ride is being bored to death, according to several reporters. Sorry I encountered so little titillating excitement to report.
Today is Tuesday, 25 September and my $67 flight to Cochabamba leaves in a couple hours... unless the furious winds we have been having for the past few days prevents a takeoff. So, I'll quickly put the finishing touches on this postcard and commit it to cyberspace. Eventually I hope to make it down to Uyuni (pronounced "you-YOU-nee"), location of strange rock salt formations.
Peace
Fred L Bellomy
PS: After reading Charles C. Haynes essay, "What part of 'secular nation' do we not understand?" I am now more than ever concerned that our evolving national character has become a major part of the "international terrorism" problem. Read this work and decide for yourself. (thanks to one of my most alert information gate keepers, Elwood Anderson.) F
PPS: Quite a few new readers have joined me since I last described how to view my photo albums without setting up a KodakGallery account or spending any money. Click on the links provided in my "postcards" and then simply click on the cover photo that is displayed in the new window. That will get you immediately into the photos! F
PPPS: Has it struck anyone else how even in the most primitive undeveloped places around the world a few people feel moved to create beauty and order? The urge to make art must be genetically endowed in a few of us. Even in some of the poorest places I see careful attention here and there to making things attractive. Artists may well be the earliest harbingers of civilization! Curiosity led me to search the literature for information on the nature-nurture origins of art and I found this provocative essay on the subject of Cultural Genetics by William Sims Bainbridge; brew a big pot of coffee before starting to read this very long work. F
PPPPS: T-shirt being worn by a rather plain looking girl sitting with her college age American friends in an Alexander's Coffee shop: "The goods are odd, but the odds are good!" F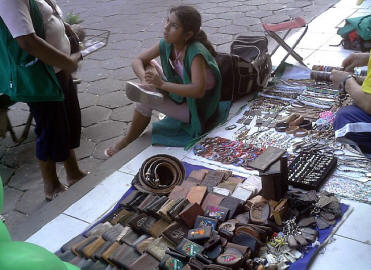 Santa Cruz Bolivia: Sidewalks are almost always cluttered with vendors like this one.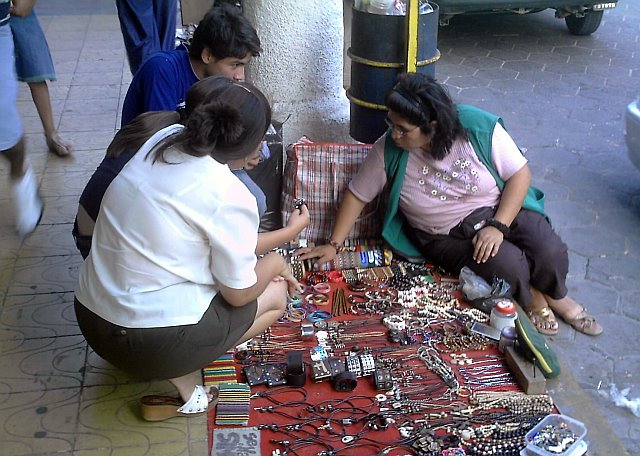 Santa Cruz Bolivia: Sidewalks are almost always cluttered with vendors like this one.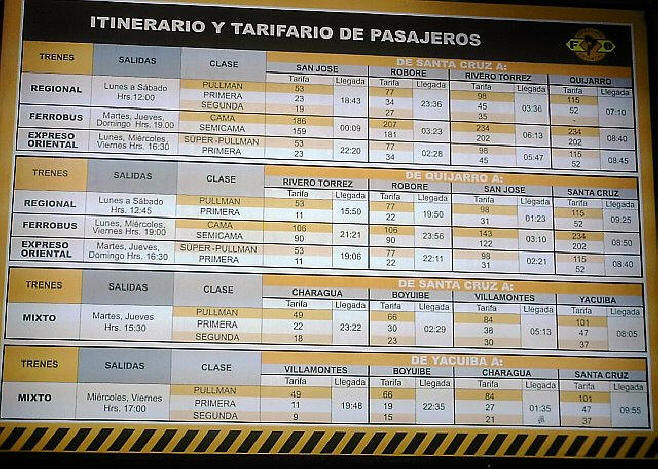 Santa Cruz Bolivia: Time Table in the Bimodal Terminal for the "Death Train." A travel agent told me the name had been concocted to increase ridership!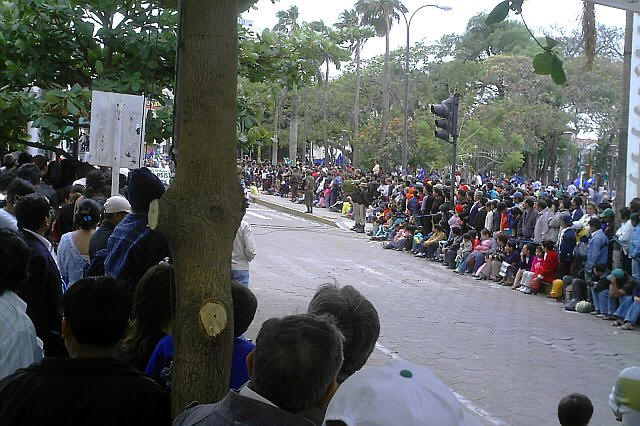 Santa Cruz Bolivia: Here comes the parade and what a crowd it has drawn.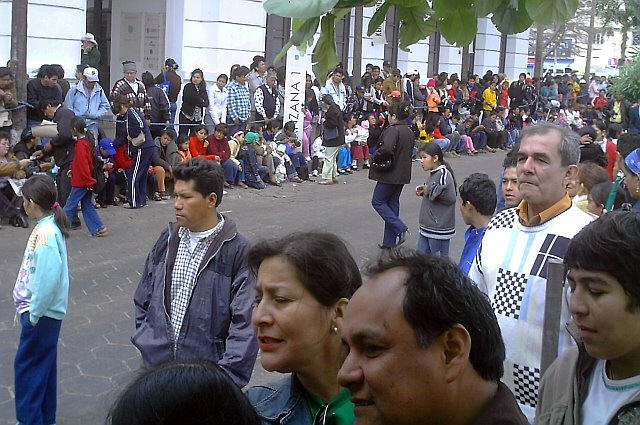 Santa Cruz Bolivia: Here comes the parade and what a crowd it has drawn.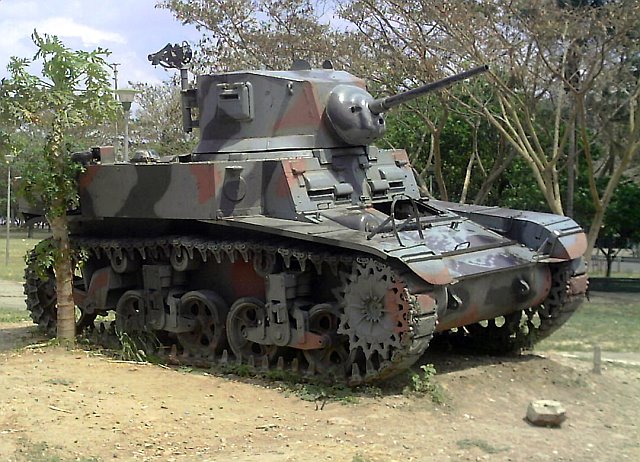 Santa Cruz Bolivia: War memorial tank near the small domestic-military airport.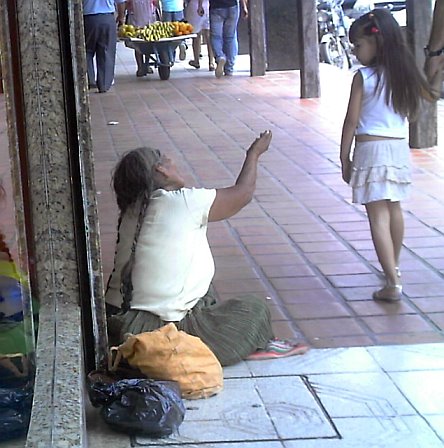 Santa Cruz Bolivia: This older lady sat in front of our hotel all the time begging from everyone who passed. Her determined behavior didn't seem to often get results, but she kept trying.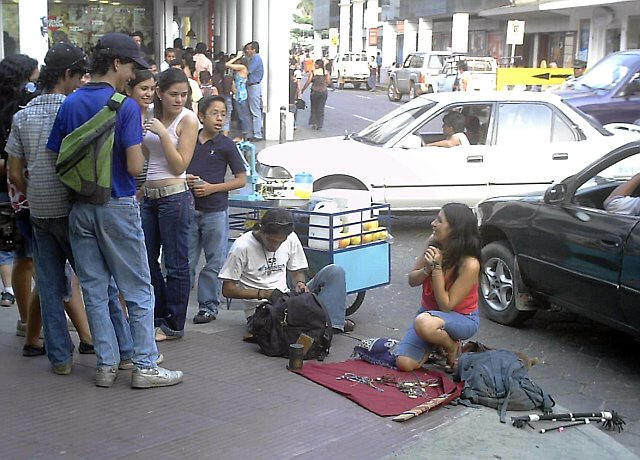 Santa Cruz Bolivia: Sidewalks are almost always cluttered with vendors like this one.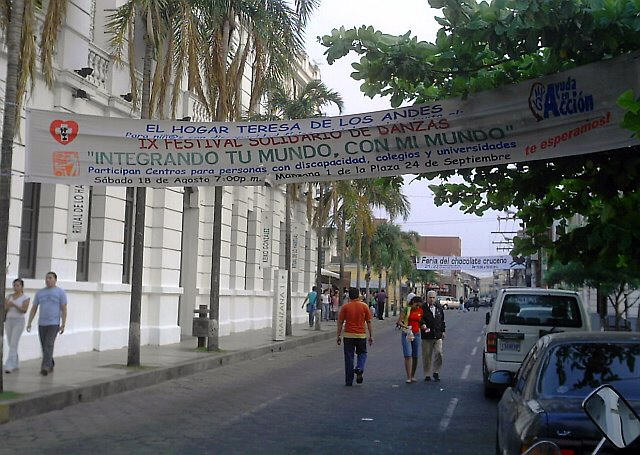 Santa Cruz Bolivia: There is a lot happening this weekend.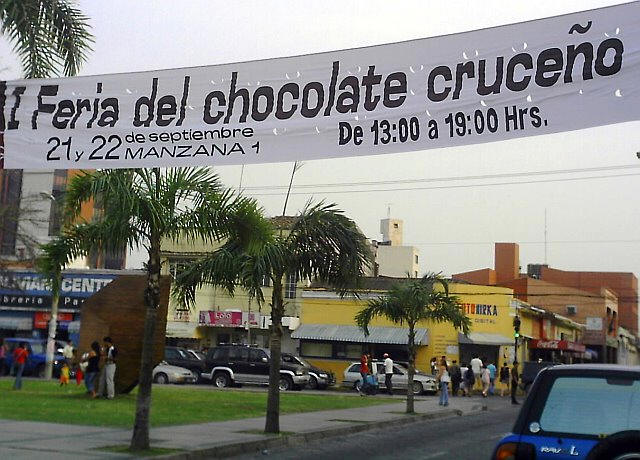 Santa Cruz Bolivia: There is a lot happening this weekend.

Santa Cruz Bolivia: After Evo Morales became president of the country this region voted for autonomy from the country. Graffiti covers walls all over the center of the city.

Santa Cruz Bolivia: This striking mural graces the walls of the patio behind the main cathedral.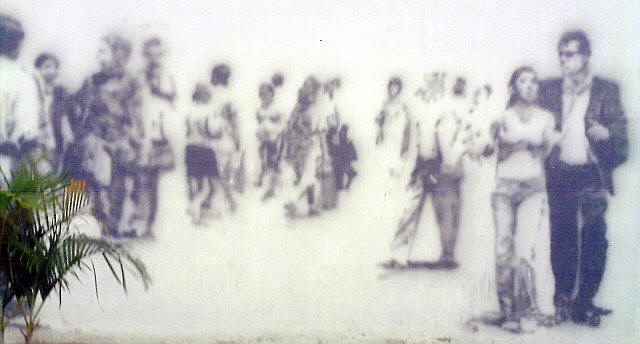 Santa Cruz Bolivia: This striking mural graces the walls of the patio behind the main cathedral.