Hello from the Solar de Uyuni in Bolivia,
Crunch... crunch... crunch... softly, muffled. Then silence again, profound silence. Sebastian has crept up behind me in the bright dining-room to deliver the next course of my breakfast as I sit transfixed by the panorama framed by a wall of glass, feeling like royalty. The room is so bright I wear sunglasses to breakfast. He is walking on a half foot deep carpet of brilliantly white rock salt. The sound of his foot steps is not unlike that of someone creeping down a gravel driveway... except more hushed. Sebastian is the lone bellman-waiter-handyman, do-everything guest services staff member here in the stunning Hotel de Sal - Luna Salad (Salt Moon Hotel), an island of civility on a craggy hill at the edge of a blinding desolate salt desert wilderness: the
Solar de Uyuni
. The entire 23 room thatched roof lodge built in 2005 employs five people who do the housekeeping, laundry, building maintenance, and cooking plus the manager and her ten year old daughter. Not even the sound of coffee filling my cup or the whispered kindness in unintelligible Spanish disturbs the utter reverent silence of the place this morning: SILENCE... in capital letters. The night I arrived only one other guest shared the dining-room as I enjoyed my candle lit steak dinner. The pleasant smell of burning candle wax added to the exotic ambiance. The second day I dined alone with exclusive attention of the entire staff for all three meals, the only guest in the elegant lodge!
All 23 guest rooms in the hotel are constructed end-to-end in two wings on either side of the large dining-room. Rooms in my wing have picture windows facing the Salares. Rooms in the other wing face away from the salt flats, but open onto large public sitting-rooms associated with each guestroom and face the Salares. At one end of the long lodge there are game rooms, a theater style meeting room, and a large circular great room that looks like a deserted cafe or coffee house. Outside the long narrow line of structures are piles of volcanic rubble and weathered boulders with a sinuous footpath winding its way around the lodge. As the buildings have been constructed on a hill, the views of the surrounding flat plains below are unobstructed. To the north and east in the far distance are the snow capped volcanic mountains of the
Oxidental Range
.
From the back of the lodge the well pump house from which the hotel gets its water is visible next to the long line of single wire power poles stretching off into the distance. Heat for the hotel is provided by bottled gas hauled to the hotel every few days or so. From the front of the lodge two white plastic drain lines wiggle their way down to the several cesspool-septic tanks dug into the soil at the bottom of the hill. The hotel's dirt driveway meets the dirt road that disappears to the south-east in the distance, the lone connection to primitive civilization in Uyuni. As I pondered the difficulties in getting to this astounding oasis it occurred to me how much more I appreciate things achieved after struggle; how matter-of-fact are my reactions to situations acquired with ease. I have to wonder if this is a genetic predisposition that explains my bizarre travel habits!
Transversing the rock-salt covered floors of the long halls inside creates an illusion of walking a path covered by crisp frozen snow in deep dawn shadows, something I do several times a day on my way to meals and to my unique guestroom for some horizontal time. The hotel room is like nothing else I have ever experienced anywhere else in the world. The carpet of deep rock salt in the hall continues on into my room, but here large Indian throw rugs provide some cushioning between bare feet and lumpy salt crystals. The modern bathroom floor is tiled. Still, scattered salt pebbles find their way into this room, also. Stepping on a salt stone is disorienting in the middle of the night when lights are low.
Bright yellow lightweight down comforters and fragrant rose scented flannel sheets set the stage for another delightful surprise the first time I snuggled into bed under starlight alone. Every movement creates luminescent flashes of light in the sheets. Like a kid I experimented with finger painting my personal light show around and under the covers. Nearly a half century ago a girlfriend passed on the secret of
Wint-O-green LifeSavers
, an occult knowledge "only to be shared after passion with your lover," she confided. Now that others have broken the oath of silence I also can share it. Ultra-low humidity and synthetic fabrics no doubt play a role. The dancing lights on my sheets are similar to the candy flashes. The scientific knowledge of causes in no way diminishes the magic of this private moment of a monk between the sheets far from civilization surrounded by endless deposits of salt.
Morning arrives slowly here in the desert; around 05:30. Slowly, total darkness gives way to hints of dawn. No bird sings, no subtle far off traffic noise, no inaudible sounds of human activity at all, subliminal signals of civilization starting a new day everywhere else on earth. No rustling of leaves or softly whistling breezes exploring obstacles. Not even the rarely seen insect makes a sound on this silent, silent morning. Finally drifting into full consciousness there it is. There it is again: the brief muffled distant sound of someone in the hotel preparing for a new day of serving this lone privileged guest. It is 06:30 and I wonder what adventure awaits me this sparkling new day out here in the middle of nowhere.
At breakfast I see the tables and chairs in the cavernous dining-room are carved from solid blocks of salt. All are heavy and immovable. Covered with elegant table clothes and puffy cushions, they are spaced to take advantage of the panoramic windows facing the vast white expanse below in the distance. Throughout the hotel are a dozen other sitting rooms containing more furniture chopped from solid blocks of salt and covered with comfy cushions. One room features a pair of hammocks positioned so recliners can view the vistas as they laze. Tasteful modern decorations adorn every niche and wall. Most reflect Western or Indian motifs. I went berserk photographing everything.
Reflecting on so much use of solid blocks of salt, my mind races back to the year my father raised a calf for slaughter and the big yellow block of salt he bought for the animal. Salt licks are heavy and hard as rock! It is easy to imagine using them as bricks for construction... or in larger massive blocks as the starting point for sculpturing items like tables and chairs. Naturally, being a scientist I had to taste the walls and searched for a spot unlikely to have been sampled by previous guests. Sure enough, sodium chloride! I resisted the temptation to ask Sebastian: "With all this salt, where's the pepper?" I also felt tempted to inquire which of the many salt pillars used for structural support might be
Lot's wife
.
At first the open plain strikes one as unremarkable, not unlike desert expanses found in many other places around the world. But then it becomes clear the desert ends far short of the horizon, the transition zone filled with blinding white. Almost featureless like an Antarctic ice-scape, tiny dark spots against the contrasting white can be seen moving. These are the 4X4 Range Rovers, Land Cruisers and Jeeps full of tourists making the
circuit
: 3 days of up close inspection of the region's fabled geothermal
features
. They reminded me of the great herds of wildebeests I watched from a distance crossing the
Serengeti
in Tanzania. Other indistinct smudges along the edge of the horizon are more lodges built to accommodate the hoards of visitors who flock here in the Fall and Winter holiday seasons. I am here in the off season, September through November. Lucky thing, too. My surprise walk-in rate is a mere $55 per night including hardy meals at daybreak and dusk. The Internet advertised rack rate is $75 for a single ($95 double).
There are few distractions from enjoying the silence and emptiness: no radio, no television, no piped in elevator music or raucous disco sounds, no ringing telephones, no chattering staff in gossip sessions and NO INTERNET! The hotel has been trying to get an Internet connection, but the government is in the process of nationalizing communications and has suspended any new satellite connections, I was told.
One morning after breakfast while strolling around the grounds I spotted a herd of Vicunas feeding on the scant greenery among the craggy rocks at the base of our hill. Farther out among the salt formations several groups of llamas moved slowly as a herd to the west. By the third day without an Internet connection I had begun to go stir crazy and dashed back to the village of Uyuni for an early 10AM bus back to Potosi and another couple nights in the great Coloso Hotel before the short bus ride back to Sucre where a plane waited for the flight to La Paz once more. As luck would have it, a new transportation blockade stopped all highway traffic from reaching Sucre about twenty kilometers from town. A five kilometer hike around the blocked portion of the road got me to taxis and the final distance into the city. The next day an Aerosur flight got me back to La Paz again for some very welcome relaxation in the five star $50 promotion rate
Hotel Presidente
where I am putting the finishing touches on this postcard.
But the story of how I stumbled onto this remarkable salty hideaway is also worth telling. The long road connecting Potosi and Uyuni is an adventure in itself. Desolate except for numerous farms and scattered small communities, the land is subdivided by countless stone walls that serve as corrals for domesticated llamas, donkeys, horses, sheep and alpacas; or as barriers to wild animals around planted crops. The bus paused frequently to board or dislodge passengers, sometimes in the most unlikely places in the middle of nowhere! At every stop local entrepreneurs descended on the bus with their homemade snacks offered to passengers. Our twenty minute midday break served as both a comfort stop in the open and an opportunity to buy packaged snacks and bottled drinks. The afterthought establishment included a makeshift distribution counter in a mud brick shack, no doubt operated by the driver's brother-in-law. The place was an embarrassment to Bolivian tourism, but as there were few Western tourists on the bus, hardly a priority in this remote region.
The six hour bus ride from Potosi arrived in the bleak dusty town of Uyuni at 16:00 on Thursday. I started my usual search for the best hotel in town armed only with sketchy advice from a copy of Lonely Planet: Bolivia. The entire village of Uyuni can easily be scouted in under an hour. Six lane streets in all directions suggest overly optimistic city planners either must have had big plans for the settlement or unlimited land in the early days when the community had its beginning. The asphalt paved streets soon became dirt three blocks in any direction of the center. Construction on numerous structures continues, with some already occupied. Others remain shells, revealing the future grand plans of their builders. The deserted central plaza contains an amazing array of children's play equipment, suggesting unrealistic hopes for this out of the way settlement. The actual center of the city sits two blocks to the west of the plaza, breaking Latin American traditions. Most of the people on the streets downtown seemed to be foreign backpackers. Surprisingly, I saw not a single beggar during my explorations, possibly because even the most determined panhandler would think twice before plying his trade in this chilly weather.
Uyuni at 3700 meters above sea level is always cold and the longer I walked the colder it got. My down vest and double layers of shirts underneath usually provide adequate warmth in most chilly climates, but proved just adequate here. Uninformed staff provided bad information at the first descent hotel I checked some distance from the center of the town. The next four were either fully booked or miserable. As dusk approached and my tired legs began to complain I settled on the $13.50 (double the Internet advertised rate!) Palace Hotel on a small plaza in the center of town with NO heat and freezing outside temperatures, hardly a palace and no doubt named to deliberately be confused with the famous and expensive Salt Palace Hotel out in the Salares. The grizzled barrel-chested manager spoke no English and had little tolerance for my disturbed Spanish; I think he tried to offer help with the electric shower head, should I need it, but nothing about heating for the room. He did manage to direct me to an excellent restaurant nearby where I enjoyed a remarkably good $4.30 steak and eggs dinner complete with a large bottle of beer in preparation for the uncertain night ahead in the cold hotel. Shivering as I pondered the possible stupidity of my chosen travel habits, I decided this would be a night to simulate a camping trip and crawled into bed fully clothed, down vest and all.
The next morning I jumped out of bed before the sun rose and hurried out to explore the town for more comfortable accommodations, awakening the obviously sleepy, unshaven grouchy manager to let me out the locked front door in the process. Walking the entire town in all directions, snapping pictures as I went, it became clear no one should expect a five star hotel in this rustic little burg. In fact, I found little of much interest to photograph, just dusty unpaved wide boulevards surrounding a half dozen paved streets that served as the developed part of the city. I did manage to find both of the "better" hostels within a three block radius of the city center and learned the rates for either would be $35. My Lonely Planet guide hinted there were truly luxurious resorts to be had some thirty kilometers distance around the Salares.
When the restaurants opened I filled up on coffee and eggs, then inquired in several travel agencies about the resort options. The recommended $120 per night
Hotel Palacio de Sal
or Salt Palace Hotel in Colchani turned out to be available only through one of the hotels in town and they could not guarantee a vacancy! Totally befuddled I wandered around considering my options: abandon this whole salty episode as a bad idea, book one of the economy $100 three day tours crammed three across in a 4X4 with hardy backpackers accustomed to crash-pad accommodations, spend a few days in one of the two reasonably decent hostels in town, or hire a cab to take me out to the supposedly fully-booked luxurious $120 resort and try to negotiate availability with a more sensible rate. Finally I opted for a 200 Bolivianos ($27) two hour taxi tour of the Salares which would include a stop at the Palacio de Sol for lunch and time to check out the possibility of accommodations there.
My young cab driver, Carlos spoke no English, but demonstrated a remarkable patience with my stuttering attempts to give directions and ask questions in Spanish. Off we went and rather quickly left the main dirt highway onto a rutted one that looked like it headed nowhere. Shortly we were on the salt flats themselves and on a hard packed stretch of glass smooth salt highway. With white everywhere it is amazing how interesting white can be when you look closely. Some places looked like a frothy sea, others like a lake covered with tiny frozen ripples and still others like an artist's canvas covered with modern designs in subtle shades of white.
Landmarks were just visible in the distance as we moved deeper into the nearly featureless landscape. During that initial taxi exploration of the region around the salt flats before discovering the hotel we ran into a herd of many dozen llamas that seemed unperturbed by our close approach. Well out into the flats a dozen or so individuals wearing black ski-masks like the shoeshine boys in La Paz were working the salt: raking it into piles a meter or more high. Around each drying pyramid water pooled making it clear how near the surface it actually is. In the distance men were shoveling rock-salt into small pickup trucks. Such small scale harvesting goes on all the time and provides work for some of the people who live in the dilapidated village of Colchani... not really a village, more like an unplanned assemblage of neglected shacks surrounding a gasoline station and several warehouses. Carlos obviously did not know which of the several structures visible on the horizon was the Hotel Palacio de Sal, my specified destination. Stopping twice for discussions with salt harvesters he set a zig-zag course for one of the nearer groups of buildings. The unremarkable assemblage did not inspire confidence and on entering what seemed to be the main lobby I found the place in disarray, workmen busy with restoration projects and no one who would admit to having registration information. After that discouraging brief stop we headed off to the other place, Carlos jabbering away unintelligibly with multiple use of the phrase: "mejor hotel." That is how we found to utterly splendid Salt Moon Hotel about which I have written so much previously.
Peace
Fred L Bellomy
PS: I have long been a critic of Global Warming deniers. The evidence for climate change is overwhelming and any educated person can review it with only one conclusion: human beings have accelerated rises in global temperatures! However I, nor anyone else knows what exactly, if anything we can do about it. Cutting
greenhouse gases
:
water vapor
,
carbon dioxide
,
methane
,
nitrous oxide
, and
ozone
deserves obvious consideration, but when and how are open questions for both the scientific community and the World's political leaders.
Now, an eminent scientist,
Bjorn Lomborg
has taken a systems approach to global problems facing our civilization and offers a cost-benefits analysis with some startling and controversial conclusions that deserve close study by the World's decision makers. His recent book,
Cool It
already has attracted a good deal of
praise
and
controversy
, some of it
mind boggling
. The summaries and editorials I have read convince me his suggestions for dealing with humanity's problems deserve the widest consideration. Special interests are likely to focus attention on one aspect or another that supports their selfish objectives and care must be taken to embark on programs that address the broadest spectrum of humanity's woes... simultaneously... a mission impossible, if ever there was one... but the highest of righteous missions for our generation. (
Thanks to Andy, one of my most prolific
information gate keepers who knows my interest profile well
.) FB
PPS: After doing the research for the above comment I revisited my early professional interest in the
overpopulation
of the globe. In the process I came to a new enlightening realization. As an undergraduate at the University of California in Berkeley I added my voice to other unruly students vainly attempting to alert the world to the pending population crisis. In those days a half century ago I supported the work of organizations like the
Population Reference Bureau
and
Planned Parenthood Federation
, both of which are still doing good work today.
Thomas Robert Malthus
predictions of world populations outstripping the abilities of food producers were compelling... and still are, not withstanding religiously inspired opposition. Because his predictions were based on erroneous statistical data available in his time and ignored mankind's resilience and ingenuity, his time-lines for disaster were dramatically shortsighted.
Populations do tend to grow exponentially while food supplies can increase only linearly, requiring at some point in the future food demands outstripping production capabilities. So far supplies have always kept pace with the growing population demands. However, the reasoning of the eighteenth century Anglican cleric, demographer remains sound. At some point, at the boundary condition certainly, one more human being will occupy that chunk of land or sea needed to feed that one more person, dramatic advances in technology not withstanding.
So, why hasn't high population growth received more attention in high places? Two logical explanations dawned on me today! First, the financial markets love economic growth, and economic growth is fueled by population growth in the last analysis. Even good people with a social conscience love to see their investment portfolios increase in value... and resent economic downturns. Second, the competition among religions for universal dominance historically has benefited by a policy of high birth rates. So, the world's two largest religious organizations prohibit low birth rates! Religious institutions competing for adherents promote high birth rates as a primary means for increasing their numbers and influence: Roman Catholics vs. Muslims in particular. They are literally engaged in an arms race: along with the rest of the anatomy and minds that go with the arms. Misguided fear, greed and the lust for power seem to me to be at the core of this most critical challenge facing mankind.
In my extensive travels through socioeconomically deprived regions of the world I have seen first hand the consequences of unrestrained population growth on the quality of life and resulting social discontent. Anyone with a television set can watch the epic battle between Christianity and Islam play itself out around the world. Attention to the causes of unbridled population growth must be secularized, a prospect which seems as remote now as in the past. As long as fanatical true believers set the agenda for their movements, hypnotically entrapped fellow travelers are sure to follow. It has always been so and there is little reason to hope human nature will noticeably change in the near future, moderate successes in
China
not withstanding. Evolution takes centuries... millennia... eons! Only uncontrolled disaster occasioned by famine, pestilence or war is likely to intervene. How sad. Shame on humanity! FB
PPPS: As I sit here in Sucre Bolivia writing this, numerous wildfires are devastating Southern California. Thousands of homes and mountain cabins already have been destroyed and a number of my friends and neighbors are reporting either losses or threats of losses. It is a heartbreaking reality and my compassion for all the victims makes writing about travel adventures seem pointless. To all those who have suffered from this calamity, my heartfelt sympathy. FB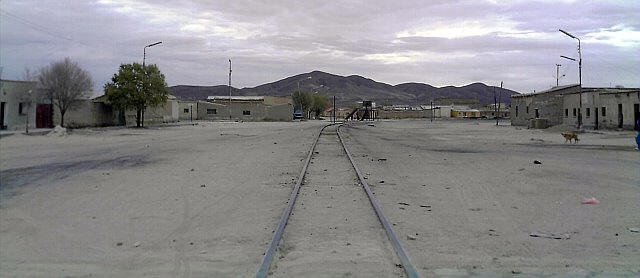 Uyuni Bolivia: Looking down the railroad tracks that run down one of the deserted streets of the dusty town early in the morning.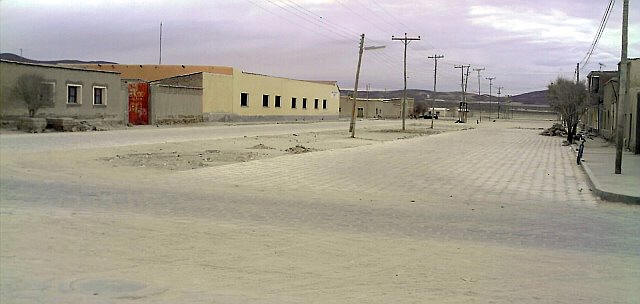 Uyuni Bolivia: Looking down one of the deserted streets of the dusty town early in the morning.