Greetings from Potosi Bolivia,
Potosi Bolivia is a charming OLD town with a remarkable
past
. There are more churches and other religious structures in this small city of about a hundred and twenty thousand than in any of the other cities I've visited in Bolivia (
maps
). Sunday is a day of bells; all day long. At one point in it's
history
it could lay claim to being the world's largest city! That would be back in the 1600's when nearly all of the world's silver came from the large hill to the south of the city. The brutal Spanish overlords literally worked millions of black and indigenous slaves to death, keeping them underground on twelve hour shifts for up to four months... or until they died. A surprising number of miners
still work
the mountain, though the income from recovered silver is meager.
One afternoon I made a pilgrimage to the road that snakes up among all the mines. Near the start of the road a small community catering to the needs of the miners has grown up; small shops selling everything from sticks of dynamite to picks and shovels. At one of the small hole-in-the-wall shops I stopped to talk with the proprietor. She seemed amused by my earnest attempt to use my meager command of Spanish and cooperated with the effort. As we talked a customer interrupted us and she retrieved his lamp and battery which he insisted be tested before leaving. Sure enough, it needed the battery fluid topped off. Several of my photos show the contents of these small shops.
While there is a large population of indigenous people living in
poverty
, there are surprisingly almost no beggars on the streets near the central plaza. The few I've encountered in the outskirts seem to ignore locals, limiting their efforts to foreigners like me. I suspect begging is a shameful activity frowned on by the local culture. I did see a couple boys of about seven in dirty torn clothes selling rolls of toilet paper to stopped cars downtown, no doubt in an effort to augment their family's income. Conspicuous by their absence are well off people flaunting their wealth. I saw no one overdressed for effect. Also absent are luxury cars. "Sports cars" driven by teenage boys trying to impress the girls are limited to Hondas with spoilers and loud mufflers. I can't recall seeing anyone obviously angry or distressed on the streets, even among the teens who use the uphill Avenida Bolivar as a place to hangout and flirt every evening. The only way I happen to know the name of that particular street is because it is the main East-West street through town and the city's best hotel is located on it. There are no street signs in this city! Everyone just memorizes street names.
Public drunkenness also may be taboo as I saw only one obviously inebriated chap staggering down one of the pedestrian lanes. On the other hand, up in the mining community last Sunday a dozen or so young men shared a couple buckets of a home brew called
Chicha
. The yellow liquid is definitely intoxicating as evidenced by the boisterous behavior of the celebrants. As I paused for a closer look at their activities several took notice and insisted I join in the drinking. One fellow filled a gourd dipper and offered it to me. Two others grabbed me good naturedly and nudged me towards the party. It took a bit of effort to extricate myself from their grips and cajoling... all the while snapping photos of the commotion.
The hotels have not been making a big deal out of the country's
water problems
... I've seen only one that invited guests to let them know they would be willing to use towels and sheets more than once. Hotel room rates are so cheap I assume they need all the foreign exchange they can get and exempt the lodging industry from stringent water conservation measures.
Bolivia is among the worst South American countries in terms of anti-smoking efforts. The government preoccupied with bigger
smoke problems
, appears to have taken no steps to educate the population about the hazards and though it has signed the
Framework Convention for Tobacco Control
, it has not ratified it. My experiences last year in Buenos Aires with the "
Plague of Wild Smokers
" should have prepared me for the behavior I experienced with a sneering Argentinean girl who refused to refrain from smoking in the tiny enclosure where the three Internet terminals are located here in the Coloso Hotel. Gentle and reasoning at first my entreaties escalated into a shouting match finally refereed by the hotel manager who immediately posted a notice: "No Fumar - No Smoking" on the glass door to the room. The damage had been done and the room still stinks from that girl's indiscretions... my eyes burn as I write this.
Potosi promoters have overlooked a promising way to stimulate tourism! The fabulously popular gravity assisted Death Road bicycle ride near La Paz soon led to an imitator. The Death Train out of Santa Cruz is so named specifically to appeal to the morbidly curious... a tactic designed to increase ridership... which worked according to travel agents I met. I mention this interesting observation because Potosi, in addition to being declared a
World Heritage Site
in 1987 can lay claim to being the place where as many as eight million black and indigenous slaves were literally worked to death in the bowels of the silver ore rich mountain
Cerro Rico
, which according to legend is considered the incarnation of
Pachamama
, an Andean divinity associated with the earth's fertility. Doesn't that qualify it to be called the
Death City
? ... or, the
Mountain of Death...
or the
Silver Deathtrap
? Any of these or similar monikers would surely attract a certain class of traveler in droves!
When I checked out of the Capital Plaza Hotel in Sucre last Tuesday 9 October I planned to dash over to the city's Terminali de Buses and catch a ride to Potosi some three hours distant. While walking the kilometer to the terminal it seemed strange there was little traffic and no city buses on the streets that morning. Closer to the terminal I ran into trucks and buses deliberately parked to block the main streets in the area. At the bus terminal the lots were empty and the gates locked. No buses to anywhere could be seen. People milled around the area; stranded foreign tourists and others sat on their luggage wearing forlorn expressions. Finally after a number of attempts to learn what the devil had happened, someone explained protesters had staged a one day transportation strike throughout the entire region to draw attention to the government's failure to force contractors to complete a highway between Potosi and the Argentina border. So, when life deals you a lemon there is only one thing to do: make lemon-aid.
Strolling back to the city center I decided to try the other excellent hotel I had previously found, the charming
Hotel Independencia
. This one had many of the attractions of the Plaza in addition to carpets and they gave me a suite when I suggested the first room they showed looked small... for the same $30 single room rate! My good fortune had a dark side, or should I say a cold one. The same steam heater installed in the smaller rooms and no doubt perfectly rated proved woefully inadequate for my oversize mini-suite and I shivered all night. That possibly explains the dreams... in SPANISH! What a surprise to discover ideas occurring in my twilight state of near sleep expressing themselves in primitively formed Spanish. I have heard this is an intermediate condition commonly experienced by people fully immersed in the Spanish language before fully mastering it.
The next morning I skipped the long walk to the terminal and sacrificed three and a half Bolivianos (about 45 cents) for a taxi ride. As luck would have it, one of the better buses sat ready to leave in ten minutes on it's 10:00 departure. As is my habit I paid a little over $5 for two seats and waited... and waited; the "I'm in no hurry" bus left an hour late.
Moments after the bus lurched forward starting it's run a young man loitering in the isle fixed himself next to the empty seat holding my bag and began what I assumed would be a begging speech to his captive audience. The speech delivered in rapid fire carefully articulated Spanish went on for a half hour, augmented by several visual displays of hideously malformed or decayed examples of oral hygiene neglect, totally worn out toothbrushes and packages of dental hygiene articles... soon to be offered for sale to his dazed audience. The length of his speech plus time to distribute product and collect money coincided perfectly with our first stop to pickup additional passengers.
During the three hours to Potosi an interesting panorama of sights kept passengers entertained: herds of wild alpacas appeared from time to time; unusual geographic formations interspersed with desert expanses and grove after grove of wild lavender flowering Jacaranda trees seemed to have been planted in the most unlikely places along the way. Across the isle a mother nursed a tot who between bites found me fascinating beyond words and stared fixedly until hunger returned him to his handy meal.
Even with the late start we made it to the outskirts of Potosi just before 2PM... where the bus came to an unceremonious stop behind a long line of stranded vehicles. The blockade had moved from Sucre to Potosi! This part of the city is full of steep inclines... all up hill from where we stopped. Of course I had no idea where we were or how far from real civilization we might be.
Directions from fellow stranded passengers came in conflicting torrents, partly because most people I asked assumed I would do the sensible thing and hop on a fifteen cent city bus that would take me anywhere I wanted to go in the city. Silly people. So, I walked this way and that as a series of helpful people gave new contradictory directions to "good" hotels or the city center.
All I could find the day I arrived were real dogs, backpackers crash pads! After three or four inspections of what had been represented as el mejor hotel, I realized my idea of a "best" hotel differed dramatically from those of ordinary people in Potosi. In desperation for some place to dump my increasingly heavy pack, I settled on an $8 room in the commonly recommended Hostal Compania de Jesus. Surely being a companion of Jesus in this country dominated by the Roman Catholic Church would have its compensations! Overlooked in my oxygen starved and fatigued state were the complete absence of towels, soap, toilet tissue and heat! Closer inspection revealed the electrical shower head to be positioned directly over the toilet seat! It quickly became obvious that even a Buddhist monk might well have a hard time dealing with all the deficiencies and I went looking for alternatives.
During the search I learned of the five star $45 Hotel Coloso Potosi, the best hotel in town... and fully booked for the rest of the week according to the discouraging receptionist on duty at the time. Actually, I think the guy resented my awkward attempts at Spanish and possibly the appearance of my still scruffy travel attire. Eventually I found the $27 three star
Hotel Claudia
and booked an available room without a second thought to the fact I had already parted with $8 to be a companion of Jesus. The illusive gate keeper back at the Hostal Compania de Jesus finally responded to my shouts for some attention and accepted my explanation for leaving so precipitously with an obviously hurt expression, but no offer of a refund.
Really tired now, I cabbed back to the Claudia and fell into a deep trance until the following morning when I awoke before dawn. Showered and dressed in my change of clothes selected to make good first impressions, I headed back to the five star Coloso hoping for a different receptionist who spoke a smattering of English. Julio, finishing his night shift proved eager to demonstrate a meager command of my first language as he regrettably noted the hotel was still fully booked; "todo occupado," he added in Spanish. It turned out no one in the hotel had fully mastered the mysterious computerized reservation system and the actual occupancy situation remained unknown to anyone viewing the reservations display! Clearly built to meet five star luxury standards two years ago, management of the facility has yet to catch up with the promise of the physical plant!
"Could I possibly get a cup of coffee in the hotel's restaurant?" I inquired.
"Yes, of course. You can also get American breakfast, if you like. Here, follow me. I'll show you the way. When you finish come back down to the lobby and we will see what we can do about finding you a room... and you can pay me for the breakfast." After enjoying the early morning coffee I decided to treat myself to some five star hotel food despite the fact the Claudia included a free breakfast in the room rate. When I finished my leisurely morning breakfast in what I can rate as no more than a mediocre dining facility, I headed back down to the lobby and further conversations with Julio.
Knowing hotels often discover unexpected vacancies as guests checkout early, I asked Julio if he could put me on a waiting list while I went out exploring the city for a couple hours, promising to return after eleven. My Spanish, his English combined to make for some confusing communications, but Julio seemed eager to please. "Yes, come back about noon. Your room should be ready by then, but you might need to change rooms tomorrow."
"Does that mean you already know you have a vacancy for me tonight?" I asked.
"Yes, it will only be on the first floor, but tomorrow we can change you to the fourth floor, if you don't mind." Wow! From fully booked to available and it is still only eight in the morning. When I returned from retrieving my bag at the Claudia, Julio smiled broadly and handed a key-card to the bellman. Still somewhat disoriented, but expecting a temporary room on the first floor, it took a moment to note we had entered a room with a king-size
cama matrimonial
on the forth floor. Later, I asked Julio if we still would need to change the room the next day. He grinned and said this would be my room for the entire stay... what a guy. Management should put him to work training the rest of the hotel staff in guest relations!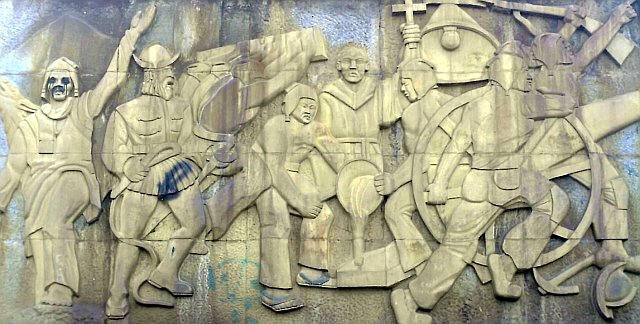 Potosi Bolivia: Bas relief on the side of a monument dedicated to the indigenous slaves forced to be miners of the early era.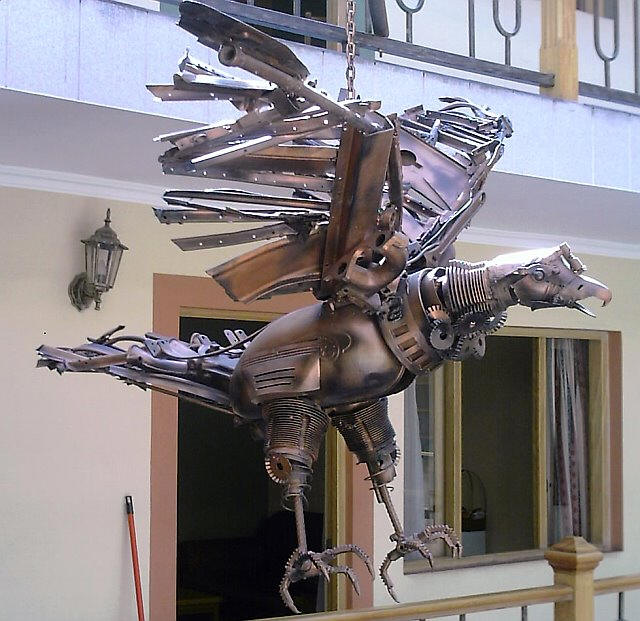 Potosi Bolivia: This sculpture of a bird reminded me of the amazing horse sculpture of similar technique I saw in Cochabamba. This one is hanging in the interior courtyard of the Hotel Cima Argentum some distance from the city center.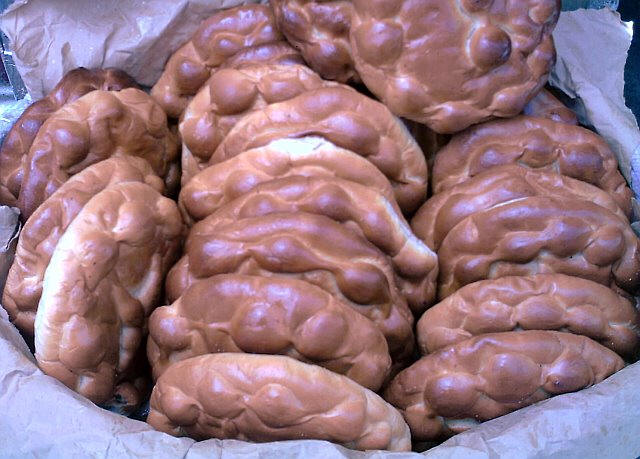 Potosi Bolivia: Beautiful display of fresh baked bread for sale.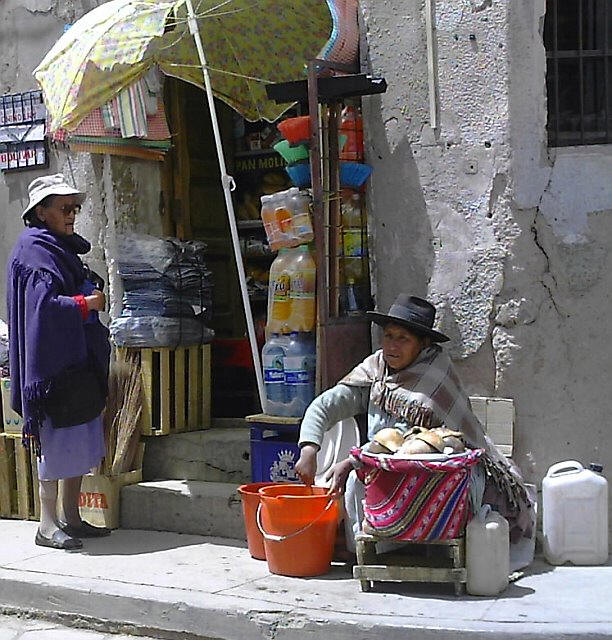 Potosi Bolivia: A street seller.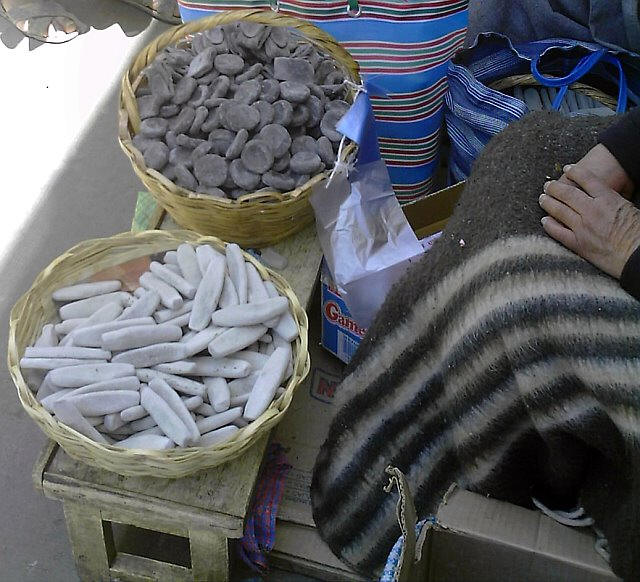 Potosi Bolivia: Display of processed coca leaves. Indigenous people chew these lumps of coca stuff as evidenced by the protrusions of their cheeks.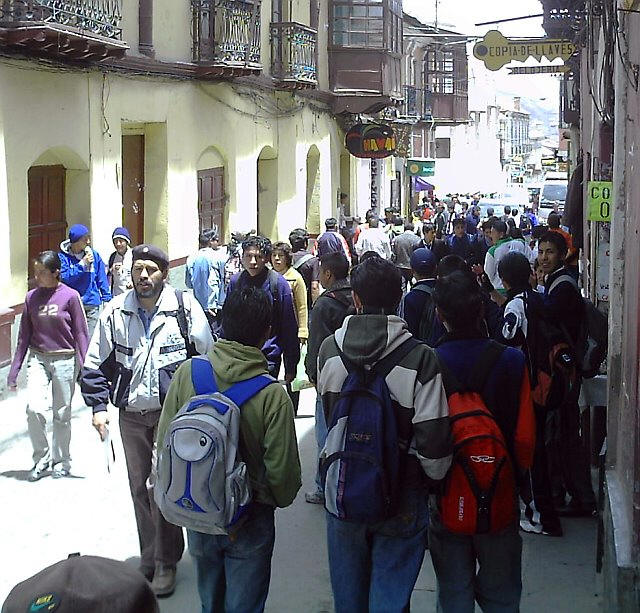 Potosi Bolivia: Main street in Potosi is Avenida Bolivar and is always crowded with pedestrians and impatient vehicles. Evenings teenagers hang out here adding to the congestion.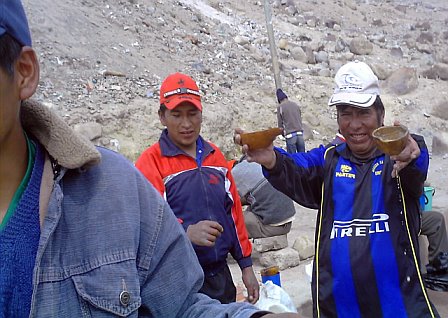 Potosi Bolivia: Off duty miners Sunday having a Chicha party invite the passing gringo to join them. They were not ready to take no for an answer and grabbed me showing me gourds of the yellow happy juice.