Greetings from Bahrain,

My dream of visiting this tiny Arabian Gulf island kingdom has been realized. Now that I'm here it is not clear what made it such an intriguing destination. All of these Gulf States are pretty much alike to my world weary eyes. Foreign guest workers form about a third of the total population demographics. Digging a little deeper one sees the international rivalries and both ancient and more recent historical imperatives which explain the unique national character of each geopolitical entity. They are all predominantly Muslim, but the not so subtle differences among the several subdivisions of the religion make for distinct national identities.
Here in Bahrain Sunni and Shi'a live side by side in harmony most of the time, except for some good natured ribbing practiced by friends after a few beers. Yes, these supposedly dry Muslims imbibe now and then according to an off-duty city bus driver, Tyeed (not his real name).
I met Tyeed while trying to figure out the bus routes from downtown Manama to the airport. As it happened, his route home using the buses would take us right by the airport transfer point and he pleasantly agreed to show me the way, practicing his rudimentary English while answering my endless stream of questions. "I saw a newspaper headline that read: 'KING HELPS THE NEEDY' and that sounds suspiciously self serving. Do people here like the guy? Do you?" I asked. (see PS and PPS also)
Tyeed fidgeted and sidestepped the question with the observation that "can not discuss like that in public place." Then, lowering his voice he whispered conspiratorially: "He don't do anything good for me. People are ignore him... not good person." His candid assessment of the contempt some people had for their king led me to recall the near reverence with which some Thai people hold their monarch.
I wished we spoke the same language as this man of the people obviously had some strong opinions, but instead I shifted the discussion to the article in the morning paper about the sentencing of a convicted terrorist in Bahrain. "What do ordinary Bahrainis think of the violent forms of jihad? What do they think of the extremists who set off bombs killing innocent people in the process?" I wondered aloud.
"Oh, they just bunch crazy people. Everybody hate it... except the 'beards.'" he stumbled over the ideas to find the expression in English.
"Many of us in America wonder why more of the moderate people like you in this predominantly Islamic region don't speak out more forcefully against those 'crazy people.'" I pushed.
"Whenever I say violence not good thing, the 'beards' start screaming! Reasonable talk no good. So, I don't talk." he answered with resignation.
"But, a Western writer long ago observed: 'all that is necessary for evil to triumph is for good men to remain silent.' Perhaps we need to let the 'beards' know we disagree with their violence even though we know they will start screaming." I ventured hopefully.
Tyeed stopped talking for a minute, clearly thinking about what we had just discussed. Finally, he replied thoughtfully: "Perhaps you right. There is expression in Arabic that means like that," at which point he quoted and translated the aphorism in Arabic which indeed conveyed the exact same sentiment! (In fact, it might have been a paraphrasing of the original English philosopher Edmund Burke quotation!) At this point our conversation moved on to other subjects while he made some sort of hand signal to a passing fellow bus driver. Before I could ask him the meaning of his hand gesture he explained the other guy had signaled a desire to meet for a beer and he had replied that he had to go home.
"Beer?" I asked incredulously. "Doesn't Islam forbid drinking of alcohol?" I added with a wink.
"Nobody cares that. We drink beer anytime. Get beer... whiskey... no problem." he added wryly. Soon after that he left the bus with instructions to the driver to kick me off at the airport stop.
Another passenger with a perfect command of English, first spoke to the driver in Arabic letting him know he also would tell me where to get off for the airport and then noted he had been eavesdropping and basically agreed with what Tyeed had been telling me. Ahmud is an accountant born in Bahrain and clearly a member of the educated elite.
Lowering his voice and moving closer to my ears he confided: "We do not openly discuss the king in public, but privately he is usually our main topic of conversation. He runs the country like his personal money machine and there is not a thing we can do about it. His record on human rights is abominable. See for yourself: run an Internet search on human rights, democracy or corruption in Bahrain and you will see what I mean."
On his suggestion, I did just that and found many sites (eg. 1 , 2 , 3) blocked, at least here in Bahrain, itself. See what results for the term corruption! An old 2007 Reporters Without Borders citation criticized Bahrain's Internet censorship and provided other credible background material. Also, the World Association of Newspapers and the World Editors Forum in 2009 expressed their concern at the Internet censorship of human rights materials. My search for more recent citations continues.
"But doesn't Bahrain have a democratically elected parliament? Can't they exercise some limitation on the king's powers?" I ask incredulously.
"Democracy is a joke. The royals and their cronies decide everything behind the scenes. It doesn't matter who we vote in; nothing ever changes." he noted with conviction. Ahmud's assessment sounded too harsh, but turned out to be representative of what I found on the Internet. I don't know the full dimension of the problems here, but there is an awful lot of smoke for there to be no fire! Later, thinking about his comments it occurred to me that living in Bahrain is like taking a job with almost any privately held company. You take your pay and the boss makes all the decisions about how the company is run. If you don't like it, you can leave.
"Americans hear all the time that many Arabs still hate the United States. What do you see from your perspective?" I asked hopefully.
"Well! There is a wide range of opinions, but most people I know admire America and generally have a high regard for the individual Americans who visit our country. The ones who hate America in Bahrain are the same ones ready to jump at a chance to actually visit your country. They are so hypocritical..." he added, clearly disgusted.
Bahrain is wildly windy, its main city Manama could be the sister city of Chicago! When planning the Bahrain World Trade Center, locally called the Twin Towers on the island, someone took note of all the wind flowing over the land and added three wind turbines into the architectural design of the towers. Ironically, during my stay I saw the blades moving only once and then only the center one of the three in the structure.
The ninety-one dollar thirty five minute United Airlines flight to Bahrain from Kuwait arrived two hours before sunset and emigration formalities requiring a four Kuwaiti dinar (in lieu of the five Bahrain dinars which I didn't yet have) visa fee took no time at all. Changing my remaining Kuwaiti dinars for some Bahraini dinars quickly got me ready for the hike to the city.
Outside the arrival terminal the city lights clearly beckoned not more than an hours walk to the south... or so it seemed. Still, a bus would not have been out of the question, but no such luck. So, as usual, I took off hiking toward the city lights.
This time the fancy five star hotel I hoped would provide the needed initial navigational advice turned out to be a Sheraton. Having only walked about an hour I could not have looked too despicable. However, the reception and concierge staff (sans any golden keys) clearly didn't want the likes of me hanging around their sumptuous lobby and tried their best to get me moving along quickly without any of their other sophisticated, properly dressed guests discovering a scruffy vagabond had somehow managed to penetrate the hotel security cordon.
Of course, Bahrain is the headquarters for the mighty U.S. Navy's Fifth Fleet and this American hotel no doubt plays host to many distinguished guests connected with the defense establishment... and their deep pocket travel budgets. One of the bellmen did provide a basic city layout map which turned out to be next to worthless and mumbled ambiguous directions towards an area purported to have "MANY three and four star hotels." Following those hasty suggestions moved me only parallel to the still invisible area with all the affordable hotels. Underwhelming is the term that comes to mind for this display of American hospitality in Bahrain.
The first three hotels I checked did not look promising and all three had aggressive young women in skimpy attire actively seeking new best friends. I walked out of one of the houses without even bothering to stop at the reception desk. The fourth place, Al Jazira Hotel (some direct sites for this hotel are blocked in Bahrain!) seemed to be O.K. for a first nighter even though located smack dab in the middle of the "red light district." They offered me a room for only 25 Bahrain dinars or about $68. In addition to the fact the area is crawling with aggressive hookers, there was no drinking water provided in the hotel room so I couldn't wait to get out of the place the next morning.
After eagerly resuming my hotel shopping I soon found the Gulf Gate Hotel at 30 dinars. Located several blocks away from all the hustlers near the Al Jazira, it seemed to be in a safer location. I couldn't complain about the facility itself or the breakfast, but the WiFi could only be accessed in the lobby and required a dedicated IP address... so outsiders couldn't use it, hotel staff insisted. I fussed around for a half hour with little help from anyone at the hotel and then got chased away from an unused lobby desk because it carried a sign designating it as an "Information Desk."
In the mean time I'd seen the much nicer Delmon International Hotel next door that turned out to be truly four star quality with a room rate of 30BD plus 5BD for in room Internet access. Double checking to be sure I'd have access to the Internet in one form or another, I moved over the next morning. Incredulously, the wired Internet service would not recognize my little Netbook and no one at the hotel could help with a solution. The minute I discovered the problem I resumed my value hotel search and found the EWA Hotel and Apartments some distance away with an announced rack rate of 45 BD.
After a lengthy negotiation, during which I started to leave several times we finally came to a 35BD ($95) room rate agreement I could live with, though still exceeding the upper limit of my budget range. Being several blocks from the busy shopping activities, it did not seem to be an ideal choice. But, it is a new twenty story tower and nicely appointed. The furniture is modern, everything still works perfectly, the room is on the eighteenth floor with a sea view and the simple buffet breakfast is among the better ones I've enjoyed recently. Most importantly, the house has both cable Internet in each room and a business center where I can process my camera now and then, all included in the room rate.
The next day after enjoying a blessedly restful sleep and a satisfying breakfast, I discovered the location is far from inconvenient! Only a long block from the iconic Pearl Roundabout, there are two shopping malls within a short walk of the hotel tower, one of which has an innovative food court and the other a supermarket. The two main bus terminals are close by too. Immediately after checking in, the front desk staff showed an eagerness to cooperate with my efforts to solve orientation and logistics problems. Ebrahim from the hotel front office and one of the few real Bahrainis I've met since arriving, spent considerable time telling me about his country's customs and unique features by sharing his collection of photographs taken around the island. He even drove me to the Qatar Embassy one morning.
While researching information about the island I located the EWA Hotel website and discovered room rates listed there about five percent lower than the "rock bottom" rate I'd been quoted by reception on arrival two days earlier. When presented with my discovery the reception desk folks reacted awkwardly, but did take the time to calculate the differences in the two rates, finally noting the inclusion of a free breakfast in the original rate more than offset the small $4 nightly rate differential.
That evening upon returning to my room, I discovered it had not been serviced by the housekeeping staff and the night desk clerk informed me that guests who had failed to request the service were skipped because of an unusually heavy workload caused by unexpected bookings: sounded fishy, but plausible... that is until it happened a second time. Though I am nowhere as ecstatic about this place as a few days ago, I would not hesitate to recommend it to anyone traveling to Bahrain for short stays of a night or two.
The other day while musing over my eccentric approach to finding good hotel values, it occurred to me that ants forage in much the same way. They run around randomly following old scent trails placed there by others before them while laying down new ones of their own. The marks contain information about potential food sources we are told by research entomologists. Like our little insect cousins, I try to learn (from Internet records) what I can about lodging from those who have preceded me and then lay down scent trails of my own in the postcards I write.
On one of my bus excursions I rode the #5 down to the terminal stop in Isa Town. Alighting from the bus near noon the muezzins began their calls to prayer. As I stood enthralled by the chorus of "singers," it occurred to me to make a short video record of the event. No less than twelve independent voices joined the performance before the last had called his flock to pray. It reminded me of the finale of an Italian Opera with a dozen male singers all making their statement to close the performance.
The television news continues to be dominated by the uprising in Egypt. Last night the BBC noted that huge gatherings are now occurring in many outlying towns in addition to Cairo with specific mention of Minya, a stronghold of the Muslim Brotherhood. I spent several days in Minya during my 2001 exploration of Africa and wrote about it in postcards sent from there.

For a while I thought I had found a way to get to Qatar by surface travel through Saudi Arabia. It meant getting advance visas for both countries, but could have provided a more interesting itinerary than just flying. The SABTCO company has a bus over to Dammam via Khobar in Saudi Arabia, across the King Fahd Causeway, with a 6BD fare and a connecting route across the border to Doha in Qatar for 10BD. I worked all day trying to arrange the necessary visas to no avail. It does not seem to be doable from Bahrain. So, I'm flying back up to Dubai today and will book an eighty dollar round trip to Doha from there in a few days. The dirt cheap airlines make flying attractive on these short routes.
I now have only Qatar to visit before completing my tour of the Persian Gulf, so the next postcard will almost certainly come from there. I've missed the chance to see any of Iraq or Yemen this trip, but perhaps an opportunity will present itself at some future time. That's it until I next feel the urge to finger dance on the keyboard,
Peace
Fred L Bellomy
PS: 11 February 2011
I'm back in Dubai again. The day before I left Bahrain my web page for Bahrain ceased to be displayed with the latest edited drafts. Government censors apparently are serving an old cached version to any requests from within the country. It looks like someone doesn't like my irreverent references to the king of Bahrain... a punishable offense in Bahrain, by the way! I suppose I should be grateful nothing worse than a little censorship happened.
While using the men's room at the airport just before my afternoon flight, about a half dozen men performed their cleansing ritual purification in preparation for prayer. They looked like a bunch of street people I'd seen in the Santa Barbara Library men's room taking vigorous "baths" with soap and water from the sinks, water splashing the walls and floors. The ritual is something to see. First the arms and hands get a good scrubbing, then water is splashed on the face, then each nostril is individually washed and snorted clean while simultaneously wiping the gums and teeth with a finger, then each ear gets doused and scrubbed in preparation for the grand finale: washing the feet... one at a time in the sink! ... with soap and water. Each man made sure every prescribed part of his body got thorough attention.
Never mind the mess being made. Never mind others using the restroom had to wait for the gang of guys to finish their lengthy ritual. Never mind I now got to wash my dainty hands in the same sink just used to scrub a bunch of dirty feet! Such cleanliness is commendable, but in an airport restroom while others are waiting to wash their hands and rush off to a flight? As I stood watching incredulously, the guys checked me out as well before finishing with wads of paper towels and shuffling off across the airport lounge to the men's prayer room and I meandered back in line for my boarding flight.
Television sets all over the airport continued to report on the huge anti-government demonstrations in Egypt: Mubarak still had not announced his resignation and the angry people kept the loud protests going through the night. One monitor carried a different sort of program though: dramatized "bible stories." Well, almost certainly stories from the Qur'an, but the old bearded guy standing at the entrance to a large tent with a staff in one hand and reading from a large book in the other to people tending flocks of sheep could just as well have been stories out of the old Christian-Jewish bible... assuming Arabic had been the language of choice. The next day Mubarak capitulated and ran off to his Red Sea hideout, ending thirty years of harsh treatment of dissidents and corrupt management of the country's wealth.
This afternoon I tried to get a haircut, but got chased out of a Ladies Saloon with the "No men in here." pronouncement urgently delivered by a young female hair dresser who quickly closed the entry door and then opened a tiny picture frame sized window off to the side to complete our short conversation. Friendly, but firm, she directed me down the street to a men's saloon (yep, that's what they call 'em.) where the uniform military cuts insure no clean shaven male would ever be mistaken for a woman defying Islamic law by exhibiting her long hair. FB
PPS: 17 February 2011
I am writing this from my extravagantly elegant $160 hotel room in Doha, but the Qatar story must wait. Developments in Bahrain have eclipsed all other international news stories here as well as banal tales of my personal misadventures and prompted me to revisit my own record of things seen and learned during eight days on the island of Bahrain.

Early in my stay at the Ewa Hotel, Ibrahim from the front office expressed an interest in my international travel writing and I showed him the web page draft being prepared for Bahrain... not yet embellished with any disrespectful rhetoric. I know he checked the site at least once to view photographs of India and wonder if he or others might have seen a later "final" draft containing all my irreverent observations and reports? Clearly computer savvy, could he have directed others to the site where a visiting American fearlessly reported what most citizens of Bahrain dared not even think? Could that little slip have played some role in the citizen grumblings which soon grew into an avalanche of protests a few days later?

Recalling my conversations with Tyeed (pronounced tie-eed), the genial off duty city bus driver and Ahmud, the highly articulate petroleum company accountant, several seemingly unimportant comments at the time now take on wider significance in light of the ongoing political upheaval on the island.
First, Tyeed while hardly a highly educated intellectual, commanded the admiration and camaraderie of all the other bus company employees encountered during our half hour ride together as I tried to learn the logistic details of bus transportation to the airport. What I saw on the faces of people interacting with Tyeed could justly be characterized as RESPECT!
I now wonder what actually caused him to grow silent and thoughtful in response to my question about the virtue of speaking up in the face of blatant evil. While my focus remained on the deeds of violent extremist Muslim radicals - the terrorists, could he have been mulling over an entirely different agenda, the one on the minds of most Bahrainis right now: political and economic abuses by the monarchy and the lack of any real democratic options in the country?
Only days after our conversation, pent up frustrations erupted into violent demonstrations around the Pearl Roundabout not two blocks from the Ewa Hotel I had been using. I fantasize Tyeed eventually did find time for that delayed beer with his friend and that the conversation returned to the main topic of the day: "that rotten king and all his henchmen." After a few beers the grumbling could have escalated into rantings with others in the hidden drinking venue joining in. A day later after Friday prayers, when men (only) traditionally gather to socialize, could the agitations of the previous day have grown into quiet public murmuring, slowly spreading like a virus until no one could continue to remain silent?
The next day, Saturday is like our Sunday in the West, a day to be spent with family, quietly enjoying good food and gossip. Sunday, the first day of the work week here is a time for sharing stories of weekend happenings, but could this weekend have been dramatically different from most weekends? Did someone raise his voice in anger and blurt out the unthinkable: "I ain't gonna take it any more!" Did he and several of his coworkers skip work the next day to mull around the Pearl Monument to chant anti-government slogans? Did Tyeed and his fellow bus drivers refuse to report for work as some news reports state, instead joining the throngs at the iconic traffic circle?
And what of Ahmud? Did his Saturday social gatherings over cocktails revisit the questions of corruption and powerlessness of Bahrain citizens, the absence of any real democracy in the country? Did they discuss the unthinkable: open opposition to the monarchy and the corrupt politicians? Did the feasibility of a work stoppage having any real impact on the power elite, come up? What topics commanded attention around the water cooler or over ten o'clock tea on Sunday, the first day of the work week for Ahmud and his colleagues? Did they hear the rumblings of discontent among the working classes, of the murmurs of protest migrating toward the Pearl Monument the following day? Did Ahmud and any of his friends join the discontented masses in the traffic circle?

Of course, I don't know the answers to any of these questions, but all speculation coalesces around the details being provided by the international news reports right now. There is trouble in river-city and rumors suggest it may be spreading to other countries around the Persian Gulf. I do choose interesting times to visit out of the way places around the world, don't I. FB
Peace
Fred L Bellomy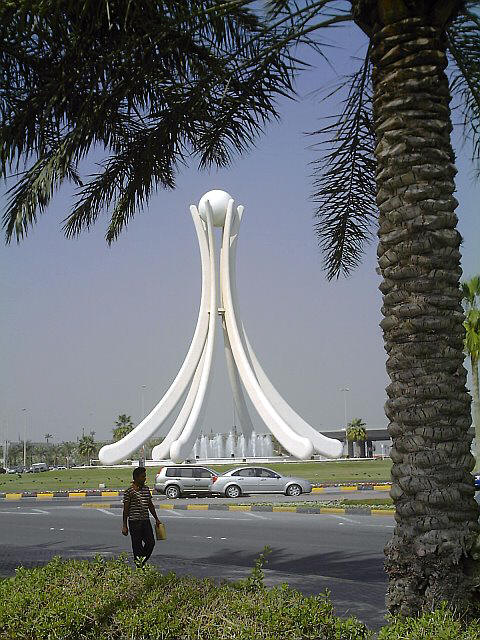 Bahrain: Pearl Roundabout monument in the center of a traffic circle near the hotel. This iconic structure became the focus for civil unrest in February 2011 and the government destroyed it 18 March 2011. This will be one of the last photographs of the erect structure.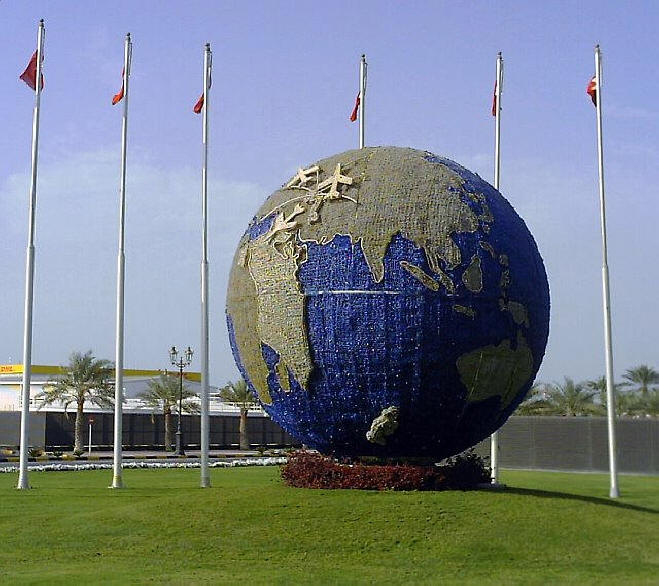 Bahrain: World sculpture sitting in the landscaped area in front of the airport.

Bahrain: Sign on one of the government buildings showing Islam is an integral part of the law here.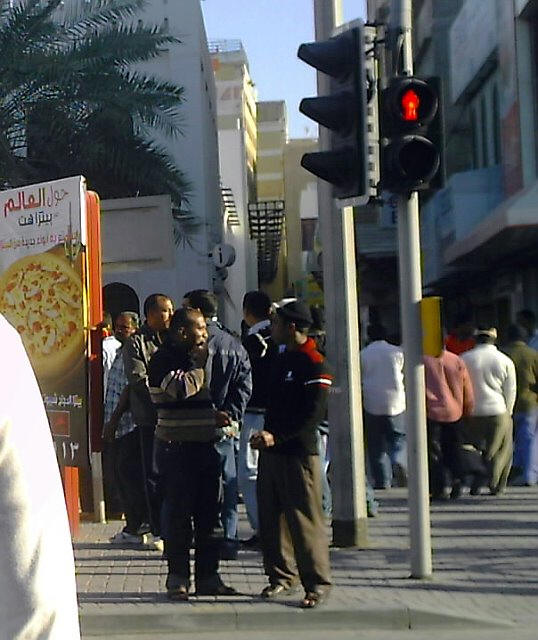 Bahrain: Saturday is like Sunday in the Western world, a time for friends to hang out downtown. However, this Saturday is special. In three days the country will erupt in a violent revolution with crowds gathering around the iconic Pearl Monument a stone's throw from my hotel. Though unaware of the gathering storm clouds at the time, I now suspect the conversations here covered deeper subjects than where to get some beer.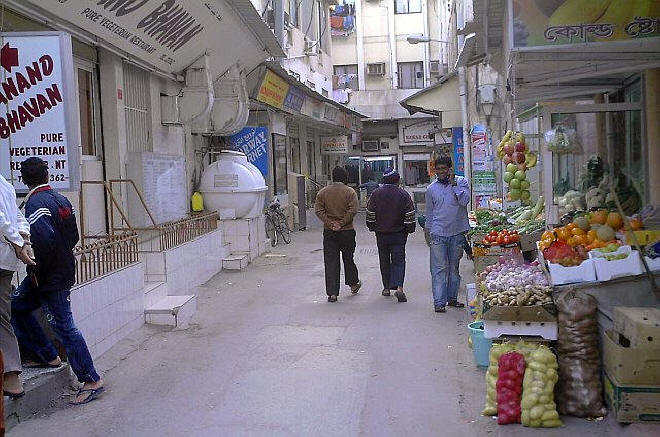 Bahrain: Still another of the many little crooked streets of the downtown souk or market area.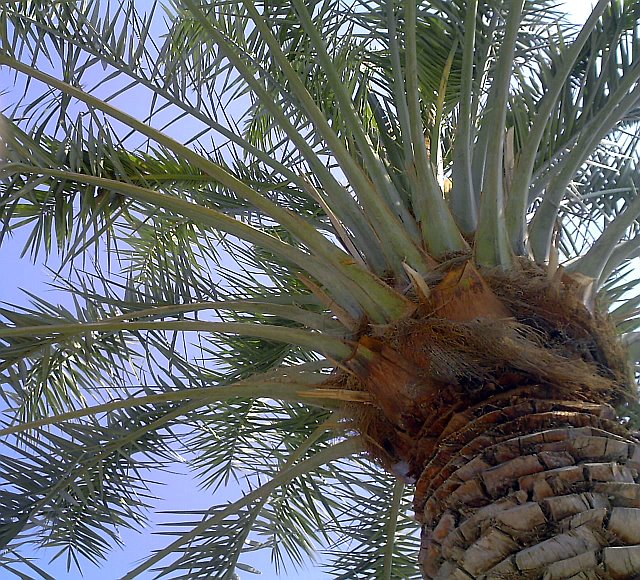 Bahrain: Date palms are seen everywhere in this part of the world. Here is a close up shot of the crown of a healthy tree.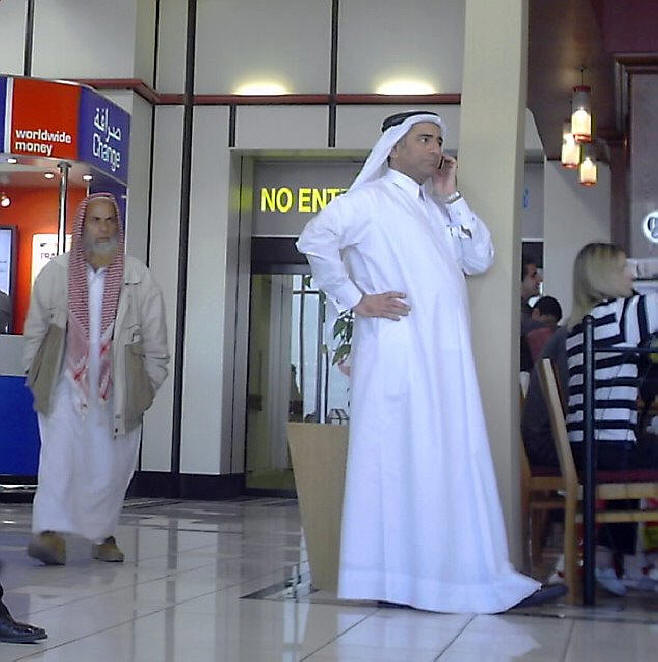 Bahrain: A couple more people seen in the airport departure lounge as I waited for my flight.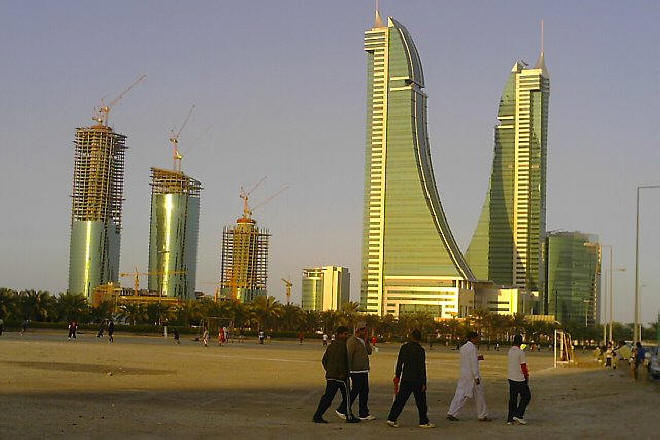 Bahrain: Financial Harbor Towers sweeping design of this unusual building caught my attention in downtown Manama.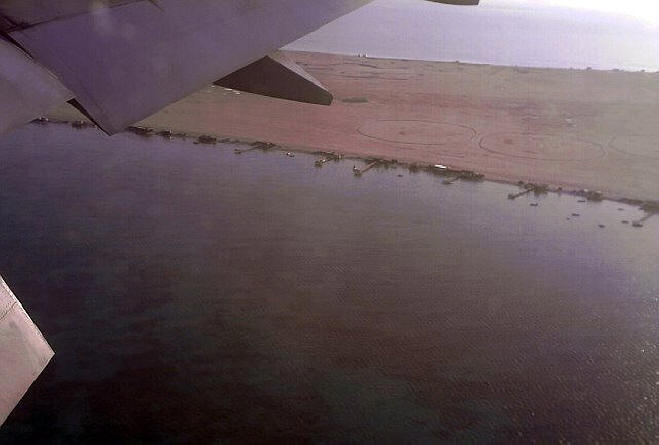 Bahrain: View from my window in the plane as it makes its landing approach into Bahrain.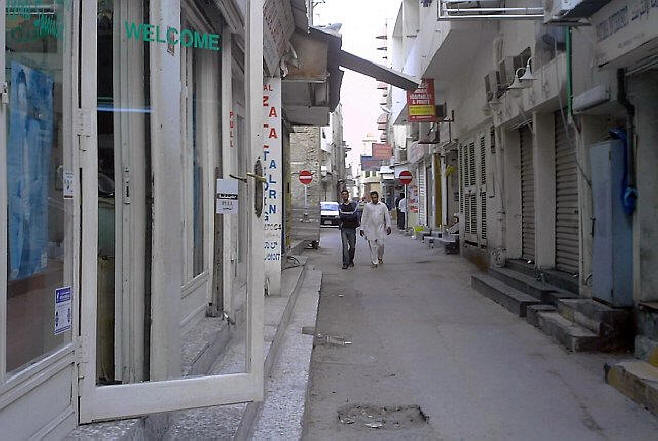 Bahrain: There are a lot of these little crooked streets around the downtown area. Walking them is an adventure. One never knows what is just around the next corner.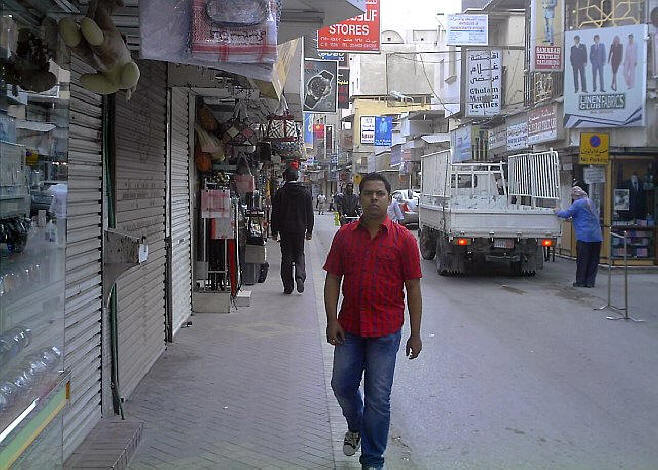 Bahrain: Yep, another of the narrow, crowded streets in the downtown souk area.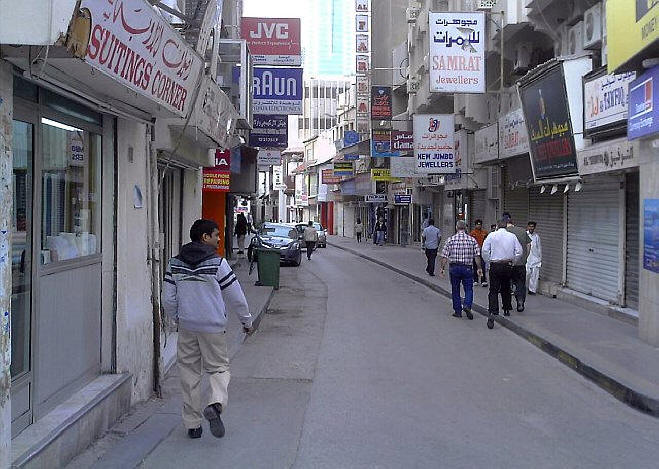 Bahrain: I love wandering around aimlessly in this maze of alleyways full of little shops selling every imaginable product.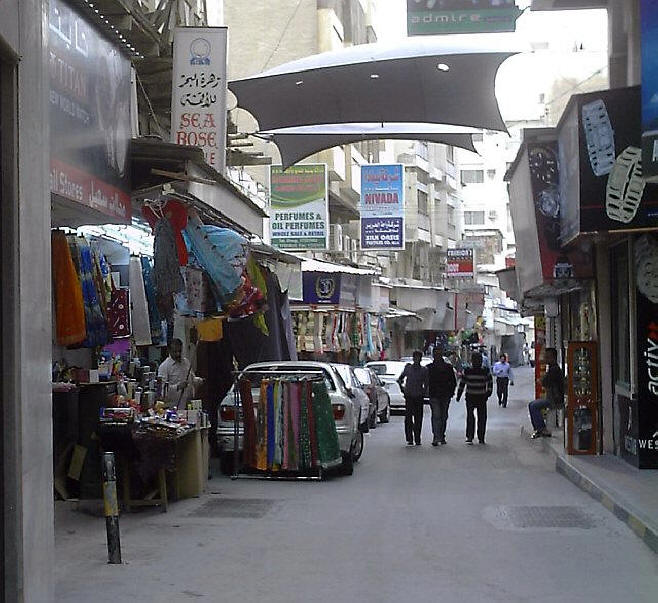 Bahrain: Life on these little back streets take on a character of their own - always some little surprise around every corner.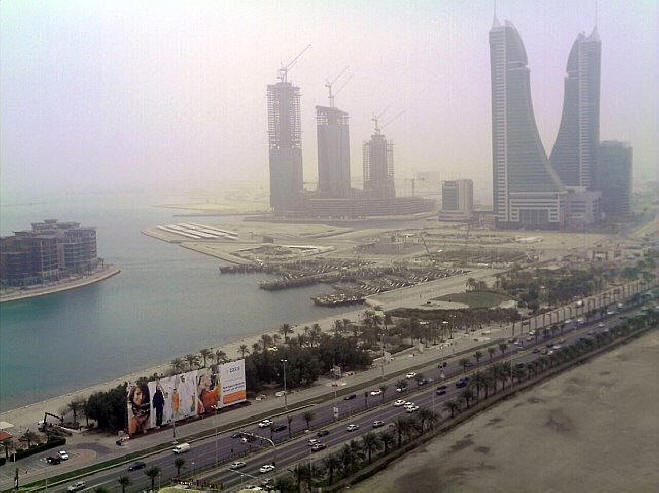 Bahrain: View from the window of my room in the EWA Hotel.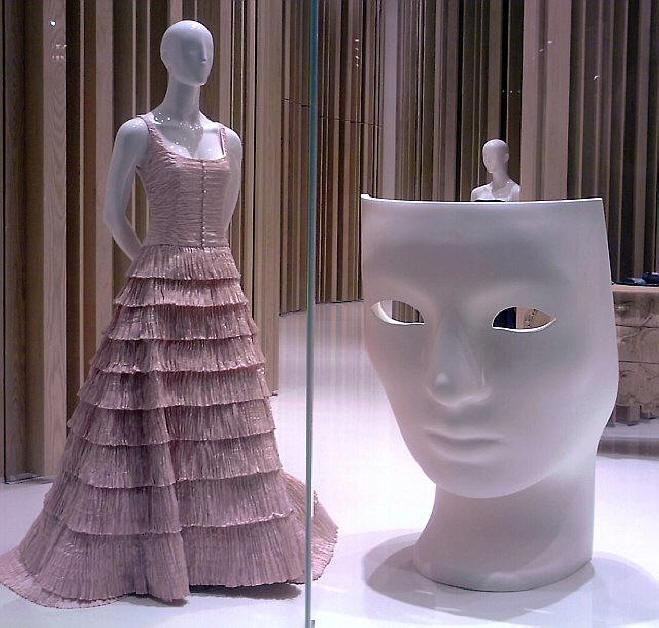 Bahrain: Display in one of the stores in the Financial Harbor Mall. That sculpture on the right is a chair.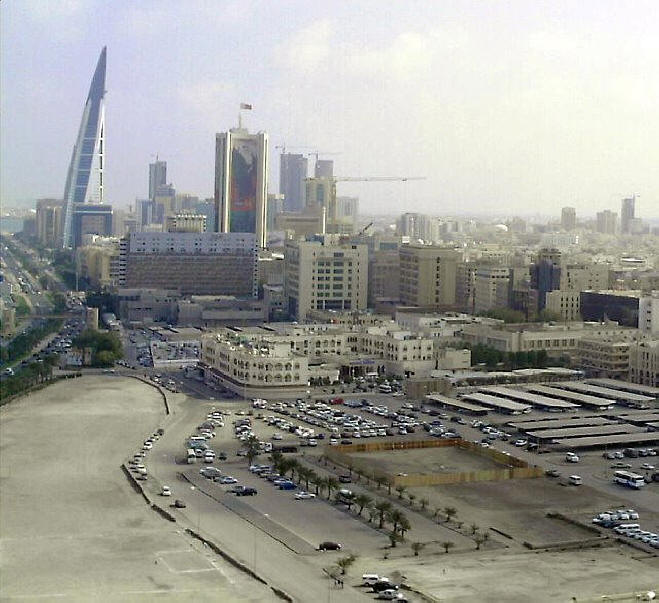 Bahrain: View from the window of my 18th floor room in the EWA Hotel looking toward the city center and iconic Twin Towers.