The big news here as I prepare to return to the United States is the 8.9 magnitude earthquake off the northeast coast of Japan. That is a BIG shake... unprecedented! Tsunami waves are spreading out toward all coasts around the Pacific Ocean, including the west coast of California and more immediately, Hawaii. For the past couple weeks it seemed unlikely anything could replace the war stories coming out of Libya, but Mother Earth's tantrum this morning tops mere human foibles.
As I boarded the BTS train and hurried to get one of the last unoccupied seats before the hoards filled the car this morning, a weary old lady stumbled to a pole near my seat jostling a bulging shopping bag in one hand and her floppy purse in the other. I seemed to be the only one who took notice of her precarious predicament and in a flash of compassion gestured a willingness to trade places with her. Clearly relieved by the offer she dropped heavily into the seat and I took her standing position nearby. Seconds later, someone's cell phone in the car started chirping loudly, momentarily diverting my attention from the lady. Fumbling with all her belongings the old lady reached into her purse, pulled out a phone and answered it. Speaking briskly in motherly Thai, all the while keeping a smiling eye on me, she finally paused and handed the phone up to me. Unsure what she intended, I took the phone and muttered a tentative "hello."
On the other end a firm male voice responded in perfect British English: "Do you speak English?"
"Uh... yes." I replied cautiously.
"This is Doctor Sanguan. Apparently you just showed my mother-in-law a kindness. As she speaks only Thai, she asked me to thank you." Pausing for a moment, he continued as I cleared my throat: "She insisted on taking the train home today, but I know she must be very tired. She was up all night with our two sick kids." When he again paused I began to mumble something inane, but he continued: "This is the first good night's rest my wife has gotten in a week, so I'd like to add my appreciation to hers."
My mind danced from the unexpected phone conversation as I searched for an appropriate, preferably profound or jocular response, but could find only: "Happy to be of help. One day we all will be old." before handing the phone back to my beaming beneficiary. Two stops later several seats became vacant and I grabbed one across the isle from grandma who kept shooting furtive smiles of appreciation in my direction. Next time you meet a Boy Scout let him know there can be lifelong benefits from learning to do good deeds.
Reluctantly I must admit that Mc Donald's is one of my favorite hangouts while off exploring foreign countries, second only to the ubiquitous 7Elevin stores for hotel snacks one now finds all over the world. Last week as I savored a gourmet Mclunch in a nearby branch, I watched as a pair of older, obviously American tourists in outlandishly colorful tops, cargo shorts and floppy sandals studied an endless parade of amazingly young Thai girls walking arm-in-arm with their decrepit Western male companions, some grossly overweight.
As each new couple came into sight the husband shifted his weight uneasily and made an unsuccessful attempt to appear disinterested, all the while following the procession with obvious mirth... or more likely, envy. His clearly agitated wife directed her attention back and forth between the parade and her husband. Her expressions exaggerated the deep aging lines in her face and raced from disgust to fear to outrage. Periodically, she would look away trying to appear nonchalant, but quickly returning to a preoccupation with her husband's behavior... or her lost youth and the impossibility of competing with the "younger woman." Of course, no one but her knows for sure what passed through her mind, but her expressions suggested storms of uncomfortable daemons bedeviling her brain. My reading of the husband might be more accurate given our gender identity and knowledge of common male reactions to the cornucopia of female temptations in Bangkok.
I've seen four different men turn their backs to the street and relieve themselves in broad daylight during this visit to the city. Also, there are a lot more beggars on the streets of Bangkok this time. Most of the female beggars are holding infants. As I passed one young dark haired woman with a tiny child she looked up from the lighter haired baby to me and with characteristic Thai pleading voice sounds announced: "Hello papa..." followed by something unintelligible. Given all the casual sexual activity in this town I suspect there are a lot of unintended pregnancies... as well as a few intentional ones I have heard, designed to trap the unwitting "rich" Westerner into marriage. I suspect the begging ploy works well on some of the hoards of Western men walking the streets of Bangkok, a few no doubt wondering if they have ever unwittingly added to the population of Thailand during their recreational encounters with the Thai girls.

It is a great relief to be back in Bangkok after a problematic farewell to Qatar and a sleepless night flight for reentry into Dubai where I discovered once again all the hotels fully booked on 19 February! Rushing around I managed to get my Air India flight date changed for immediate departure that night and made it out of the UAE by the skin of my teeth (Ever wonder where weird expressions like that came from?). The changed departure date required an additional fee of 350 Bhat or about $100, a small price to pay for avoiding a night in the park with grass for a place to sleep... or mugging someone for a bed in a jail cell.

The no frills Air India flight boasts no frills personnel as well, most of whom speak an unintelligible clipped English spoken at twice the speed of normal speech. The transit stop in Mumbai (old Bombay) could have served as the backdrop for a documentary about the legendary London psychiatric hospital, BEDLAM. This transit lounge provided a perfect example of chaos personified. A dozen confused Air India staff dashed around frenetically organizing queues for the several pending flights while three flight information displays offered conflicting directions to TWO different adjacent gates for the several simultaneous flight departures.

The diminutive weasel-like guy chosen to make the announcements over the sound system obviously thought his information could be understood by all English speaking passengers. His utterances were total gibberish... but delivered with exaggerated confidence... and a smile... more a snarling grin. As the lounge eventually emptied with the earliest flight departures the chaos diminished to mere confusion, my flight finally boarded... an hour and a half late at 2AM.

All that anguish produced its rewards: my seat companion and I in the front row of the economy cabin separated to the outer seats so we both had full arm rests and gobs of leg room... almost like first class seats... until another passenger, an older Arab guy seeing our good fortune, came and plopped himself down in our just vacated middle seat for fifteen minutes... to teach us a lesson, I presume. The airline dinner actually could be described as nutritious and aesthetically prepared... appropriately following a small bottle of surprisingly good Sauvignon Blanc. So, given the cheap ticket price and earlier aggravations, I'd still have to give AirIndia a B+ in this instance... grudgingly.
I arrived back in Bangkok at the crack of dawn after 50 hours of limited sleep travel to find my reserved hotel room still occupied by the previous guests for a few more hours. Still groggy from lack of sleep I walked the streets like a zombie finding something to eat and replenishing my supply of Thai Bahts until noon when my room became available.
Following all the harrowing experiences through the Gulf states, Bangkok feels like home. My old boutique hotel, the 1760 Baht ($60 up $3 from last time) Baan Sukhumvit near the Nana BTS stop continues to treat me like family, this time awarding me the best "penthouse" room in the hotel for my stay. As a consequence I stayed longer than originally planned, though delays in a return flight to the U.S.A. played a role. After a week in the familiar Baan Sukhumvit I opted for a change of scenery and moved across the river to the 2000 Baht ($67) Ibis Riverview Hotel where modern design and simplicity combine to make an excellent value and my room on the seventh floor provided a continuous view of the changing river panorama.
During one of my exploratory forays I finally found the out-of-the-way developed area adjacent to the Suvarnabhumi International Airport where a number of excellent value hotels are hidden. Only a few minutes by public van from the departure terminal they are a smart choice for early departures, once one figures out that the line of gray vans serve as public buses. The best value I discovered is the 900 Baht ($30) Thongta Resort with rooms comparable in size and quality to the Ibis Riverside Hotel. Being only a few minutes away from from the departure terminal by public van #549 (10 Baht fare) makes this area tempting once you know about it (Airport touts sell the room for 1200 Baht).
My last week in the city I decided to seek a little variety by jumping around hotels a bit. After several days of looking and hours of Internet research I finally chose a three night 8400 Baht "Hot Deal" package at the 4 star Amari Boulevard Hotel, then one night in the 1400Baht Darjelling Boutique Hotel and then the two night, 3000 Baht "Early Bird Special" in the Windsor Suites Hotel. The 1200 Baht Nasa Vegas Hotel on the airport rail link train line for the last night provides a convenient location from which to reach the airport before an early morning 08:15 flight.
After an unbelievably convoluted interaction with American Airline reservations people, I now have a seat back to the States on a flight using Japan Airlines as the carrier leaving Monday, 14 March and arriving that same date in Las Vegas... assuming the unprecedented earthquake in Japan has not disrupted flights connecting in Narita Airport near Tokyo. During the marathon flight change negotiations, "earliest departure" dates changed from "today" to 27 March and fees for making an itinerary change varied from $25 to $1050! In the end I paid an additional $175 to leave a month earlier than originally confirmed back in November 2010.
Monday 14 March is only a few days from now, so I'd better send this postcard out in its present form or it'll not make it out before I do. Until my next "debriefing" postcard from Las Vegas,
Peace
Fred L Bellomy
12 March 2011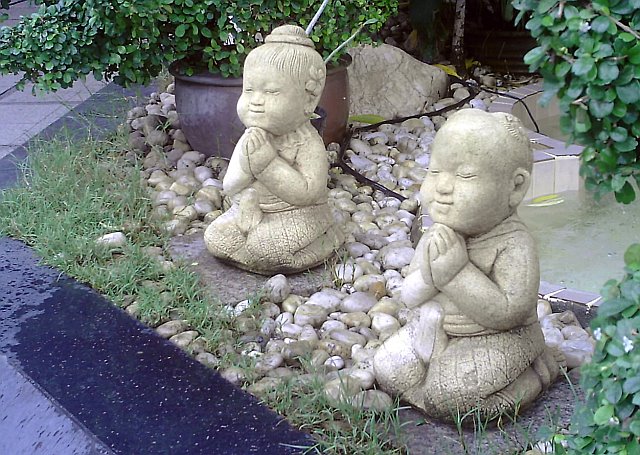 Bangkok: Displays like this are commonly seen throughout Bangkok; this pair sits in front of the $47 Darjelling Boutique Hotel where I stayed one night.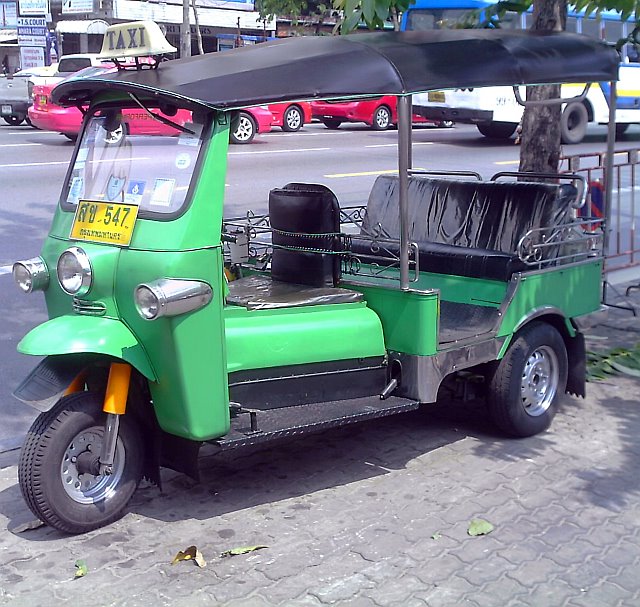 Bangkok: One of the Tuk-tuks still operating in the traffic congested city. Drivers stop tourists with ten baht per hour tours of the city.. which turn out to be quick rides to over priced shops where they receive a hefty commission for roping in customers.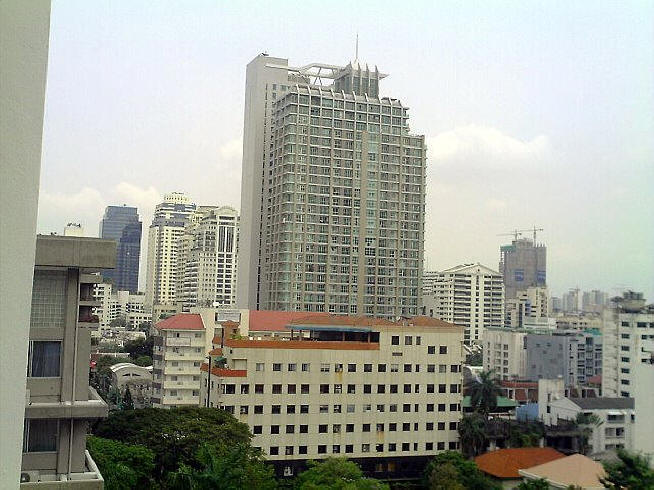 Bangkok: View from my twelfth floor room at the four star Amari Boulevard Hotel where I stayed for three nights as a part of the 8400 Baht "Hot Deal" package. The equivalent $83 per night rate made it a good value.

Bangkok: Sidewalks anywhere in the city are usually congested with racing motorcycles.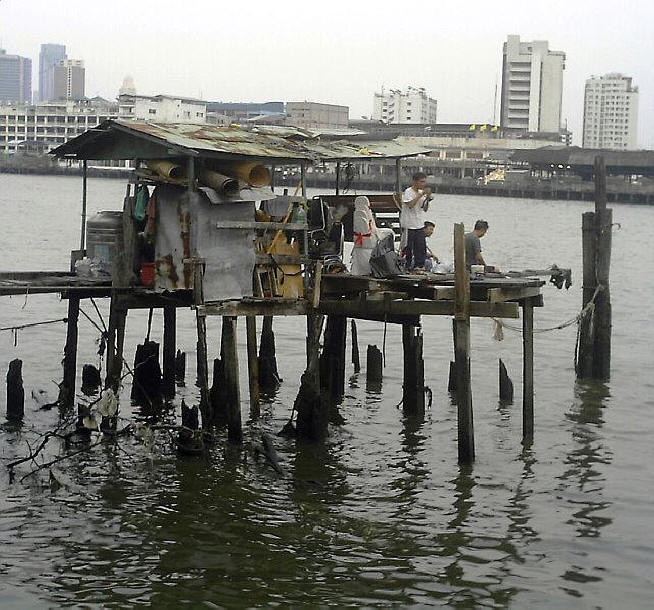 Bangkok: Boys fishing on a platform along the shores of the Chao Phraya River.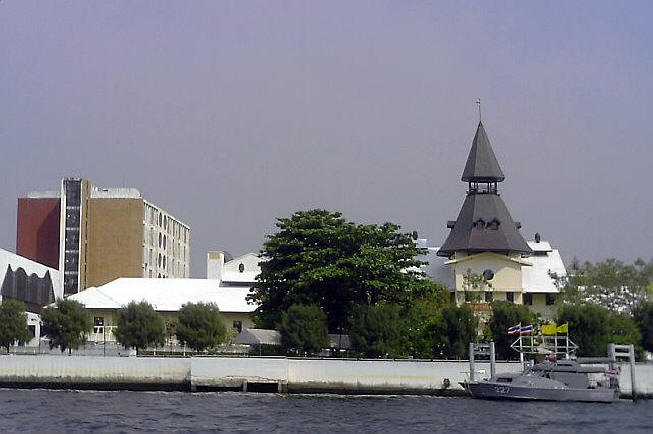 Bangkok: Unusual building as seen from a ferryboat on the Chao Phraya River.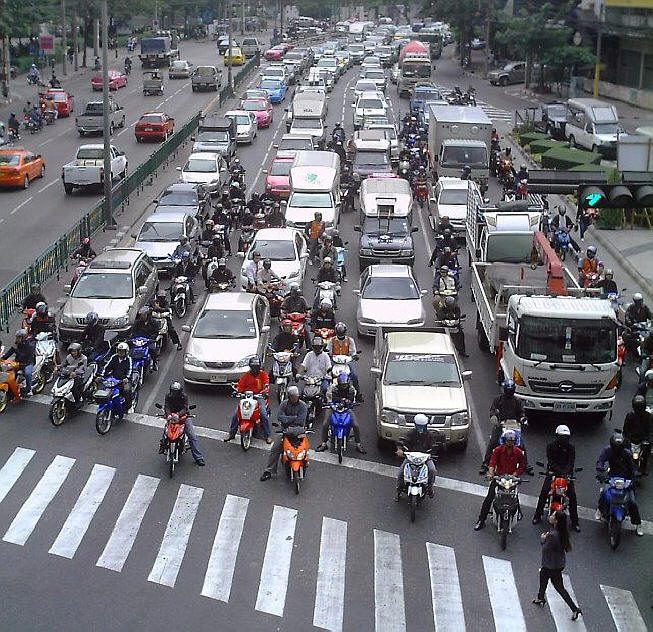 Bangkok: Grid lock like this is the rule rather than an exception. Notice all the motorcycles in that mob... unusual as they prefer running down pedestrians on the sidewalks! No wonder the BTS is so popular.