Hello from Kuwait on the Arabian Gulf;

Yes, I know. I am visiting the Persian Gulf, but in these here parts people refer to it as the Arabian Gulf! Kuwait has a fascinating short history. Like most Americans, I really only became aware of it after the Gulf Wars with Iraq. Sure, I'd heard the name along with all the other Emirates and Sheikdoms in the area, but had not paid much attention to the history or unique cultural aspects of any of the countries in this region beyond what could be gleaned from the film: Lawrence of Arabia ages ago.
Iraq is a total enigma and one of the primary reasons for visiting this corner of the Gulf with the hope of finding some way to sneak across the border for a quick taste of things Iraqi. One morning I rode the city bus #66 over to the little town of Al Jahrah where the main highway north to the Iraqi border starts. There, while munching on KFC chicken I met Abdulrahman Al-Bathali, a Kuwaiti employed by Kuwait Airways who told me what he knew about the Kuwait-Iraq border up the road. "I never go up there myself but think there is no problem for you as there is a special facility set up for Americans entering the country. To my knowledge there is no public transportation other than taxis." he added with resignation. So, that ended my effort to "see" Iraq this trip.
Of course there is plenty of sand here and Friday I even saw a camel... offering "pony rides" to kids watching the Independence Day parade as it passed in front of my hotel. Everyone is celebrating National Day, Liberation Day and "Hello February Day" all rolled up in one frenetic day of carnival, parades and speeches. I took a lot of pictures that Friday and the photo album of the day's festivities says a lot about the culture. The rest of the photos taken around the State of Kuwait are here... or just click on the first camera icon at the top of this webpage.
Like most of my stories, this one began long before arriving at the airport in Kuwait City. Returning from Kish Island I had forgotten the warning that a major health related convention would be in town and that many hotels would be fully booked. Before leaving for Kish two hotels had admonished me to make advance reservations, but I never do that, trusting in serendipity to get me through any challenge. Checking with one of the four houses I'd previously used confirmed the worst and I started what appeared to be a doomed quest... even removing any ceiling from rates I'd be willing to consider!
The brand new five-star Movenpick, still nearing completion, had previously offered extraordinarily low (for a five star-hotel!) pre-opening promotion rates of 460 Dirhams and I headed there with high hopes. After all, few people even knew they were open. The lobby, still gleaming with spit and polish, matched the shining faces of eager staff members who rushed each new visitor with anticipation.
But, even this barely open place could offer no lodging for this weary soul! However, I spotted the now famous crossed golden keys pin on the lapel of a concierge staff member and hopefully approached him knowing how their exquisite hotel training program includes the art of making miracles (no kidding). Sure enough, he pointed out that once a guest enters his hotel it becomes his responsibility to make sure he is accommodated... one way or another!
When he learned of my pecuniary limitations he shook his head and noted the hoards of visitors needing lodging during the convention days made meeting all my preferences extremely difficult. He urged me to stretch my budget limitations a bit while he started calling his colleagues and friends at other hotels. After reporting "fully booked" at several places and begging his associates to recheck their inventories, he finally turned to me and said he might have found something, "but only for tonight." Then to his colleague on the other end of the phone he added: "See if you can't do better than that; this guest is not prepared to go that high." and continued to negotiate with his friend on my behalf. Finally, looking my way he sheepishly asked if I could go as high as 600 Dirhams.

Well, 600 Dirhams is double what I had been paying my last time in Dubai, but hey! When the alternative involves sleeping in a park, mugging someone to spend the night in a police station... or breaking a leg in order to get admitted to a hospital for the night, 600 Dirhams sounds like a bargain. That is about $165 in Uncle Sam's currency and more than I have ever spent for a single night's rest. "He has a room?" I asked and before his reply stopped hissing I blurted out with relief: "I'll take it!" The Golden Keys magician prepared to order me a taxicab, but I then launched into "my brother owned a cab company" story and said I'd walk. "It is quite a way; you sure you want to walk?" he asked sympathetically, continuing with brief directions for my hike.

"Yep. That's my habit, unorthodox as it sounds." I replied and headed out into the fading sunset dusk. The directions sounded clear enough and from previously walking the area expected to complete the trip in fifteen to twenty minutes. An hour and a half later I finally found the obscure Dusit Princess Hotel, not much to look at from the outside and "hidden" behind a huge gun megastore.
Inside the lobby of the four-star lodge my heart leaped with joy. The place clearly deserved five stars and radiated comfort and aesthetics. My night in this palace served as the stimulus for an epiphany. Elegant beyond words, with every imaginable amenity and staff who treated me like royalty, I concluded this is the way to spend a night while on the road for anyone who can afford the tariff.
It then dawned on me that I could in reality afford to stay in places this nice, simply by changing the way I think. Currently I look for bargain values in order to stretch my funds over lengthy trips. Cut any planned trip duration in half and I could immediately double my usual room rate budget! With that realization ringing in my head, it occurred to me that fiscal thinking has always been based on the assumption that my financial resources needed to be managed for a life span predicted by the actuarial tables while maintaining the same standard of living/traveling I currently enjoyed.
But, that is only one way to look at the reality. If I spend TOO much this year, the remaining years will need to make more simple demands on the depleting retirement funds ... and could mean no more major international expeditions. But, at some point I will no longer be able to embark on wild worldwide forays anyway! What a delicious realization: I can use deluxe, first class hotels with impunity! ... because I am not going to be able to travel forever!

Before retiring to pull the covers over my head in this ultra-comfy hotel room I started the first phase of searching for a Lari Exchange Dubai office location. The trainee at the concierge desk tried hard to help me with maps, phone calls and other inquiries, but his misguided, inept efforts produced only misdirections so I returned to the Dusit Princess for a beautiful end to a highly imperfect day that had started with an escape from Iran.

The next morning the Princess buffet breakfast exceeded my wildest expectations: fresh everything, prepared with an eye to esthetic presentation and attentive service from several dining room staff. They wanted me to linger! They wanted me to make yet another trip to the food displays! They wanted me to chat about... whatever I wanted to chat about! It is not hard to see how one might become addicted to such luxury, but of course, even this level of pampering eventually would feel like the norm.
Everything is relative... so I tried to imagine how I might feel if I had been experiencing abject poverty in one of the third world countries I've visited in the past. The contrast would be an alien shock, probably making me feel deeply uncomfortable. After breakfast I again checked at the reception desk to see if an unexpected early checkout had made extending my stay another night possible, but still no room available. So, I'd need to hustle, completing the search for a Lari Exchange location, making flight arrangements and catching a plane before the day ended.
Not without the several false starts, I did find a Lari Exchange, repaid the $500 "loaned/given" to me over on Kish Island, checked out of my dream hotel, bussed over to Sharjah, bought my flight ticket to Kuwait and arrived at the Sharjah Airport with minutes to spare before the scheduled flight.

The departure lounge featured several large LCD TV screens playing two religious programs: one a bearded imam preaching and another of an angelic young girl with head bowed in reverie. Both featured soothing Arabic sounds in the background. The preflight baggage x-ray inspection could not have been more perfunctory. No need for profiling here; most of the waiting passengers appeared to be Middle Eastern young men, so most would have been selected for extra scrutiny at any American airport.

The A320 jet aircraft looked reassuring compared to the propeller driven craft used for the Iranian foray. Operated by the cut-rate Air Arabia, the 300 dirham fare made the cost about the same as my usual Dubai hotel: $82. All airline flights start with a preflight safety announcement, but this airline added a preflight prayer explained first in English and then actually delivered in Arabic! "Please god, don't let us crash on this trip!" or something like that, I presume.

On board the aircraft I saw no sky marshal or any other obvious signs of security precautions. The aft toilet wash basin had an inoperative water faucet. The no-frills flight featured somber stewardesses selling tea (5 dirhams) and various duty-free goods to passengers. Those of us not buying got no attention at all until a few minutes before the termination of the hour and a half flight when one of the ladies handed out little sealed cups of water to any passenger fast enough to grab her as she dashed by.
We landed at 18:30 to be hustled into a chaotic passport control area. Those of us needing visas learned of the necessity after standing in a line for fifteen minutes and were directed upstairs for a ten minute further wait and payment of a two Kuwaiti dinars ($7) application fee. Noting this approaching glitch I used my waiting time to change my remaining UAE dirhams into a small amount of Kuwaiti dinars in order to be ready to pay the visa fee.

When finally released from the formalities I started my investigation of transportation possibilities. "No public buses; taxi only." people connected with the taxi monopoly repeated again and again. I later learned that buses leaving frequently for the city center were just outside the arrival lounge, but off to the side, out of view. Fending off the taxi touts has become second nature now, so with a cavalier shake of my head and briskly strutting away from the arrival commotion I announced: "I'll walk into town." with only the vaguest idea how far or in what direction that might be.
Studying the departing taxis as I jogged toward what appeared to be the airport entrance, a pattern slowly became obvious and I noted the general direction most traffic selected and followed it. Fortunately, bright overhead street lighting illuminated the three-lane highway in both directions and a well designed sidewalk along the road made walking easy and safe.
About a kilometer away from the airport a gypsy taxicab stopped and the guy jumped out to convince me riding in his buggy would be cheap and make more sense than walking. At the time I suspected a scam and declined his offer. Then ten minutes later looking back to see if he had left I discovered some other fool walking in my direction about two blocks behind me... and pulling a rolling suitcase! I couldn't believe anyone would be stupid enough to be walking away from the airport in the dark and suspected a conspiracy of taxicab drivers and his gang bent on robbing me of my lunch money and nifty walking shoes. To make matters worse, the guy walked faster than me and try as I might, I couldn't pick up the pace to out distance him.
When he got to within about fifty feet I casually meandered across to the other side of the off-ramp we had both chosen to climb. As I reached the intersection he crossed over to MY side and I crossed back to the other side and started walking down the crossroad away from all the lights in the other direction.
When I got perhaps a hundred yards down the road I turned to see what my shadow might be doing. He had stopped at the corner and seemed to be waiting... I hoped not for me. Backtracking down a side street and returning to where I could again see the guy without being observed myself, I noticed he had started walking away from me toward the lights. I stopped to rest and to give him more time to move far enough away that he no longer posed a threat and then started walking slowly in that direction myself... toward all the lights hoping some of them might be hotels.
It soon became obvious city buses used the route I had chosen and I watched to see a pattern emerge. Following the majority route with street lights to guide me, I soon came to a busy intersection and underpass. On the other side of the underpass I spotted a shiny bright Crown Plaza Hotel sign and eagerly worked my way over to it... not with any hope of being able to afford the anticipated exorbitant room rates, but because long experience has taught such places always offer scruffy vagabonds with a clever command of the English language, excellent navigation information and often good city street maps as well.
This Crown Plaza met my expectations and the bored reception staff welcomed my interruption quizzing me about my unorthodox travel choices, reacting to my claim to being a modern day Ibn Battuta. The head receptionist conspiratorially revealed tricks for discovering the absolutely lowest promotion rate available for the Crown Plaza, hinting at what that might be while I twisted my brain to find some way to justify making this opulent castle my first nighter in Kuwait.
In the meantime one of the bellmen had located a large, detailed map of Kuwait meant for well-healed registered guests and presented it to me with the compliments of the hotel. When it became obvious that no way would I ever convince myself that the rock bottom, very special secret promotion rate of $235 per night would fail to produce a fatal rash, I thanked everyone and walked over to the bus stop they had suggested to wait for a number 21 bus into the center of the city.
The bus ended its run in an area of few hotels. The ones I could easily see had sticker shock written all over them. Stopping at a seedy place with its reception desk up a flight of stairs and discovering an asking room rate of 40 dinars ($145), I pleaded for lower cost accommodation suggestions. The doorman unenthusiastically directed me to what he characterized as a three-star hotel back around behind the skyscraper next door.
Dark, tired from all the walking, dodging would be assailants, and discouraged by all the poor value presenting itself to me in my quest for a temporary first night abode, I must have been an easy sell. When the night desk clerk at the Carlton Tower Hotel, an old guy about my age announced a room rate of thirty dinars ($105) and the room itself actually contained a bed with no bugs visible, I ended my premier night search and crashed without further debate. The next morning after an unappetizing "breakfast" I renewed my search for a more acceptable hotel and found the Ibis in the Salmiya area. At 35 dinars it is a good value.
The Ibis Hotel served beef "bacon" and real French croissants made with a thousand buttered layers. The ten thousand dollar ultra-automatic coffee machine brewed excellent "American coffee," Espresso, milk coffee and even cappuccino. I got all excited about the possibility of buying one for my personal use until told the machine's cost by the food and beverage manager!
Dates are a big deal in the Persian Gulf. Hotel dining rooms invariably offer a selection of different varieties with their buffets. My favorites are Medjool dates. While in Oman I watched a TV special dealing with the economic importance of the date crops throughout the Middle East. Dates are such a rich source of carbohydrates they are even fed to race horses during training. All over this land of the Arabs one finds a great variety of dates sold/served. Kilogram bricks of pressed dates are available in grocery stores for about three dollars. Date paste and date syrup also are available at low cost and make delicious sweet snacks instead of fat laden chocolate bars I occasionally sneak into my hotel rooms.
More than one of my readers have asked why anyone in their right mind would choose to torture themselves like I do when first arriving in an unfamiliar foreign land. The answers are both simple and profound. The simple answer is I'm slightly mad and it is my perverse way of demonstrating that fact to the world while getting to know a new culture at the most basic level. The more profound answer is that I have discovered a way to keep both my mind and body truly alive. Facing "impossible" difficulties demands intense brain work and that keeps the neurons growing, and many years ago I learned of the high Andes people living around Lake Titicaca in Peru who regularly live more than a hundred years. The discovery prompted me to examine their lifestyle for clues the rest of us might use to improve our chances for long healthy lives. Of course, many cultural peculiarities in their lifestyles contribute to their longevity, but one thing stands out: they work their butts off from childhood until the day they die!
My present retirement circumstances do not require much physical exertion at all! So, putting myself into situations that demand a concerted effort just to survive is my way of compensating for the easy life bequeathed by my affluent culture and circumstances. And what of the hazards? In truth, the chances of coming to an unhappy end are next to nonexistent. All the stories we read in the papers about some hapless soul meeting an untimely end are anomalies. 99.9% of all foreign travel episodes are truly unremarkable. Most dicey situations resolve themselves without dire consequences beyond irritating inconvenience or embarrassment. Travelers who show no fear and try to meet the locals on a person to person human level are unlikely to be chosen as prey by even the most depraved predators. So, I stay alert and play the odds. If one day I should disappear under suspicious circumstances, you can always say: "I told you so."
Kuwait is a smoker's paradise and a nonsmoker's hell. There are "no smoking" signs here and there, but many/most smokers just ignore them with impunity... even in Western fast food joints like Burger King! The "I have a human right to smoke anywhere I want" mentality of last century in the developed world still prevails on this part of the globe. The governments of the Gulf states seem to be making halfhearted efforts to educate residents without much success, possibly because a majority living here are foreign born guest workers. Two thirds of Kuwait's population was not born in the country. No wonder I'd been in Kuwait several days before meeting even a single Kuwaiti!

Hotel television news reports covering all the turmoil in this region easily make up for the "as usual" news from home some of my readers have been sharing. CNN, BBC and Al JezeeraTV have had saturation coverage of the riots in Egypt and continuing coverage of the unrest in Yemen and Tunisia, the latter two places being on my long list of possible destinations to be considered for this expedition.

Female readers are probably better off enjoying the Persian Gulf region through my eyes as women are treated VERY differently over here. However, it would seem they are mostly overprotected rather that abused! Imagine a ten year old child traveling alone in any American city and you will have some idea of what travel for a foreign woman in these parts might be like. Of course, ladies would need to learn the "do's and don'ts" or they could really get physically chastised by one of the self appointed religious police... especially in Iran. This is definitely a guy's world!

Periodically on this trip I have been checking my ECG, BP and fasting blood glucose levels. All of the readings are perfect this morning. I guess the human heart has a remarkable ability to rejuvenate itself, as improbable as that seems. I do know that my fanatically energetic mode of travel - lots of mindless meandering for long hours on end - is definitely good for my health! Sporadic nourishment doesn't hurt either, though I seem to have gained a little girth up to this point... must be all those rich buffet breakfasts featuring piles of dates and cheese in the hotels... or the kilogram date brick just polished off!

I've been in Kuwait a week now, enjoying the great (but, expensive! $119) Ibis Hotel in the Salmiya section of the Kuwaiti state and will soon be moving on toward Bahrain and Qatar. At the moment I'm trying to catch up on accumulated messages from homebound friends who tell me some of my scribblings broaden their geographical horizons, and thus provide the prodding needed to keep on writing. Later this morning I'll check at a travel agent for available flights to Bahrain or Qatar and plan to head out in a day or two. Until the next postcard,
Peace
Fred L Bellomy
PS: I finally finished this in Manama Bahrain. F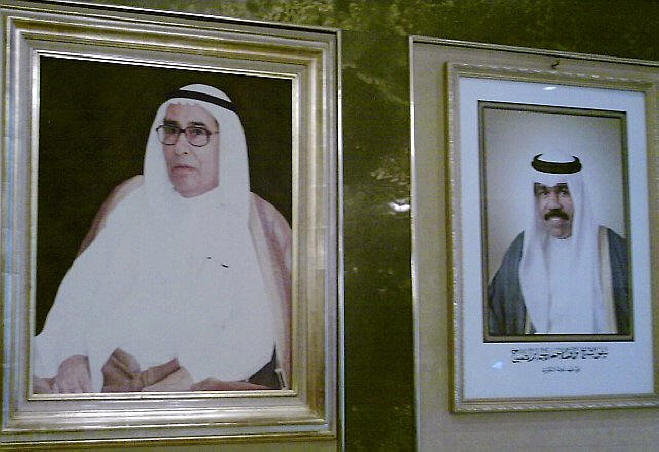 Kuwait City: Kuwaiti royalty pictures in the lobby of my first hotel. The Carlton Tower Hotel is located literally in the shadow of another higher tower along an alleyway and is damned hard to find even in the daytime as I discovered the next day after a several hour hotel shopping expedition. Near desperation, I finally found my way back to check out.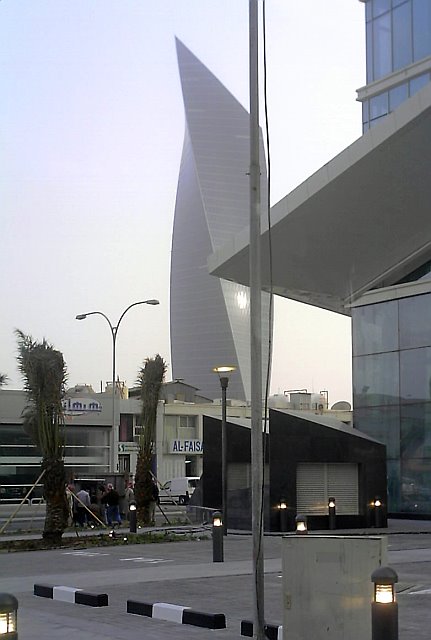 Kuwait: Iconic twisted tower that caught my attention. As one moves around the tower it appears to change shape. Remarkable.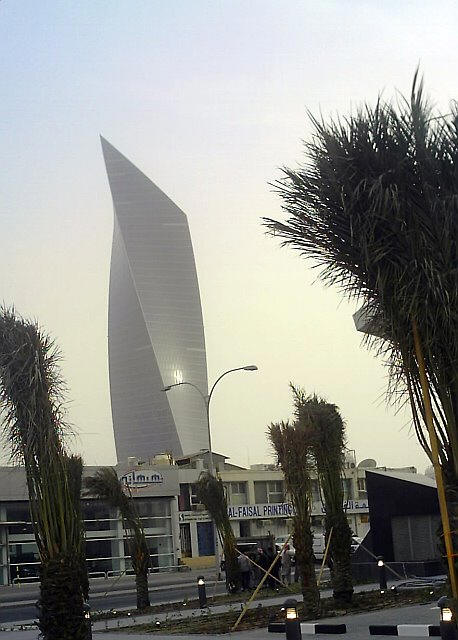 Kuwait City: Twisted skyscraper between my hotel in Salmiya suburbs and the city center; another view.

Kuwait: Iconic twisted tower that caught my attention. As one moves around the tower it appears to change shape. Remarkable.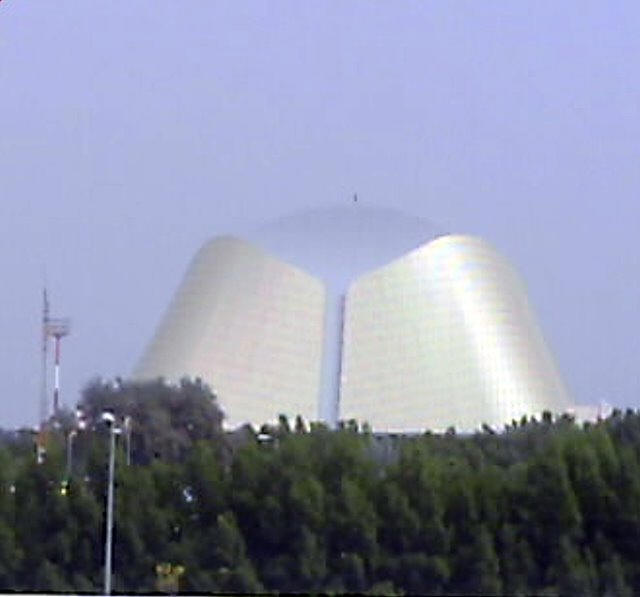 Kuwait City: A really odd building seen from the parking lot at the airport. Have no idea what it is... might be a landed alien space ship... or, an intergalactic rocket launching pad?

Kuwait City: Unique building with canvas "sails" that can be seen from the window of my sea view room in the Salmiya Ibis Hotel.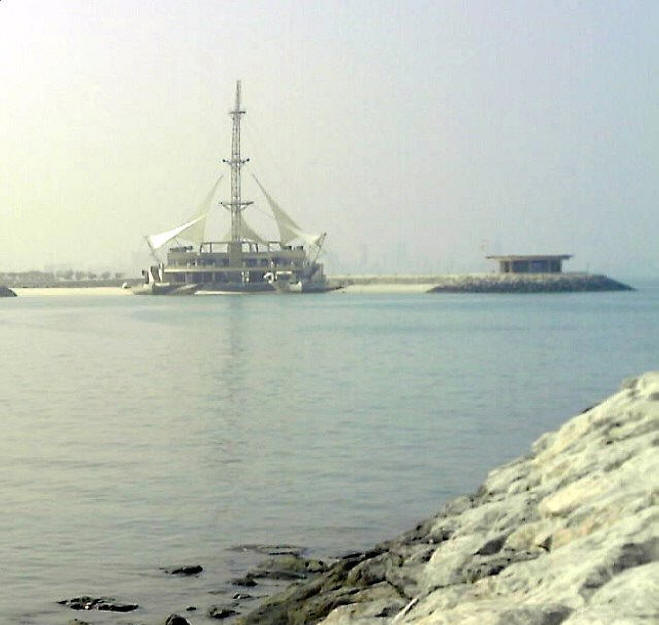 Kuwait City: Unique building with canvas "sails" that can be seen from the window of my sea view room in the Salmiya Ibis Hotel.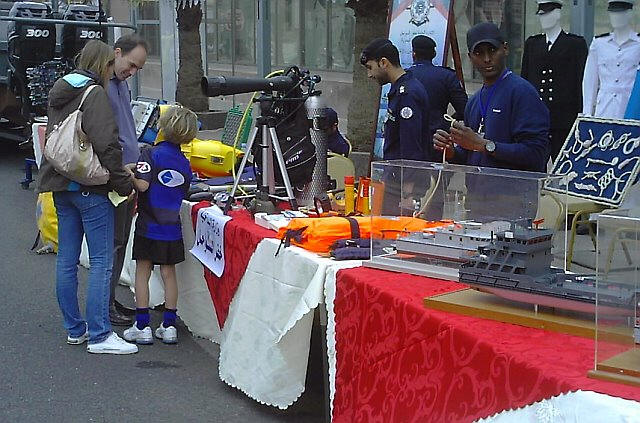 Kuwait: Fire Department display at the Independence Day - Liberation Day - Welcome February Day 2011 celebration - parade that ran in front of my Ibis Hotel in Salmiya.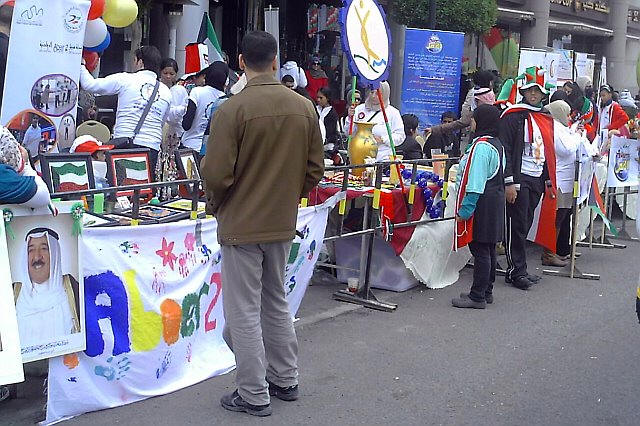 Kuwait: Displays seen at the Independence Day - Liberation Day - Welcome February Day 2011 celebration - parade that ran in front of my Ibis Hotel in Salmiya.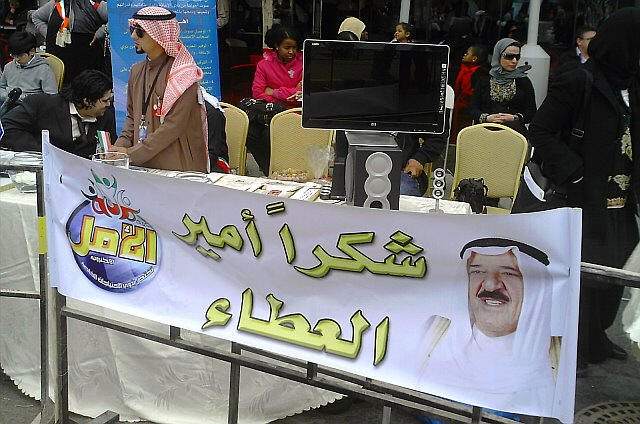 Kuwait: Displays seen at the Independence Day - Liberation Day - Welcome February Day 2011 celebration - parade that ran in front of my Ibis Hotel in Salmiya.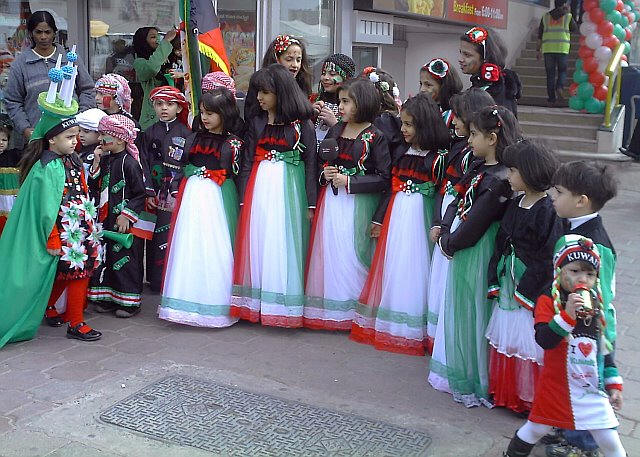 Kuwait: Colorful costumes seen at the Independence Day - Liberation Day - Welcome February Day 2011 celebration - parade that ran in front of my Ibis Hotel in Salmiya.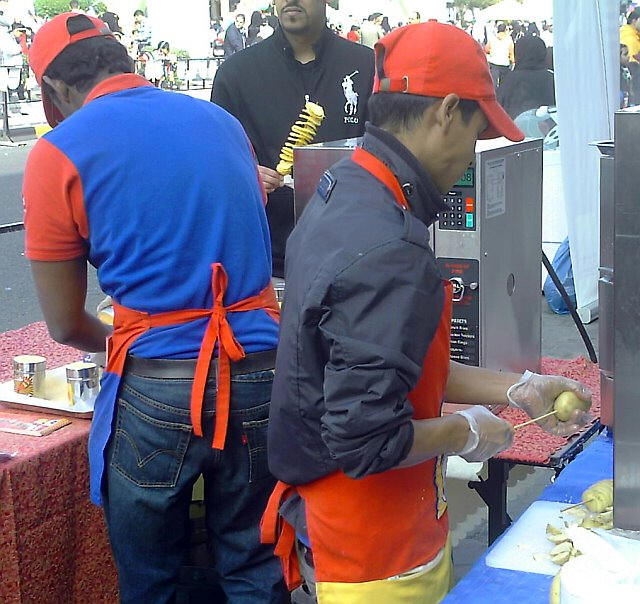 Kuwait City: Independence Day: guys preparing the curly deep fried potatoes.

Kuwait: TV cameraman follows one of the marchers at the Independence Day - Liberation Day - Welcome February Day 2011 celebration - parade that ran in front of my Ibis Hotel in Salmiya.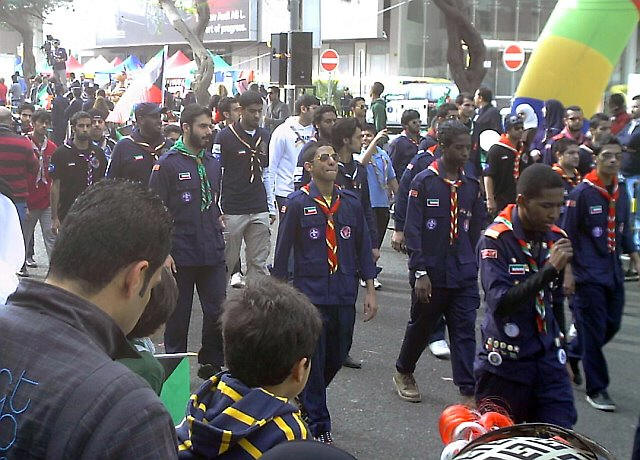 Kuwait: Boy Scouts march at the Independence Day - Liberation Day - Welcome February Day 2011 celebration - parade that ran in front of my Ibis Hotel in Salmiya.

Kuwait: Colorful costumes seen at the Independence Day - Liberation Day - Welcome February Day 2011 celebration - parade that ran in front of my Ibis Hotel in Salmiya.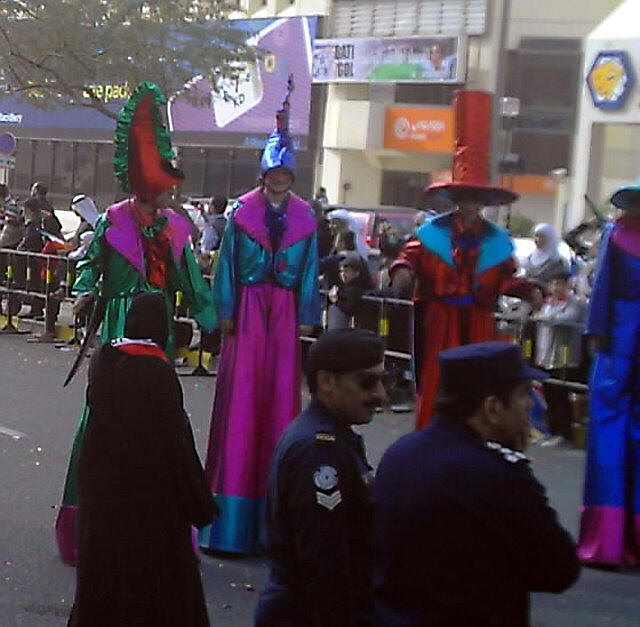 Kuwait: Colorful costumes seen at the Independence Day - Liberation Day - Welcome February Day 2011 celebration - parade that ran in front of my Ibis Hotel in Salmiya.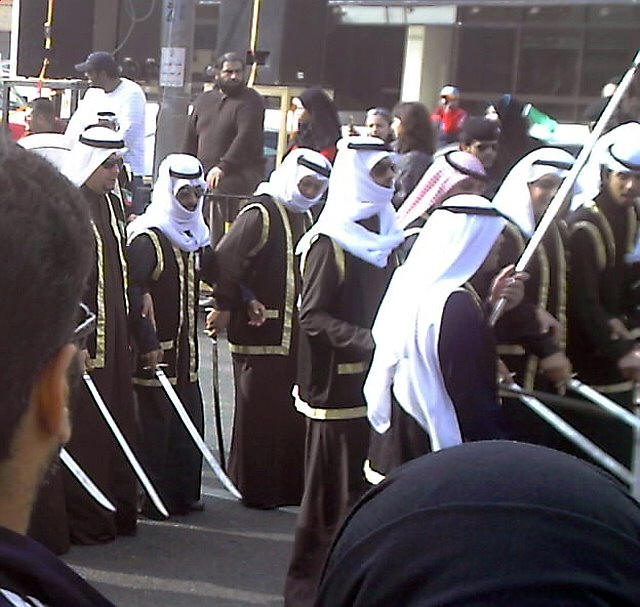 Kuwait City: Independence Day: desert warriors with flashing swords.