Hello from Bangkok Thailand,
Once again the capital city in the land of smiles proves an invigorating experience for this stimulation starved wanderer. The charming Baan Sukhimvit boutique hotel in the Nana area of the city is still the genteel oasis I remember from so many previous visits to the city. Being a mere five blocks from the world famous Bumrungrad Hospital where I get my "annual" executive physical checkups every year and a half or so, it is a comfortable refuge for world weary souls on their way to more inhospitable remote destinations. The physical checkup produced a clean bill of health.
For the last three nights before boarding an Air India flight #333 to Dubai I'm staying in the Bossotel in the shadows of the riverside Shangri-La Hotel; fantastic buffet breakfasts and interesting neighborhood, but rotten Internet service! Exotic is no longer a word suitable for describing my reaction to the sights and sounds of this "foreign" city. So familiar are they now I hardly notice. Therefore, instead of trying to fascinate readers with quaint observations I decided to pay attention to what I am not seeing this time around.
First, while Bangkok is a Mecca for septuagenarian, octogenarian and even nonagenarian western males seeking the intimate companionship of young Thai girls, one never sees lecherous old Thai guys with the pretty young things. Second, while sidewalks are kept surprisingly free of trash by swarms of scruffy sweepers and numerous signs screaming NO LITTERING, there are surprisingly few trash cans along the way; I have walked miles carrying a handful of orange peels looking for one.
Third, congested roadways encourage motorists to find innovative ways to beat the traffic. That means pedestrians almost never see sidewalks free of racing motorcycles; some so quiet they squeeze by walkers from behind avoiding collisions by mere millimeters. Fourth, despite all the traffic congestion one rarely hears a driver sound his horn in frustration and road rage is an unknown concept here as far as I can tell.
Fifth, there are almost NO obnoxiously loud motorcycles in the city. Sixth, there are of course still many beggars along the streets, but I have never seen the aggressive, insistent behavior characteristic of the "profession" in other parts of the world. The explanation might be found in the fact that Buddhist monks share the "take" from their traditional begging bowls with the ordinary street beggars, a very practical cultural practice it would seem. Seventh, either country bumpkins avoid the city or they dress up in western clothes for their visits: one see few people in traditional Thai dress.
Eighth, if there are any grossly obese people in the country, they don't walk the streets of Bangkok and obvious public drunkenness also is nonexistent. Of course, there are many other things not seen here such as dinosaurs, fairies (other than Garuda), dragons or the commonplace of America. But, escaping the commonplace is one of the big attractions of foreign travel for anyone who craves novelty ... like me. To review the historical extent of this craving, check out the attached "Travel Matrix" summarizing my worldwide exploits to date (That matrix is now replaced by the scrolling frame on the opening page of this website.).
For over a year and a half after the heart attack, focusing on anything deep has been next to impossible. For a while I assumed I had come down with a terminal case of listless lethargy; that I had lapsed into a deep state of laziness or had contracted a fatal case of writer's block. Something malfunctioning inside my brain deliberately interfered with every new attempt to reassert my old normal creative habits.
Wondering what the problem could be, I began a detailed review of activities since penning the last "postcard" well over a year ago. Recovery from the March 2009 heart attack and quad bypass surgery seemed to have progressed so nicely that I once again started advance planning for a new international expedition… and bought a modest investment property in Las Vegas… and moved my base of operation to the new property (See the 3 attached photos.). After several months of resettling activity I once again started the advance planning for more foreign travels. Then, in March of this year an old teenage back injury re-announced itself with stabbing pains all along the sciatic nerve of my right leg, at times so severe it made walking next to impossible.
In my last missive before leaving Las Vegas I hinted at the nature of medical miracles recently experienced and promised a fuller account of the story once settled somewhere along the road. The full story actually starts at the very beginning of my childhood. Experiencing chronic tension since infancy, I soon learned that unconscious stress played a large role in my body's occasional rebellions. Relaxing always worked wonders, though I only first recognized its magic powers after commencing the practice of meditation. I have long interpreted pain as a loving message from my body: "something in your life needs changing!" Tension as a young adult often led to migraine headaches, a debilitating affliction caused by the involuntary constriction of blood vessels in the scalp.
When migraine attacks were chronic I tried everything to find relief: medications, hand warming with biofeedback, showers with alternating cold on the extremities and hot on the face and trunk, extended bed rest, pressure point neck massage and finally deep relaxation/meditation exercises ... and frequent stress monitoring with instant relaxation when needed. Despite a concerted effort to find a "cure," nothing had a permanent, lasting effect. Meditation however, often did make it easier to handle the pain and reinforced the idea that tension played a significant role in my malady. With this recognition came a protracted period of experimentation with numerous methods of meditation and relaxation, finally culminating in the adoption of an eclectic combination of Zen and guided imagery mind control. About this same time I began to take the teachings of Buddhism seriously, altering my life priorities in physically and psychologically healthy ways.
Then one day with a mild headache I sat down to meditate. As my mind wandered prior to settling into one of the commonly used techniques I imagined a wall full of open storage bins. My mind's eye involuntarily scanned the wall moving from cubby-hole to cubby-hole. At one point the pain suddenly disappeared and held my attention on that spot… the pain remained suppressed as long as I could stay focused there. THAT CAUGHT MY ATTENTION IN A BIG WAY! When my mind again began to wander the pain returned and I restarted the scanning, again stopping at a spot where the pain disappeared, this time forcing myself to stay focused on the magic spot… and then returning to it immediately each time my mind started to wander again. After a half hour or so the pain episode had passed completely and I had learned an extraordinarily important human healing capability. In the many intervening years I have wondered what might explain the phenomenon. Could it be attention diversion, natural opiate release, muscle/nerve impingement release, muscle/blood vessel constriction release, or some other obscure explanation? What I know is that it is nothing short of a miraculous capability and probably one possessed by most human beings.
As soon as I had apparently fully recovered from my heart attack and bypass surgery in March of last year and begun to anticipate a renewed normal life complete with more international adventure travels, that old teenage back injury reasserted itself and promised to turn me into a cripple for the rest of my life. For the past eight months I have been preoccupied with endless doctor's appointments accompanied by unbelievably complex medical testing, weeks of physical therapy and finally learning to incorporate daily muscle strength building and stretching exercises into a new manageable life style. At the height of the back attack, Ian, a friend of mine in Santa Barbara sent me a remarkable book entitled: Healing Back Pain - The Mind-Body Connection by John E. Sarno, MD. The author coins the acronym, TMS for Tension Myositis Syndrome or nervous muscle irritation. His simplistic thesis soon becomes apparent: "pain is all in your head" and left me suspicious of his conclusions.
However, the basic idea conformed to my own observations about relaxation practices to specifically obtain release from headache or muscle pain. While I have long been able to "meditate" most of my pains away, the best I could do with the severe sciatica pain was obtain temporary relief and then only while remaining completely still in relaxation, most reliably reclined in a zero-G chair. The minute I stood up and started walking again, the pain would return with a vengeance. Unable to take the thesis of the book seriously and embarking on an intense regimen of medical testing, physical therapy and relying on the use of a cane to lesson pressure on the affected right leg, I began to acknowledge the possibility that mortality had finally caught up with me and I'd need to adjust to the new physical realities of living well past the Biblically allotted three score and ten.
And then I watched the 20/20 segment on John Sarno and TMS. Suddenly it all made sense. Adopting the mind set suggested by Sarno, in about two weeks the shooting pains characteristic of sciatica subsided and finally disappeared completely! There is still what I would call "normal" temporary spots of discomfort in the small of my back occasionally, mostly on the right side, but they always dissipate in under an hour with proper postural adjustments and rest. Now three weeks later I am walking so much blisters have had time to develop on both feet and the temporary uncomfortable spots don't pop up until after 20 to 60 minutes of walking and disappear with as little as five minutes rest. The cycle can be repeated endlessly as far as I can tell... and that is a miracle in my book!
I've gone into a lot of detail here because it had begun to look like my vigorous life of international adventure travel would need to be drastically curtailed and that led to some sobering lifestyle reevaluations. Were I a believer in gods or the efficacy of prayer by so many well meaning Christian friends, this "miraculous" recovery could be attributed to prayers answered. But I am only a very determined physical scientist with a willingness to learn everything that can be known about my body when it malfunctions.
And, learn I have, more extensively and thoroughly about the human body and mind than ever before. My university classes have been provided by the Teaching Company's Great Courses video lecture series (My personal collection now contains 70 titles) All together I have watched or listened to more than 38 of these college level classes. This past year the life sciences have dominated my studies and have included:
The Human Body: How We Fail, How We Heal
Understanding the Human Body: An Introduction to Anatomy and Physiology
Biology and Human Behavior: The Neurological Origins of Individuality, 2nd Edition
Theories of Human Development
Theory of Evolution: A History of Controversy
Origins of Life
Biological Anthropology: An Evolutionary Perspective

While this is not my first exposure to these subjects, not until this year have I taken the opportunity to knuckle down and try to see the pattern evolution has created for human life... and it has been an eye opener. If you are looking for a way to reawaken your aging brain, no endeavor can match the study of new ideas in depth. As I delved into each of the Great Courses lecture series I also searched for collateral material on the Internet... and as we all know there is a lot out there.

Everyone should know about the TED Talks: ideas worth spreading. During my health education I found the TED lecture by Dr. Dean Ornish: Healing and other natural wonders. Then I ran across a link to extensive portions of the book: How God Changes Your Brain by Andrew Newberg, M.D., and Mark Robert Waldman, both neuroscientists. In it the authors make it clear that any old "god" will do and that the health benefits of spiritual belief are real.

Long ago I concluded that religion had to have an evolutionary component. How else could it be so ubiquitous from the earliest times of recorded history? Then I came across a recent book entitled: "Spiritual Evolution" by George E Vaillant, M.D. that does an excellent job of making the case for spiritual qualities having survival value among the human species. From small beginnings the idea has grown into an academic discipline. Then, to round out the exploration of the subject I found: The Happiness Hypothesis: Finding Modern Truth in Ancient Wisdom By Jonathan Haidt, Professor of Psychology at the University of Virginia which shows why happy people are healthy people. In the spirit of fairness, here is a link to the shocking video: Root of all Evil by Richard Dawkins, based on his book, The God Delusion. It is worthwhile considering the health implications of his thesis as well; not all religious practices are benificial.
The next postcard should be coming from somewhere in the Persian Gulf region… starting in Dubai UAE. It could be exciting. Until then,
Peace
Fred L Bellomy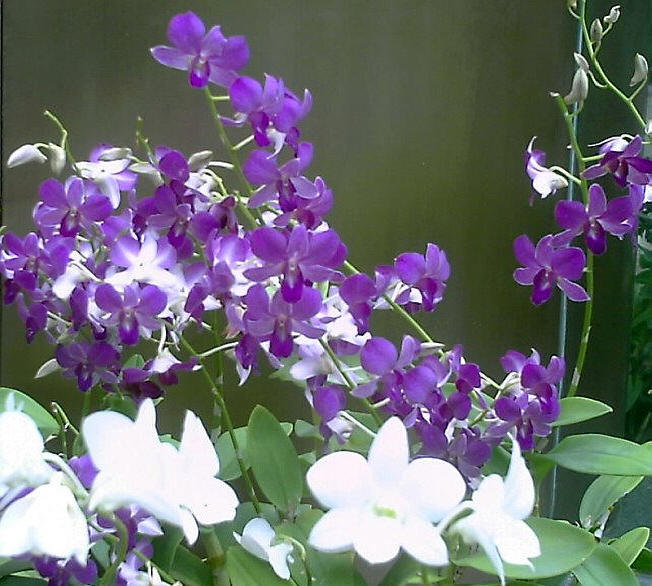 Bangkok: Orchids grow like weeds and are commonly used in the most casual decorative landscaping projects.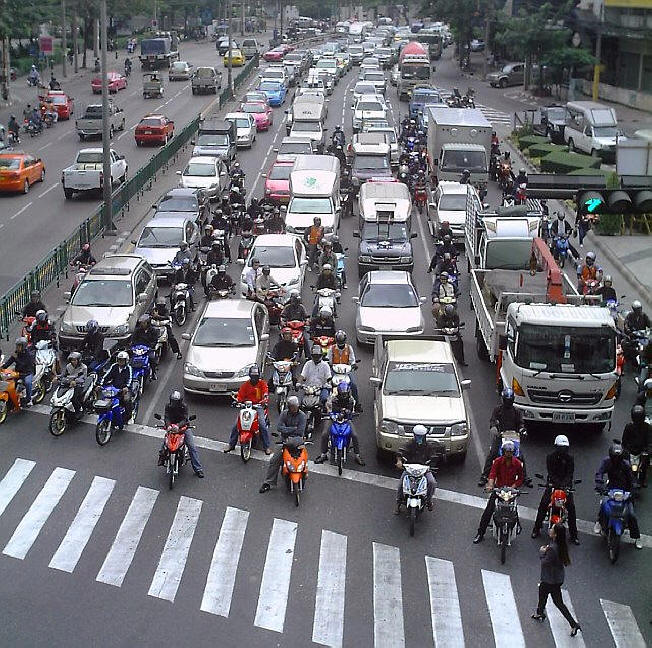 Bangkok: Grid lock like this is the rule rather than an exception. Notice all the motorcycles in that mob... unusual as they prefer running down pedestrians on the sidewalks! No wonder the BTS is so popular.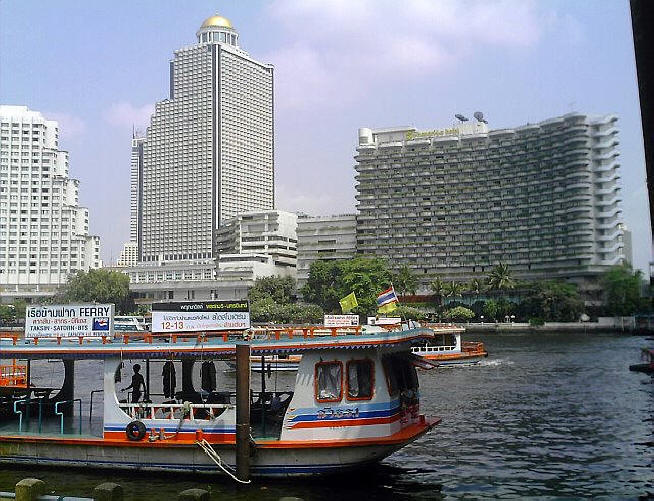 Bangkok: One of the ferryboats plying the Chao Phraya River that snakes its way through the city, providing transportation for countless residents and a cheap "river cruise" for destitute tourists like me. The half hour run up the river from the main dock in the south to the northern termination cost 14 Baht or about 45 cents.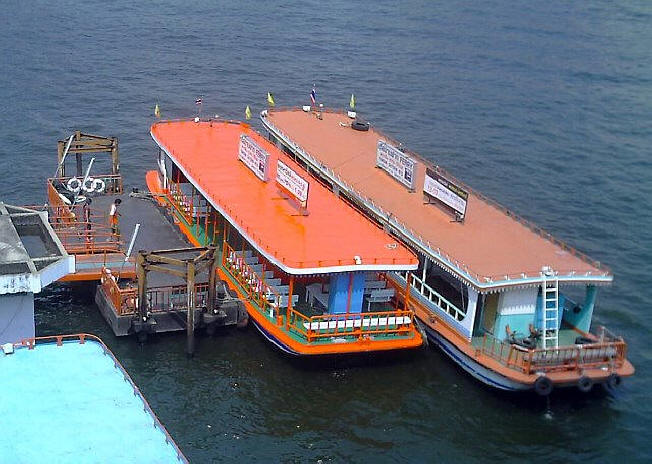 Bangkok: Ferryboats on the Chao Phraya River waiting for passengers... or something.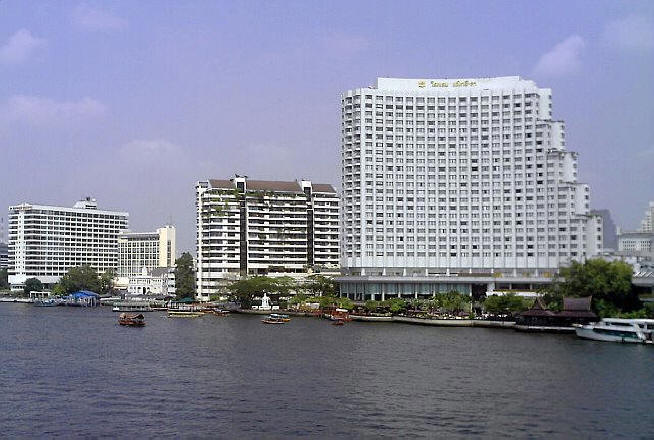 Bangkok: Looking across the Chao Phraya River toward the center of the city with the world famous Shangrila Hotel off to the right.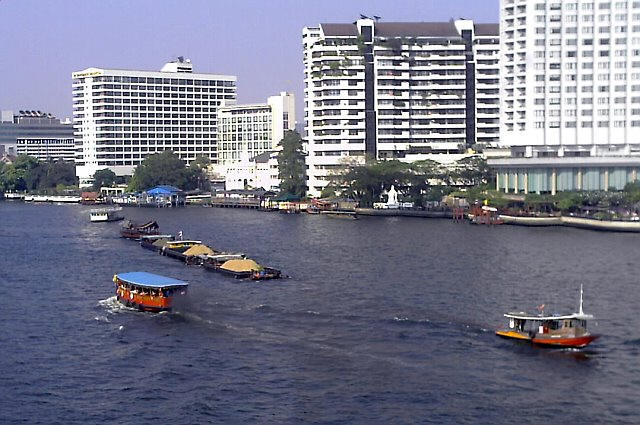 Bangkok: Looking north from a bridge across the Chao Phraya River at a barge train heading down the river.

Bangkok: Looking north from a bridge across the Chao Phraya River at a barge train heading down the river.