Greetings from Home again,
Today is Wednesday, 26 October 2011; I arrived back from the Persian Gulf on Monday 14 march. That's over seven months ago! Looking back over the past three decades of international adventure travel I see a clear pattern: run wild, do crazy things in far off foreign places for many months and then creep back to familiar surroundings and cloister myself for a long period of idle reflection and reevaluation.
In the intervening months since returning I've filled countless idle hours polishing all the webpages for the most recent trip. Check out the page for Dubai to see an example of the results… I've also enhanced the entry page for the entire website. Judging from the number of concerned messages received from good friends, it is clearly time to break the silence and do this debriefing report for the Persian Gulf adventure.
Persian Gulf
People always ask what one thing stands out about an exotic region just explored. For the Persian Gulf I must say unequivocally it is the architecture. Many innovative designs showed up all over the region and Dubai is a veritable outdoors architectural exposition. Every street offers views of improbably astounding sky scraper designs.
The most important cultural reality I learned involves the ancient historical enmity between the Arabs and Persians. Even the most well educated Iranians are likely to "hate" or at least mistrust the Arabs! The origin of this pervasive animosity dates from the time of the Arab conquest of Persia by the Islamic hoards of Mohammed during the seventh century, though references note even more ancient troubles between the two cultures. Several Iranians with whom I spoke while in Kish confirmed this reality. On the other side of the gulf I found the same mistrust/fear of the Iranians. As best as I could tell, such deeply held feelings stem from irrational prejudices. After all, no one today could have any firsthand knowledge of the events which occurred 1300 years ago.
Exotic perfumes are a big fashion all over Arabia. Both men and women swim in the strange fragrances, some of which are truly unpleasant! On more than one occasion I have contrived an excuse to change my seat location on buses. I presume people who douse themselves with such foul smelling concoctions must think they are making themselves more attractive to the opposite sex... or more intimidating to challenging members of their own sex in the case of young men. Whatever the reason, I find it repulsive... even when the smell is more or less pleasing as I am given no choice in the matter.
Kids throughout the region are obnoxiously boisterous and their parents indulgent. Kids will be kids, but that observation is taken to extremes in the Gulf States. Out of control kids bounce around making as much noise as their little lungs can manage while parents look on benignly. I found their antics a bit irritating, though I usually enjoy watching children at play. Thinking back to the relative calm of Thailand and other Southeast Asian countries, the dramatic differences in behavior of children cannot be missed. What is it that accounts for such differences? I can't help but notice how World travel conspires to teach us empathy.
Sampling as many cultural offerings as possible I visited several museums and found most of the exhibits uninspiring; too much attention to calligraphy! On my limited budget I found it impossible to miss hotel room rates of at least 25-50% higher than in Thailand. I noted previously the undercurrent of political-social unrest throughout the region which subsequent events have propelled on to the world stage! Every Arab meal features pita, a flat bread that seems to be a puffy version of wheat tortillas common in California. Double socks greatly reduce the frequency of blisters. This is not a new discovery, but one too easily forgotten until a blister turns me into a cripple for a few days.
Speaking of California, the most exasperating pre-flight security check on my entire itinerary occurred at LAX as I prepared to return to Las Vegas from Los Angeles. The usual "take everything metal off your body" routine is now standard, but the all non-metallic shoes and toiletry bag had to go through the x-ray machine as well. The x-ray image analyst saw two little items that aroused her suspicions in my toiletry case. As the suspicious items were segregated and re-x-rayed twice, the customs agent ran a white paper-looking tab about the size of a postage stamp over the seams of my bag. I haven't been this closely scrutinized since my exit from Israel back in April of 1998. All of the agents were very friendly, but all business, insisting on conducting the physical search of my bag while ordering me to not touch it during the procedure: I usually help speed up the process by pulling whatever they want to see out so as not to unduly disrupt the 3-D jigsaw puzzle placement of things.
So ends another great adventure. I am already planning the next one. Until something astounding happens,
Peace
Fred L Bellomy

PS: I cannot close this final postcard without explaining the long delay in getting it out. Here is the story.
"I do not understand what I do. For what I want to do I do not do, but what I hate I do. And if I do what I do not want to do, I agree that the law is good. As it is, it is no longer I myself who do it, but it is sin living in me. I know that nothing good lives in me, that is, in my sinful nature. For I have the desire to do what is good, but I cannot carry it out. For what I do is not the good I want to do; no, the evil I do not want to do—this I keep on doing. Now if I do what I do not want to do, it is no longer I who do it, but it is sin living in me that does it." (Romans 7:15-20)

This first century Jewish writer known to my Christian friends as Paul experienced exactly the same mind conflicts that have bedeviled me and interfered with normal social interactions! He however, had fewer scientific facts to juggle as he struggled with his analysis of the experiences. In those pre-scientific days his mystical interpretation must have seemed perfectly logical. Today, intellectual honesty demands a more thorough examination of the evidence from many scientific perspectives, something I have attempted to do for my own dilemma and I have come to a bizarre realization:
There is more than one person living in my head!
I know this because they often have contentious conversations, sometimes even heated arguments in there. Often when "I" am determined to do something like reply to your friendly emails, they will conspire to interfere in the most troublesome ways, leaving me powerless to act. What's going on here? The answer is not simple!
Intellectual curiosity finally got the best of the bunch and "I" took a serious academic interest in the mysterious behavior of all that meat between my ears. Some theoretical physicists and neurologists think the operation of the brain may be best described as a quantum phenomenon, so I undertook to refresh my knowledge of quantum physics acquired more than fifty years ago as a UC Berkeley undergraduate. During the past few weeks I absorbed as much as I could from the 24 Teaching Company lectures on Quantum Mechanics (pondering the difficult series twice!) While far from thoroughly mastering the subject, it is apparent that nothing about reality is as it seems. Another group of scientists has advanced the holonomic brain theory and described what they call our Shufflebrain. No wonder befuddlement is deeply imbedded in the human condition and that our perception of what is real moves from illusion to illusion and why we mistakenly see permanence where none is ever possible.
After hours of watching many of the nearly 300 relevant TED talks on the Brain and dozens of YouTube lectures on the brain, I hunkered down with my big collection of Teaching Company video courses, starting with Understanding the Brain and quickly followed up with Understanding the Human Body: An Introduction to Anatomy and Physiology (especially the seven lectures on the nervous system), Origins of the Human Mind , Einstein's Relativity and the Quantum Revolution and finally Philosophy of Mind: Brains, Consciousness, and Thinking Machines.
A clear picture has emerged: no one is in charge!
External environment, mind/consciousness and many individual parts of the body all play dominant roles at one time or another. "I" is a committee and its composition is constantly changing so members have varying influences from one moment to another! No wonder befuddlement is deeply imbedded in the human condition and that our perceptions of "reality" move from dream to dream. All of this is my feeble way of explaining why I have so shamelessly neglected old friends since returning from the Persian Gulf in late February.
Well. There is more to the story, of course. Shortly after returning from the Gulf region my web host, Netfirms acquired new facilities necessitating moving my website to their new equipment. In the process they mangled it so badly that for a while it looked like I might lose all fifteen years of work done to create it! After five weeks of intense recovery effort the site finally is again secure and the episode provided the impetus for major long overdue revisions, still ongoing.
During these months of desperate technical battles and compulsive brain research, brief bursts of enthusiasm allowed me to work on multiple drafts of this Persian Gulf debriefing letter and a few feeble drafts of answers to a growing backlog of messages from friends, but nothing could drive me to complete any of them. (Please excuse this me-me-me tirade, but after so many aborted attempts to write I figured even something pathetic is better than nothing. I promise to do better once I am on the road again… and to give gratefully welcome "letters from home" immediate attention, complete with "sneak previews" of the next postcard from the wilds. The "wilds" will likely be somewhere in central West Africa.) FB
Included on this page is a representative selection of photos from the entire trip.
No new photos this time.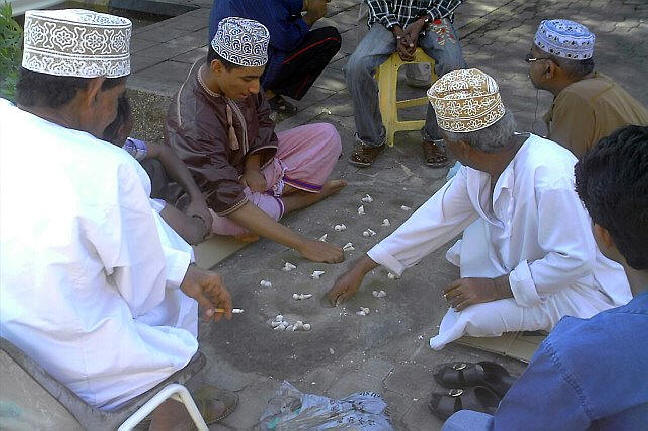 Muscat Oman: One of the first things I saw after stepping off the bus from Dubai in a small shady plaza nearby. This is a popular game in Africa and I'm surprised to see it being played here in Oman. It is called Hawalis in Oman. After I took the picture (without permission) one of the guys looked up scowling at me... might have committed a no-no.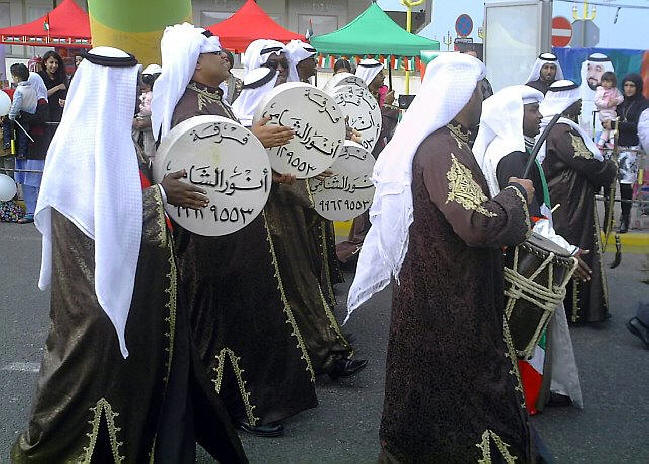 Kuwait City: Marching Band seen at the Independence Day parade. Always lots of drums in this part of the world.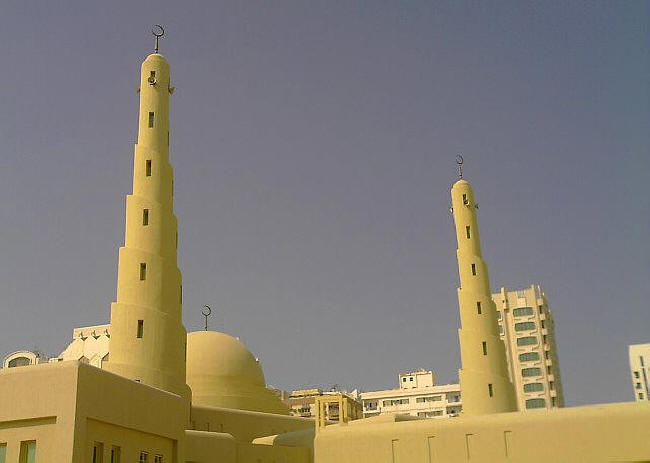 Abu Dhabi UAE: Unusual architecture for this Mosque.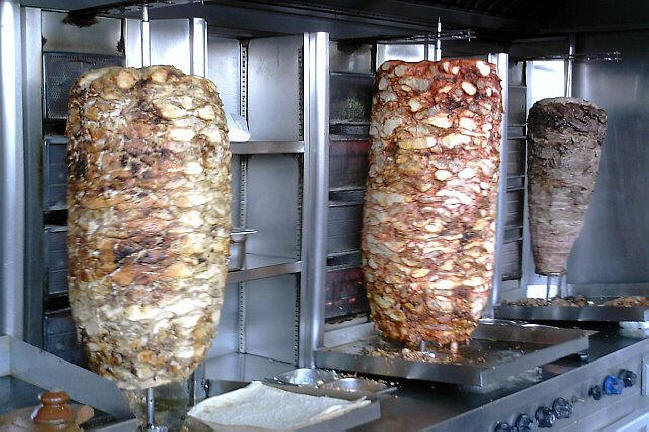 Dubai: Meat cooking on a spit at a place where I had dinner one night near the Al Khaleej Hotel. Delicious.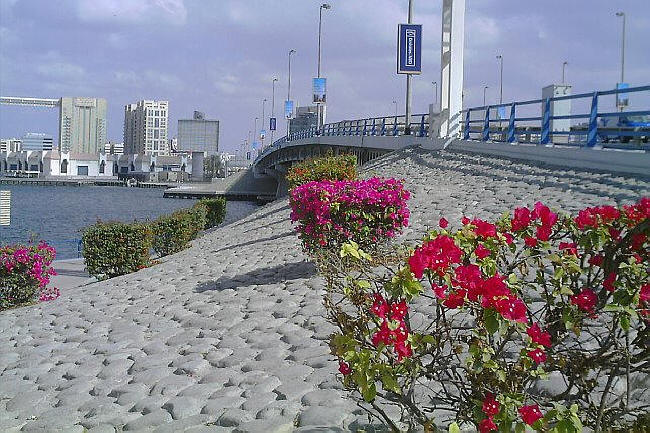 Dubai: Looking toward the city from across the creek.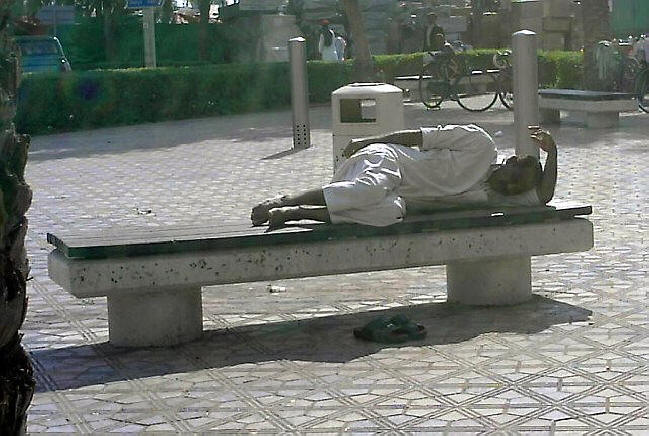 Dubai: Day laborers nap whenever they have no toting work. Scenes like this are seen all around the wharf area.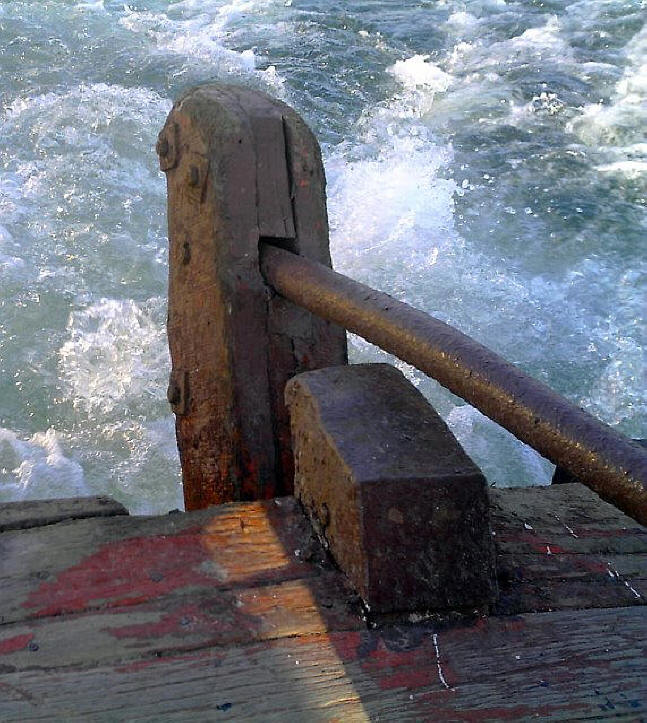 Dubai: Photogenic view of a water taxi tiller on the Creek.