Hello from Kidira Senegal,
Getting into Senegal from Mali and over to Dakar has been educational and harrowing. The border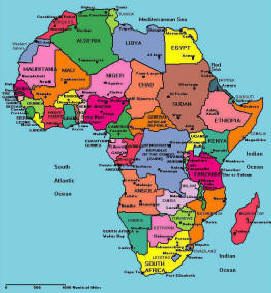 crossing adventure starting in Kayes Mali almost proved too much for my wits. We arrived at Dibol, the Mali side of the border around noon and immigration formalities took only minutes. Across the border in Kidira things were different. Several well-dressed young men in western clothes clustered around the entrance to the small post. As I entered, one who spoke some English displayed that overly friendly manner of someone bent on selling me something and proffered his hand for a shake. I pushed passed him to deal with the border crossing formalities. He made some mild protest about being snubbed.
The surly Senegal immigration officials wanted to carefully inspect my passport and would have questioned me in greater detail had either of the officers spoke better English. As my passport already contained a visa their demand that I pay an additional " fee" of a few dollars surprised me. Outside, I looked for transport to Tambacounda some three hours further south. The only transport in sight seemed to be a waiting cab. The driver offered to take me to the bush-taxi station for 2500 CFA and not knowing how far that might be, I agreed. Well, I could have walked the distance in 10 minutes had I known where it was, a ride worth about 400 CFA. My education with the opportunists of Senegal had begun.
In the "station" lot the adventure continued. Unbeknownst to me, many bush-taxis were heading south for Tamba all the time, but not out of our lot. So, I waited, periodically trying to negotiate a ride in one of the several cars and mini-vans trying to attract enough passengers to make a trip. As there were almost no passengers waiting for transport, it looked like it might be a long wait. The fare to Tamba would be 2500 for a bush-taxi or 3500 for a seat in a car the main dispatcher told me. The fare for a 10-hour ride to Dakar would be 5000 CFA, but no way would I last 10 uninterrupted hours on these bumpy roads, nor would I feel safe traveling on them after dark. So, it would have to be Tamba or nothing at all.
Even with nothing to eat since breakfast bread, only Coca-Cola looked safe to "eat" from the refreshment stand in the station area. Two bottles later and still hungry I walked the three blocks into town and bought a loaf of French bread, a package of cookies plus another 1.5 liter bottle of mineral water.
An hour later one of the immigration officers I'd met at the post showed up in the lot, spoke briefly to the dispatcher and then swaggered over in my direction thrusting a hand ready for shaking in my face. I made no move to shake it and he eyed me with practiced suspicion asking: "Why don't you want to shake hands?" So I told him of my health concerns; how my body, prepared as it might be for diseases in my own country, had little resistance to strange bugs which lived in his, and that I was even now getting over some sort of serious digestive illness.
His incredulous expression let me know I might as well shut up and he then lectured me: "You come to my country and tell me something like that?" I nodded my head and pursed my lips to show I understood his distress. "You are a very strange man." I thought to myself that at least one of my good friends back home surely would agree with him. Menacingly he glowered at me for a moment adding "I might just have to send you back!" then turned and stomped off. I wondered where exactly "back" might be. I'm sure that particular threat has had devastating effects on some of the many desperate refugees he sees crossing into Senegal these days.
Not ten minutes later the unhelpful dispatcher wandered over to where I sat in the shade and extended his arm to shake hands! It looked to me like everyone in this little dust hole near the border wanted to personally confirm for himself that they had truly found an actual white skinned non-hand shaker. This time I moved my right hand to my chest in a common African gesture of heart felt concern and he withdrew his arm and indicated there still was no transport in sight.
As I restlessly wandered around the lot munching my bread, a driver motioned me over to his shady space and with mostly French and a little English slyly indicated his car would leave for Dakar as soon as they could get only one more passenger at 5000 CFA OR someone who would pay 10000 CFA for the front seat. But, he had already promised the front seat to a very tall guy who looked like he really needed it, which I pointed out. "No problem" he insisted. It seemed he would not hesitate to kick the big guy into the back if I were willing to pay double! I doubted the big guy would be happy with the new arrangement and declined the offer.
After a while it dawned on me that the 3 hours needed to get me down to Tambacounda (Tamba) was a mere fraction of the 10 needed to go all the way to Dakar down the same road. So, I approached the tall guy with the proposition that I would pay 10000 CFA for the front seat, making it possible for all of us to leave right away and that I would get out in Tamba leaving the front seat for him and extra room for everyone else after that. He seemed to be seriously thinking about the idea when the dispatcher came over to hear our conversation. As soon as he learned what I'd been suggesting to the tall guy who had been promised the front seat, he announced "But now we need two more people" putting an end to the conversation.
I don't know what they had cooking, but I'm sure extracting the maximum possible amount of money from the rich white guy figured in it. Perhaps 20 minutes later an independent bush-taxi paused in our lot and the dispatcher rushed over for an excited conversation with the driver and conductor. In a moment he approached me with the announcement "Give me 10000 CFA and you can have the front seats in this van going to Tamba right away."
By now I had accepted the likelihood that I'd be fleeced again and accepted his offer. Smirking, he took my 10000 and I got into the van. Out of the corner of my vision I saw the sly dispatcher give the conductor 5000 and pocket the rest. After we were off, the driver turned to me and mumbled "five thousand me..." shrugging his shoulders. But we were off and 5000 seemed small extortion to pay to get out of this desolate place where so many irritated people were determined that I should personally sample the local bacteria with a gratuitous handshake.
Not a half hour down the road we were stopped by a policeman who gave us a quick once over until he spotted me. My passport got a careful inspection by this cop who looked disturbed the minute he saw me. Made me wonder if the guard had called ahead to alert him. I half expected him to try for a quick handshake to verify he had actually found the "very strange man" who had been reported to be refusing to shake hands with the natives. At several points in his investigation of my travel worthiness it looked like he was about to order me out of the van. Eventually satisfied, he passed us through and the rest of our trip to Tamba went without incident. No photographs during this little pause in the adventure.

Peace,
Fred L Bellomy