Hello from Mopti, near Timbuktu in Mali,
I'm in Mopti Mali, as near as I'm going to get to Timbuktu. Day before yesterday a convoy of 4X4's ran into some bandits on the track to Timbuktu and two German tourists are dead. Yesterday another local in the same area as the previous attack also got shot dead.
The last time I sent a real postcard with pictures I think I was in Sokode Togo. Since then I've been to Dapaong Togo, Ouagadougou Burkina Faso, Oauhigouya Burkina Faso, and now here in Sevara-Mopti Mali. I leave for Bamako tomorrow... an 11-12 hour bus trip I'm told.
I've been unwell for the past 10 days; lower G.I. track distress and at one point became seriously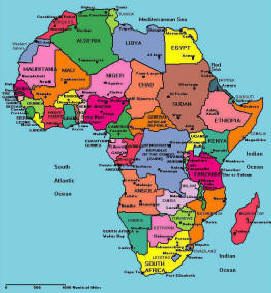 dehydrated... kidneys stopped doing anything! Another traveler says amoeba infections are common in west Africa and you may be sure that Escherichia coli lurks in every nook and cranny of this part of the world where people take care of their evacuation needs in the most casual ways. I'm taking one course of the CIPRO I have with me hoping whatever ails me is bacteria. I'm now 3 pills into the 6, and the distress is better. At least I'll be protected from Anthrax in any of the mail I open for a while even if it doesn't kill what ever else is eating at my guts.
This Internet cafe is slow and unreliable... and expensive ($8/hr) so I'm quitting. More later when I get into some real civilization. I see I again lost my connection to the ISP! Hope I can get this out before the dust gets me. I don't know how people handle breathing so much dust. It's killing me.
Peace for now,

Fred L Bellomy
26 October 2001
Postcard from Mali + pictures
Hello from quite remote Koro Mali,
The previous brief postcard from Mopti Mali omitted pictures as well as most of my observations while in that little river town. Since I sent it I've found more friendly Internet services and have had time to get a few more thoughts about Mali committed to cyberspace.
The day I entered Mali started in OUAHIGOUYA, a small town in the northwest of Burkina Faso. The Mali border post in Koro is several kilometers beyond the actual border itself. I had the feeling I might have been the first foreigner with a non-African passport the immigration officer had encountered since being assigned to this dusty, desolate part of the country. For ten minutes he studied every page like a geography text, asking me questions (in French) every now and then. Finally, he called his superior who dismissed the other officer's concerns with a wave of his hand and the first officer stamped the entry information into the passport.
As I walked the several blocks into the village looking for onward transportation, several young men tried to be helpful. Under these circumstances I usually correctly assume such people are touts hired to entice passengers to their employer's inferior vehicles. These guys however were actually trying to help the obviously rare white traveler.
As I wandered the two square blocks that constituted the town I discovered the unusual architecture of the only decent building it had: the mosque. The few other adobe buildings looked sad, but were people's homes as best I could determine. Perhaps a dozen old cars sat scattered around the main square. Smells of food cooking seemed out of place next to the odors of urine here and there. A couple stray dogs patrolled silently; dogs almost never bark anywhere in the Africa I've visited. Several kids chased one another noisily. Other people lazed in the shade to avoid the hot mid-day sun. I saw nothing that looked like an actual bus station, though several "refreshment" stands offering Coca-Cola and a variety of local foods seemed to suggest I had found the center of town.
Eventually I stumbled onto the only cluster of bush-taxis available in the village and started the process of trying to negotiate two front seats in one of the three dilapidated station wagons assembled there.
About ten other people were loitering around the area, apparently waiting for a ride. The lackadaisical dispatcher first tried to interest me in hiring the exclusive use of a car. After some misunderstanding, I made him understand my preferences and he offered me one of the "two" front seats in the next scheduled station wagon. The other front seat space had already been sold to a large man and no way would he and I and my bag all fit comfortably in that small area with the driver. With gestures, the dispatcher let me know he could care less and went back to his paperwork.
As there were barely enough people for one trip today, it began to look like I might be stuck here for the night. One of the kids hanging around the area pointed out the nearby location of the only hotel in town and off I jogged to check it out.
The building sat in the middle of a dusty bare dirt lot and looked nothing like any hotel I'd ever seen before. Constructed of adobe mud bricks, I could see no signs of electricity. Inside the dark lobby things were cleaner than I'd expected, the rates were only 5000 CFA (about $7) and the place had a bar. The tiny room the receptionist showed me had a bed, a bucket of water (lord knows for what), and an electric light bulb hanging from the ceiling, a tiny storage chest and nothing else. The light would have power later in the evening the proprietor assured me in limited English. I thanked him for showing me the room and said I'd be back if I didn't get a ride onward. There must have been some sort of toilet facilities, but I had a pretty good idea what it would be from my prior encounter with another outhouse near the bush-taxi depot (see the picture!).
Back to the taxi stand I trotted, now motivated to take any transportation out of this place that might be available and as soon as possible. The dispatcher acknowledged my agreement and indicated for me to sit down and wait with the rest of the supplicants. Front seats usually are assigned to well dressed older women first, then well dressed young women, then old men, in that order of preference... unless there is a white foreigner expressing a preference for a front seat. I rarely got stuffed into one of the over crowded back seats of any vehicle. I imagine most of the blacks were just as happy to be separated from my smelly foreign body odors. Even daily showers complete with deodorant soap scrubbings could not prevent me from smelling like a locker room after I'd been sweating profusely for a few hours in the sweltering heat.
About an hour later the dispatcher indicated another station wagon that had arrived and said he could sell me two front seats in it. Expecting this vehicle would be the second to go some hours after the first one filled, I paid my 10000 CFA fare and got into the front seats to establish possession. To my great surprise and relief, many of the waiting people soon piled into our car and we were off almost immediately.
The dusty roads presented an obstacle course to the driver and he weaved back and forth to avoid the many potholes, often driving completely off the road itself. At one point he stopped at a police station and seemed to be asking directions. When he returned to the car he checked with the other passengers who seemed to agree with some mysterious decision he'd made. As it turned out, they had decided to take a "short cut" through one of the national parks that runs through Dogan country because the roads were partially paved through the park. The scenery included unusual geological formations on either side of a deep rift, cliffside cave dwellings, many unique villages and examples of terraced farming practiced by people in this rocky region. I felt like a tourist on an expensive travel package. The others in the car excitedly pointed out special features as we passed them along the way. Of course, their French descriptions meant little to me, though I tried to react with animated appreciation each time.

Peace,
Fred L Bellomy