Finding a bus out of Gaborone
west toward Namibia again proved to offer the usual hassles. There is no bus that goes directly from Gaborone to Windhoek Namibia! Eventually I discovered one heading for Ghanzi which is very near the border with Namibia and bought two tickets; good thing, too.
The bus quickly filled up to standing room only and continued to make stops as it made its way out of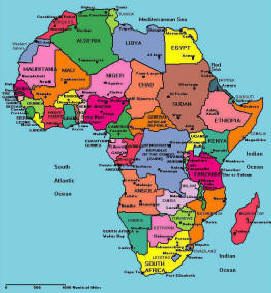 town, picking up even more passengers along the way. Pretty soon the isles were packed as we finally left town. On several occasions someone would point to my "vacant" seat, which held nothing but my bulky blue canvas bag and ask if they could squeeze in. Out would come my two ticket stubs and an embarrassed explanation that I had paid double money to insure a reasonably comfortable eight and a half hours of being stuck on a conveyance featuring five narrow seats across. In truth, these precautions didn't provide anything like a "comfortable" ride... interesting, but far from comfortable even though the road itself proved to be a well maintained tarmac all the way to Ghanzi.
The driver made a few scheduled comfort stops along the way and I limited my drinking to a swallow now and then when my epiglottis started sticking to the top of my throat again. He also made a number of un-scheduled stops at police checkpoints and when one or more passenger begged for bladder relief. During those occasions people poured out of the bus, the males walked 15-20 meters from the bus, stood facing away and watered the bushes. The children un-self-consciously ignored everything but the matter at hand, shiny little butts pointing whichever direction nature demanded.
I watched with great interest as the women took care of their modesty needs using bushes no higher than a Coke bottle. Squatting behind such limited cover in plain sight of the bus 10-20 meters away gave complete screening of all the vital body parts, providing sufficient privacy in this part of the world. That's something I wouldn't have believed until I'd seen it with my own eyes! At one point the bus came to an abrupt unceremonious halt and an ancient patrician staggered out a few steps from the bus door and dribbled his relief for at least five minutes while other people on the bus apparently paid no attention.
The bus stopped in the middle of nowhere to disgorge passengers from time to time. Sometimes friends or relatives would materialize out of the bush to welcome them back home from their shopping trip to the big city. At other times, they just headed off into the tall grass, often balancing giant bags of groceries on their heads, obviously familiar with their unseen destinations somewhere out in the tall grass.
We reached Ghanzi as the last glow of light from a spectacular sunset faded into darkness. The "bus stop" again turned out to be a vacant lot on the fringe of the settlement. At this hour there were few lights in any of the sprinkling of visible buildings. At a nearby gas station I asked directions to the one guest lodge I had been assured existed in this tiny town. The guy pointed off into the dark confirming there indeed was a motel somewhere out there toward some distant lights. It didn't look like a lodge to me, but off I walked in the indicated direction.
Closer I could see features usually associated with hotels. A heavy iron fence and locked gate barred the entrance to the establishment. Lights and noises of celebration came from an adjacent open door, which turned out to be the hotel bar. Celebrants pointed the way down an ally and around the back of the complex to the real entrance... all of this for security I later learned. Finally winding my way through the maze of halls and doors I came to the reception desk, a counter with a glass window containing a hole for communication... kind of like a ticket window; all of this inside the building. The receptionist quoted me rates for standard and superior rooms: 124 and 160 Pula (about $25 and $30). He showed me the better room and to my great relief it turned out to be quite nice. In fact, I found it very comfortable and an excellent value.
As I hadn't eaten anything, but a candy bar all day, I eagerly searched out the restaurant and ordered a meal. The broiled fresh fish, complete with delicate sauces and subtle flavors convinced me the chef had to be French... hiding out on a Witness Protection program, no doubt... why else would anyone with such obvious culinary talent be stuck here in the absolute middle of nowhere? Breakfast revealed typical German fare: hearty breads, cold sliced meats, sausages, cheeses, eggs and coffee. All that satisfying food tempted me to stay on for a few days, but curiosity about the territory ahead overcame temptations to hang around.
The vacant lot serving as a bus station stood in plain sight at this hour, crowded with loitering passengers waiting for the busses. A bright morning sun cast long shadows on the assemblage and cut the edge from the frigid air. As I joined the waiting throng a conservatively dressed polite young man approached me. "Good morning. Going over to the border?" he asked. I'm always cautious when approached by strangers. He sensed this immediately and added, "We both came in on the same bus from Gaborone yesterday, remember?" In the ensuing conversation I learned that he taught primary school children in the small village of Mamuno. His English carried an unfamiliar accent and left me wondering what he had just said much of the time. After explaining my problem, he slowed down and enunciated more carefully while answering the flood of cultural and political questions I'd been hoarding.
"All of the big farms around here are owned by whites. They are very rich by taking advantage of the cheap San (Bushmen) labor: the hired hands are given between 100 and 200 Pula per month ($20-$40) plus food and permission to sleep where they wish. There is much resentment among the rest of the people here, but what can we do? They've got the land." He held a loaf of bread in a plastic bag for which he paid 2.50 Pula (50 cents). I learned teachers in his category are paid about $500-$600 per month. "The white people have a lot more money than almost any black person," he noted wistfully.
Botswana's politically contentious neighbor Zimbabwe is in the process of confrontational land reform and I heard a number of conversations on the subject while in Gaborone. It looks to me like the whole region is in for a prolonged period of social instability related to the provocatively unequal wealth differential between the races... especially as related to land ownership. Preoccupied by our fascinating conversation the two and a half hours to the border passed quickly. The unpretentious government enclave had few visitors and the exit formalities took no time at all. Across the border formalities were even simpler and I walked out the door into Namibia in minutes with my free 90-day visa. Only then did I come to grips with some daunting realities! (cont.)

Peace,
Fred L Bellomy