Hello from Buenos Aires, the city of "good air."
Until the last moment in Ushuaia I kept hoping things would develop for a voyage down to the Antarctic, but eventually fate dictated otherwise. To my surprise all the warnings about the difficulties of getting OUT of Ushuaia during the ultra busy two month tourist season are true! With my bargain hotel room now previously committed to other arriving guests and all seats on all flights to Buenos Aires fully booked for the next three days, it looked like I might need to go camping. On advice of the airline agent I decided to try for a standby seat at the airport. Approaching the Argentine Aerolineas counter I greeted the young female attendant with "I hope you speak English and know how to make miracles!"
She replied, "You want to standby for a Buenos Aires flight, then?" without blinking.
"I do indeed. Is there any possibility of getting on a flight to BA this month?" I added with a twinkle. She smiled and then proceeded to ignore me for about five minutes shifting her eyes from the reservation screen and a pile of meaningless papers on the counter. Typing furiously, pausing, checking the papers and typing again. Finally she look up again and demanded, "Passport please."
"How long are the waiting lists today?" I asked, assuming she intended to add my name to her standby list at the bottom of that pile of papers.
Lowering her voice and rolling her eyes up in my direction she murmured, "I've been able to confirm a seat for you."
Fumbling with my passport I noted, "You really are a miracle worker." Only the merest hint of a smile betrayed her amusement. Another counter, a $104 charge for the fare against my credit card and I had my boarding pass and ticket on the next flight due to depart in less than an hour. The cashier reminded me to pay my $4.33 airport tax. Airport security hardly looked at the X-ray screen as my bag passed by for inspection. My large metal belt buckle always sets off the airport metal detector alarms and this time a distracted guard waved me through with hardly a glance. So much for terrorist concerns in the Argentine Fin del Mundo (End of the World).
The flight left at 11AM and arrived in Buenos Aires three hours later. A 50 cent city bus ticket got me near the main bus station in the city center. After an hour of playing bumper-ball with other people along the crowded pedestrian streets only one attractive hotel appeared on my radar screen. Fortunately, The $60 Grand Hotel turned out to be fine for a first nighter and I took it. After resting, out I went again, this time more determined to find a good value hotel for a longer stay. At $69, the Las Naciones Hotel in the Microcentro, as the central shopping district is called is better than the Grand. They claim to be four star as did the Grand, but obviously use different rating systems than I do. The hotel Internet access is fast, but the equipment is old with Windows 98 installed so I couldn't process my camera there. The biggest drawback with the hotel is all the smoky air encountered everywhere in the building, including in my ear popping 27th floor room and the Internet terminal room.
During my seven night stay I continued looking for an alternate hotel, eventually finding the $80 Cambremon a few blocks off the pedestrian streets. The business center has four functioning Internet terminals so I can usually find one free when I feel like working. Food in the hotel is good and nearby are multiple fast food joints like MacDonald's and Burger King. This being the beef capital of the world, my three patty Whopper yesterday tasted like real beef!
I have been in Buenos Aires two weeks as of this writing. I love the pedestrian streets, even during the rush hours when slow pokes like me run the risk of being trampled in the stampede. I've walked the two major shopping streets, Lavalle and Florida several times. In fact, I've been walking so much the insoles of my fancy Propet Walkers finally got ragged enough to cause blisters. A new pair of insoles made the walking again pleasurable. Shopping remains lively between 9AM and 8PM; twilight arrives at 9PM when hookers elegantly dressed in black begin to occupy empty doorways. During mid-day the beggars, leather shop touts, leaflet distributors and energetic musicians create a constant stream of distractions. Sidewalk entertainers position themselves along the 16 blocks of both pedestrian streets causing "traffic jams" as people pause to watch them perform. Everyday I see Tango dancers as well as individuals and groups of musicians, some playing pan pipes, those raspy mountain flutes. One amplified guitarist amazed me with his concert quality performance. Strangely, few others recognized his genius. Throngs of pedestrians rushed by the chap totally ignoring his talented efforts.
On the other hand, one embarrassingly bad "opera singer" gave repeated performances that could be heard a block away. An empty crumpled hat at his feet attested to his need for more practice. In addition to the usual solo performers and groups, an organized band of youngsters scattered along the pedestrian mall pretended to play child size accordions... badly and loudly. I paused to snap a documentary photo of one six year old "performer" and immediately the rascal chased me down demanding money. One shop keeper said the city has seen large numbers of Russian immigrants with so few salable skills they must become street beggars. There seems to be an unusually large number of nursing mothers, some with additional children all sitting on sheets of cardboard and begging. Sometimes the older kids are used as runners to hound passing affluent tourists failing to show the required concern for the old lady, usually an overweight woman in her forties. The receptionist at my hotel confirmed many of these people are indeed organized... and trained!
The country is undergoing a plague of wild smokers. They are everywhere no one has posted one of the rare "No Fumar" signs. Instead of "wanna go get a cup of coffee at the restaurant?" when two friends meet, Portenos are more likely to suggest: "Let's go down to the restaurant and smoke a carton of cigarettes while we ignore one another screaming into our cell phones." Fortunately, a noticeable number of establishments including all the enclosed shopping malls prohibit the destructive addiction. To their credit, many Western fast food outfits like Burger King and McDonald's prohibit smoking all together. Elsewhere, mindless individuals practice their unhealthy habit with impunity, totally oblivious to the health concerns of others around them. With little current government restriction, tobacco companies promote and sell really cheap products: for example, 20 hard-pack ViceRoy cigarettes for 2 pesos, 10 pack for 1 peso! That's about 65 cents for a full package of coffin nails. The term "vice" in the name of that particular brand seems ironically appropriate. Buenos Aires should be renamed Malos Aires as smokers insure the air is seldom good to breathe. Where is ASH when a country needs them most? Under pressure from the anti-smoking lobby, the government has enacted new tougher anti-smoking laws that are supposed to go into effect this October, but no one expects them to have much effect in a country where 45 percent of all men and 34 percent of all women smoke.
Buenos Aires is a vibrant mix of ultra-modern excitement and honored traditions. Painted fiberglass cows currently are on display throughout the city and form an incongruous contrast with the glass and stainless steel building facades near some of them. Gun shops sit across the streets from cathedrals and cafes featuring parilla cater to the addictions of carnivorous Argentineans. Working people on their breaks sip hot Yerba Matte through straws fitted with strainers at the intake end. Schools teaching the art of the Tango located in turn of the century buildings are not far from tastefully designed 21st century shopping sophistication. Some parts of the city have an old European feel while others reflect the futuristic visions of modern architects. Early city planners laid out several wide boulevards, the widest in the world according to the promotional hype, linking monumental plazas and governmental courts. Trying to cross the four street with three landscaped medians Avenida 9 de Julio Boulevard requires either using two stop light periods or sprinting the distance like an Olympic hopeful. The city's promotional material claims this is the wides boulevard in the world.
While the main streets follow a north-south grid for the most part, all the maps are printed on a diagonal, making their use confusing for the newcomer. After a week my brain still has trouble with the spatial conversions required to use them. On two occasions merchants have short changed me, something I usually catch by pre-calculating the amount due. I suppose I should thank serendipity for offering me these opportunities to delay that inevitable intellectual decline... :-)
There is plenty of public transportation, but the Subte or subway system is old and poorly designed. Seats are wooden slats; doors bang shut and station exits open randomly on one side or the other, rails are unevenly spaced making the cars sway, etc. The same numbered bus lines don't always go to the same destination. If you get on a number 60, be sure to read the little signs in the window place there to alert passengers to which one they have got this time. But, that is not much help for a foreign visitor with little command of the Spanish language. On top of that, the same street names are used in different parts of the city making the use of street maps problematic.
I have seen little anti-American graffiti or posters here in the city, but elsewhere in the country protesters make it clear George W Bush is not their favorite world leader. Take a look at this site reporting the results of opinion polls in Argentina. Last night I walked home through the nearly deserted streets of downtown Buenos Aires and watched the cardboard scroungers at work. Pushing their big wheel carts piled high with salvaged cardboard boxes they reminded me of bygone days in Europe. There are street lights here, but these guys ply the dark alleys where the trashcan pickings are best, suddenly appearing across my path without a sound as they emerge on their way to new hunting grounds. Behind one guy hurried his wife carrying their new born baby. I've remained here longer than usual to rest up and attend to my backlog of unfinished postcards. Eventually I will cross over to Montevideo in Uruguay and the Iguazu Falls in northeastern Argentine.
Peace
Fred L Bellomy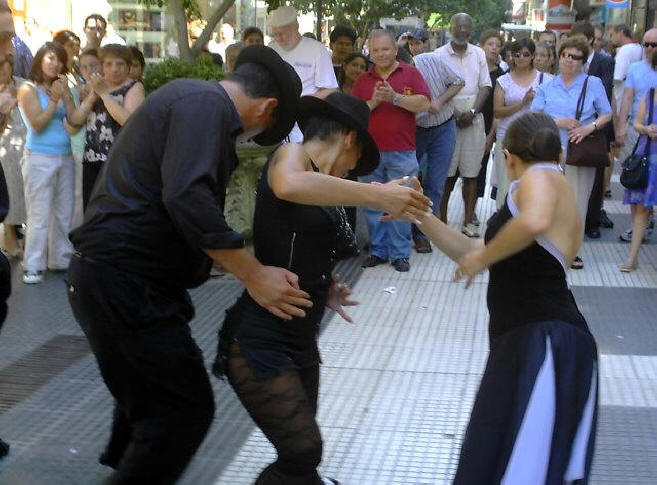 Buenos Aires Argentina: Many entertainers as well as organized beggars make the pedestrians malls an interesting place to stroll. Here a Flamingo dance group performs.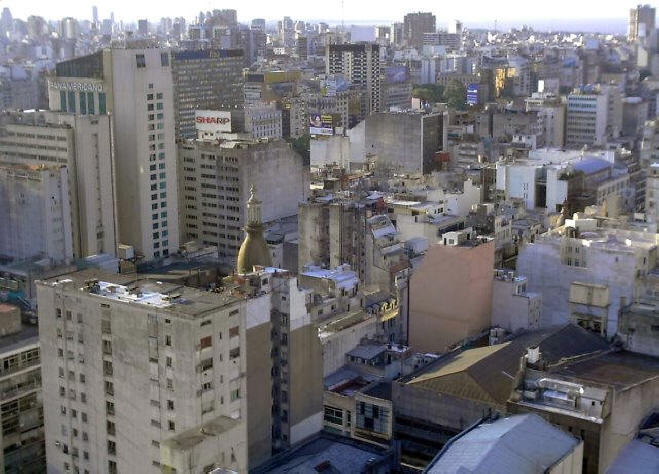 Buenos Aires Argentina: View of the city from my room on the 27th floor of the Hotel Las Nacions where I stayed a while.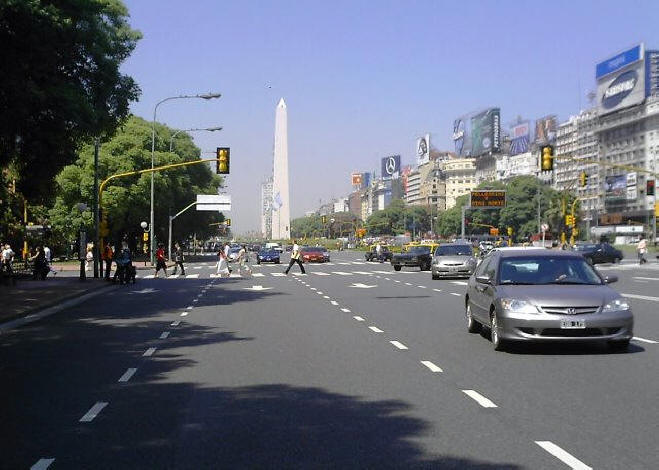 Buenos Aires Argentina: Independence monument is a landmark; looks a lot like the Washington Monument in our country.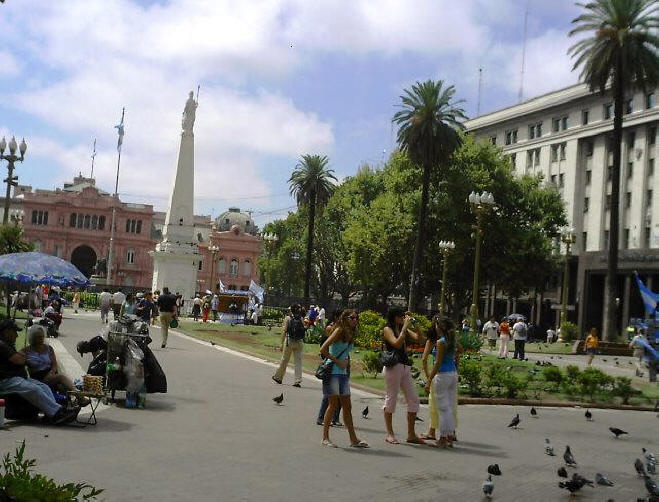 Buenos Aires Argentina: Looking towards the Government House where Evita made her speeches from the balcony.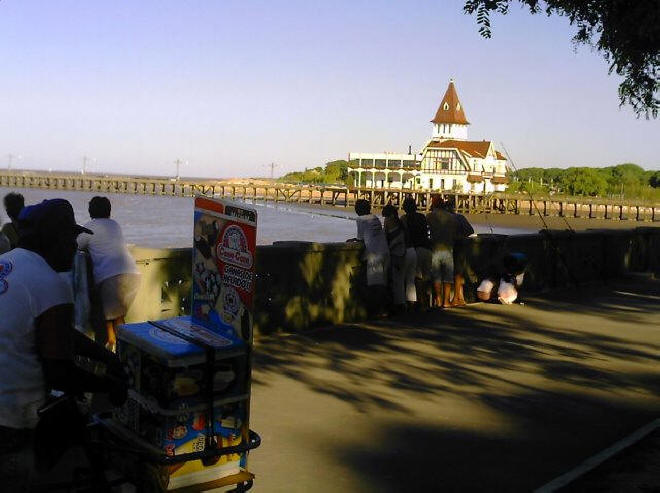 Buenos Aires Argentina: This shady walk along the brown sea near the domestic airport is popular with people on hot Sunday afternoons. That is the Fishermen's Club building in the background.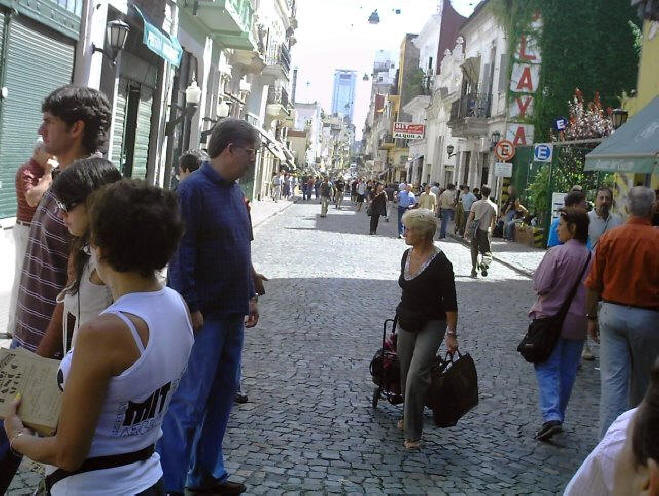 Buenos Aires Argentina: Several streets around the Plaza Dorrego are also used by sellers each Sunday in connection with the swap meet held in the plaza.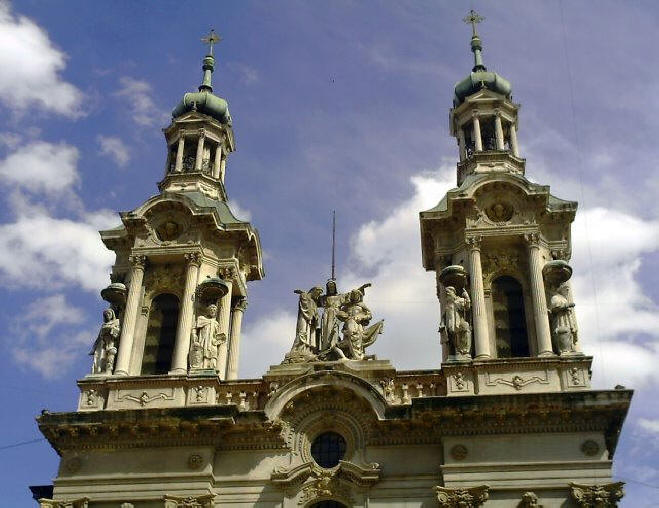 Buenos Aires Argentina: Cathedral on the main plaza.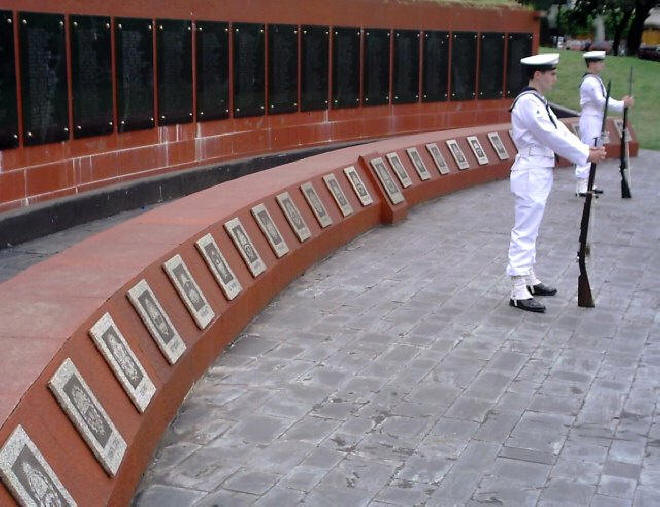 Buenos Aires Argentina: Eternal flame with honor guards at the monument to the 625 military killed in action during the Falkland's War.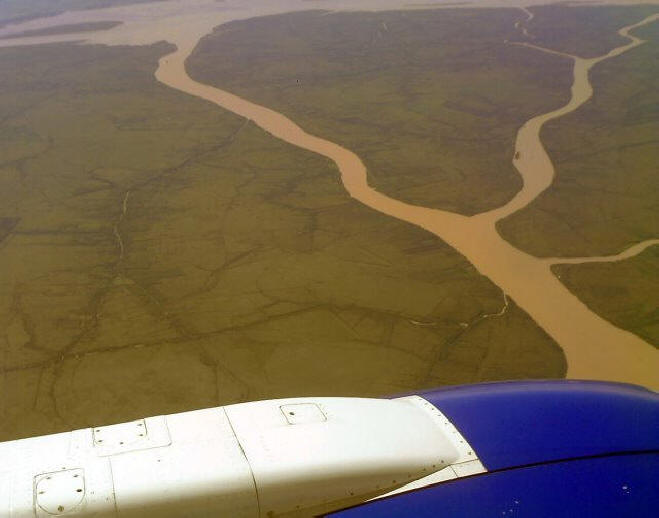 Buenos Aires Argentina: View of the rivers from the air during my flight back down from Puerto Iguazu.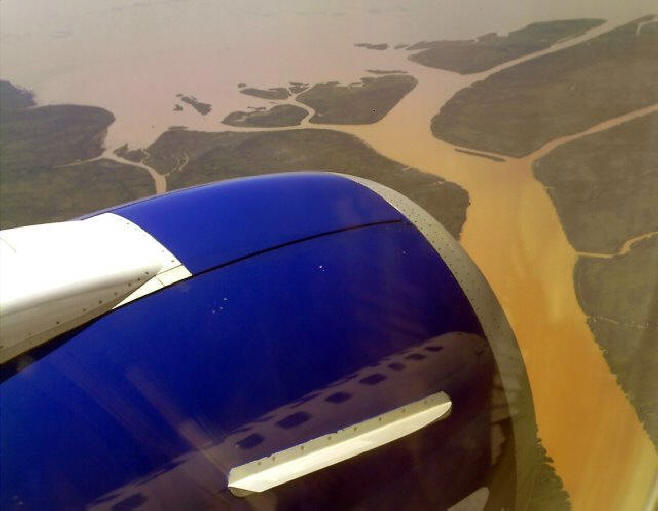 Buenos Aires Argentina: View of the rivers from the air during my flight back down from Puerto Iguazu.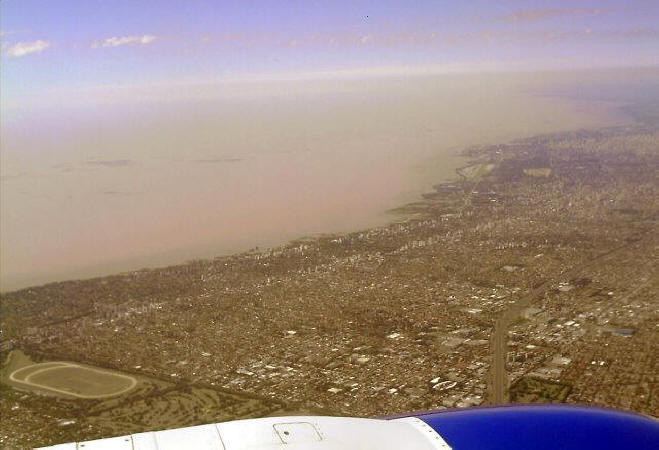 Buenos Aires Argentina: View of the city from the air during my flight back down from Puerto Iguazu. The sea is brown at this point due to the river silt flowing into it.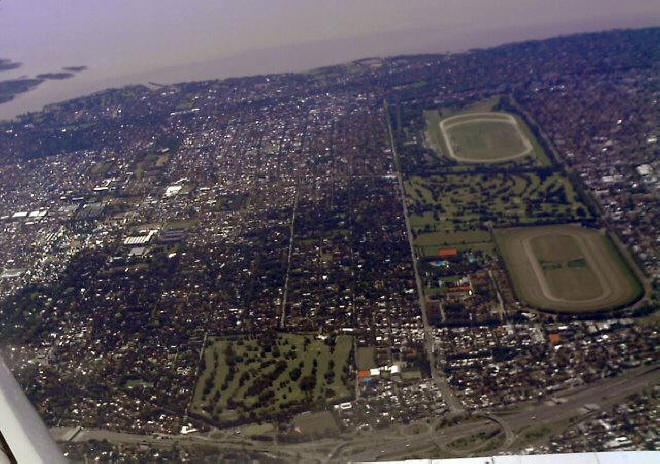 Buenos Aires Argentina: View of the city from the air during my flight back down from Puerto Iguazu.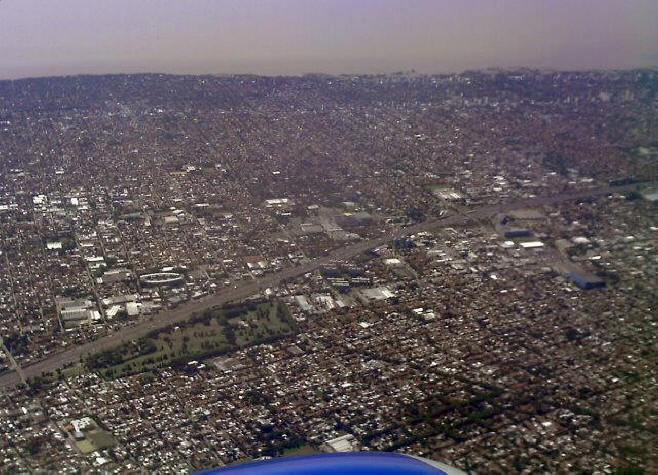 Buenos Aires Argentina: View of the city from the air during my flight back down from Puerto Iguazu.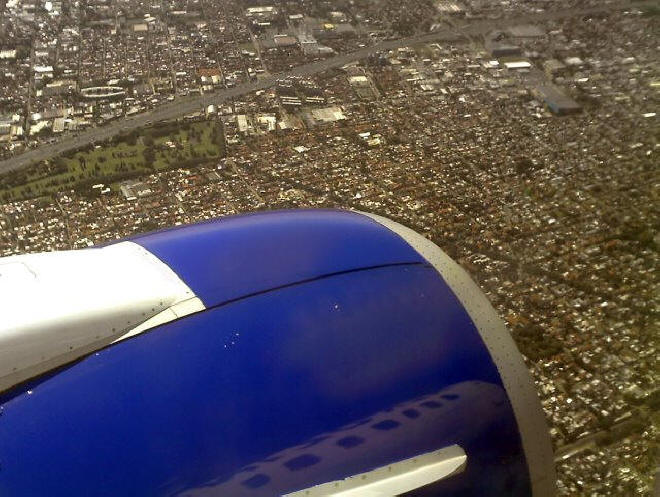 Buenos Aires Argentina: View of the city from the air during my flight back down from Puerto Iguazu.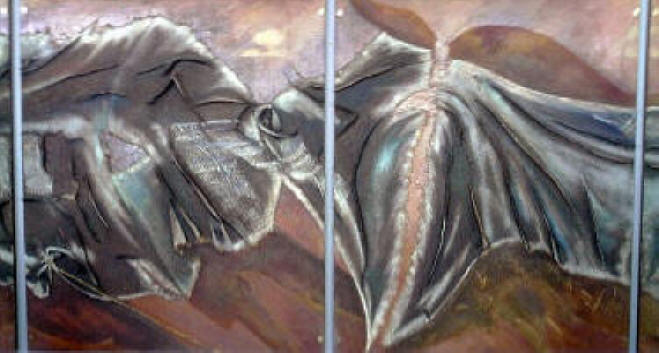 Buenos Aires Argentina: A portion of a mural on display in the airport departure lounge.