Hello all from Gyrne on sunny Cyprus,
Most maps and references spell the name of this city as GIRNE. The weather here is like Santa Barbara. This is a beautiful island full of tourists, mostly British. Today, I'm heading over to Nicosia (called Lefkosa by the Turks) and the GREEN LINE. It bisects the top third of the island, with UN peace keepers in a buffer zone. I'll try to make it over to the Greek side, though everyone says that is impossıble.
The picture part of this postcard is here.
That is the website for Club Z, the first hotel I used here. I'll be on the island a total of 4 nights and then on to Ankara. I am finding Internet Cafes everywhere, usually several in each city. That may change when I enter Georgia etc.
Playing it cautious,
Fred
10 Apr 1999 04:42:55 PDT
Greetings from beautiful northern Cyprus.
Yesterday I had lunch not more than 30 meters from the Turkish side of the buffer zone. Today I got special permission to enter the zone patrolled by UN police and military peace keepers. When I got over to the Greek side, a very gruff and abrupt Greek border police guard sent me back to the Turkish side because I had entered the island through "occupied territory." I have learned a lot about the long historical record of ethnic animosities, ethnic cleansing and international interventions here. We human beings seem to have a lot of our members in every population which are full of suspicion and hate and cause a lot of trouble for the rest of us. This Green Line feels much like others I've walked.
I found the this site for the picture part of this postcard.
Off tomorrow to Ankara and the battle to get all of my important visas for the onward journeys.
Peace
Fred L Bellomy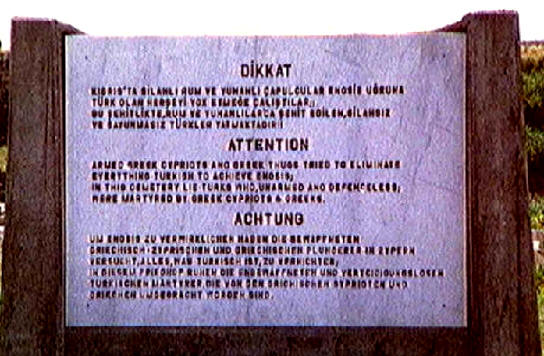 Gyrne - The sign reads in English: "ATTENTION ARMED GREEK CYPRIOTS AND GREEK THUGS TRIED TO ELIMINATE EVERYTHING TURKISH TO ACHIEVE ENOSIS; IN THIS CEMETERY LIE TURKS WHO, UNARMED AND DEFENCELESS; WERE MARTYRED BY GREEK CYPRIOTS & GREEKS."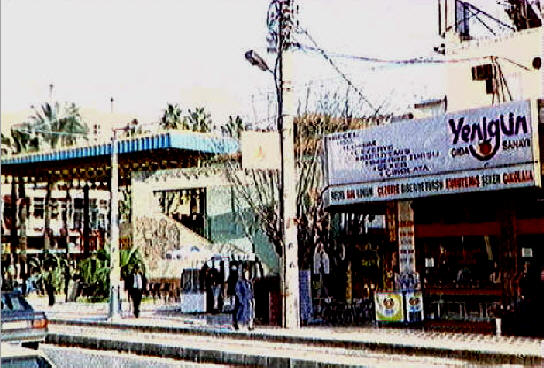 Gyrne - Street ear the border crossing south into Greek Cyprios.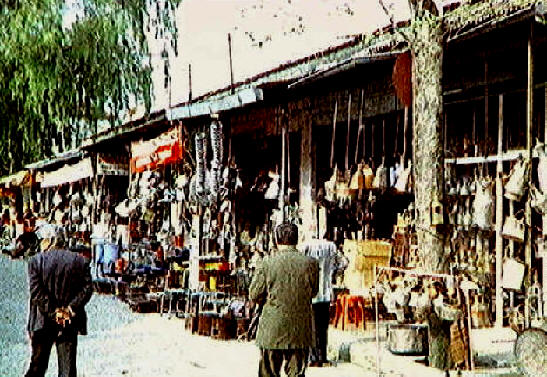 Gyrne - Common site in the shopping area.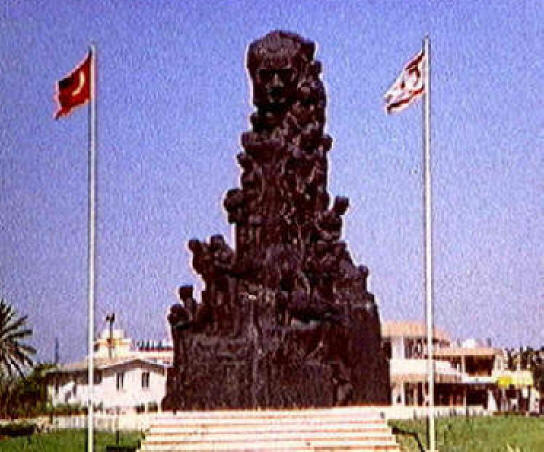 Gyrne - Monument honoring the Turkish martyrs.