Postcards from:

Las Vegas Nevada
Bangkok Thailand
Siem Reap Cambodia
Bangkok Again
Somewhere
Las Vegas Home

Bangkok: Placeholder caption...

Bangkok: Placeholder caption...

Bangkok: Entry door into the great value Baan Sukhumvit Hotel which I discovered years ago when budgets demanded tighter constraints on spending. Excellent WiFi service and staff treating guests like family.

Bangkok: Placeholder caption...

Bangkok: Placeholder caption...

Bangkok: Placeholder caption...

Bangkok: Placeholder caption...

Bangkok: Placeholder caption...

Bangkok: Placeholder caption...
DRAFT
Better avoid reading this stuff until I get further into required editing!
Greetings from Bangkok
I decided to listen to some of my regular readers and provide more frequent brief accounts of travel shenanigans, so anyone on the postcards mailing list already knows of the non-events which have occurred during the first two weeks of this tame trip. To briefly recount the three segment LAS-LAX-HKG-BKK flight, the highlight clearly is the 10,000 step hike in Los Angeles LAX Tom Bradley terminal required to connect the Virgin American flight 1485 to the 16 hour Cathay Pacific LAX-HKG flight 881... and being knocked down during the flight by some nasty air turbulence with the following commotion caused by three concerned stewardesses who hovered over my struggling body on the carpeted floor as I tried to regain my footing, joking all the while about being ancient and becoming decrepit.
I chose the Ambassador Hotel for the first three nights based on it being near my dentist and the Bumrungrad Hospital where I planned to consult a dermatologist for a worrisome spot on the tip of my nose (not a problem it turned out). While the physical plant is quite good, the people side of the hotel is not. Wi-Fi is unreliable, unnecessarily complicated and managed by people who have made poor technical choices for the hotel. Later I learned the hotel gateway system currently is being replaced by a new system. The new system is being integrated live using guest activity for testing (a very poor practice in my professional opinion!).
Housekeeping is inconsistent. Though a faulty sink stopper received prompt and competent attention by the Engineering manager himself, flickering bathroom lights took days to correct. The Ambassador Hotel is currently overrun by bus loads of low cost Indian tour groups. Long observation convinces me Indians accept boisterous public behavior that mostly would be unacceptable in Western countries. Shouting at a companion across a crowded dining room seems to be the norm.
While resting in the lobby a group of military age Indian men plopped themselves down around the coffee table in front of me, kicked off their sandals and propped their bare feet on the table top, as if that might be the most normal thing to do at home. Eating with the fingers of the right hand is customary in India and so naturally that is the way some Indians eat anywhere in the world; never mind you have just invaded a Western stranger's table in the hotel dining room without invitation or even comment! Pushing and bumping is the norm in any crowded situation... without apologies. The breakfast buffet menu has been modified to favor the spicy Indian preferences, though there still are a few other more Western choices.
A few weeks after arriving in Thailand a joint military exercise called Cobra Gold commenced. "It has the goal of strengthening ties between the U.S. and Thailand, the oldest ally of the United States in the South Asia region." I see almost no evidence of any unusual military activity here in the city so far... thank goodness.

This has been a hectic twelve days in Thailand. First, my favorite hotel, the Furama Silom is hosting some major gathering and they are mostly fully booked... or have tripled their rates when there is some availability... and you know how much I hate paying $200 for a place to snooze! So, I'm using the Ambassador which started at $92 and then later went up to $109 for a deluxe tower room. It seemed to be the best choice while still needing to be close to my dentist. She repaired two small cavities and referred me to their periodontist for root scraping a week later.

After eleven days in the Ambassador I moved over to the Baan Sukhumvit, a small $50 B&B I've used in the past until my new passport arrives in a week.
Dealing with the passport is a hassle; they don't just add pages anymore and it takes two weeks for the new book to arrive from Washington! ...plus a $110 fee. I had a choice of fat or skinny book and optimistically chose fat! I'd forgotten my social security number which added to the confusion of an already daunting renewal application procedure. Overwhelmed, my brain locked up and refused to proceed. The very patient embassy girl helping me wrote instructions on a scrap of paper which got me through the confusion eventually. I hope that episode was not a preview of coming attractions! Under more normal, less stressed conditions my brain still seems to be performing more or less normally.

My original thought of visiting Singapore has evaporated with the discovery of high hotel room rates down there. I'm now thinking of another visit to Angkor Wat with a return home on 2 April as originally scheduled using the return ticket I bought as backup. My appetite for real adventure travel seems to have Gone With The Wind. Now, I'd rather just watch one of the seemingly infinite numbers of excellent travelogues available on Netflix or YouTube while relaxing in my easy-chair at home and sipping large glasses of ice tea.

Being away from home does have one very appreciated benefit: I'm getting lots of walking exercise-well over my daily 11K steps target! The blood glucose numbers remain lower and I clearly see how sugar consumption pushes them up. So far, keeping the diabetes medicine pens cool has not been a problem - Those FRIO cool packs are amazing... and easy to use.
But, now back to chanting: Expect nothing, appreciate everything and be here now.
Until I pause again to reflect and report,
Peace,
Fred L Bellomy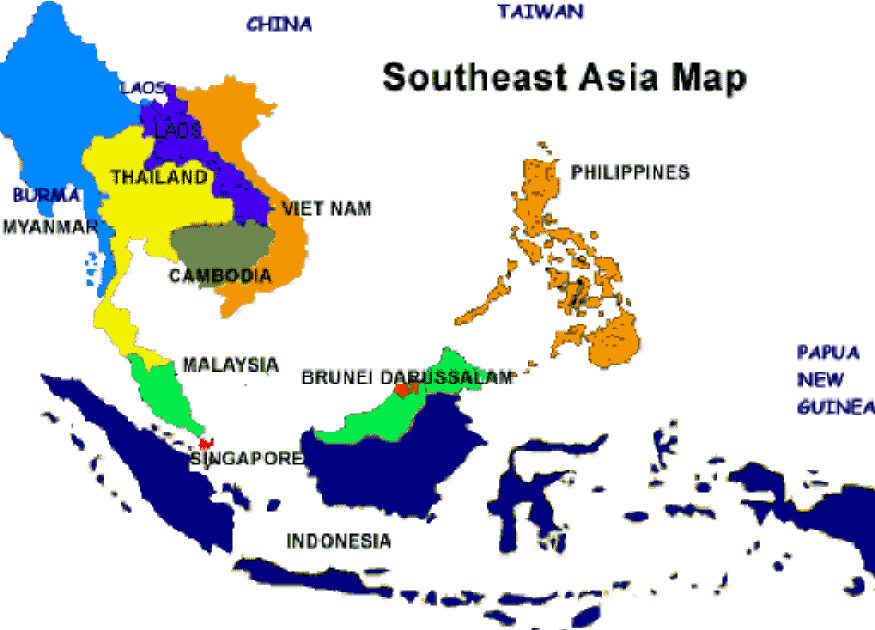 Southeast Asia, an orientation map.
26 February 2018 PS: Hello from Ayutthaya,


After a little over two weeks of hotel hopping I finally managed a three night stay in the Furama Silom where I enjoyed being pampered by the Executive Club staff. All day complementary refreshments makes sitting in the comfortable second floor club room to watch the hectic traffic activity below quite pleasant. The young female attendants all wear gorgeous Chinese dresses to celebrate the month long observance of Chinese New Year... the Year of the dog. As it happens, the 12 year cycle of my birth, exactly seven cycles ago in 1934 makes this year especially auspicious in Chinese mythology... not withstanding the reality that Donald Trump was born exactly twelve years after me, making him also a "dog year" person! Oh, my...
With dental and medical appointments out of way and more than a week before my new passport arrives from Washington, I decided to take the train up to Ayutthaya a world heritage site, for a short stay in the Krungsri River Hotel, with its enthralling views of the river traffic, discovered during previous trips. What a surprise to discover how poorly the hotel accommodates the needs of the (just recently) elderly. A two story decent down stairs to breakfast every morning, followed by a steep climb up the mountain after... despite the existence of an elevator which has been disabled for security reasons! ... and no tea service in the "deluxe" rooms... and curtained bathtub showers with no grab "bars" to steady wobbly knees.
On February 21, 2018 Billy Graham, the most prominent evangelist of my early life died.
Copy this version to disc backup...
Bangkok: One of my favorite drinks and apparently only available in Bangkok.
Bangkok: One evening a group of a dozen foreign tourists all wearing lapel badges identifying them as members of the same tour group, swished down the street each carrying one of these brooms! I had to wonder if they might be on their way to a witches convention.

Bangkok: Placeholder caption...

Bangkok: Placeholder caption...