Postcards from:
Chau Doc


Big Bear Lake California
Kuta Bali Indonesia
Surabaya Indonesia
Yogyakarta Indonesia
Jakarta Indonesia
Kuching Malaysia
Kuala Lumpur Malaysia
Yangon Myanmar
Kuala Lumpur Malaysia
Phnom Penh Cambodia
Angkor Wat Cambodia
Phnom Penh Cambodia
Chau Doc Vietnam
Ho Chi Minh City Vietnam
Nha Trang Vietnam
Ha Noi Vietnam
Kuala Lumpur Malaysia
Medan Indonesia
Kuala Lumpur Malaysia
Bangkok Thailand
Melaka Malaysia
Penang Malaysia
Hat Yai Thailand
Surat Thani Thailand
Hua Hin Thailand
Bangkok Thailand
Ayutthaya Thailand
Chiang Mai Thailand
Luang Prabang Laos
Phonsavan Laos
Vientiane Laos
Khon Kaen Thailand
Nang Rong Thailand
Bangkok Thailand
Hat Yai Thailand
Yala Thailand
Kota Bharu Malaysia
Sungai Ko-Lok Thailand
Trang Thailand
Krabi Thailand
Phang-Nga Thailand
Bangkok Thailand
Big Bear Lake California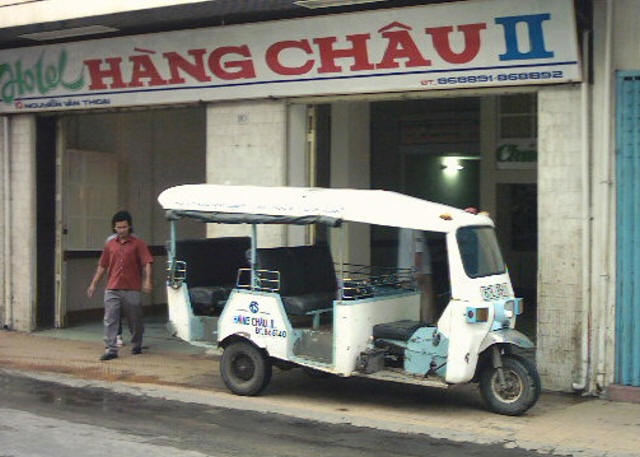 Chau Doc Vietnam: This is the border hotel I used the first night after arriving around sunset.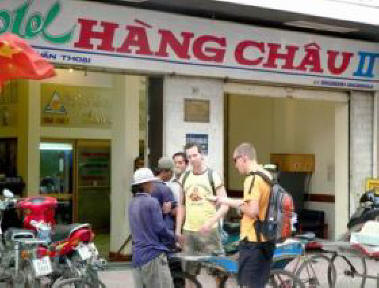 Chau Doc Vietnam: This is the Hang Chau II Hotel I used the first night after arriving by river boat from Cambodia.
Hello from Chau Doc Vietnam,

I left Phnom Penh on the Friday afternoon boat down to Chau Doc. The boat departed two hours late. Our two and a half hour trip actually took four hours, so we arrived well after dark. The Cambodian immigration post, little more than a shed near the small dock, processed formalities quickly. Then, back on the boat for another five minutes to the equally simple Vietnam Immigration post where passports were stamped without fanfare. Now dark, the crew herded us back on board for another forty-five minutes down to Chau Doc itself. Our captain leaned out the boat window occasionally waving a powerful spotlight around to warn other boats of our approach. At one tense point when he had turned off the light, another bright light appeared directly ahead of us and our boat swerved hard starboard as a huge boat slipped by us on our port side not more than five meters away.

Finally, at the dock in Chau Doc a tout from the hotel affiliated with the boat company attempted to drag us all to his hotel. Despite the intermittent rain, I decided to follow my usual habit and walked quickly away from the commotion before considering what might be out there in the dark. Street lights eventually made the quest less stupid and a few people seemed to understand my English and questions regarding the availability of lodging. So, off I went in between bursts of rain.

While waiting under the awning of a store for one of the showers to stop, I discovered the two French back packers from our boat shared my hotel search plans. They had learned of a cheap and reportedly decent place not far from our present refuge. When the rain decided to let us pass we splashed our way to the hotel in five minutes. At thirteen dollars I have had worse rooms, though this one would never make it into a list of great little off-the-beaten-path hotels.

The next morning I wandered the small town with my camera watching the duck seller dicker with customers, the palm oil pod merchant singing the virtues of his bumpy produce, early morning risers sipping coffee at tiny plastic tables while sitting in chairs designed for children, and bicycle traffic growing to a jam. The deluxe air-conditioned mini-van left for Saigon at 10:00 and the next chapter of my adventure began. The adventure part followed from the obvious rules-of-the-road in Vietnam: If it is bigger than you, get out of the way (QUICKLY); if it is smaller than you, sound your horn (LOUDLY!).

Our graded dirt highway had people driving in both directions haphazardly choosing unoccupied lanes. At times it was hard to tell which direction was intended by the road engineers. Most of the traffic consisted of motor-bikes. Few riders wore helmets. Our driver passed anything that had the bad fortune of getting in his way, often making three lanes out of the narrow two lane highway. As far as I could tell he took no special notice of on-coming traffic and swung back into our lane without regard to who else might be there ahead of the vehicle he had just passed... as long as they were smaller.

Over and over he sounded his "I'm just kidding" horn: toodle-oodle, toodle-oodle-oodle. Once as he barely made it around a vehicle to avoid the oncoming traffic, he slammed into three motor-bikers with a sickening thump-thump-crinkle-crunch. I screamed out an incredulous "Oh my god!" and turned to watch the three riders and their bikes sprawled on the street behind us. Did anyone get hurt, I wondered? Surely we would stop and offer assistance... in your dreams. Instead our driver proceeded on as if nothing unusual had happened! I couldn't believe it.

Later during the $3.35 seven hour trip we came upon the aftermath of another traffic accident. Two motorbike riders were down on the street having collided with a bus stopped at the scene. An ambulance stood nearby as the emergency medical personnel tended to the fallen riders. No wonder everyone talks about how dangerous it is to ride a motorbike in Vietnam. The highways, streets and sidewalks are crowded wall-to-wall with young dare devils racing in and out of tightly packed traffic, rain or shine.
Peace
Fred L Bellomy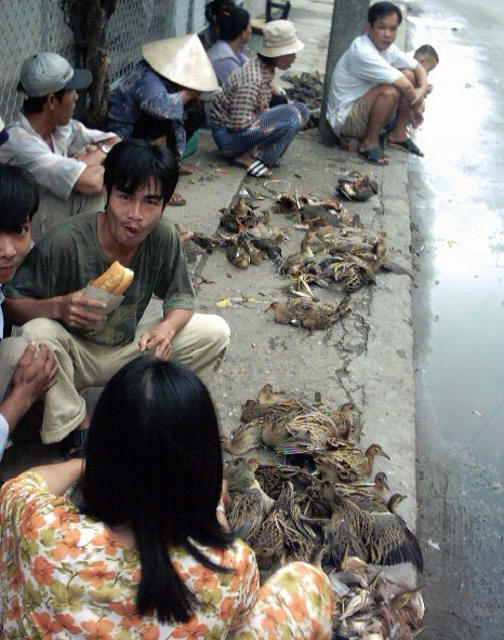 Chau Doc Vietnam: Ducks for sale at the crack of dawn my first day in Vietnam.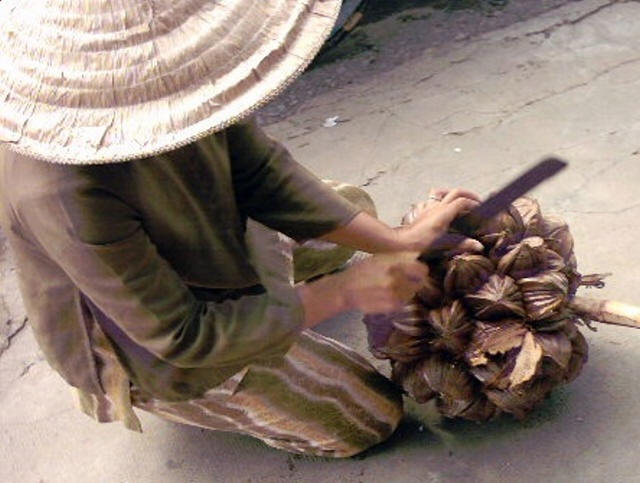 Chau Doc Vietnam: This is what the palm oil pod looks like: bigger than a basket ball.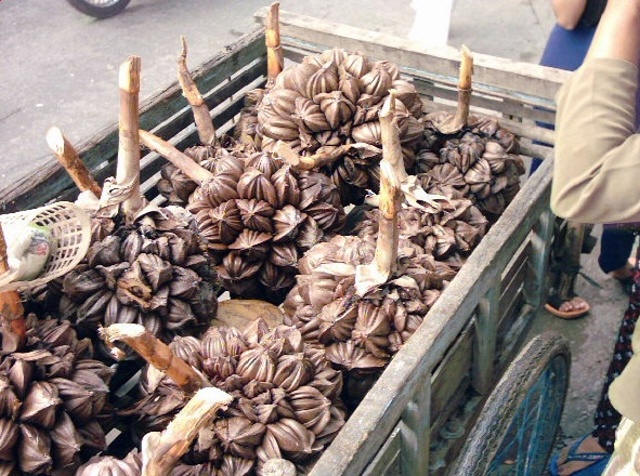 Chau Doc Vietnam: This is what palm oil pods look like on their way to market.