Postcards from:


Big Bear Lake California
Kuta Bali Indonesia
Surabaya Indonesia
Yogyakarta Indonesia
Jakarta Indonesia
Kuching Malaysia
Kuala Lumpur Malaysia
Yangon Myanmar
Kuala Lumpur Malaysia
Phnom Penh Cambodia
Angkor Wat Cambodia
Phnom Penh Cambodia
Chau Doc Vietnam
Ho Chi Minh City Vietnam
Nha Trang Vietnam
Ha Noi Vietnam
Kuala Lumpur Malaysia
Medan Indonesia
Kuala Lumpur Malaysia
Bangkok Thailand
Melaka Malaysia
Penang Malaysia
Hat Yai Thailand
Surat Thani Thailand
Hua Hin Thailand
Bangkok Thailand
Ayutthaya Thailand
Chiang Mai Thailand
Luang Prabang Laos
Phonsavan Laos
Vientiane Laos
Khon Kaen Thailand
Nang Rong Thailand
Bangkok Thailand
Hat Yai Thailand
Yala Thailand
Kota Bharu Malaysia
Sungai Ko-Lok Thailand
Trang Thailand
Krabi Thailand
Phang-Nga Thailand
Bangkok Thailand
Big Bear Lake California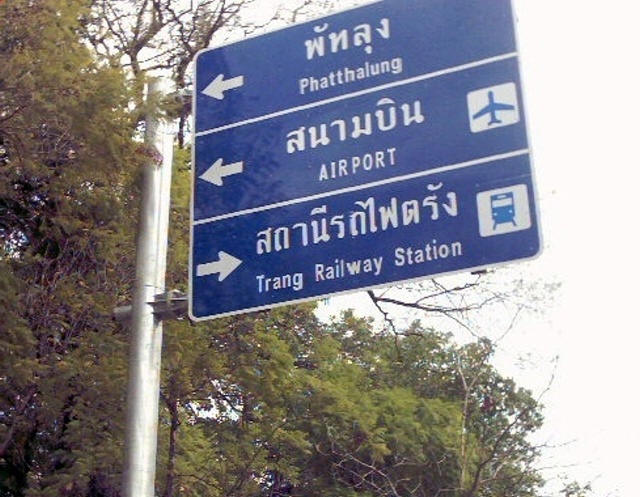 Trang Thailand: Sign in the very center of town.
Hello from Trang Thailand.
The 8AM bus from Sungai Kolok arrived in the afternoon about 2PM and I grabbed the second decent hotel checked: the $15 Thumrin Thana Hotel which turned out to be quite good considering the low room rate except for the occupancy controlled air conditioning; off when I leave and then it took a long time to cool down when I again returned. There are a lot of hungry mosquitoes here, too. I met many friendly people on my long walks of exploration to figure out transportation possibilities onward toward Krabi and my final destination, Phang-Nga. After an uncomfortably hot night I boarded a minibus bound for Krabi the next morning, a little more than a hundred kilometers to the north.
Peace,
Fred Bellomy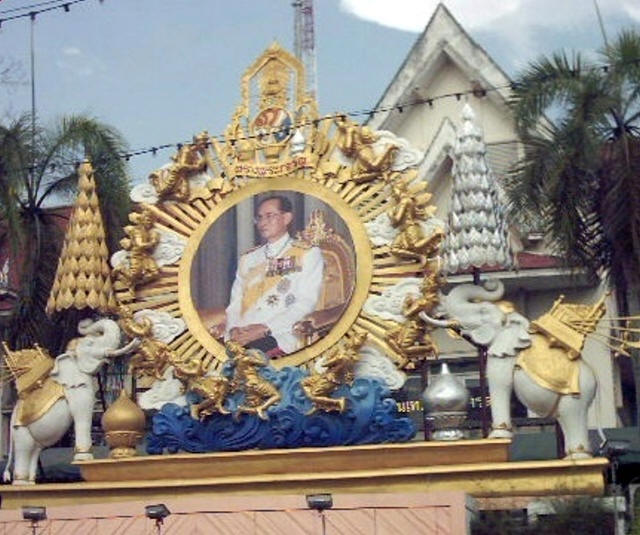 Trang Thailand: A tribute to the king? This monument is located near the clock-tower, a major landmark in the town.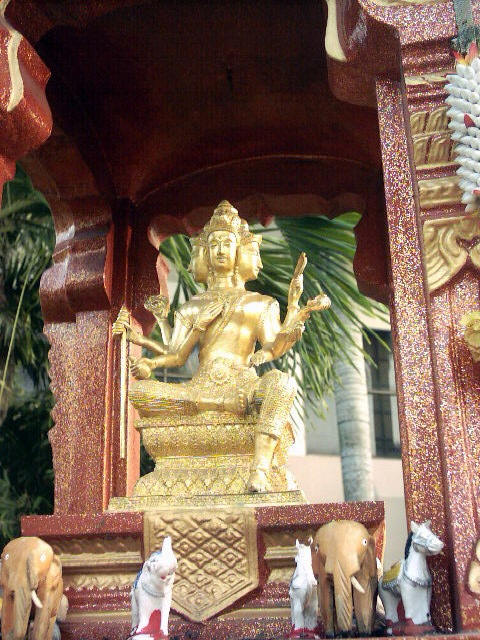 Trang Thailand: In front of the $28 Thumrin Thana Hotel where I stayed on my way up to Krabi after the brief jump over the border into Malaysia.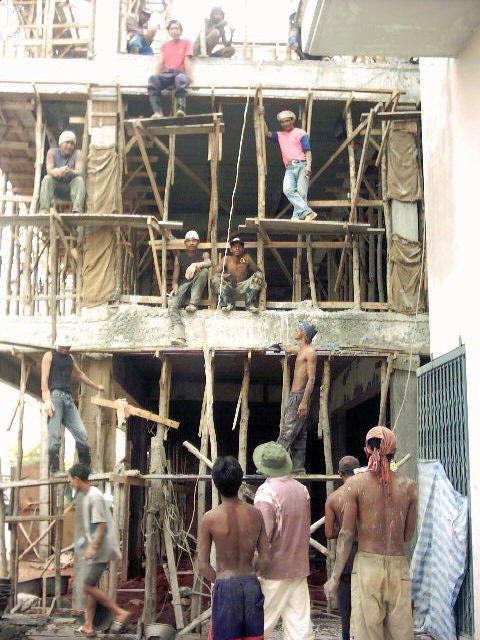 Trang Thailand: Construction gang pauses to wait for more concrete filled rubber buckets to man-handle up the outside of the building being constructed. It looked like a lot of work.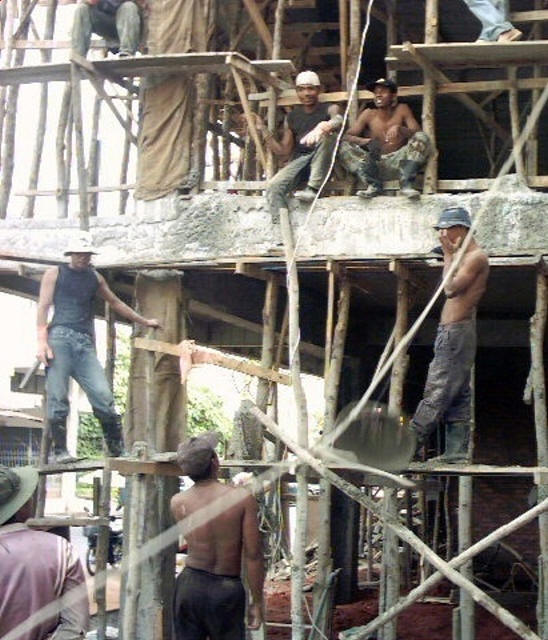 Trang Thailand: Construction gang pauses to wait for more concrete. A couple of the guys caught me taking their picture and alerted the entire gang who seemed amused.