Postcards from:
Ho Chi Minh City


Big Bear Lake California
Kuta Bali Indonesia
Surabaya Indonesia
Yogyakarta Indonesia
Jakarta Indonesia
Kuching Malaysia
Kuala Lumpur Malaysia
Yangon Myanmar
Kuala Lumpur Malaysia
Phnom Penh Cambodia
Angkor Wat Cambodia
Phnom Penh Cambodia
Chau Doc Vietnam
Ho Chi Minh City Vietnam
Nha Trang Vietnam
Ha Noi Vietnam
Kuala Lumpur Malaysia
Medan Indonesia
Kuala Lumpur Malaysia
Bangkok Thailand
Melaka Malaysia
Penang Malaysia
Hat Yai Thailand
Surat Thani Thailand
Hua Hin Thailand
Bangkok Thailand
Ayutthaya Thailand
Chiang Mai Thailand
Luang Prabang Laos
Phonsavan Laos
Vientiane Laos
Khon Kaen Thailand
Nang Rong Thailand
Bangkok Thailand
Hat Yai Thailand
Yala Thailand
Kota Bharu Malaysia
Sungai Ko-Lok Thailand
Trang Thailand
Krabi Thailand
Phang-Nga Thailand
Bangkok Thailand
Big Bear Lake California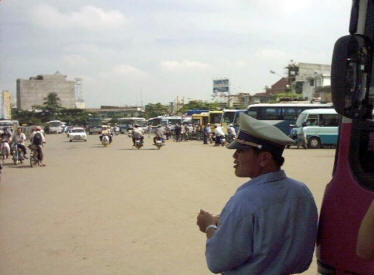 Saigon Vietnam: This is the bus station from which I left for Nah Trong. Right after taking this picture a police officer told me photography is not permitted in this sensitive transport hub!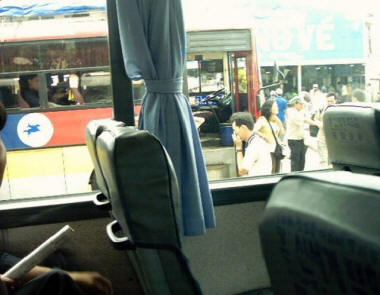 Saigon Vietnam: View of the bus station from inside the bus. I took another photo out of spite.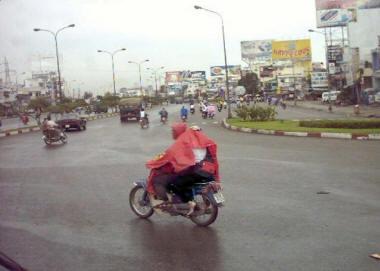 Saigon Vietnam: Typical street scene taken from the bus as we depart Saigon.
Hello from Ho Chi Minh City Vietnam,

The province is still called Saigon even though the city itself was renamed Ho Chi Minh City after the end of the "Chien Tranh Chong My Curu Nuoc" or "The War against the Americans to save the nation." We called it the Vietnam War. During my three days in the city I never heard anyone refer to the city by its official name. I did see several Ho Chi Minh monuments around the city, though. Saigon still is sin city; I never failed to be approached by prostitutes offering "some company" on any of my walks around town from dawn 'til late evening. Here they don't even bother to euphemistically describe their services as massage. Still, the streets felt quite safe and I encountered few hustlers other than hookers and the ubiquitous "moto" and "cyclo" drivers looking for fares. After a seven hour nerve racking drive our little van with the cute tootle-tootle-tootle horn arrived around 5PM. After such a harrowing experience on the road I decided to take the first even acceptable hotel I could find; that turned out to be the $16 Thang Long Hotel. Once settled with my bag stowed I went exploring and discovered the better value $30 Indochina Hotel for the next two nights before leaving on a bus for Nha Trang some eight hours on up the road north.

During my shopping excursions I found several shops selling pirated commercial software CD-ROMs and DVD movies for about a dollar a copy. Cyber cafes I found did not offer air-conditioning and rates of $1.30 to $1.50 were common. At one point I visited the post office to mail home some no longer needed materials. Postal inspectors insisted on carefully examining every item in my package for contraband and informed me that I would need to pay fourteen cents per CD and forty-seven cents per DVD mailed out of Vietnam! Maybe that is how they handle the copyright infringement problem. The censorship reminded me of what I ran into while traveling in Russia a few years ago.
Peace
Fred L Bellomy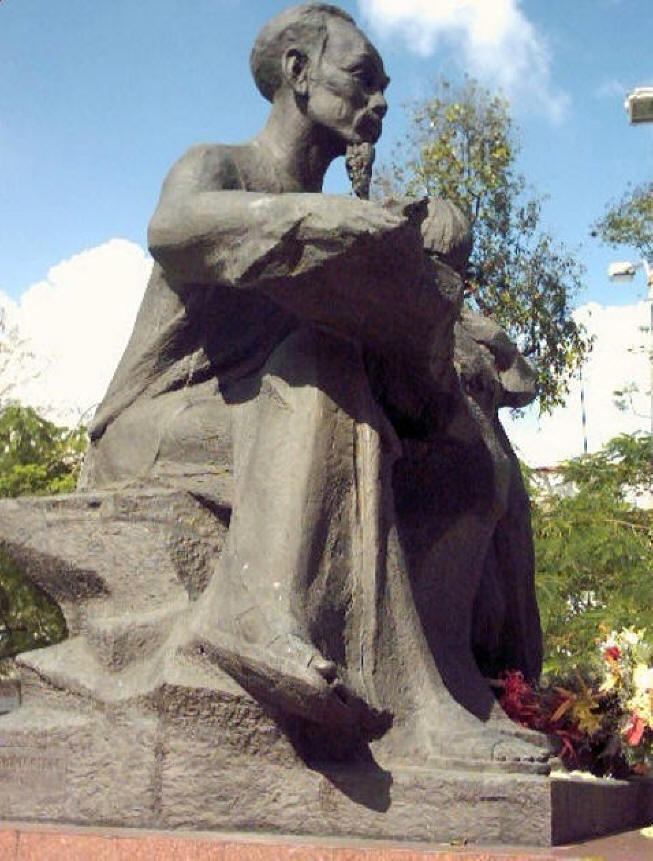 Saigon Vietnam: Statue of Ho Chi Minh.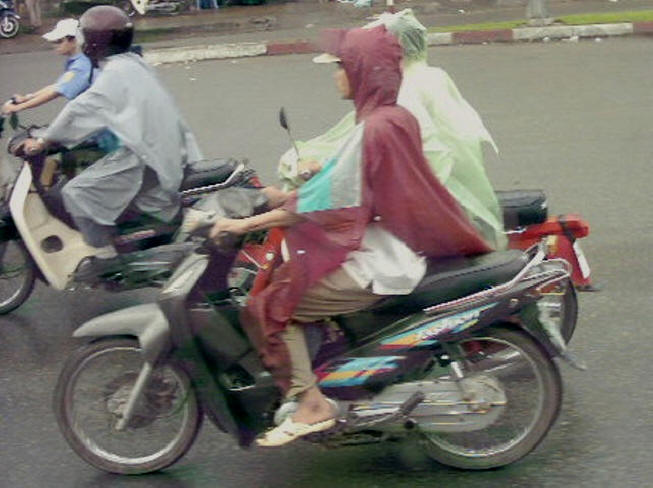 Saigon Vietnam: The motos go even when it rains. The rider just ducks under the driver's poncho.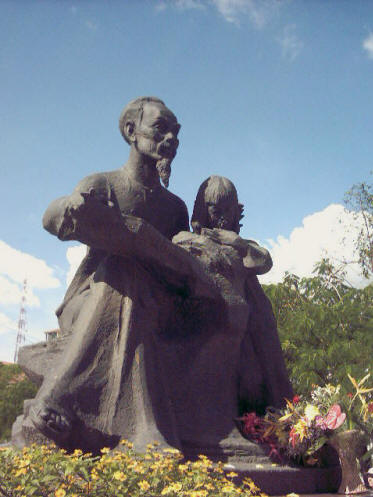 Saigon Vietnam: Also known as Ho Chi Minh City. This is the memorial statue of the leader himself... with a little girl by his side. It makes me wonder what ordinary people thought about the colonial powers in their country. They called the war: Save the country from the Americans!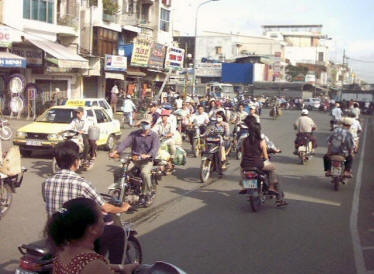 Saigon Vietnam: Typical street scene. Notice the unruly flock of motorbikes crowding the street.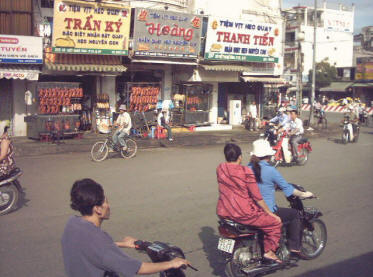 Saigon Vietnam: Typical street scene. Notice the bike riders don't bother to wear helmets here.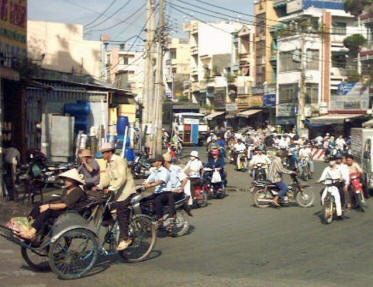 Saigon Vietnam: Typical street scene. Bicycles, motorbikes and trishaws out number cars by a large margin.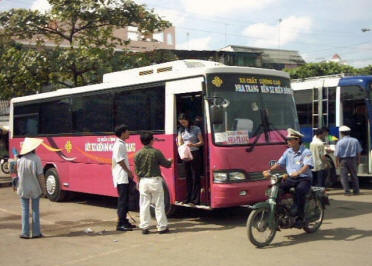 Saigon Vietnam: This is the "good" bus from Saigon to Nah Trong. The other services used older non-air-conditioned buses.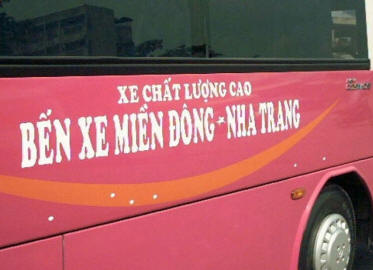 Saigon Vietnam: This is the "good" bus up to Nah Trong.