Greetings from Belize City,
The bus terminal in
Belize City
is located in a dingy part of town surrounded by ramshackle buildings with trash waiting to be collected. Many needed paint and most appeared to be leaning off of vertical. Learning the direction of the landmark
Swing Bridge
from several English speaking people I passed, I walked to the area and several miles beyond to the Radison Hotel. Nearly everyone speaks English in this former British colony, though some use a form that is quite difficult to understand.
As expected, the Radison wanted shock level rates, though they did offer a 30% discount for my being so old. And, the helpful receptionist directed me to the more budget friendly Princess Hotel further up the coast... "too far to walk! " "Too far to walk," who does she think she's talking to?
Twenty minutes later the receptionist at the Princess Hotel offered me a discounted rate of $80 including breakfast. Located right on the water my deluxe room overlooked the hotel's boat dock, very picturesque. The first morning checking with the receptionist I learned my walks should be carefully planned; "this is a very dangerous neighborhood." My how that sort of advice changes one's perception of a place. Moving my level of alertness to "code red" I walked that first morning expecting the worst. Of course, the reality differed not at all from what I've found everywhere in Central America: same dangers one might face in any place with its normal share of miscreants. Why upscale hotels scare guests with exaggerated warnings I don't know. I suppose a disproportionate number of victims do tend to be guests of the deluxe hotels... but only because foreign visitors flaunt their wealth and ignore obvious signs of predation.
After two nights exploring this unexciting city I grabbed an air conditioned bus northwest to Orange Walk to be close to the Lamanai National Park with it Mayan ruins. Until the next missive from Belize,
Peace,
Fred L Bellomy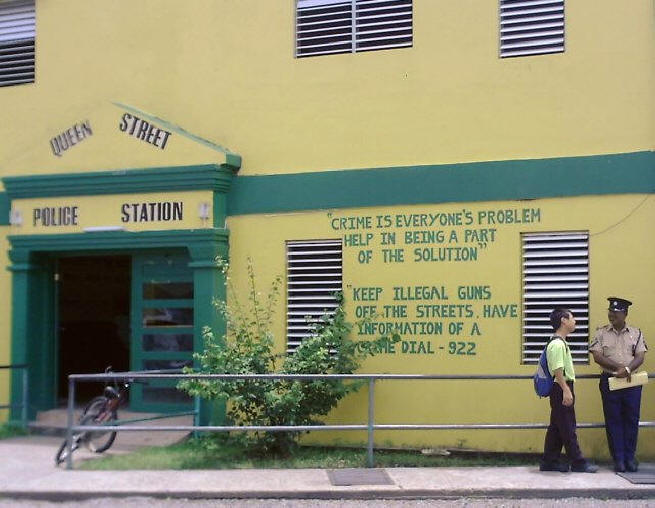 Belize City Belize: Police Station with crime alert publicity.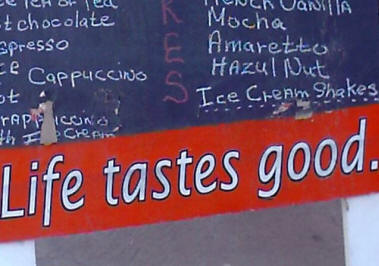 Belize City Belize: Life tastes good. What else is there to say?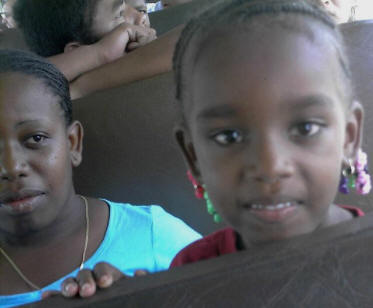 Belize City Belize: On the bus from Belmopan to Belize City these two cute little girls and I exchanged smiles. The mother next to the kid had spent a lot of time braiding the little tot's hair... a beautiful job.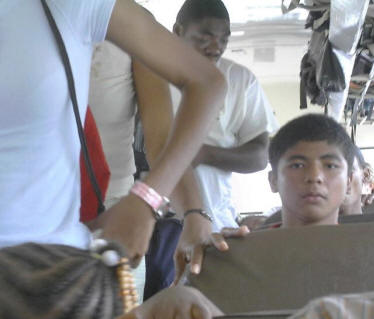 Belize City Belize: On the bus from Belmopan to Belize City two cute little girls and their mother were getting off the bus at an intermediate stop. I shot without looking trying to capture the mother and got this candid photo of a boy watching my antics.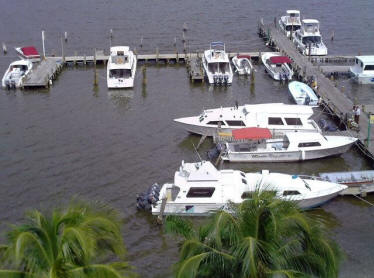 Belize City Belize: View of the hotel dock as seen from the window of my room in the Princess Hotel.