Hello from Lima Peru,
My last postcard from Tumbes Peru described the airport security hassle with all the "dangerous weapons" I carry. On arrival in Lima much to my surprise and delight an airline agent waited at the arrival gate and actually returned the things. As we had arrived after dark I opted for using the Urbanio airport bus into town. The nervous agent, obviously prevaricating stood in front of the booking desk trying to corral a minimum of five passengers for the 21:00 run a half hour later, but withholding the contingency information from potential passengers. Hector, whom I met in the Tumbes departure lounge happened along at that moment and clarified the situation. When I indicated I'd need to make some other arrangement he offered to share his cab into Miraflores. There he would meet his wife working late in the corporate offices of AeroMexico. When she heard I had no hotel reservation she immediately called one of her contacts and arranged a room for me at a convenient nearby hotel.
Lima is one of the most enjoyable modern cities I've ever visited. City planners have retained much of the old Spanish colonial flavor in the old town as they modernized the infrastructure. Union Street, linking the Plaza Mayor with Plaza San Martin is a five-block pedestrian mall of endless shops with glittering displays of competitively priced products. Also along the crowded walkway are many attractive restaurants plus the expected Western fast food places. In addition to KFC, Burger-King and others, the Peruvians have incorporated the best features of these in their own home grown imitations.
The quality of the area deteriorates noticeably only a block away from the mall where scruffy predators watch foreign tourists with suspicious intent. The usual flock of beggars and hustlers hassled me in an endless series of irritating encounters. One persistent guy offered a map of Peru for ten Soles and as I walked on muttering a string of "no gracias" in my wake he continued to plead with increasingly lower offers. When he reached five Soles I checked my coins and found only two Soles which he rejected. A bystander watching the negotiations made some sharp comment in Spanish to the guy as I hurried away. A few seconds later he trotted again to my side, this time sputtering "dos Soles O.K." The map turned out to be poorly printed with fuzzy black type on dark colors and difficult to use... not even worth the two Soles (about sixty cents) I paid.
The good bus system makes the confusing diagonal streets intersecting those running north and south easier to navigate and buses go everywhere. Much of Lima's antiquity is hidden just below the surface so that any digging for whatever reason has a good chance of unearthing a relic. Major excavations for new buildings commonly reveal structures and artifacts of archaeological interest.
An expressway connects the north and south parts of Lima and is a work of art. Throughout Peru I have seen a good deal of sculptured landscaping in parks large and small. Along the walled expressway grassy areas also feature sculptured plantings. The technique is used to create green signboards. The walls enclosing the expressway are decorated with artistic mosaic murals, some of which show the effects of an earthquake a few years ago.
The "new town" is a few kilometers south of the old city center. Centered around the Miraflores District, it is the modern upscale part of Lima. Little here feels foreign. Both of my hotels were here: the first night Hotel Pilar arranged by Hector's wife and then the Hotel Jose Antonio. When I checked into the $60 Jose Antonio the only thing available the first night was a suite and they gave that to me at the $60 single room rate. So comfortable and well managed with free Internet access and FrontPage installed, I ended up staying 17 nights while my sprained knee continued to heal and I got some long deferred work done on my website.
I see a lot of security here: armed guards, high barbed fences and barred access to buildings. Miraflores is ultra-modern, glitzy and has more casinos than Las Vegas. I spent several days enjoying the unique sea side Larco Mar Mall built into the cliff walls facing the beach. Paragliders carrying passengers take advantage of the updraft sea breezes to fly back and forth and around it... much to the delight of mall mullers gawking skyward. During my shopping excursions I discovered the Ripley Department Stores, similar to the Broadway Stores in America. Prices generally fall below those in the U.S. and I bought a couple shirts, a reversible vest and more pairs of socks.
Many very old people drool around town accompanied by youthful care givers. In every block young well fed Indian women with babies strapped to their backs roam the upscale shopping districts of Miraflores begging from foreign tourists. They remind me of the similar practice in Calcutta where such people make very good livings, indeed better than most ordinary working people. None of the able bodied beggars I've seen have looked truly needy... other than some of the poorly dressed Indians from one of the rural villages where people actually are dirt poor. Children of local middle-class shoppers are frequently demanding and noisy in public places. As a clever variation on the ordinary begging strategy, dirty street urchins dash in front of cars stopped at red lights and perform amateur juggling acts. I never saw anyone give them money after a performance, however. Gasoline ranges between $3.00 and $4.66 per gallon here in the city.
During my search for onward travel information I discovered the tiny travel agency hole-in-the-wall office of Amparo Carbajal across the street from the Hotel Jose Antonio. Neither of us spoke much of the others language, but together we had enough for intelligent conversations. When I declined her offer of a Nazca bus service because of its late departure time, she insisted on accompanying me in a cab up to the Viva Bus Terminal which I'd found on my own and there helping me buy a ticket for an 11 AM departure the next day. She would accept no fee for this extraordinary service so I took her out to her favorite department store cafeteria for a nine Soles (pronounced SO-LAYS) buffet lunch (about $2.70). Thrilled, she thanked ME for for MY kindness!
With all the talk of a bird flu pandemic I decided to get my annual flu shot and found a clinic here in Lima that offers such medical service. To my great surprise I learned they won't be offering this season's inoculation until March of next year. I'd forgotten the six month shift in seasons might also affect the flu season. Still disoriented by the news I asked about the lifetime pneumonia shot. Yep. That one they could provide... for a 150 Soles fee... about $45. But, it does not last a lifetime. Conflicting information suggests a booster shot will be required after five or ten years.
I am amazed how easily certain strings of Spanish words flow from my mind these days with apparent comprehension by the Spanish speaking people I've encountered. Now and then a helpful native speaker will correct my grammar or vocabulary or more often pronunciation. So, I know my present command of the language is awkward, even childlike. When I have been bold enough to report verbatim one of my blubbering attempts in a postcard, more than one reader has been kind enough to gently set me straight... which I appreciate.
My knee three weeks after the injury is still not ready for climbing inclines, or more importantly descending them. I have an enhanced understanding of the ambulatory problems of the elderly; minor discomforts alter the natural rhythm of a person's gait producing the shuffling, stumbling forward motion we see in really old people. It is only with concentration I can force myself to ignore the unfamiliar sensations and allow more or less normal walking to emerge. So, I'll need to avoid mountains for a while longer. I am sure Machu Picchu will present challenges in that regard and a side trip to anywhere will be a welcome diversion as I am slowly becoming bored with all the luxury here. Tomorrow I leave Lima for Nazca to see what I can make of the enigmatic lines in the sand. Suggested explanations range from the fanciful to the provocative. At the moment anyone's guess is as good as mine.
Everyone says I'll need to return to Lima in order to make a connection to Cuzco. My next major destination is Machu Picchu, only reached through Cuzco. Travel advise is sparse for this part of the world so time will tell, serendipity will decide.
Peace,
Fred L Bellomy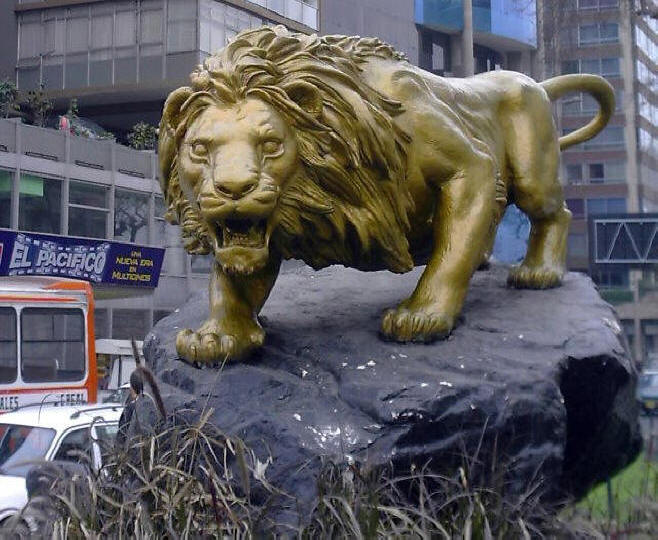 Lima Peru: This sculpture sits an an entrance to the main traffic circle here in the Miraflores area. It reminds me of all the lions I saw in China.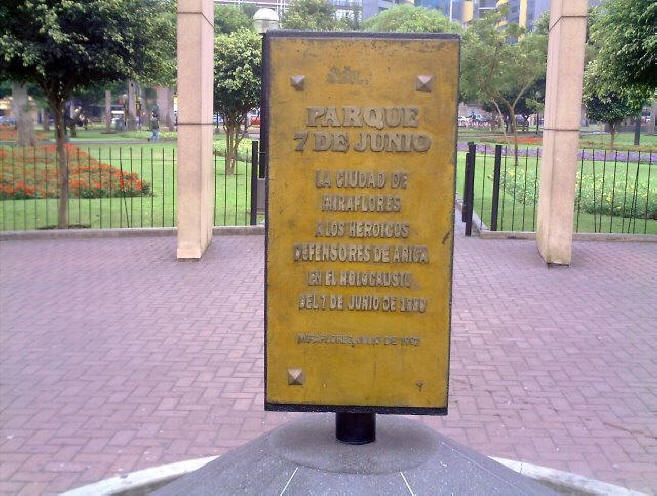 Lima Peru: Sign at the entrance to Parque Central just below the landmark Ovolo Jose Pardo trafic circle in Miraflores.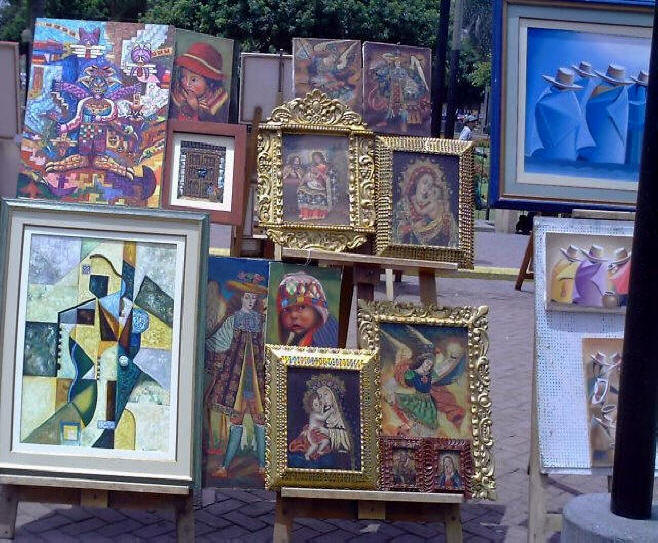 Lima Peru: Outdoor art exhibit in Parque Central just below the landmark Ovolo Jose Pardo traffic circle in Miraflores.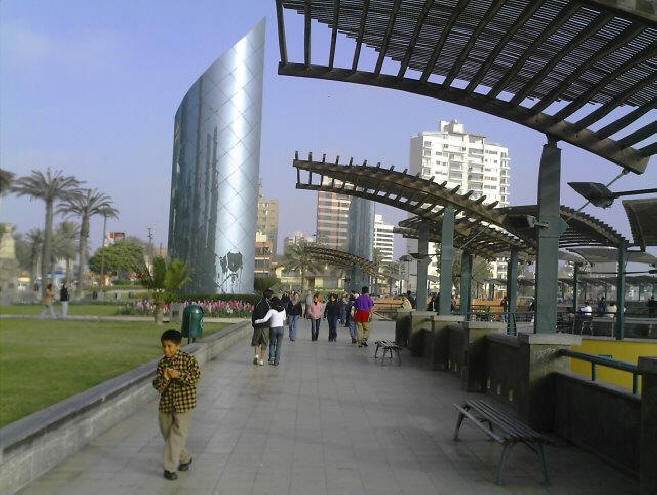 Lima Peru: Striking metal tower at the edge of the cliff which conceals the Larco Mar Mall down the cliff face.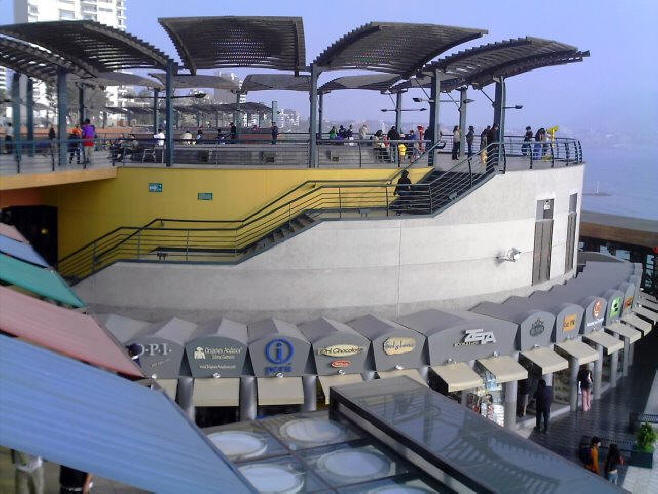 Lima Peru: Some of the upper level structures at the Larco Mar Mall.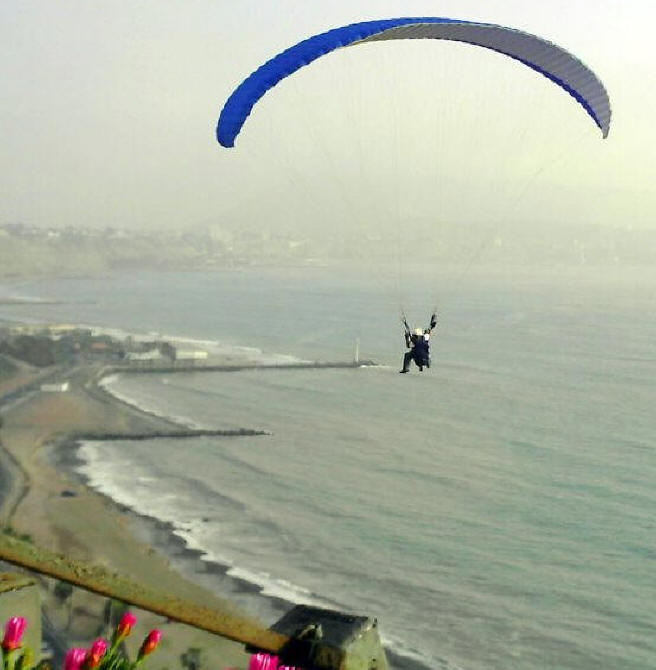 Lima Peru: Paragliders performing for shoppers at the Larco Mar Mall.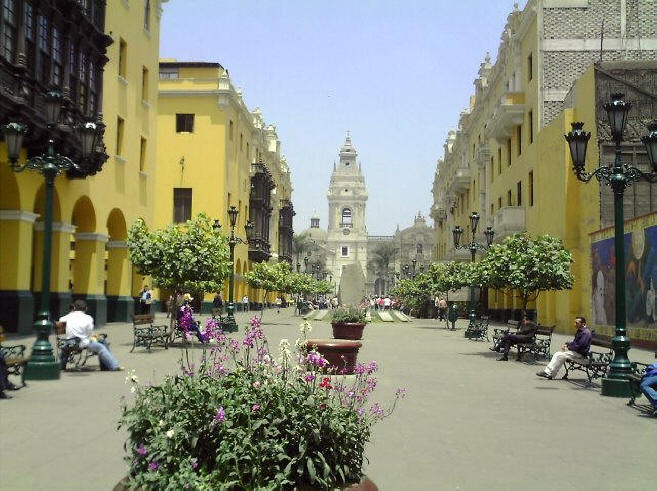 Lima Peru: Looking down one of the streets leading into the Plaza de Armas in old town.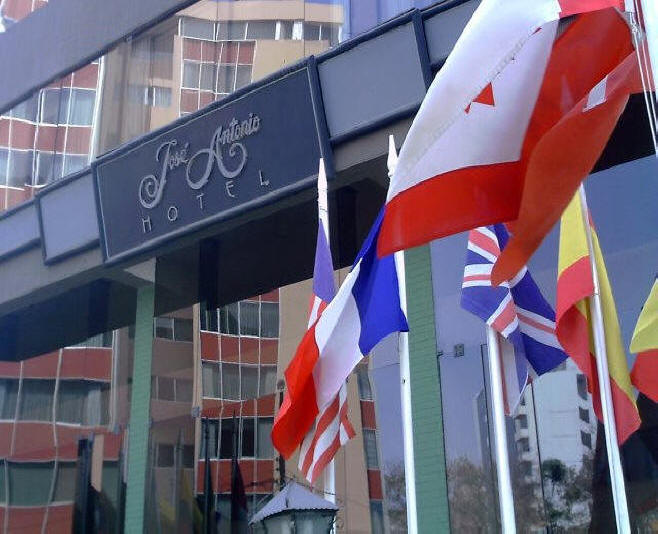 Lima Peru: Entrance to the Hotel Jose Antoneo in Miraflores where I stayed for over two weeks.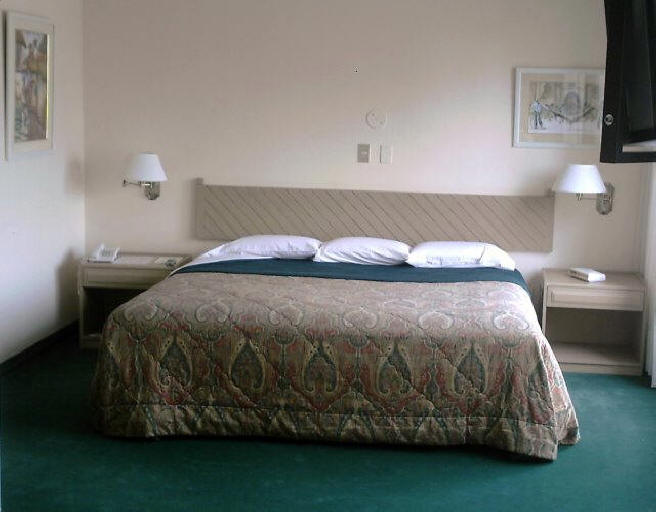 Lima Peru: Bedroom part of my suite in the Hotel Jose Antonio.