Good morning from Cuenca Ecuador,
Today everyone flies. A few decades ago only the well healed or those with business expense accounts could afford the luxury. Airport departure lobbies full of suits and serious expressions made it clear flying was a privileged experience back in the "good ol' days." Today, rowdy ill-mannered children, teenagers wearing packaging materials for clothes and nose rings, tourists in gaudy shorts and baseball caps out number the coats and ties. The Wall Street Journal has been replaced by Sports Illustrated for in-flight reading. Airlines no longer treat economy class passengers with graciously served deluxe TV dinners; now they might get a cheese sandwich and a Coke, if they are lucky. Some of the airlines have even removed their first class sections. Today's air travel marketing focuses on the lowest common denominator. In my lifetime the shift has been dramatic!
Guayaquil Ecuador
The flight from San Cristobal Island in the Galapagos landed in Guayaquil a little after noon and I immediately hiked a dozen blocks to the main bus station. There it quickly became clear I needed to wait a day for a good connection to Cuenca, my next chosen destination. A simple hotel on the city bus route served for my one night layover and a brief chance to reacquaint myself with the city visited a decade earlier. Gone are the giant green jungle iguanas I found so fascinating in the central plaza a decade ago. Guayaquil is no longer a quaint little city mostly used by foreign tourists as a jumping off place to the Galapagos. Today it is an ultramodern metropolis. The shiny new three kilometer Malecon Promenade along the Guyas River is now a popular place to bring the family for a cool evening stroll, an ice cream cone or a fine dinner at one of the up-scale restaurants.
The next morning I grabbed an early bus for Cuenca (rhymes with wink-ahh) some seventy-five miles to the southeast. Bus stations in Latin America commonly require anyone wanting access to the actual boarding dock to deposit a small coin (worth about 3 cents) in a turnstile, presumably to limit casual access... but a problem for anyone in a hurry without the proper change! The recently renovated central bus terminal is curiously located within walking distance of the airport.
As our bus slowly maneuvered its way out of the city a series of vendors boarded and made sing-song presentations about their products, handing out samples to everyone who would take them before returning to the front of the isle and continuing their speeches. Eventually they retraced their path collecting either payment or the samples. A few people always seemed to want whatever they were selling, be it a handful of chocolates or some patent medicine. No sooner than one had finished his or her pitch another climbed aboard to present their offering. Most passengers seemed to welcome the entertainment.
Finally on the open road we passed field after field of sugar cane. Many were burning and created an unusual aroma like the smell of cut weeds, not at all unpleasant, more like an exotic incense. Away from the burning fields the odors changed to something that reminded me of a wet dog mixed with cooking corn meal. The winding road to Cuenca out of sea level Guayaquil climbs to over 2500 meters. The motion of the bus proved too much for a teenage kid who staggered up the isle to the on-board toilet, puking on the floor next to my seat in the process.
Three hours later we finally entered a charming old Spanish colonial town where numerous church steeples could be seen from our elevated vantage point along the road into the city. The bus terminal, situated on the northeast edge of the city is a short walk from the central plaza area where I started my hour of exploration and hotel shopping. Hotels are not expensive here ranging from $35 to $60 and I allowed myself to be talked into a $60 suite in the four star Hotel Conquistador on Gran Colombia, the main east-west street through the city.
Cuenca retains its old provincial atmosphere. The local papers spend little space on world news. Even the horrendous loss of life in the Pakistan earthquake failed to make the city's newspapers until the death toll had reached 30 thousand. Narrow cobblestone streets, elegant old buildings with varying setbacks, numerous little parks and plazas together with friendly strollers along the sidewalks make this an interesting city to explore. The "old town" sits on a mesa at an altitude of 2500 meters separated from the "new town" by a river around the southern edge of the mesa. The ruins of an old Inca city are visible in two places on the slopes of the mesa. One of the two shopping centers I discovered, the Millennium Mall is conveniently located across the narrow river within walking distance of the hotel. The much larger Mall del Rio is a long bus ride from town, but is more interesting.
The skies remained overcast for most of my stay occasionally producing brief afternoon drizzles. Because we are so close to the equator it is difficult to estimate direction using the position of the sun and time of day. So, my little compass has been very useful lately. Most streets through the city are one way; being so narrow there is little choice. Peddlers wander about singing their wares and services: scissor grinders, vegetable sellers, lottery ticket vendors all add to the not unpleasant ambient inner city noises echoing down the narrow streets. Night time fireworks are a common occurrence. Cyber cafes open during some daytime hours would all suddenly close, pulling their location signs out of sight. For all practical purposes all public Internet access just disappeared now and then.
Indigenous people from outlying villages regularly come into town to sell their produce in the Indian Market and are seen all over town doing a little shopping themselves. Their bright clothes and characteristic bowler style hats make them highly visible around town. The colorful Indian Markets seemed to be a wonderful place to get pictures of native people without attracting too much attention to myself. But, on one of my photography missions serendipity found me more adventure than I had bargained for.
This has been a month of disasters, hasn't it. My list includes
1-30 October: The inundation of New Orleans from Hurricane Katrina
1-30 October: The dismal stock market performance
1-30 October: Deadly (H5N1) avian influenza viruses on all continents
6 October: Hurricane Stan and Guatemala floods
8 October: The South-East Asia Earthquake and Tsunami.
8 October: The massive earthquake in Pakistan
9 October: My painful re-education in the Indian Market of Cuenca
That last item might not be found on everybody's October disasters list, but it gets special attention on mine. On that gloomy Sunday afternoon, bored and lethargic I decided to revisit the Indian Market for more photographs. During my fifteen minute transit of the area some teen aged miscreant dashed up, thrust his hand into my front right pocket and removed all its contents... including $185 in cash. Running after the perp yelling "Robo! Robo!" and on the verge of catching him I slipped and sprained my knee.
The cops appeared within minutes of the commotion and gave chase, nabbing several likely suspects, but not the actual guy who grabbed my money. To make matters colorful, not a soul spoke any more English than I spoke Spanish. That made for some chaotic attempts to communicate information. Many people in the crowd of 50-60 saw the guy and some of them pointed down the street where the guy ran after I lost sight of him. Several approached me and in concerned Spanish tried to tell me things that often included the word "camera?" It seems my little camera attracted a good deal more attention than I realized as I walked the market, some of it unfriendly. I stopped taking photos when several people gave me dirty looks... including the kid who minutes later attacked me. Interestingly, I had just taken a picture which included several guys frowning at me, one of whom looks like the perp!
Two police units with several uniformed officers fanned out around the market asking questions. One tried to make me understand they were trying to get my money back. A civilian or undercover cop collared a kid which all the law enforcement guys were convinced had participated in the robbery, though I quietly informed one of them that I didn't think this was the one I had chased. He did look, however like a hard case to be sure.
All in all, five suspects were presented for my identification at the scene; none was the kid with quick footwork and amazing display of prestidigitation. The cops finally cajoled me into getting into the squad car and we patrolled the area around the Indian Market looking for more suspects, finally driving a mile or so to the unpretentious precinct station in a completely unfamiliar area of town.
Now totally disoriented and concerned about my skinned knee I tried to make the officers understand my need for some first aid... the sprain had not yet started to cause any noticeable debilitation. All they wanted however, was for me to make positive identification of one of their suspects. Increasingly disheartened by the whole experience, I started to leave in search of a pharmacy. While no one tried to stop me, the cajoling continued as I left. Eventually I could see I'd find no pharmacy in this industrial neighborhood and tried to hire a cab back to the hotel. The bewildered cabby made it clear he would be happy to talk to me as soon as I had completed a basic course in the Spanish language.
Back in the police station for assistance, more officers were interrogating the first kid they had nabbed and quickly turned their attention to me as I walked in, asking questions in slowly pronounced Spanish with patience dripping from each word... all totally unintelligible. Over and over I repeated the several versions of "I don't speak much Spanish" phrases I have now perfected... some say with good pronunciation! This experience has convinced me I'd better work at developing a few awkward mispronunciations for future situations like this.
We were getting nowhere when a friend of one of the officers entered speaking some English. At this point all I wanted to do was get back to the hotel. About then another squad car pulled up and dislodged yet another suspect; this guy definitely was not the perp as he limped and had a strangely misshapen face exuding raw terror. Again I pulled one of the officers off to the side and tried to make him understand none of the suspects was our guy and that I wanted to go back to the hotel and deal with my injuries.
Two of the more friendly officers had a contentious conversation with one of their superiors and finally indicated they would take me back to the hotel in the squad car. As we drove the senior officer offered me the three $20 bills taken from one of the suspects. For various reasons the bills he had showed me earlier back in the station didn't look like a part of the loot and I tried to so indicate. Finally, at my repeated questions he assured me this was definitely a part of my stolen money and I grabbed the wrinkled notes with a smile and a thanks. Back at the hotel the puzzled receptionist listened quietly as the officer explained his side of why I had arrived in a squad car.
The sprain is the fourth injury I have sustained during the last decade of my international travels, all in Latin America! First, were the two broken arms about ten years ago in Guatemala City when I stumbled out of a bus while being menaced by some tough looking guys blocking my exit. Second, was the seriously broken wrist in Rio de Janeiro resulting from a mugging by a couple twelve year old street urchins. Third was the broken throat resulting from a head on bus collision in the middle of the Amazon Jungle. And now this debilitating sprained knee in Cuenca Ecuador. Latin America also has been the venue for all of my encounters with robbers: three during the first four months of this trip plus the earlier Rio adventure a decade ago. Would anyone blame me for concluding Latin America is by far the most dangerous continent in the world for independent travelers?
Because foreign tourists are big business in much of the world and prime targets for thieves, governments go to extraordinary lengths to provide security in areas where they congregate. Still, the fact is I actually feel safer away from the areas frequented by affluent foreign travelers! Of course, I´m usually dressed in jeans and long sleeved shirts and keep my tiny camera hidden most of the time. This time I wore my fancy hotel garb and brazenly snapped pictures under inappropriate conditions until some of my subjects made it clear they were not amused. My self debriefing suggests different behavior in the future... especially watching even more carefully for predators. A picture I took just before the attack revealed three guys watching me much too closely from afar. More vigilance and I might have spotted them.
Friends have pointed out that abject poverty sometimes leads people to desperate actions and there is no doubt large numbers of people are very poor in rural areas. However, I doubt the people robbing tourists in the cities are all that poor. It is so amazingly easy to rob someone, if you have the right mind set: identify a distracted tourist in possession of what you want and then just saunter up behind them before they know what is happening, grab it and WALK away only as fast as necessary to stay out of their reach! Bystanders will not intervene... ever! No doubt my attacker this time had confederates who helped him.
During my three days of forced bed rest after the knee injury I had plenty of time to finish another remarkable classic: the satirical Candide by Voltaire. Francois Marie Arouet (pen name Voltaire) was born on November 21, 1694 in Paris. Voltaire's intelligence, wit and style made him one of France's greatest writers and philosophers. Voltaire wrote of himself, "I, who doubt of everything." Of course I've heard the name of this famous French writer often mentioned during my life, but this is the first time to actually read one of his works in its entirety. Knowing the Catholic Church would immediately ban whatever issued from his pen, he secretly published Candide under the pseudonym by which he is best known and had copies in the hands of distributors throughout Europe before Rome even knew it existed.
I am now just across the border in Peru. This little town of Tumbes has its own charm. I came here to catch a flight down to Lima and then onward to Cuzco. The $55 hotel I found is the best in town, but none too good. The unique shopping mall in the center of town and the central plaza should keep me interested for a few hours. The knee is better, but still hurts to walk and makes it extremely difficult to manage flights of stairs.
Peace,
Fred L Bellomy
PS: The Internet has been discovered by hoards of world travelers who want to share their experiences and photos. One traveler with an extensive collection is Jan Willem Bruggink from the Netherlands. F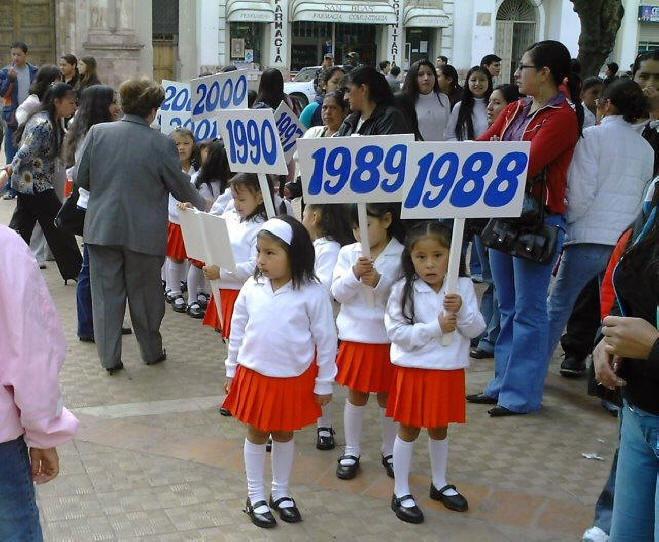 Cuenca Ecuador: Kids preparing for a Saturday parade. These are the future leaders we can expect to see down the road in Ecuador.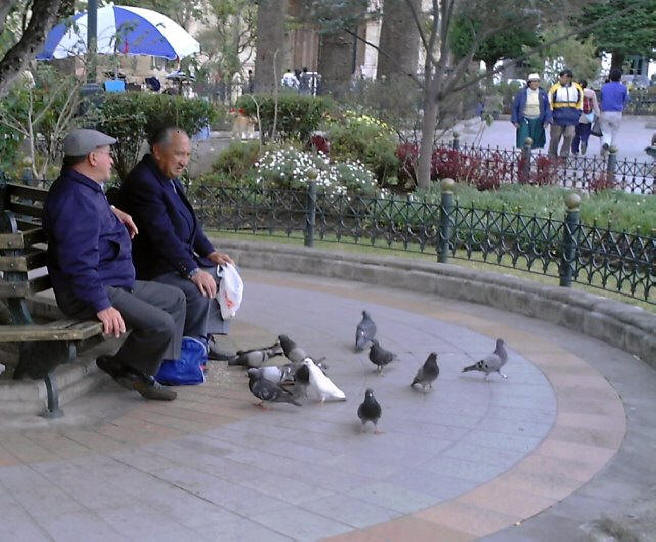 Cuenca Ecuador: Old guys feeding the birds in Abdon Calderon.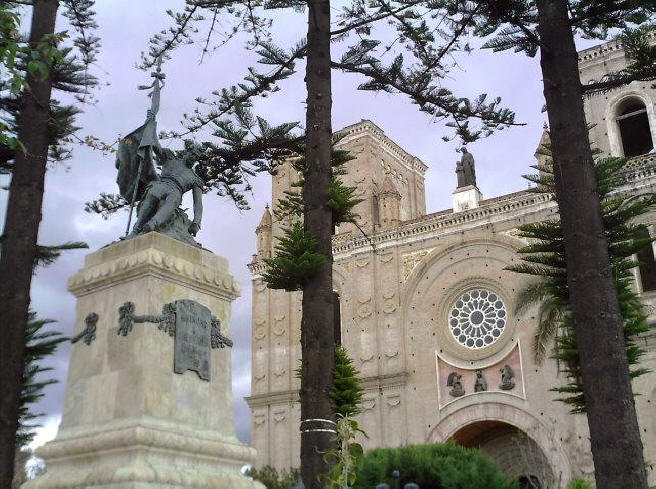 Cuenca Ecuador: Central main monument in Plaza Abdon Calderon across the street from the new cathedral.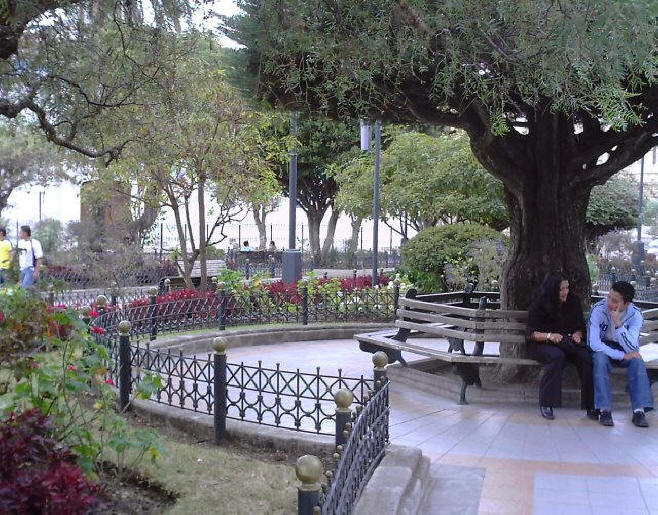 Cuenca Ecuador: A place to rest in the Plaza Abdon Calderon .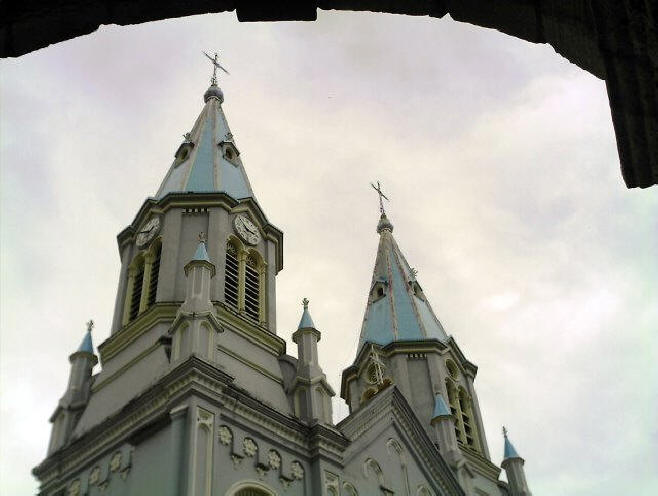 Cuenca Ecuador: Colorful blue spires of the old cathedral some distance from the new cathedral on the central plaza.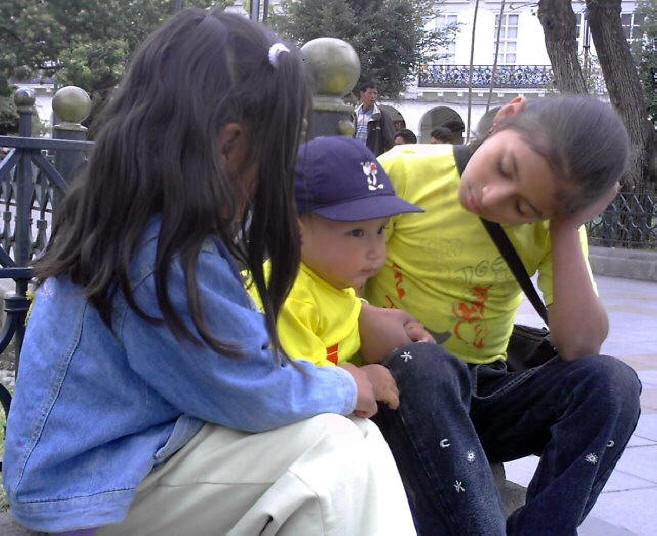 Cuenca Ecuador: One day in the Plaza Abdon Calderon I watched two little girls "mothering" their baby brother.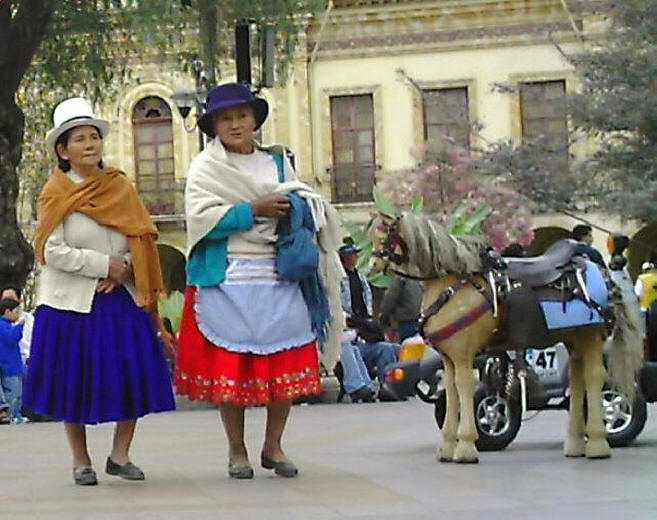 Cuenca Ecuador: The Plaza Abdon Calderon turned out to be a good place to see Indian people.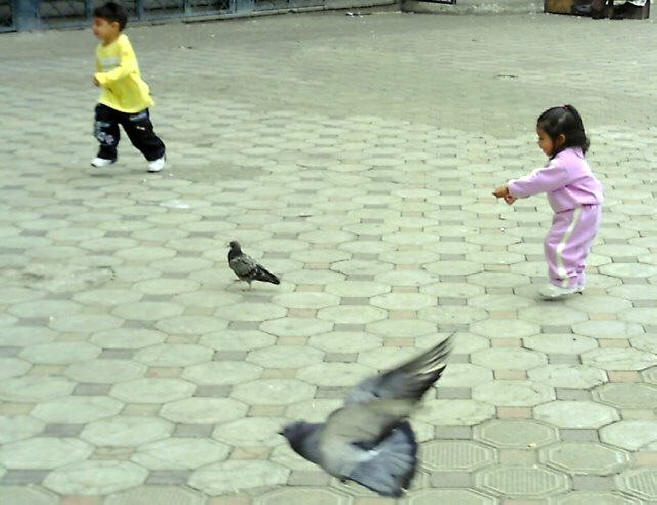 Cuenca Ecuador: I always find little kids chasing birds a delight. I remember adults advising me to sprinkle salt on their tails to catch them. Ah, memories.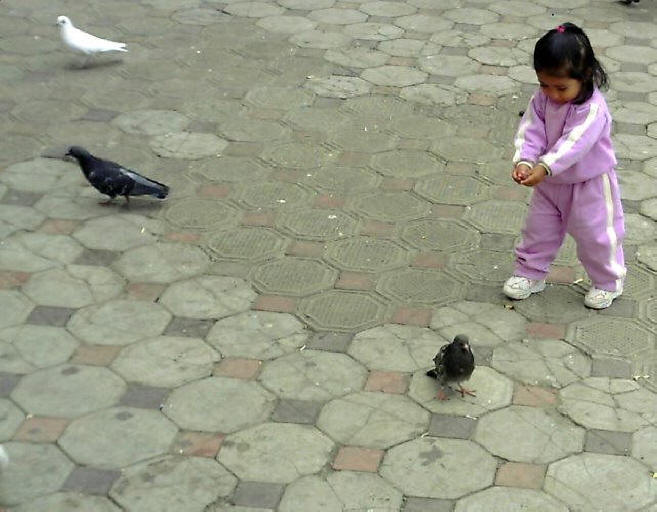 Cuenca Ecuador: I always find little kids and birds a delight. I wonder if this little girl has a handful of salt as she sneaks up on her little feathered friend.

Cuenca Peru: another view of the new Cathedral blue domes.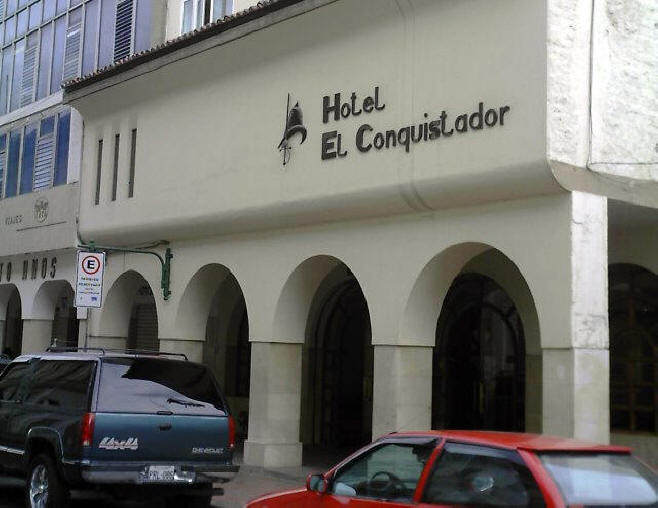 Cuenca Ecuador: Entrance to the Hotel El Conquistador where I stayed.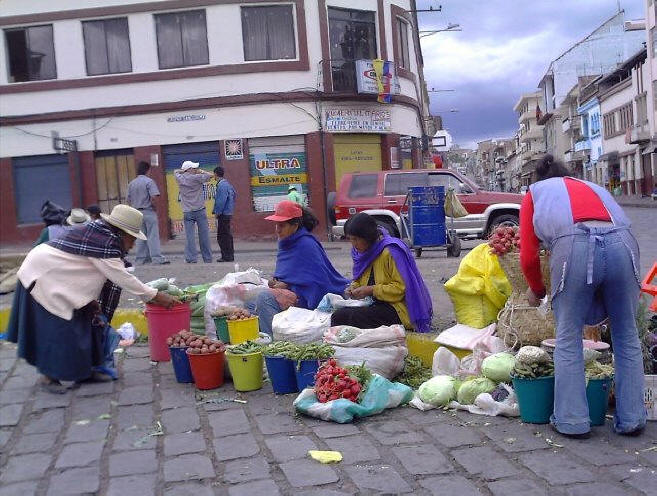 Cuenca Ecuador: At the Indian Market; vegetable sellers.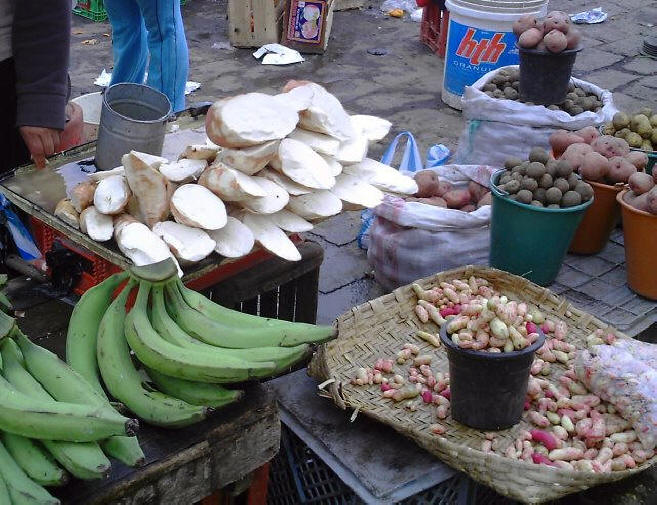 Cuenca Ecuador: At the Indian Market; vegetable sellers.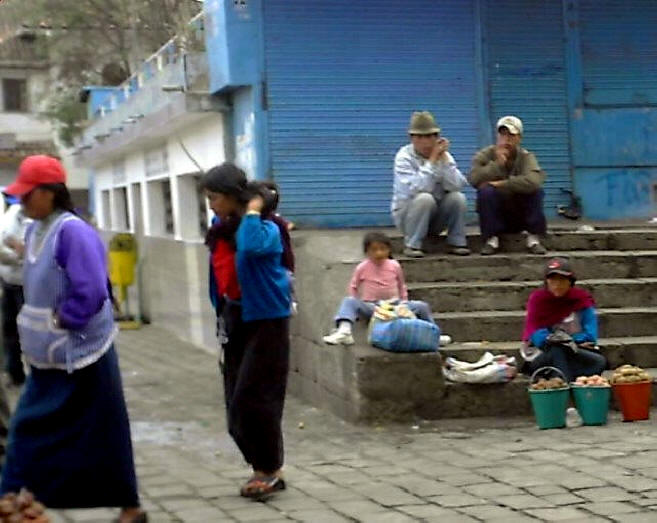 Cuenca Ecuador: I took a photo minutes before the kid on the left in the upper right hand corner of this picture robbed me. Later I noticed this small portion in one of my photographs and enlarged it.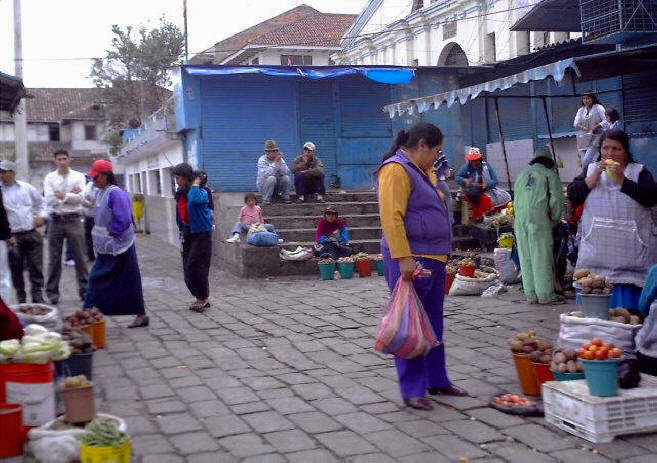 Cuenca Ecuador: I took a photo minutes before the kid on the left in the upper center of this picture robbed me. Later I noticed the three guys in it watching me and enlarged the two sections.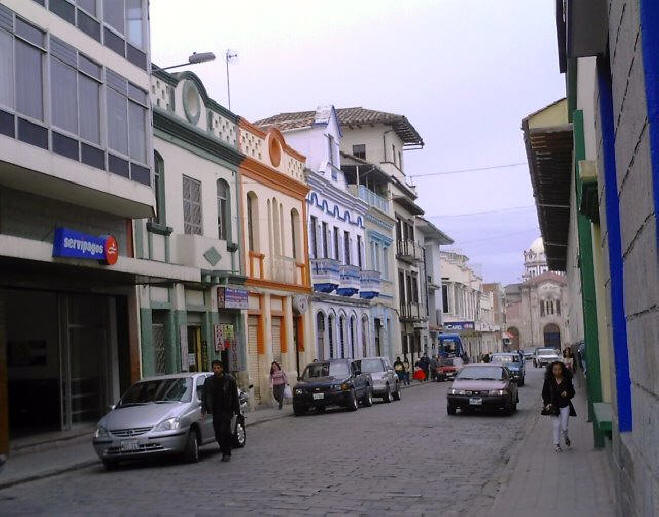 Cuenca Ecuador: Down one of the cross streets from Avenida Gran Colombia looking at the colorful buildings.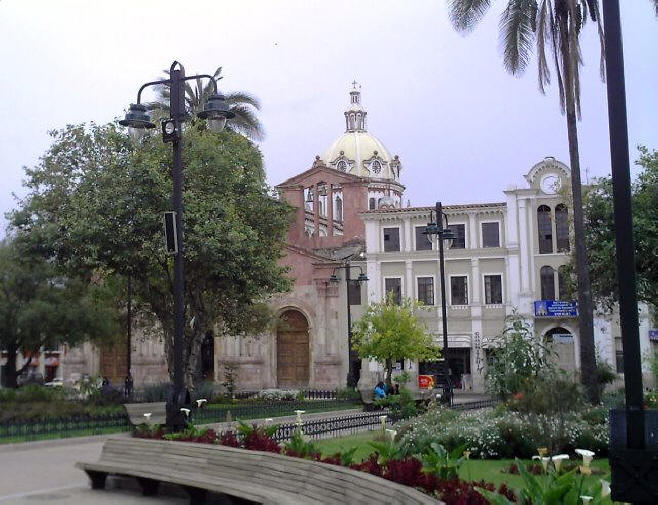 Cuenca Ecuador: Central Plaza looking away from the new cathedral.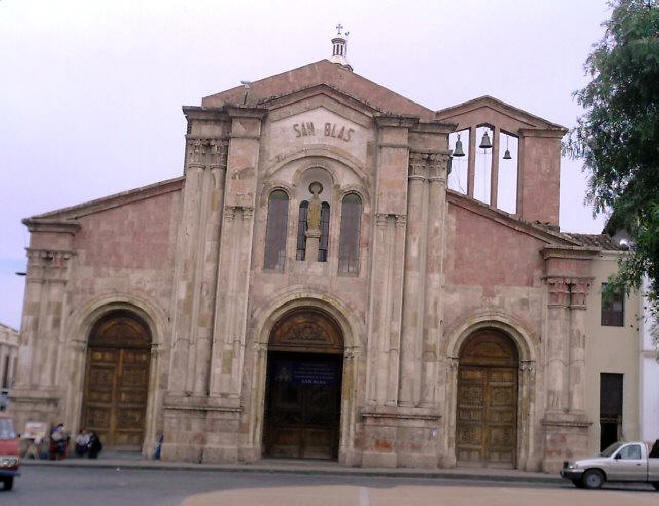 Cuenca Ecuador: Church of San Blas. It seems like every block has at least one church in it.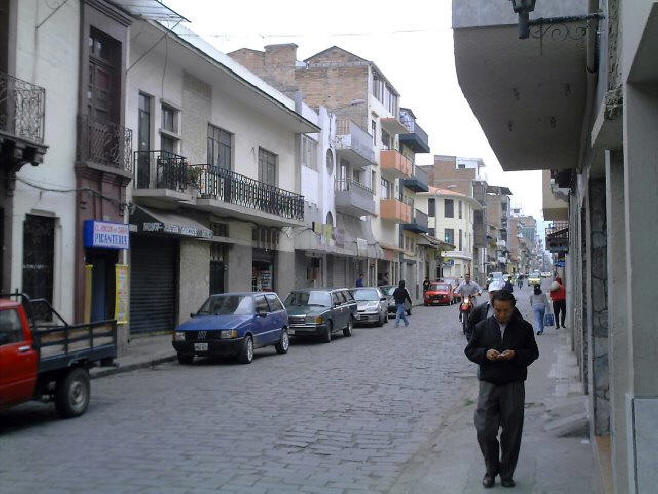 Cuenca Ecuador: Avenida Gram Colombia a few blocks west of my hotel. This is one of the principle streets through town.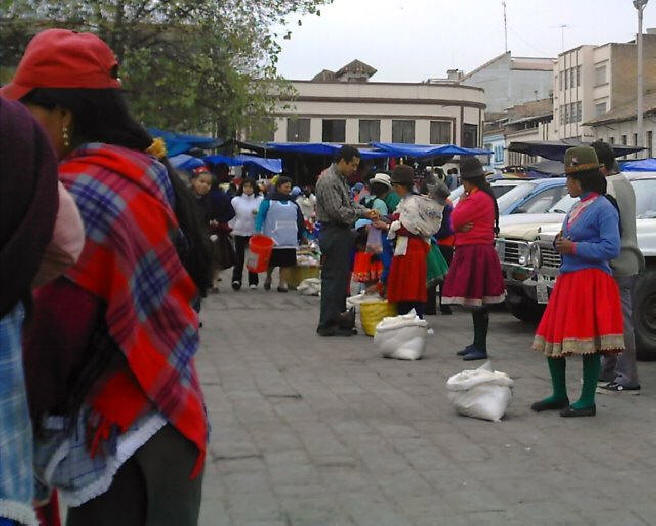 Cuenca Ecuador: Indian Market where colorfully dressed indigenous country people come to sell things they produce.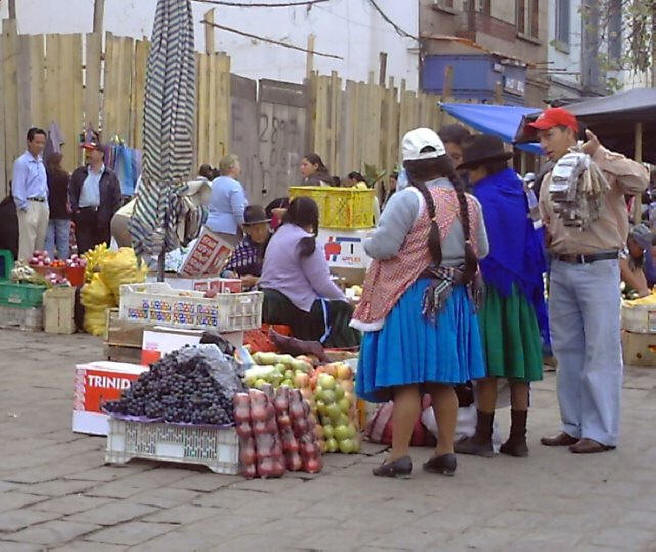 Cuenca Ecuador: Indian Market where colorfully dressed Indian country people come to sell things they produce.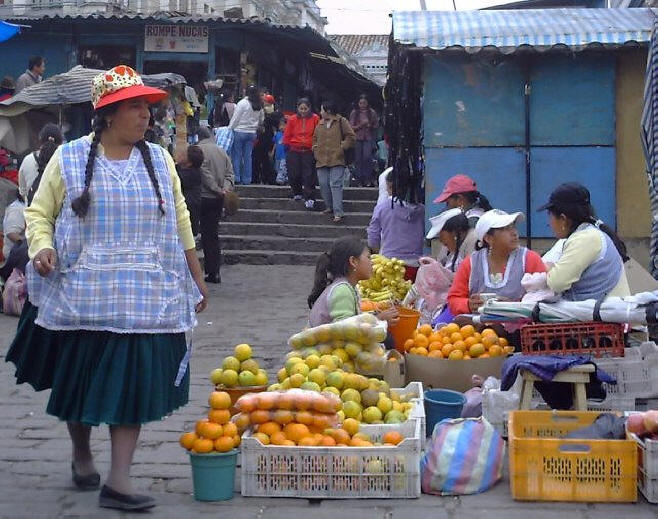 Cuenca Ecuador: Colorfully dressed indigenous country people and colorful produce in abundance in the Indian Market... where I got robbed!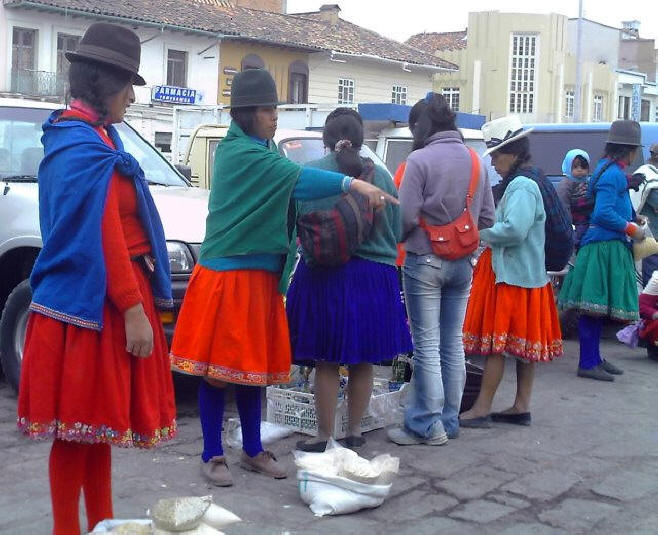 Cuenca Ecuador: Indian Market where colorfully dressed indigenous country people seem to favor the primary colors.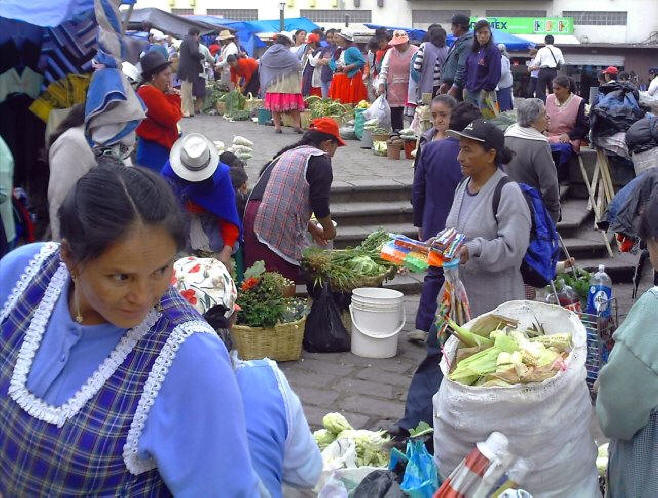 Cuenca Ecuador: Indian Market is good place to shop for fresh produce.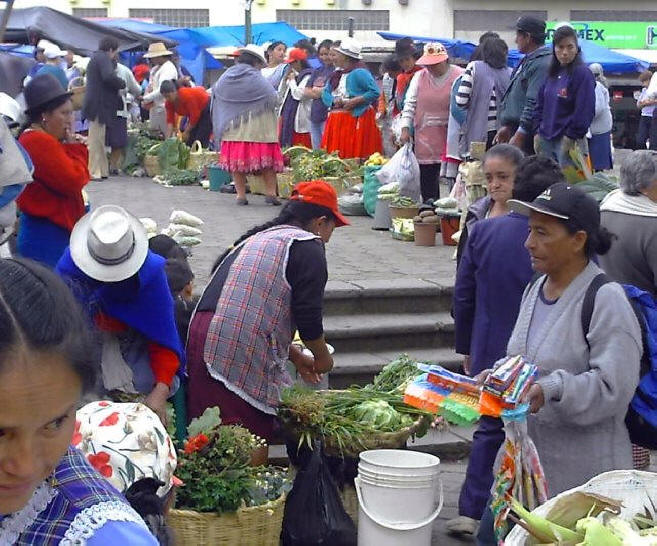 Cuenca Ecuador: Indian Market is a popular place for indigenous people to socialize as well as market their products.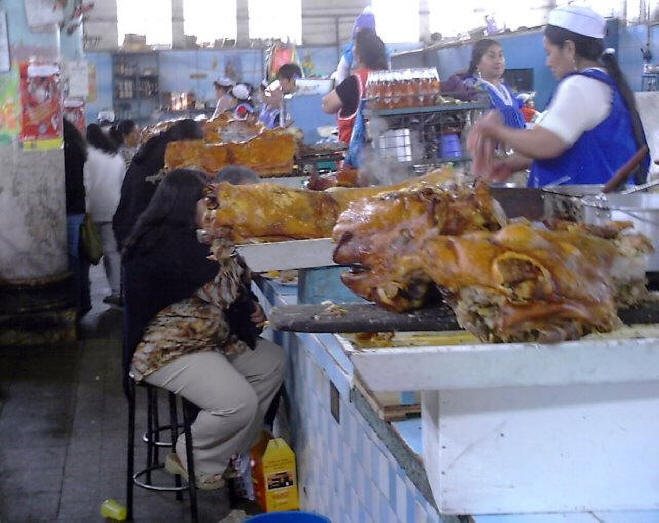 Cuenca Ecuador: Inside the covered Indian Market next to the area where I found all the open air vegetable stands.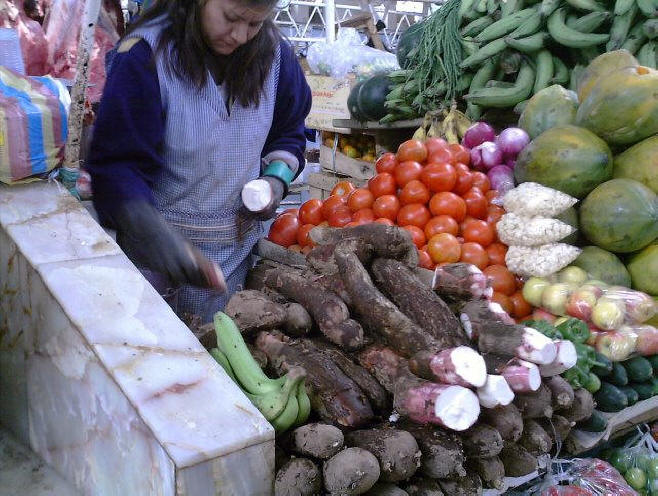 Cuenca Ecuador: Inside covered building Indian Market next to the area where I found all the open air stands.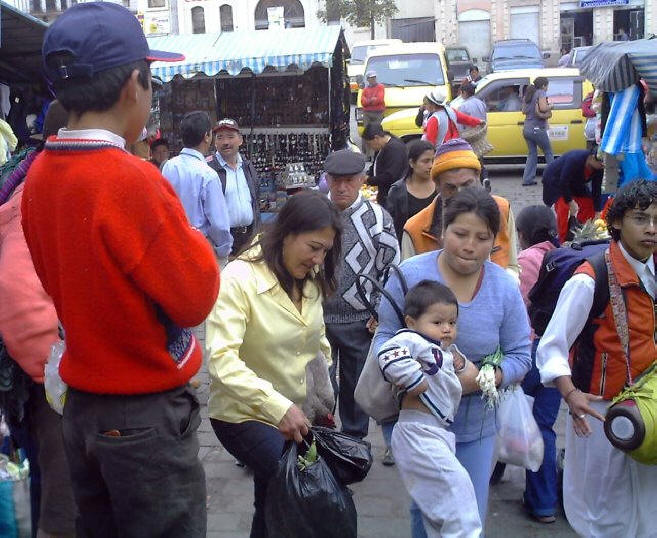 Cuenca Ecuador: The Indian Market seems to be popular with the locals.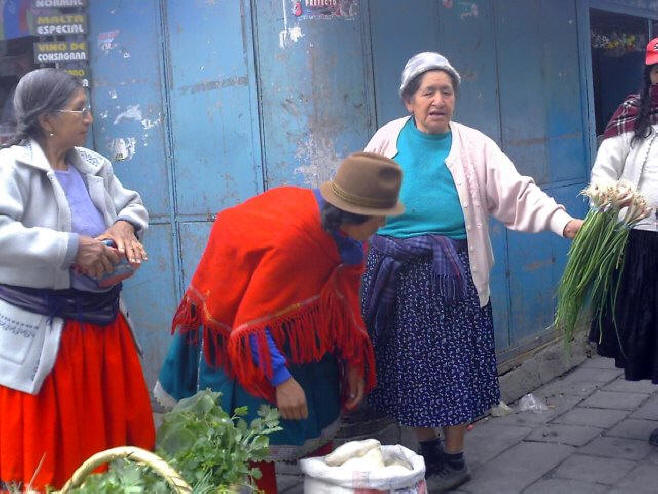 Cuenca Ecuador: Indian Market vendors sell what they have and then go shopping for their own personal needs.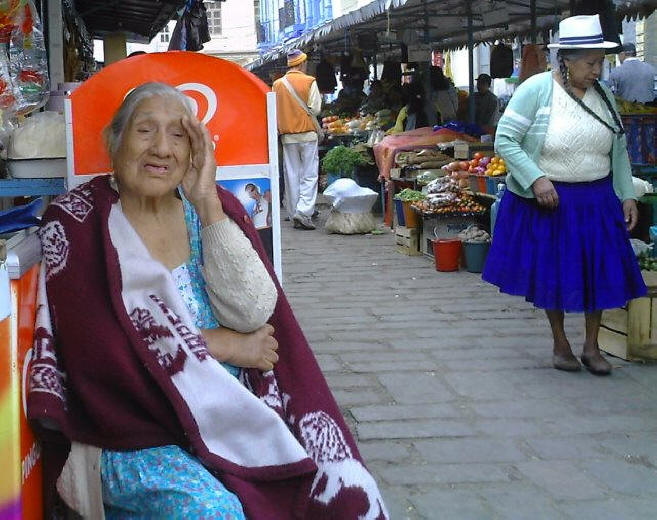 Cuenca Ecuador: Grandma waits patiently entertaining herself by watching strangely dressed foreign tourists.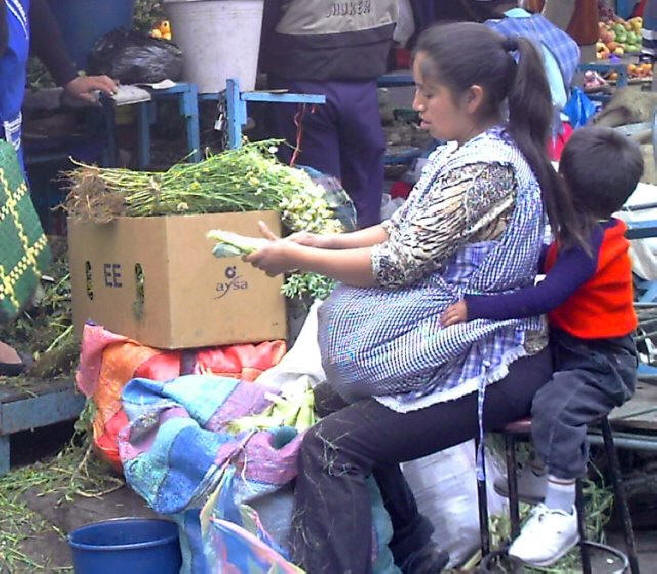 Cuenca Ecuador: Corn husker at the Indian Market. Little guy stays close behind.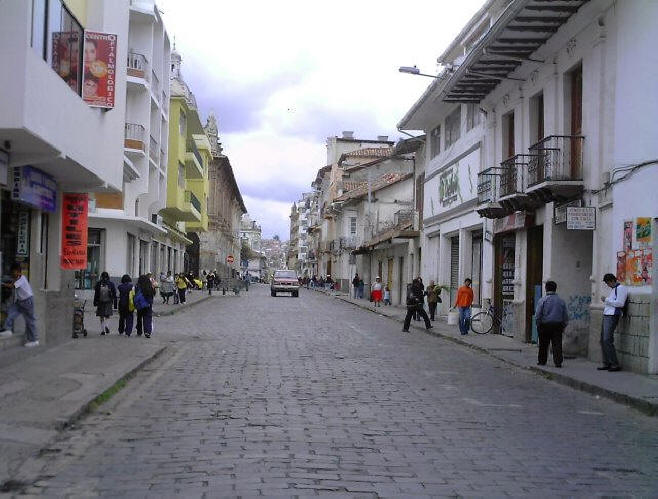 Cuenca Ecuador: Another nearly empty street some distance from the central plaza.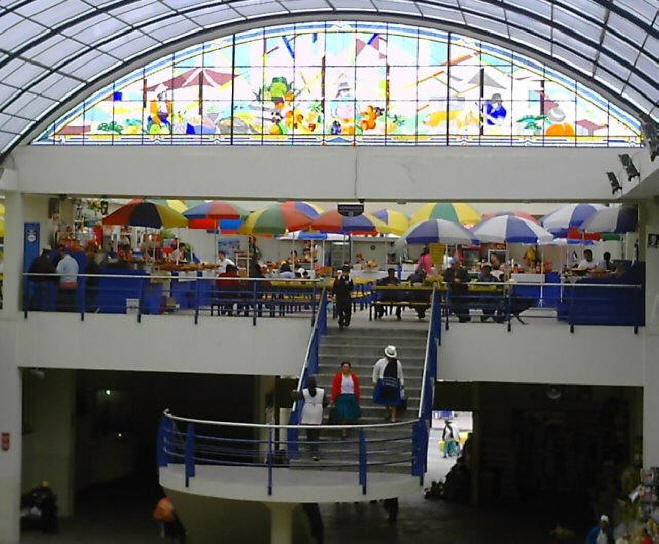 Cuenca Ecuador: Colorful glass mural inside one of the small shopping malls featureing local products and food stalls.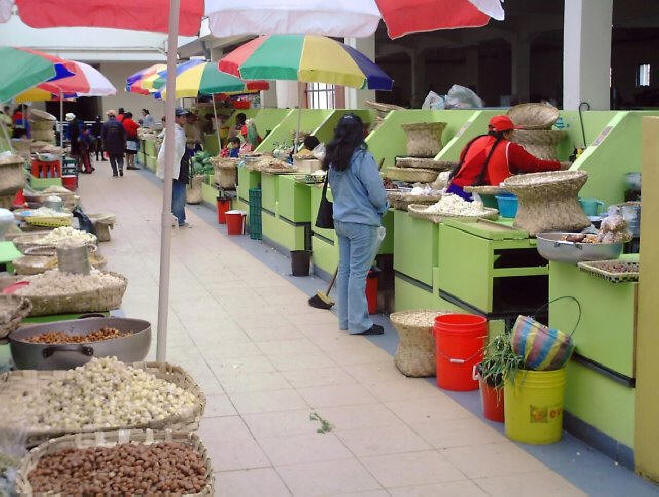 Cuenca Ecuador: Vendor stalls inside one of the small shopping malls featuring local products and food stalls.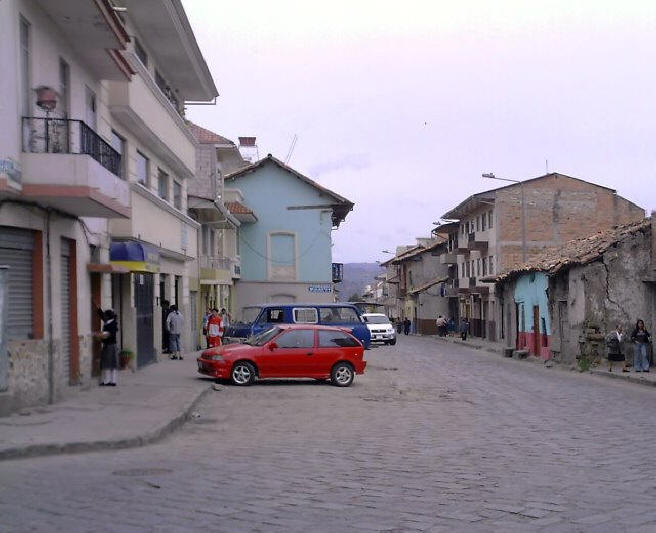 Cuenca Ecuador: Quiet neighborhood street some distance from the central plaza.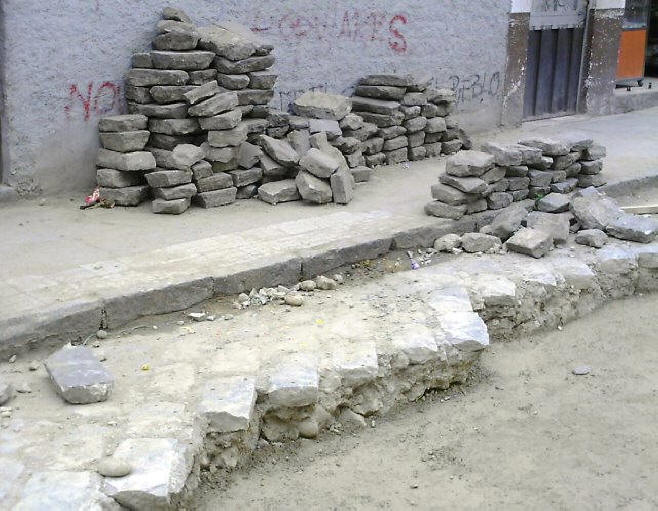 Cuenca Ecuador: Old cobble stone streets are maintained using the original construction techniques.