Hello from Coyhaique Chile in the middle of nowhere.
22-27 January 2006 Coyhaique Chile
Our 27 passenger van got underway shortly after 9:00 only one ticket shy of a full load. Luckily, I managed to occupy the seat next to the vacant one making the long trip more tolerable. The geography south of Chaiten is truly virgin wilderness. There is nothing for miles and miles save the single lane gravel "highway" called the Carretera Austral threading its way south toward the ends of the earth. Devoid of power lines, fences, pavement of any kind, one gets an authentic feel for how things might have been at the beginning of time here. Numerous settlers' cabins scattered along the road and open range livestock are evidence the government's plan to open up this area is working.
Other passengers in our little group included a chatty mother-daughter pair who persuaded the driver to stop a half dozen times for photos... much to the amusement of the other passengers who frequently joked with the driver in their absence... not that I ever understood the exact nature of their mirth instigated in Spanish. The mother kept brushing her hair throughout the day, occasionally spraying it with a noxious substance that stung my eyes and smelled up the bus for a half hour. I made use of photo stops to disappear behind handy bushes and relieve myself, as did other men. The women all must have been quite uncomfortable by the end of the long trip.
The driver seemed to favor establishments run by friends for snack breaks because everyone knew him and none of the places were very good. The quality of the lunch break "cafe" in Villa Santa Lucia prompted me and several others to located a small grocery store down the street. Following the example of a young backpacker I bought a package of 5 weenies, another bottle of water and some cookies... yumm. Three of our passengers left us here making more room for the rest. The road full of bone jarring potholes follows rivers much of the way. For thirteen hours we struggled up and down mountains twisting and turning through switchbacks that remind me of the Highway 18 connecting Big Bear Lake and Lucerne Valley back in California.
But I neglect the advantages of a long road trip through the Austral region of Chile. We passed through some of the most beautiful and spectacular of nature's skyscrapers, stone cliffs near the road that end in the clouds, reminding me of the Grand Teton mountain range in Wyoming of my own country. It occurred to me this could be a rock climbers heaven, though I have seen no promotions for the sport. Rushing rivers covered with snowy froth explain why this is a prime venue for white water rafting, however. The water in a couple of the rivers looked milky white from the light colored silt they carry. Lush jungle like growths smother the road here and there. One particularly impressive plant had funnel like leaves four to eight feet in diameter! Patches of exotic flowers with bright yellows, oranges and reds added color to the mostly green, green, green. Long stretches of wild berry bushes lined the road in several places, green berries already visible among the briers on some.
Although summer in South American , the weather has been increasingly demanding more layers of warmth during our forays outside the heated bus. Near the halfway point of our trip the driver stopped when three shivering, wet Russian boys flagged us down near the entrance to one of the major trekking trails. Protracted negotiations resulted in some agreeable financial arrangement and the three gathered up their soaked packs, tents and other accessories, cramming it all into the limited space left by previously departed passengers. At first quiet, their meek demeanor soon blossomed into boisterous Russian chatter interspersed with short phrases in English as they warmed up in the bus. One sat directly behind me and his tone of voice and nervous activity kept me on edge for the rest of the trip. During the last hour as passengers began leaving the bus, several of us changed our seats to put more distance between ourselves and the Slavic rascals.
Surprisingly, hardy pioneers farm some of the flatter patches of land and run cattle in this mostly unsettled part of the world. It reminds me of the frontier days of our own country as depicted in the old 1960's Bonanza television series. During our thirteen hours on the road we pass several people bicycling down the road. With sleeping bags and luggage strapped to the bikes they reminded me of my own 4,000 mile bicycle trip nearly sixty years ago. The summer before starting high-school and desperate to escape an unhappy home life, I took my curly blond hair on the road. Though only thirteen years old, the moment school had adjourned for the summer off I went escaping down Route66: Baldwin Park California to Saint Joseph Missouri. Two thousand miles away grandfather Bellomy had no idea I had decided to pay him a visit. A concerned policeman stopped me many miles outside Albuquerque and telephoned my mother. Unperturbed by my antics, she told the cop to let me go on, admonishing me to "be careful." Thinking back on my early wanderlust and how precisely it foreshadowed future events in my life, I remembered a hauntingly beautiful song that made a profound and lasting impression on me. The words say it all:
There was a boy

very strange
enchanted boy;

they say be wander'd very far
very far over land and sea.

A little shy and sad of eye
but very wise
very wise was he.

And then one day
a magic day he passed my way
and while we spoke of many things
fools and kings
this he said to me:

The greatest thing
you'll ever learn
is just to love and be loved in return.
That song, Nature Boy became a hit in 1948 when performed by Nat "King" Cole. Shortly after my epic bicycle trip it spoke to my lonely young heart. But I digress.
The stone canyons, rivers and forests had already disappeared in the darkness when we arrived in Coyhaique (pronounced Coy-ah-key), a town literally in the middle of nowhere. If you can find it on a map, add another star to your amateur geographer's diploma. With a population of about 40,000, it is roughly halfway down the archipelago on the mainland. Coyhaique is the largest town in the Austral wilderness area, but that is not saying much. It serves as a staging area for wildland treks and young people carrying a full load of survival gear swarm around the unique pentagonal Plaza de Armas searching for cheap beds.
Bill had instructed our driver to drop me at what he considered the best hotel in town. Always suspicious of such recommendations, in the dark it didn't look like much. No one spoke any English and they would not accept credit card payment for the $85 room rate. So, I marched out disoriented into a light drizzle looking for the "center of town." Finally reaching a lighted street corner with several people waiting for traffic I learned the location of hotels. Tired and discouraged by the poor quality and high room rates at the two places located, I hiked back to the strangely named Hostel Belisario Java. Aside from the cramped room, Spanish only communication and cash only payment, this place easily qualified as a candidate for the best hotel in town. Its unusual architecture reminds me of a medieval castle, complete with formal gardens.
The next morning the graciously friendly staff prepared breakfast fit for a king to my specific instructions... all formulated in my troubled Spanish... augmented by creative gestures. At checkout the owner even indicated on a map the location of the other "best hotel in town:" the $78 Hosteria Coyhaique. There they did accept credit cards, offer Internet access and a few staff members spoke negotiated English. However, breakfast could in no way compete with the lavish preparations made at the Belisario Java that first morning. Coyhaique is a charming place to pause after those thirteen hours of butt pounding the day before. Bumping over a pothole pocked gravel road for 400 kilometers is not for sissies. All in all, I still think this is the most healthy way for idiots like me to live the latter years of their lives. Anyone who craves adventure will find it here.
Today I learned two important bits of information. First, the Austral highway ends at one of the estuaries to the south and no ferry is available onward. Land travel all the way to Punta Arenas means crossing the border into Argentina. So, it looks like I'll fly. The fare is only $100 I'm told. Sensible people wanting to go to Punta Arenas from Puerto Montt take a ferry or fly, but who ever called me sensible? Why would I lounge in comfortable padded chair on a luxury cruise-ship when I can enjoy bouncing around in a rattletrap bus all day? The second interesting bit of information is the availability of a full day cruise to see the world famous San Raphael Glacier out of Puerto Chacabuco not far from here. The best hotel in the entire Austral region is supposed to be located there! I'll hang out here in Coyhaique for a week or so to evaluate the options before deciding how and when to start off for Puerto Arenas in the southernmost part of Chile.
Peace,
Fred L Bellomy
PS: Eclectic Santa Barbara artist extraordinaire, Entera has drawn my attention to a clever guerrilla marketing tactic being used by war protesters. Take a look at the FreewayBloggers site.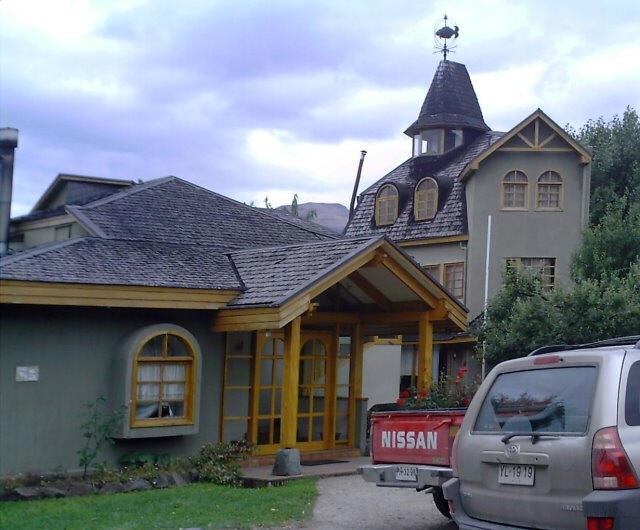 Coyhaique Chile: Entrance to the Hostel Belisario Jave where I spent my first night.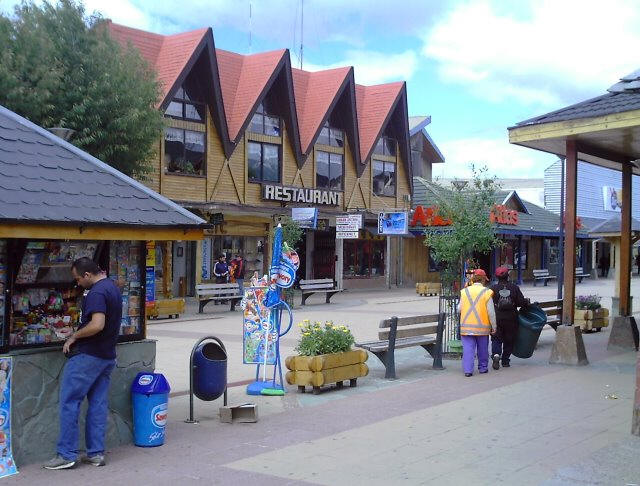 Coyhaique Chile: Pedestrian mall off the pentagonal Plaza de Armas.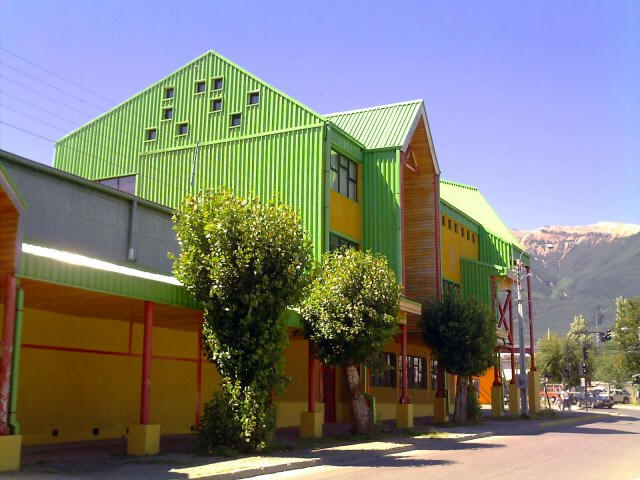 Coyhaique Chile: Chileans do like bright colors for their buildings.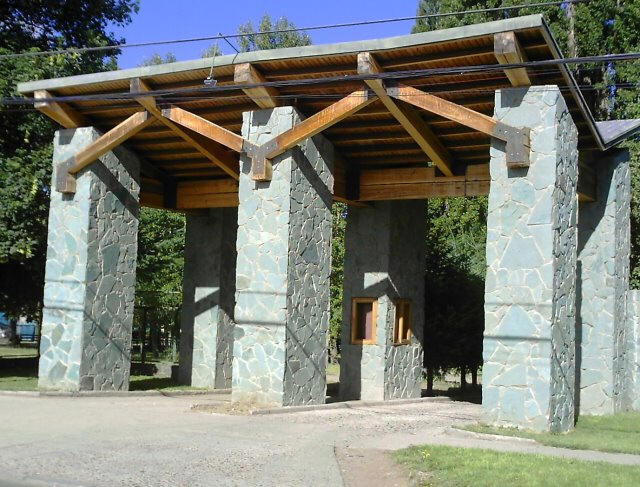 Coyhaique Chile: Entrance to the Hosteria Coyhaique where I spent most of my nights.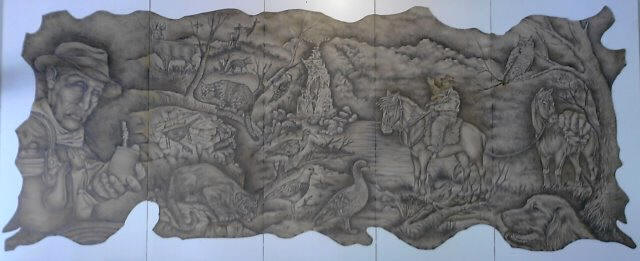 Coyhaique Chile: Art hanging in the lobby of the Hosteria Coyhaique.