Greetings from Uruguay,
This country is the first officially smoke free country in the Americas! It is true. As of the first of this month the government of Uruguay banned smoking in all enclosed public places throughout the entire country... just days ahead of my arrival! The ban was decreed by President Tabare Vazquez, who also happens to be a cancer specialist; an oncologist. Cuba adopted a similar ban in February last year and I just saw on CNN that Scotland has done the same thing. The policy for private spaces, including hotel rooms remains at the discretion of the owners, but ALL other places where people congregate for whatever reason are now off limits to the puffers! Argentina also put an anemic partial ban into effect last week, but no one is paying any attention to it.
A tobacco store sits next door to the $62 Holiday Inn where I am staying. Out of curiosity I stepped inside to see what response I might get to questions about the effect of the ban on business here. A nervous woman of about 65 with a dark wrinkled face sat on a stool awkwardly resting her elbows on the glass counter top. Her assistant, a thirty-something woman admitted to knowing a smattering of English. The minute I asked her if the ban had caused a decline in business the older woman switched from looking dejected to irate, obviously understanding the essence of my question. Between the two of them I learned the ban had been a disaster for this tobacco store, that they had so little business they would probably have to close the store. The younger woman employee shrugged her shoulders and agreed with me that the president of Uruguay had taken a courageous stand, one that a large majority of smokers agree with here according to recent newspaper articles. With this, the older women frowned, shook her head in disgust and stomped out for a smoke on the sidewalk.
"You know California has had such a policy for a couple years, don't you?" I asked one hotel employee as I reacted with surprise upon discovering totally smoke free hotel spaces.
"Yes, I do. But, Uruguay is the first country in the world (sic) to enact such a ban for the entire country." he replied with pride.
"Just across the river over there everyone smokes anywhere they please without regard for others and the well known health hazards, even though they are not supposed to do it inside some places." I noted, pointing in the direction of Buenos Aires and the wide muddy Rio de la Plata separating the two countries. Then, as an afterthought inquired, "Do you smoke?"
Reaching into his pocket he pulled out a slim hard pack of 10 Marlboro cigarettes and sheepishly replied "Oh yes, but not inside anymore." Little by little human beings worldwide are beginning to breath a collective sigh of relief as the self destructive, unattractive habit of smoking slowly abates. This, despite the fact coffin nails can be acquired illegally on the cheap by anyone willing to search the Internet, even in the United States. However, the non-taxed gray-market mail-order price of $1.69 available to desperate Americans is still expensive compared to the 65 cents people commonly pay in Argentina or Chile. Die-hard smokers are not giving up without a fuss. Their diatribes make interesting reading, sometime raising legitimate issues unrelated to smoking per se. Since the presidential edict went into effect a week ago groups of smokers congregating outside offices and stores is a common sight.
A discarded empty box of Philip Morris cigarettes caught my attention. Explicit cartoon-like graphic health warnings covered most of the package urging the smoker to kick the habit or DIE a horrible death! For most of my adult life I have been an ardent anti-smoking advocate, sometimes aggressively so. It is with some satisfaction that I witness mankind's growing recognition of the need to control the harmful effects of tobacco smoke... it only took a half century... most of my lifetime.
The flight from Puerto Iguazu to Buenos Aires got me back to the domestic airport before noon and a city bus completed the journey to the ferry terminal by 13:30. In asking for directions to the "ferry" terminal confusion reigned as everyone I stopped always included "bus" in their reply. The problem turned out to be the name of the fast catamaran ferry: Buquebus! The "flying" hydroplane enabled Buquebus Ferry (pronounced boo-key-BUS ferry) from Buenos Aires arrived in Montevideo three and a half hours later at 18:00. Montevideo sits on a peninsula surrounded by the caramel colored Rio de la Plata. Swirled through the light brown muddy water of the river are streaks of darker water, inflow from the clear Rio Uruguay. Drizzling as usual, my damp walk encouraged a quick hotel decision. Fortunately, the second place I checked turned out to be a Holiday Inn and the $62 they quoted sounded downright cheap under the circumstances.
Montevideo is calm compared to hectic Buenos Aires. People respect the personal space of others on the sidewalks and rarely collide. Even during my stroll down the main street during the busiest part of the day I saw little crowding. Shoppers take their time. Parks are full of sitters and amblers, mothers and grandparents pushing strollers, some stopping occasionally to chat with an encountered acquaintance. Latin Americans love their parks and plazas. Montevideo is no exception. It is hard to walk more than a few blocks without bumping into one of the green sanctuaries. Contrasting with the extravagant public demonstrations of intimate affection I saw all over Argentina and Chile, lovers never kiss passionately in public. One evening I watched public tango lessons being enjoyed by participants and spectators alike. While Montevideo is a totally modern metropolis, one sees horse drawn carts all over town. They are a holdover from earlier days when low income people monopolized the salvage and trash pickup activities of the city. All city trash collection I observed involved these horse drawn enterprises.
Three MacDonald's restaurants are positioned along the main street. Each has a second floor dining area perfect for lingering over a coffee or ice cream sundae while watching the world go by. What few beggars there are give the impression of being ashamed of their behavior, as if they really had been forced into such a degrading means of feeding themselves and family.
For several years now there has been a quiet controversy brewing in Uruguay and other Latin American countries over business interests being acquired by the Sun Myung Moon Unification Church. So, being in Uruguay I decided to look into the matter and uncovered an extraordinary story of the organization's activities around the world including Uruguay. Utilizing a long list of innocuous sounding front groups Moon, who represents himself as another and the last messiah, has amassed enormous business, real estate and communications empires, something causing Latin American governments a great deal of concern. To my astonishment the Bush administration has been linked to the Moonies activities!
The weather has featured rain and drizzles nearly every day, but none of the wind so often encountered further south. My next destinations will be in the northern part of the continent, Venezuela and the Guyanas . Traveling in that region is problematic and dangerous according to all reports I can find on the Internet. There appears to be no land border crossing between Venezuela and Guyana nor even direct flights connecting the two countries. So, the next segment of my adventure could be especially challenging.
Peace
Fred L Bellomy
PS: In a cute play on words a good friend of mine in Santa Barbara closed her reply to one of my postcards not with "peace," but with "Ho Ping to see you soon, if you ever decide to return to Santa Barbara," adding that "Hoping is Chinese for peace." Strangely, my small Chinese vocabulary never acquired that particular word. A quick search of the Internet found over 600 citations though, including an excellent one containing the paragraph:
"Confucius taught peace. The word for Peace in Chinese is "Ho Ping". "Ho" means "to get along harmoniously" and "Ping" means "to treat all equally". In the Japanese language, peace is said as "Ping Ho", a different orientation, but both have the same meaning with equality being the cause and harmony being the result." F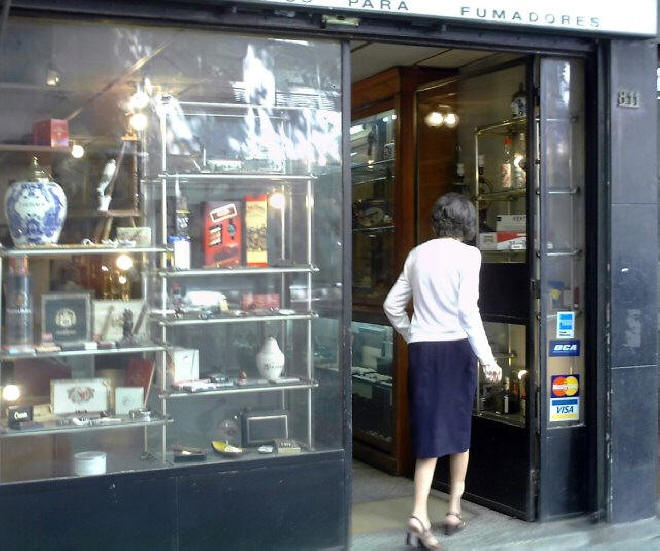 Montevideo Uruguay: Dejected and clearly not happy with the presidential degree banning smoking in public places, the elderly owner of this tobacco store confirmed the ban has been a disaster for her business.

Montevideo Uruguay: The elderly owner of this tobacco store confirmed the ban has been a disaster for her business. Inside I discovered this ashtray for sale with a "no smoking" card sitting in it. With difficulty I stifled an explosive inner chuckle.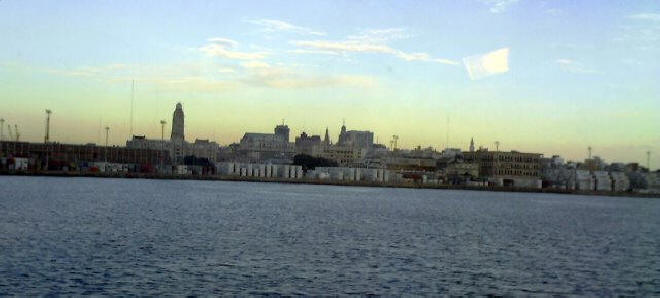 Montevideo Uruguay: The skyline as the ferry approaches the city.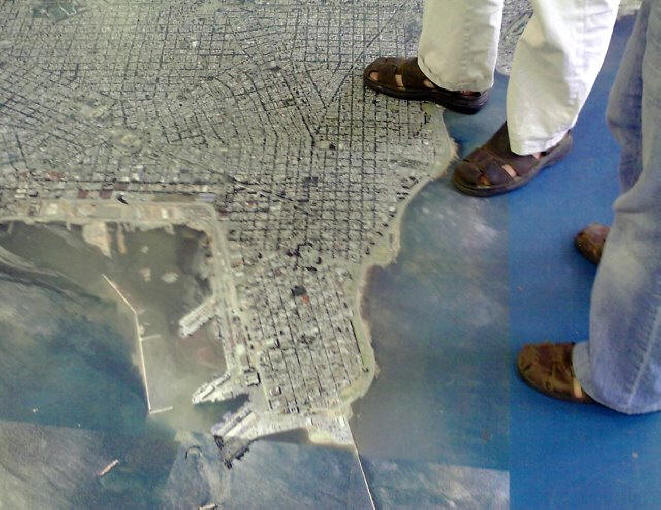 Montevideo Uruguay: A giant aerial photo with a transparent coating serves as the floor covering in the lobby of the city hall.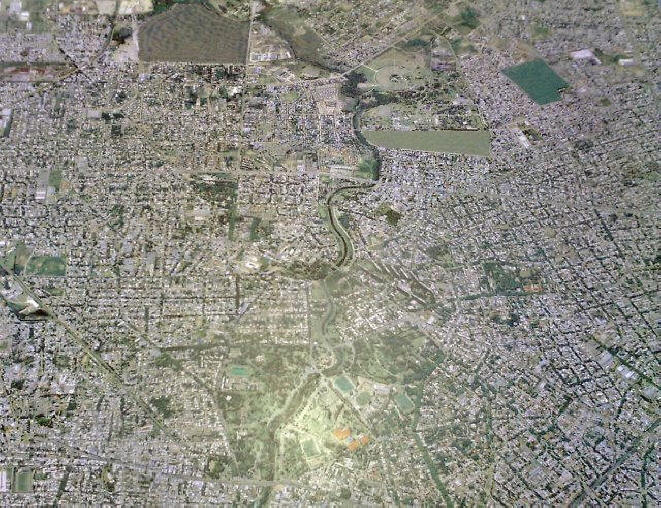 Montevideo Uruguay: A giant aerial photo with a transparent coating serves as the floor covering in the lobby of the city hall.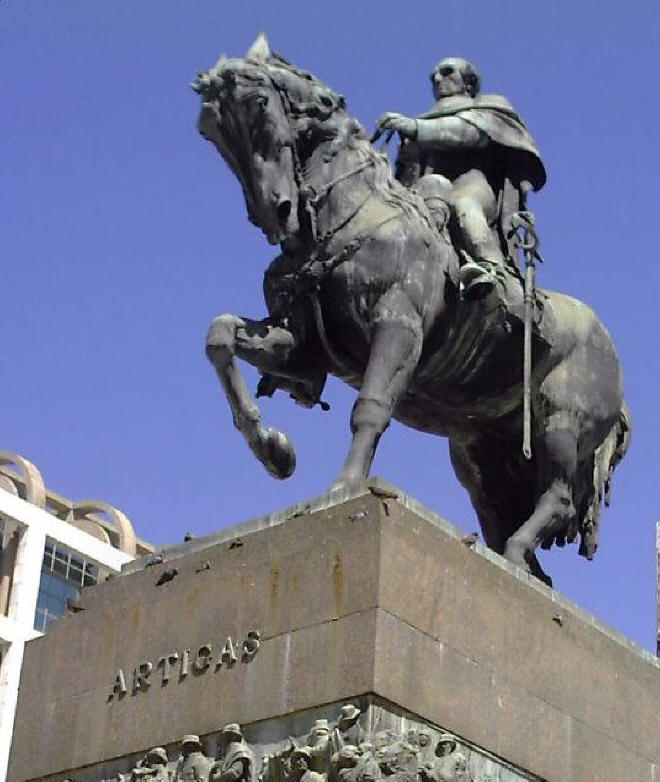 Montevideo Uruguay: Monument in the Plaza Independencia dedicated to Artigas.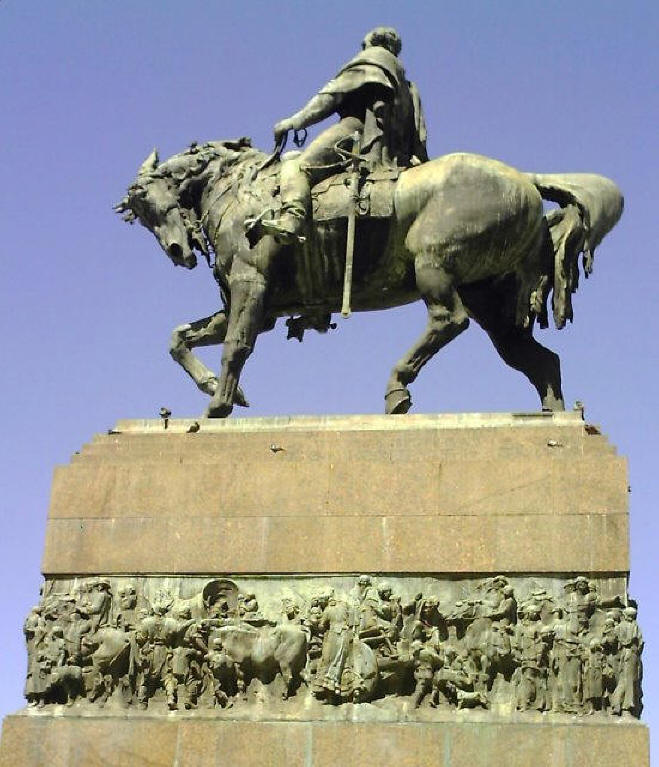 Montevideo Uruguay: Monument in the Plaza Independencia dedicated to Artigas.


Montevideo Uruguay: Details around the base of the monument in the Plaza Independencia dedicated to Artigas.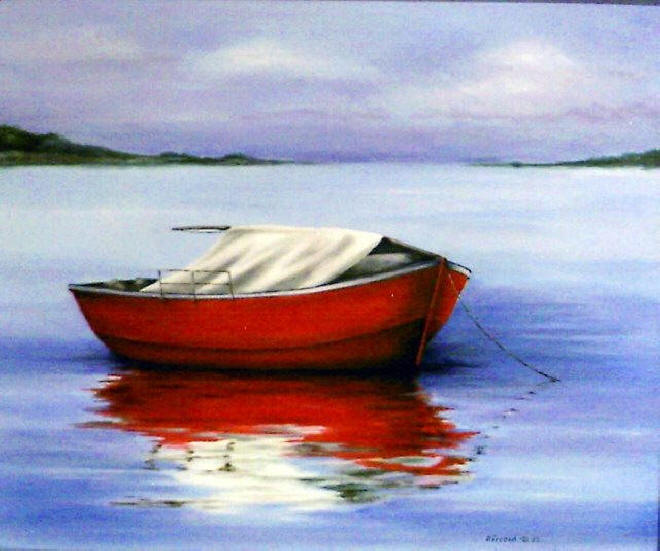 Montevideo Uruguay: Painting in the lobby of the $62 Holiday Inn where I stayed my entire time in the city.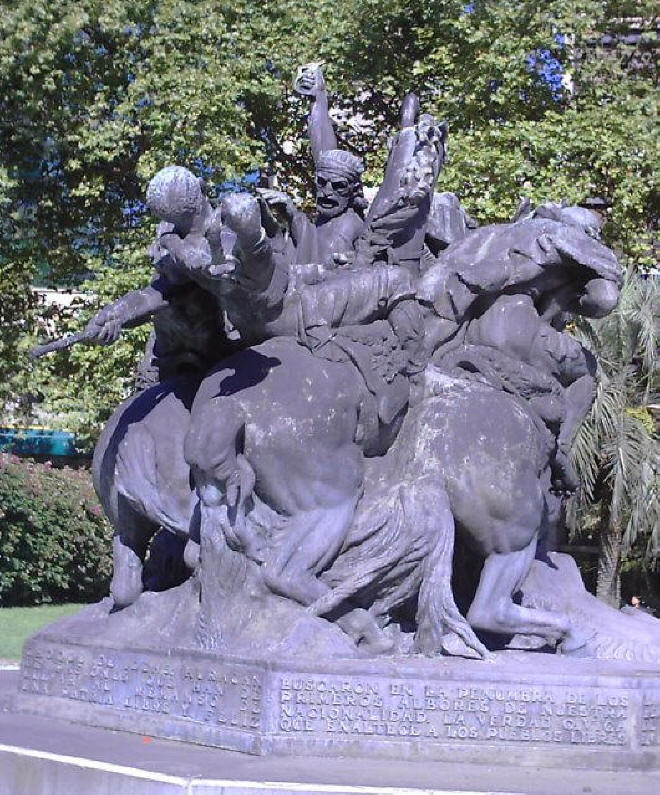 Montevideo Uruguay: Central sculpture in Plaza Fabini.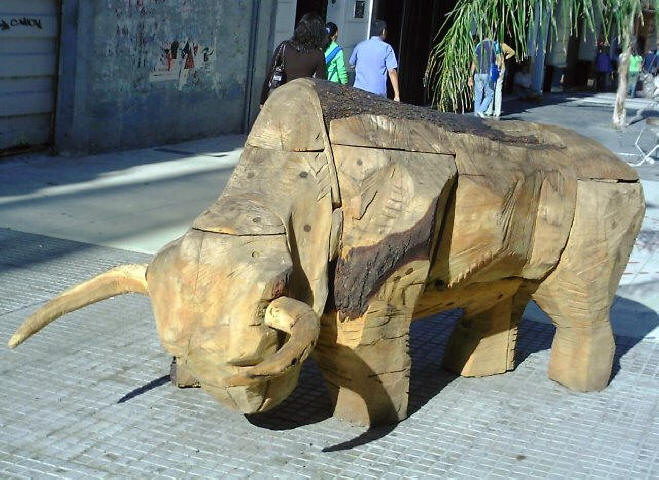 Montevideo Uruguay: Sculptures adorn the pedestrian street.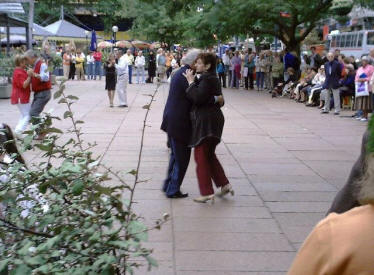 Montevideo Uruguay: Tango dancing in the park. Lessons and demonstrations use public spaces each evening in the city center.

Montevideo Uruguay: As of 1 March 2006 smoking in any enclosed public space is 100% prohibited throughout the country.