Bienvenidos from Tegucigalpa Honduras,
I left San Salvador 20 July on the 14:30 deluxe Pullmantur bus heading for Tegucigalpa Honduras. The bus conveniently starts its run in San Salvador from the Hotel Presidente where I'd been staying. At the last minute they told me about a tour package that includes with the bus fare two nights in the Tegucigalpa Marriott Hotel. I hate arriving anywhere after dark, so having a hotel reservation at the terminal point of the bus trip set my mind at ease for this trip.
The hotel portion of the package cost $135 for two days which seemed high, but when I inquired about extending my stay I discovered just what a great bargain the packaged rate had been. They would be happy to extend my stay for $150 per night I learned! Fortunately, the nearby Hotel Intercontinental had a weekend special rate of $90 and is located directly across from a large MultiPlaza mall with an extensive food court. All in all, $90 seemed a comparative bargain for the ultra luxury and convenience it bought: the Intercontinental offers free shuttle service to the airport for my early morning Sunday flight to San Pedro Sula.
Although advised by everyone not to go into the old center of the city as it is "very dangerous" I did anyway. The problem I learned later is that ordinary people on the street refuse to get involved during a street crime for fear the criminals will come after them later. During my long walk around the central plaza area I saw nothing unusual that would suggest any more problems than I've seen anywhere else in Central America. A city bus got me into and out of the city center with lots of advice from other friendly riders. The English language weekly, Honduras This Week reports crimes against tourists.
Of course, anyone staying at one of the first class hotels would naturally be a prime target for criminal predators... if they knew where they actually were staying. My travel habits rarely make it obvious I might be staying in such a place and it is my habit to quickly get away from the hotel when ever I go out, usually on foot. Unadorned and walking or riding city buses, I might be just another ordinary foreign born resident. There are many here.
This capital city is unremarkable as far as I am concerned. The old section of Tegucigalpa does still retain some of its colonial flavor, but buildings have not been well maintained and the lack of city planning is apparent. People on the streets attempted to understand my undoubtedly terrible Spanish and answered direction questions as best they could... in Spanish. Everyone returned my smiles.
There is an intensive advertising campaign being waged to sell the Cholesterol lowering drug, Lipitor in Honduras. Over and over television advertisements announce those at risk for heart attacks can lower their chances by 35% ( that's from 3% to 2%). Another program reviewing the research on heart disease noted people can lower their risk of attacks by 30% simply by drinking one or two bottles of beer each day. Hey! That sounds like a no brainer: drink a beer or take a pill (with known and unknown side effects). I long ago decided to ignore the 1% benefit of drugs and will now try to compensate with more beer drinking, especially while beer is less than a dollar a bottle down here. Does that make sense or what?
The currency in Honduras is the Lempira. The one Lempira note features an image of an Indian the Hondurans honor as the "father of their country." A powerful leader, he organized hundreds of independent tribes and led an insurrection against the Spanish invaders during the conquest of Central America in 1537. The current exchange rate is nearly 19 Lempira per US dollar. Twenty dollars worth of Lempira is a fat wad of local currency.
It is finally obvious that most cyber cafes with broadband Internet connections now have Internet telephone service and offer dirt cheap calling to most places in the world. I have been seeing banks of wireless phones in Internet cafes in every country I've visited so far, and have just learned about the technology being used. A number of companies are marketing a turn-key capability including the necessary additional equipment. Central American cyber cafes have been signing up in droves. Calls to the USA using the services here are typically 7 to 15 cents per minute, a good deal less than the $2.50 per minute charged by ATT. A quick search of the Internet discovered many articles about the technology and advertisements for commercial services: see Vonage, ICONNECTHERE, VoIP. Quality here in Honduras suffers from frequent brief drop outs and occasional annoying noise, but I quickly got used to the shortcomings in order to save big money calling friends back home while traveling in Central America. When I am ready to make a call I show the 10 digit number I want to call to the attendant; she dials the number and when an actual connection is eminent hands the wireless handset to me; I wait for the ringing to be answered. Call timing is done with a stopwatch.
The international airport serving the Honduras capital is small and unpretentious. It reminds me a lot of the one in Santa Barbara when I first arrived 35 years ago. Planes taxi right up to the departure lounge; there is only one. Passengers walk out on the tarmac to board the plane. For even my short $39 flight up to San Pedro Sula a few hundred kilometers north the airline used a modern Airbus.
Peace,
Fred L Bellomy
PS: A Washington post article: "Joy... or Pain" sent to me by my friend Shad Monkeyshines, is a good reminder of what it takes to enjoy a long and healthy life.
Finally Nan, a usually reliable source says the Santa Barbara News Press recently ran an article discussing an animal rights group complaining about the way fried chicken outlets exploit cartoon characters of chickens to sell their products... this at the very time I found myself amused by all the happy chicken signs in a Managua mall food court... and later in El Salvador and Honduras as well. FB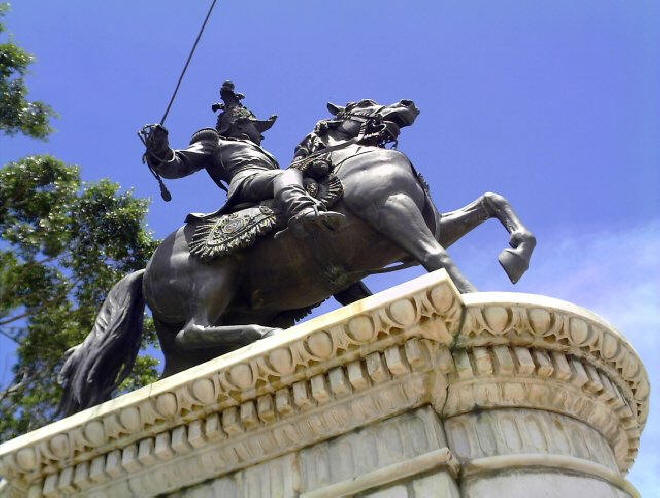 TEGUCIGALPA HONDURAS: This is the focus monument in the center of the plaza in old Tegucigalpa. The guy on the horse is Francisco Morazan.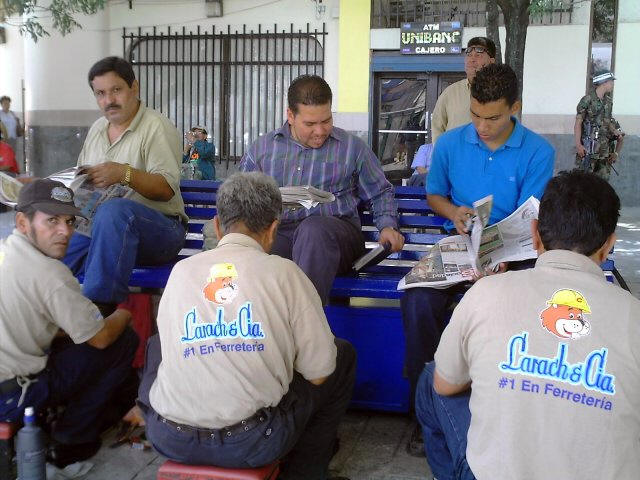 TEGUCIGALPA HONDURAS: Occupying a strategic shady area along one edge of the central plaza shoe shine services seemed to be in big demand. Getting closer seemed to irritate the guys on the far left. I suspect there is more going on here than meets the eye.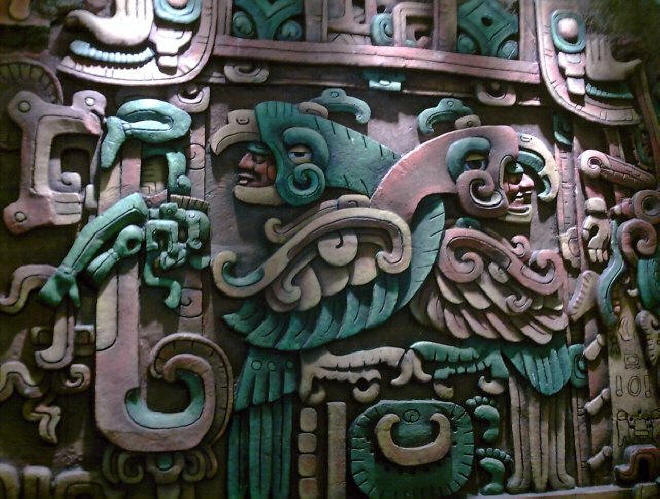 TEGUCIGALPA HONDURAS: Old Mayan decoration around the base of a monument in the central Tegucigalpa plaza.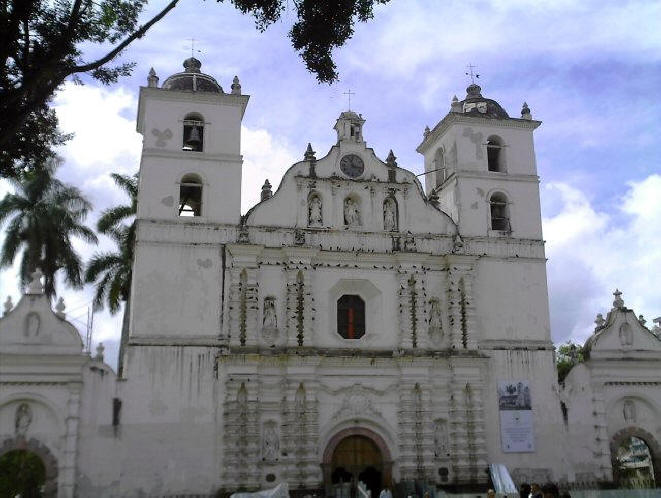 TEGUCIGALPA HONDURAS: This is the Tegucigalpa Cathedral sitting on the south side of the central plaza.