Hello from Caracas Venezuela,
Over the Brazilian Amazon basin there is a storm brewing all the time somewhere day or night. Wild updrafts created by the weather insure planes flying across Brazil will treat their passengers to a bumpy ride at some point adding excitement to an otherwise boring six hour flight. To further distract us Aerolinas Argentinas screened two English language videos: The Legend of Zoro and Pride and Prejudice. That seemed strange on a flight were most passengers speak Spanish.
The 13:30 flight from Buenos Aires got into Caracas about 19:30 and I just missed the last bus into town. The only option for getting into the city at that hour is an expensive cab ride: 80,000 Bolivares or about $36 (enough to buy 250 gallons of gas here!). As if the outrageous taxi fare were not enough, the 11 mile trip into town now takes an hour and a half. The problem is a recently closed bridge that forces all traffic onto a bypass road turning three lanes of normally moving traffic in both directions into creeping stop and go madness day and night.
We arrived in the Sabana Grande downtown area of Caracas well after dark and not anxious to test all the worrisome warnings against walking darkened downtown streets, I grabbed the first hotel I could find. The $33 Hotel Gabial rents rooms "by the hour" and does not include a breakfast in the deal. In the morning I took my usual hike of exploration and did some hotel shopping. While looking for someplace to get a cup of coffee, the unattractive pedestrian mall made its appearance near one of the entrances to the modern French constructed subway system. At that early hour many doorways still serve as makeshift bedrooms for the city's derelicts. I saw no fewer than a dozen men sprawled under large sheets of cardboard, nothing but dirty blackened bare feet showing.
While standing in a crosswalk waiting for the light to change a blind cab driver backed into me... at least I assume he must have been blind... either that or he just wanted to nudge me out of his way. Fortunately several nearby people screamed and I jumped back just as his bumper touched my leg, avoiding possible injury. The few alternate hotels I checked did not inspire enthusiasm and minute by minute my urge to leave this unpleasant place quickened finally leading to a snap decision to escape back to the airport for an impromptu flight eastward to someplace closer to Angel Falls and the Guyanas. The return trip in the airport transfer bus hit the same traffic jam we endured getting into the city last night, but the fare was only 5,000 Bolivar. At the airport I learned a flight boarding at that very moment would get me to the largest city in the northeast, Puerto Ordaz where I would find good connections to both the falls and the Guyanas. A quick ticket purchase, airport tax payment, expedited pre-boarding security checks and I made the flight.
Peace
Fred L Bellomy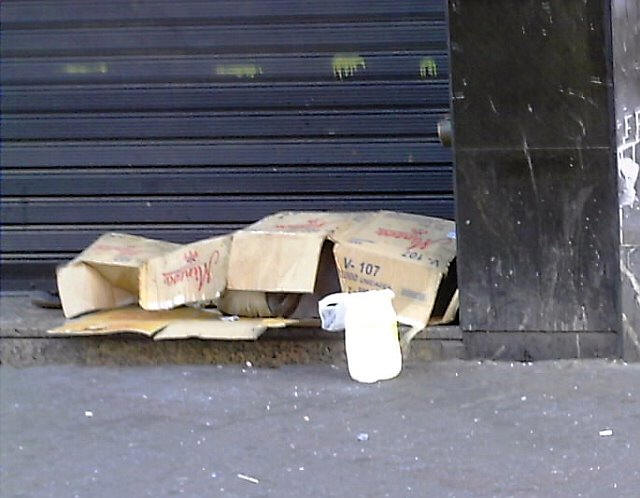 Caracas Venezuela: Early my first morning... only morning in the city I observed perhaps ten or so dirty men sleeping on the sidewalks. In one entry recess I discovered five people huddled together with nothing but a piece of cardboard for a mattress. The weather is quite warm, so blankets are an optional luxury.