Hello from Cayenne French Guyane,
Here in French Guyane all computers come equipped with a weird French keyboard layout. (I q; o,Cqyqne French Guyqne zhere they use their ozn zierd keyboqrd lqyout:) is the same sentence when typed assuming a QWERTY keyboard. It is driving me nuts.
After a week in Paramaribo Suriname I headed East to the border with French Guyane. The full day trip to Cayenne by bus took us over bumpy roads with two river crossings. My romantic ideas of spending a night or two in the Suriname border town of Albina on the banks of the second river evaporated upon discovering a village of a dozen or so unpainted permanent buildings of uncertain purpose and a mass of plastic sheet shelters for the snack merchants and hustlers. This is a transit point and nothing else. Formalities before crossing the river marking the international boundary consisted of a brief conversation starting with "How did you like our country?" and a perfunctory rubber stamp in my passport.
Few people without vehicles bother to wait for the official daily ferry. A large fleet of longboats tied up along the bank are available for the ten minute crossing. I took my time looking over the waiting boats as a crowd of touts argued with one another about who's passenger I was to be. Again, the first guy to make contact with a victim considers him to be his personal property. The boat I selected failed to meet the approval of my "owner" and angry words were directed at the captain of the vessel I had chosen. The boats are capable of carrying fifteen or twenty people; indeed several so fully loaded craft could be seen making the crossing in both directions.
Our boat slid up onto the muddy bank making it easy to disembark dry. Immigration formalities on the French Guyane side of the river took no time at all and the smartly uniformed French Immigration official informed me my "French" visa would allow me to remain in the "country" pretty much as long as I wanted!
A paved road leads to the town of Saint-Laurent on the border a few blocks from the river. It reminded me of many small rural towns I visited in France some years ago. Being late in the day I considered spending the night here. A quick survey of the possibilities led me to the "best hotel" in town, the $54 Central Hotel, a large place with what looked like old Soviet architecture. The Spartan rooms did not look appealing and I changed my mind about staying. As I left the weather turned wet making the search for the bus terminal urgent. There is no real bus station here, only a gathering place near the wharf where highly organized collective taxis wait for a full load before starting their trip to Cayenne. The first taxi in the queue needed seven more passengers to start his run.
The driver looked like a tough ex-convict, or at the very least a descendant of some brute sent to Devil's Island early in the last century. A large man with rough distorted threatening features, he had no patience for non-French speaking passengers unfamiliar with the precise procedures dictated by his taxi union. The fixed 35 Euro fare gets passengers to the "Gare" in the city. For an additional 5 Euros the driver will take them to their final destination in the city. All of this I learned during a contentious conversation with the Anglophobic driver who clearly resented my attempts to learn about his services in halting broken, badly pronounced French. "Of course I speak no English! This is France." he informed me in French with resentment dripping from each word. Very few people admit to understanding English at all and those who do often make it clear they do not appreciate foreigners who insist on using that ugly language.
One of the receptionists in my $91 Best Western Hotel Amazonia in response to my question "Do you speak English?" replied in quietly twisted English, "Every fool does..." His haughty pronunciation and arrogant effeminate demeanor made it difficult to understand what he had said. When asked to repeat it he became exasperated. In a later conversation I discovered he has a perfect command of cultured European English, so I can only conclude he hates the necessity of ever using it. After that I avoided speaking to him at all. Everyone else in the hotel made English conversation comfortable. This country is more French than France! It is as if the populace of this remote French outpost is desperately clinging to the glorious France of yesteryear. Because it is a "Department" of France it is also a member of the European Union! Currency used is the Euro. Of the three Guyanas, French Guyane is the most like its founding colonial power.
One day while working in a cybercafe the guy next to me carried on a marathon of phone conversations with friends around the world. Finally curiosity got the better of me and I asked what technology he used. "Skype." he answered and then proceeded to explain how two months earlier in India he had made a $10 credit card payment to them and still had a balance of credit. "Most of my calls are free and it only costs about 2 cents a minute to call regular land-line phones anywhere in the world, so ten dollars goes a long way." I noticed he had something plugged into the USB port of the computer with wires going to a headset. I wondered about the quality and he assured me it varied from excellent to irritating, depending on the Internet connection. "With broadband the quality is better than most landline phones," he emphasized and then returned to chatting with a colleague in Germany.
Some months earlier in Central America I had used the widely available and very cheap Internet Telephone services offered by cyber cafes in that region. Though I didn't get too excited at the time, the experience piqued my interest. This guy's hours long easy phone chats made it clear I must learn more about Voice Over IP (Internet Protocol). With a little research I found two new devices that do excite me: a $50 pocket sized USB Flash Phone with Skype preinstalled, and the $250 Skype Wi-Fi Phone that allows one to make wireless VoIP calls wherever a hot spot is discovered. When prices come down, this technology is going to produce essential gadgets for the savvy globe trotter.
In two hours I leave by an Air Caraibes Flight for the island of Martinique... another French protectorate. Being a major tourist destination closer to the United States I am hoping the people are less xenophobic. Enough for now as my brain hurts from trying to touch type on this funny keyboqrd, er... keyboard.
Peace
Fred L Bellomy
PS: I finally had time and the necessary equipment to view a remarkable 911 documentary video sent to me by Entera of Santa Barbara. 911 Loose Change 2nd Ed. raises some very disturbing questions for this viewer. Though generally ultra-skeptical of most conspiracy theories, the 82 minute video presents a body of evidence not easily dismissed. Viewing it also provided my first introduction to the new Google Video feature, an enormous eclectic collection of programs accessed with the help of various indexes; search "911" and get 978 offerings, for example.
PPS: For months I have been hearing about Google Earth and have just had a chance to play with it. Google Earth is free and it is awesome! From a view of the entire earth zoom into the street where you live, to the house where you sleep, to your neighbor's backyard, to all those exotic places about which I have been writing.
PPPS: My quirky friend, Monkeyshines in Santa Barbara thought I might enjoy seeing Bush And Nixon Battle It Out. I did. F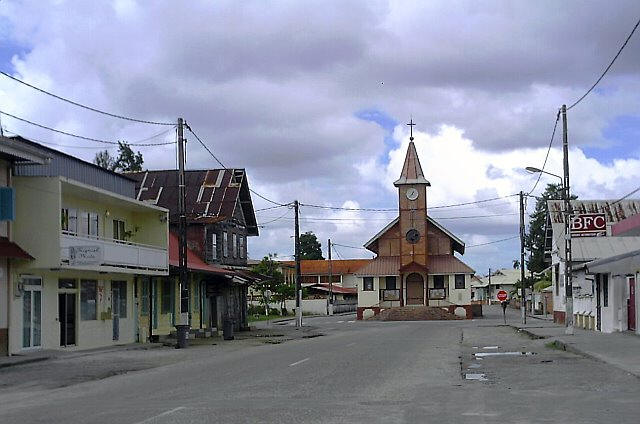 French Guiana: Main street Saint Laurent French Guiana.

French Guiana: Taxi Collective van driver who did not like my lack of French.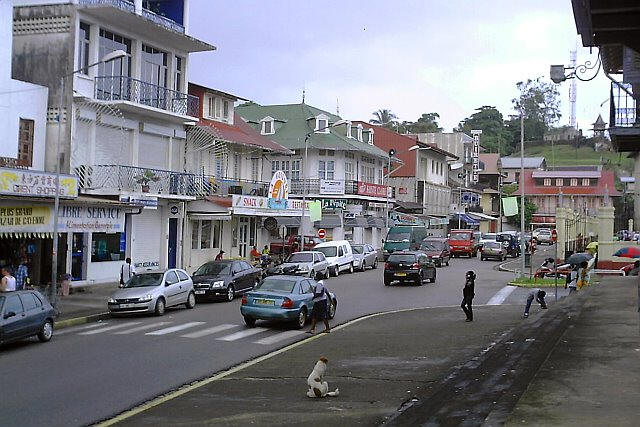 Cayenne French Guiana: Looking down the main street in the city.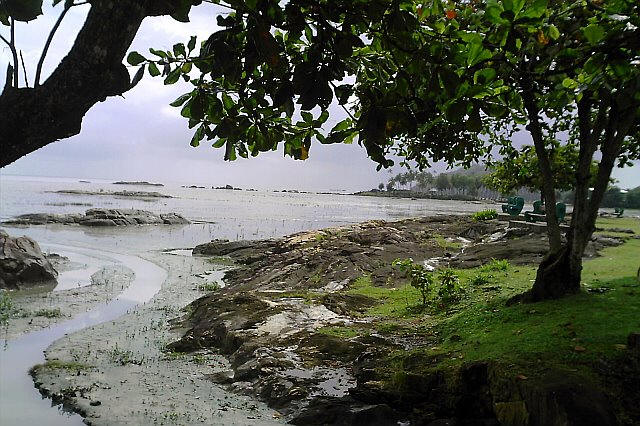 Cayenne French Guiana: Looking out on the sea from one of the beach parks.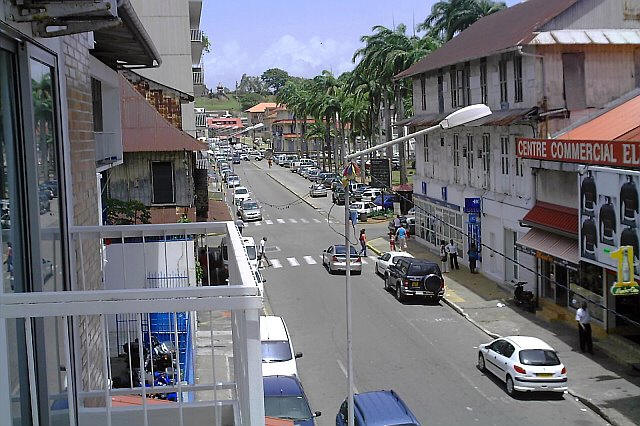 Cayenne French Guiana: View of the main street in the city from my room in the Best Western Hotel.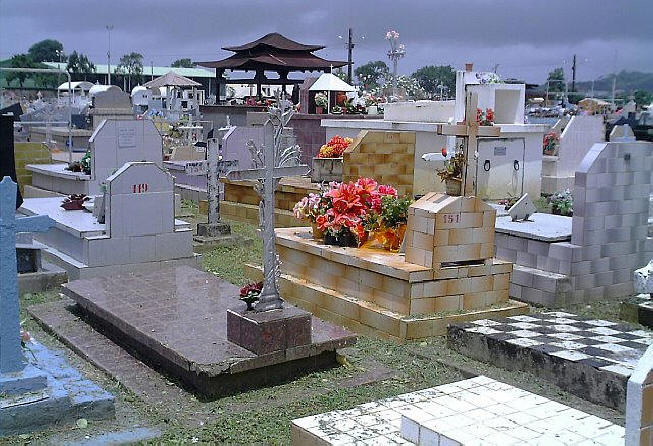 Cayenne French Guiana: Main city cemetery.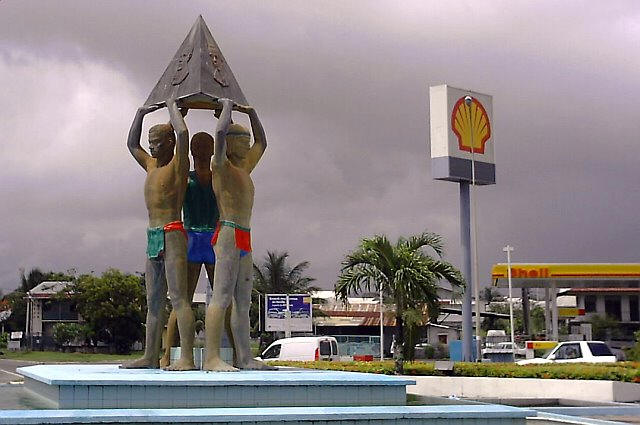 Cayenne French Guiana: McDonald's as seen from the sculpture of three men in the middle of a traffic circle.


Cayenne French Guiana: Another mural on a building in the city.


Cayenne French Guiana: Part of a mural on the curved end of a church.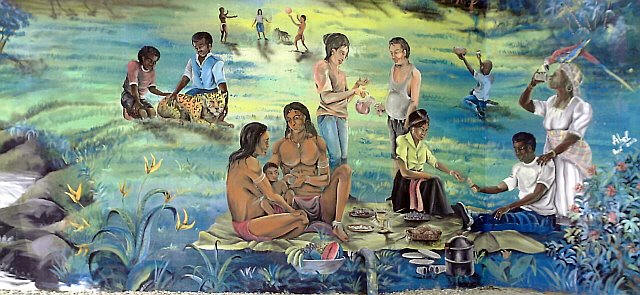 Cayenne French Guiana: Part of a mural on the curved end of a church.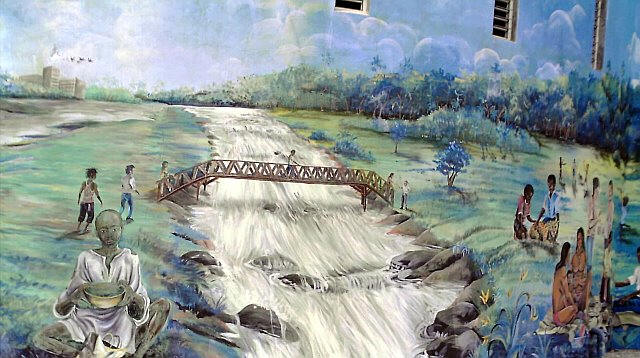 Cayenne French Guiana: Part of a mural on the curved end of a church.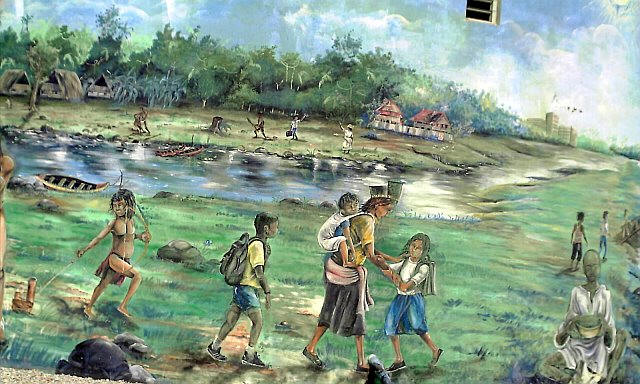 Cayenne French Guiana: Part of a mural on the curved end of a church.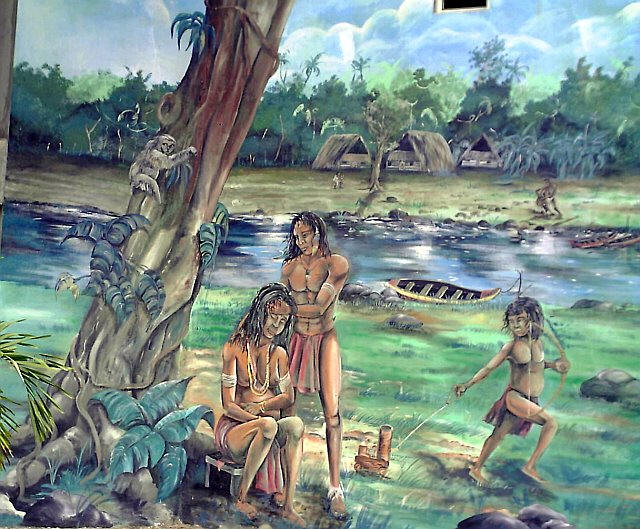 Cayenne French Guiana: Part of a mural on the curved end of a church.