Greetings from Iquique Chile,
A four hour bus ride out of Arica through more coastal desert terrain got me to Iquique (pronounced ee-key-kay), a small holiday resort town a couple hundred miles south of the northern border of Chile. So much like Santa Barbara, my $70 Holiday Inn Express room right across the street from the beach feels like accommodations in the Santa Barbara Inn. The place even has free Internet terminals in the lobby business center. However, being such a friendly weekend get-away hotel for families, mobs of Chilean kids ran wild around the hotel last night making an awful racket... and how do I know they were Chilean? Immediately after entering Chile I could not help but notice the kids, undisciplined and uninhibited with parents who never try to limit their unruly behavior in public. So, the kids behave like children! Never mind they drive strangers crazy. Supermarkets are particularly vulnerable to their antics with isles becoming perfect places to practice soccer ball moves or just as often, basketball dribbling skills. The small fry get into the act with their imitations of the referee's whistle performed at the tops of their lungs. All in all, grocery shopping in Chile is a noisy, hazardous affair.
Iquique is an oasis in this obscure part of Chile. Mountainous sand dunes bordering the vast Atacama Desert plunge steeply down to within walking distance of the beach squeezing the city between sand and sea. A wild real-estate boom is in progress with dozens of modern high-rise condo developments being promoted around the periphery of the city. Billboards advertise two and three bedroom units for as little as $30,000 and a government brochure promoting foreign investment touts the favorable treatment given investors from outside the country.
Presidential elections occurred last Sunday with a lot of noisy electioneering leading up to it. "Beating the drums" for your candidate is popular in South America and every day drum rolls could be heard somewhere in the business districts of Iquique. As puffy blisters on both feet have been protesting way too much walking during the past two days, I will give the feet a rest and ride buses today. That is something I enjoy doing anyway. In a few days I'll be leaving for Santiago where it is possible I might pause to enjoy the Christmas celebrations... or I might jump ahead and be in the Easter Islands on Christmas day. If the opportunity doesn't present itself later, let me wish everyone a happy holiday season wherever you are.
Peace,
Fred L Bellomy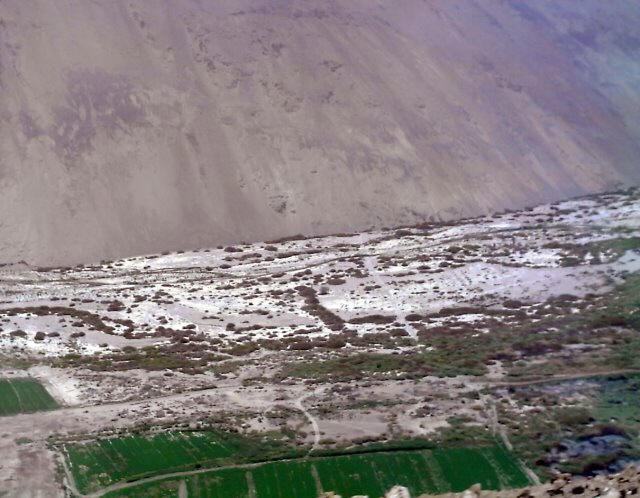 Iquique Chile: Desert dunes end in the river along the road to Iquique as seen from the arriving bus. I see many farming communities along the river valley.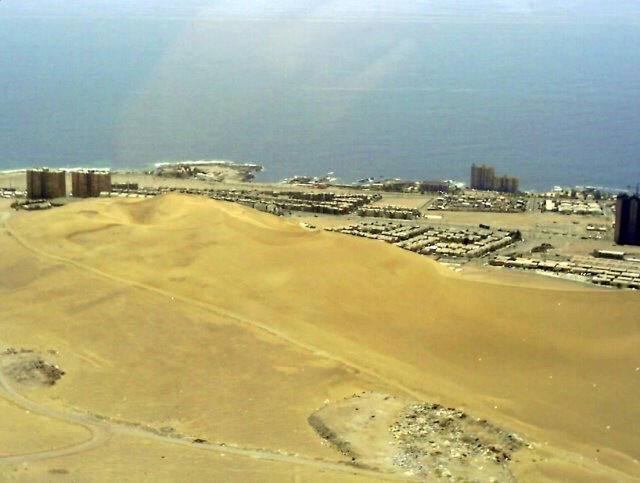 Iquique Chile: Our first view of the city looking down the dunes coming into Iquique.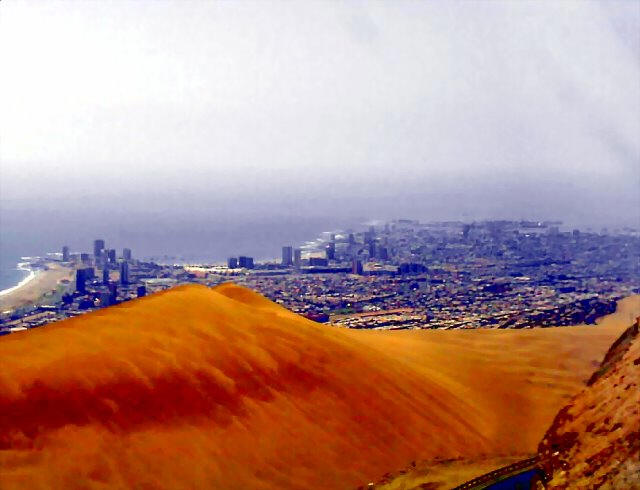 Iquique Chile: Our first view of the city coming into Iquique. The desert dunes slide down to the edge of the city below.