Greetings from Chaiten Chile,
The ferry glides through inter-island waterways between the Golfo de Ancud to the north and the Golfo Corcovado to the south providing some great panoramic views of the snow covered Andes. Only the hushed throbbing of our ship's powerful engines break the silence. Arising abruptly, a dense forest of islands creates a full three hundred and sixty degrees of greenness around the horizon. Cabins appear on every island we pass, large and small. After seven hours on the glass smooth water the ferry lurches to a stop at the Chaiten wharf. It is nearly dark and despite all the buildings we could see in the twilight from a distance, nothing that looks like a hotel is located anywhere near the wharf.
The few people I encounter on my way toward the "center" of town are of little help finding a hotel. Actually, there is no center of town. In fact, there is hardly a town at all. A half dozen wide unpaved boulevards crisscross one another with scatterings of ambiguous, mostly modern buildings here and there. The town's Plaza de Armas is an unimproved lot at the periphery of the matrix of graveled streets and separated from the few clusters of buildings that are here.
Touts positioned along the three block walk into the village offer in hushed tones "hospedajes meester?" Looking back, using one of them in such a situation might not have been unreasonable. I had no intention of staying more than a single night before continuing south anyway. But, you know me; when it comes to lodging I am anything but reasonable. Even in a sparsely populated village like Chaiten with darkness fast approaching I insist on doing it my way.
I had previously seen Internet references to the Mi Casa Hotel and eventually found it on the hill north of town. At $44 cash it is a true rustic frontier mansion complete with creaking wooden stairs and squeaking bed springs. This particular evening all rooms except one had been booked by a noisy group of Americans. Simple, but with all the essentials including hot water for showers, I have spent many nights sleeping in much less comfortable places. The rustic dining room contained several large tables occupied by the wilderness tour group busy gorging themselves in preparation for their upcoming experience of deprivation. Desperate for something to eat myself and a staff who spoke only Spanish I agreed to try the house special. For about $15 I got Coca Cola, a tough overcooked beefsteak and the most delicious mashed potatoes I have ever tasted, creamy smooth and flavored as if by a five star French chef. In truth, I enjoyed the Puree de Papa more than the mediocre overpriced steak.
The next morning a sharp knock on my door surprised me before dawn. The eager leader of the backpackers tour inadvertently added my door to those of his group. That turned out to be a lucky mistake because the only mini-bus south each day leaves before nine o'clock. The hotel's breakfast unexpectedly included bacon and eggs in addition to a selection of creamy desert pastries always available with morning meals in Chile. When I managed to find someone to take my money and checkout, a stout handyman puffing aggressively on a smelly cigarette stepped behind the small unfinished wooden counter and with exaggerated gestures scribbled numbers on a pad finally presenting me with a slip containing his total. Quick mental calculations revealed he had over charged me 10,000 pesos (about $20)! That straightened out I left to find the "bus" terminal.
The bus station is in an unmarked building on one of the dirt boulevards separated from other signs of human activity. Several local early morning strollers got me moving in the right direction and I finally found it with only a half hour before the departure time. Bill, the guy who owns the bus terminal is an expat American and very friendly. Wearing a bushy black beard and defiantly reluctant to discuss his reasons for being in this remote place I guessed he must be one of those people on a witness protection program. "Where you from?" I asked?
"Boston." he answered tersely with a grin. I had my doubts.
"What brought you to this beautiful, but remote place?" I continued, pulling out my tiny spy camera and preparing to take his picture.
"Hey! Don't do that," he blurted, turning his face.
"Camera shy?" I queried, lowering the camera.
"No. I just don't want my picture taken... thanks for respecting my privacy." He retorts with a forced smile.
Actually, this part of the world would be a perfect choice for anyone wanting to disappear! Of course, it is a long, long way from any real civilization.
Peace,
Fred L Bellomy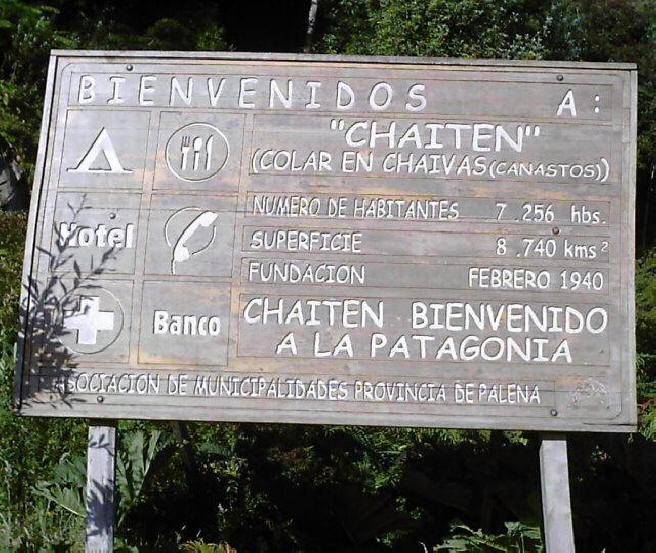 Chaiten Chile: A welcome sign after landing at the Chaiten wharf.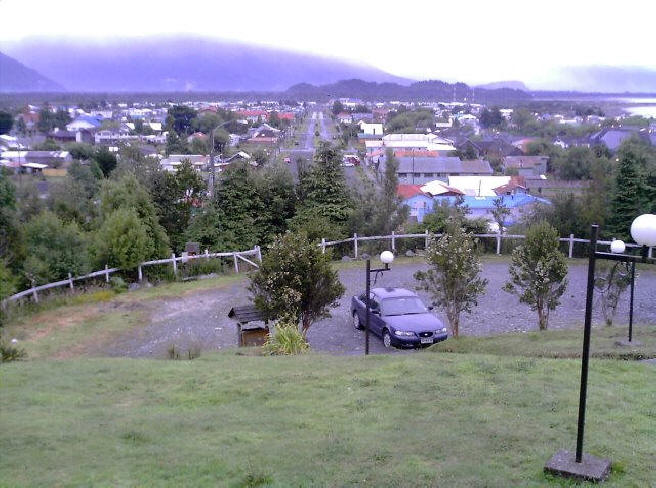 Chaiten Chile: A view of the tiny pueblo of Chaiten from the balcony on Mi Casa, the hostel where I stayed one night while making transportation arrangements south.