Greetings from Gosier on the Isalnd of Guadeloupe,
After gagging on the outrageously high hotel rates and finding nothing but second rate houses in downtown Pointe-A-Pitre, serendipity came to the rescue. Almost immediately I stumbled on the seaside Hotel Arawak a short distance down the coast in the Gosier resort area. Most of the exuberant guests were members of the Fram Travel Club, but hotel reception immediately offered me one of their excellent available rooms for $80, about half the rate being charged by other comparable first class resorts in the area. It pays to shop around, if you have the time.
Tropical Guadeloupe is called the butterfly island (two islands divided by a narrow sea channel looks like an injured butterfly from the air). Though hot and humid, it provided a delightful respite with its sandy beaches, coconut palms, roaming iguanas, diving pelicans and tree climbing native boys harvesting coconuts for the giggling female tourists. The Arawak Hotel dining-room serves as an open air aviary; wild birds fly freely about the tables cleaning scraps of food generously discarded by guests. Internet cost 6.50 Euros or about $8/hr in the only cyber cafe I could find on the island. Saturday night everything closed. Four nights in paradise proved enough for this restless wanderer and I grabbed a $294 Air Caraibes flight heading west and one step closer to the US mainland, planning to island hop through the Caribbean for a while.
Peace
Fred L Bellomy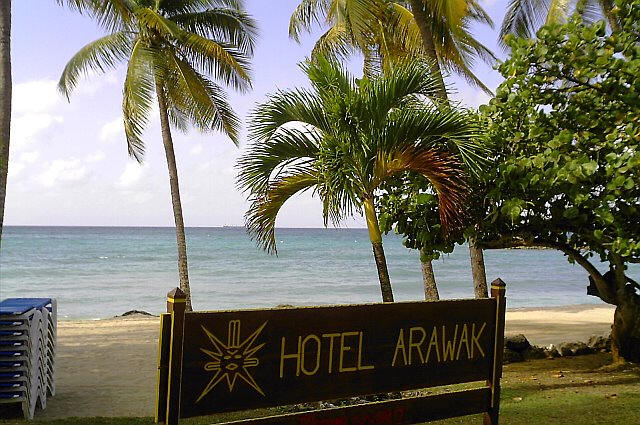 Isla Guadeloupe: View of the Caribbean Sea from the dining area at the Hotel Arawak.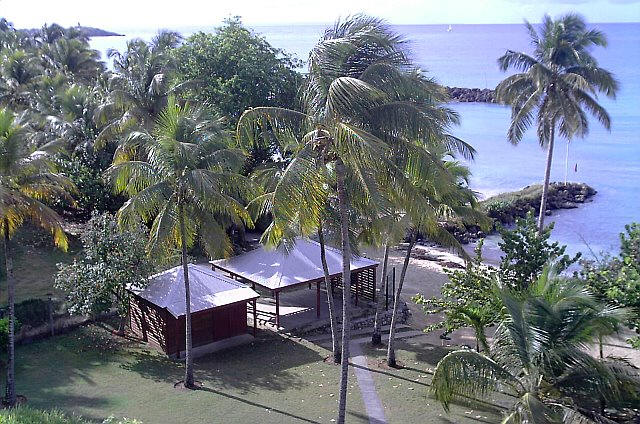 Isla Guadeloupe: View of the Caribbean Sea from the balcony of my room in the Arawak Hotel.