Hello again from Cuzco Peru,
On 12 November after my enjoyable visit to the ruins at Machu Picchu the Vistadome train got me back to Ollytaytamba where I joined two European girls in hiring a 30 Soles ($9) collective cab back to Cuzco. The cab dropped us off in the Plaza de Armas and I immediately headed for the main business street Avenida el Sol where I had previously found several good hotels. The $40 Savoy Hotel seemed to be the best of the lot and has Internet access in the lobby; it also has a casino off the lobby which may account for the relatively low room rates for such a quality lodge.
Like most of the hotels I've used recently, the included breakfasts always feature a large selection of fresh fruits: watermelon, pineapple, Mexican papaya, melon, oranges, grapes, bananas and other strange fruits I never identified. The watermelon is unusually sweet for some reason. Coffee, on the other hand is a strange preparation made from a thick dark extract. Americans usually request a highly diluted version which still fails to mimic "real coffee" very well. Locals seem to prefer a dilution with hot milk.
The Savoy Hotel lobby always has a big tray of coca leaves and a boiler of hot water available for guests. I have taken to brewing a cup each morning before using the Internet. I'm now convinced it does take the edge off the more severe symptom of altitude sickness. I mentioned earlier that Cuzco has a reproduction of Rio's Christ the Redeemer statue erected within sight of ancient Incan ruins. Called the Cristo Blanco and donated by Palestinian settlers in 1944, it serves as symbol of peace linking ages and faiths.
One day back in Cuzco while further exploring the city I passed a provocative sign in front of the Centro Odontologica Americano dental offices. "Free Extractions today only!" read the hand lettered sign in Spanish. Intrigued and in need of long overdue teeth cleaning I entered the front office which seemed to be in the midst of a celebration. "Good morning" I said to the receptionist.
"Buenos dias," she replied.
"Donde esta un persona clinica con Ingles?" I inquired. The middle aged woman grinned and answered,
"Un momento, por favor." In minutes Dr. Julio Cruz Rendon appeared in the reception office and asked in English,
"May I help you?"
"What's going on here?" I replied.
"A group of Canadian doctors is doing some charity work here using my offices." We explored the details of the activities aimed at indigent Cuzco residents and then I asked if it might be possible for me to book an appointment to have my teeth cleaned, adding that I would be leaving the city in only a couple days.
"Yes, of course. Please take a seat. I have something to finish, but will return shortly." Unsure of timing and costs I asked for more details and learned he would perform the service himself and that the cost would be 50 Soles or about $15! He left and returned in five minutes ushering me into his examination room full of modern equipment. The thorough procedure took about an hour. I have never enjoyed more professional dental service regardless of cost.
In a day or two I take one of the First Class Bus Company tours down to Puno on Lake Titicaca. This service combines short stops to see sights along the way and a buffet lunch with eight hours of the deluxe transportation to Puno, all for the cost of 85 Soles or about $25.
Keeping myself supplied with local currency has been problematic. Getting cash advances at an ATM with my Visa credit card always works and provides better exchange rates than changing dollars or travelers checks at local rates, but the card company tacks on a finance charge ranging from 5% to 10%. Reluctant at first to use my bank card for direct withdrawals from my checking account, it is now clear this is a better option as the bank only charges my account whatever amount I get from the ATM and always at a favorable exchange rate. My hesitancy resulted from problems I had in Costa Rica. Now in South America the international banking system is working fine.
Posting personal travelogues on the Internet has become extraordinarily common. Ten years ago when I first began sharing my travel observations with friends through the Internet, few others had adopted the practice. Today everything has changed. Every leisure traveler is eager to keep friends and family back home appraised of their progress, either by simple email or increasingly by contributing to one of the commercial travel websites or blogs set up for that purpose. A Google search just now with the phrase, "personal travelogues" produced 30,000 hits! I suppose the reason friends and acquaintances continue to read mine is because we have some history and it is a way of staying in touch. Whatever the reasons, I am personally grateful. The feedback I get from you makes writing the postcards more fun at this end.
Peace,
Fred L Bellomy
PS: Though deeply immersed in the exploration of Latin America this year, the contemporary plight of my own nation and its relationship with the rest of the world is never far from my mind. It appear to me we have entered a new and dangerous era, a twenty-first century version of Manifest Destiny or American Exceptionalism. Our enormous wealth, dynamic economic momentum, military superpower capabilities have finally tempted ideologically motivated men beyond sensible restraint. Enlightened self interest has given way to megalomania. Divisive manipulation of information fed to an ill-informed electorate has convinced a majority of our citizens that "they are on our side." I refuse to believe that more than a few intellectually blind people embrace every part of the current administration's programs, if they indeed understand even the simpler multifarious aspects of those programs. It disturbs me to conclude that most of our citizens who find themselves agreeing with one or more key elements of our political leader's policies are then reluctant to examine all their other pronouncements with an equally critical eye.
Not long ago a majority of my government's international policies and programs gave me an intoxicating sense of pride. As I traveled the world my citizenship opened doors and prompted expressions of admiration. All of that began to change with the turn of the millennium. Long time readers of my reports from exotic places may remember observations made while in Togo and Morocco Africa and Indonesia Southeast Asia a few years ago. Prior to the year 2000 America had amassed an enormous reservoir of international good will. Even outside detractors who worried about the concentration of so much power in the hands of a single nation admired our generosity and fairness while at the same time cautioning against any one nation becoming the World's policeman. It now appears to me the wise axiom "Power corrupts and absolute power corrupts absolutely." is frighteningly accurate.
I am fortunate to number among my valued friends thinking people at all points along the religious, economic and political spectrums. I am praying that those who have not already done so, will examine those aspects of current government policies they have thus far ignored because of their passionate agreement with one or more other important elements. Deeply religious Christians need not abandon their approval of a president's personal religious beliefs in order to question his reckless use of military power and deliberate alienation of longtime allies. Economically ultra conservatives can admire the administration's monetary policies and still dispassionately question the long term social and health consequences of ignoring scientific evidence for global warming. Ordinary citizens frightened by the possibility of terrorist attacks can take comfort in our nation's enhanced disaster preparedness and still examine the important concerns of civil and human rights advocates about the secret and extreme "security" measures being taken by our government. Need I go on? As citizens we are not obligated to remain silent on every issue even when we wholeheartedly agree with the position taken on one or a few issues of immense personal concern. A president's leadership program is not a package deal; each element deserves separate and independent scrutiny. As long as I carry an American passport I cannot remain silent; can you?
Fred L Bellomy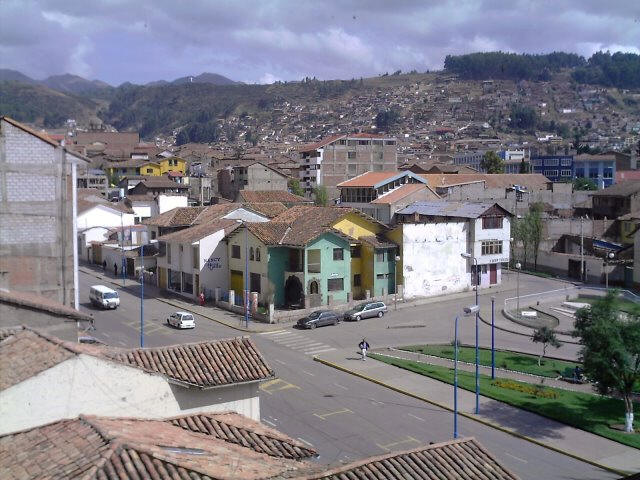 Cuzco Peru: View from the window of my room in the $40 Savoy Hotel.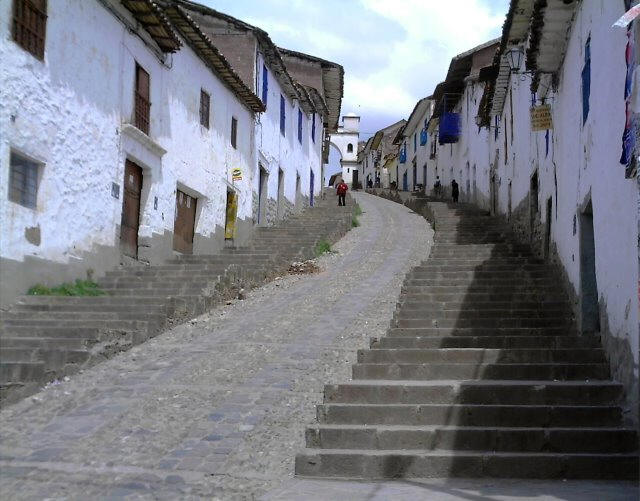 Cuzco Peru: Better use the stairs to climb this steep street to the northwest of Plaza de Armas.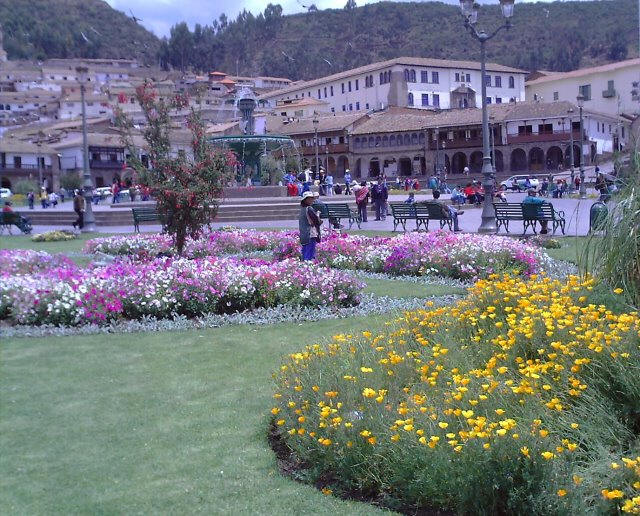 Cuzco Peru: View of the sculptured gardens in the Plaza de Armas.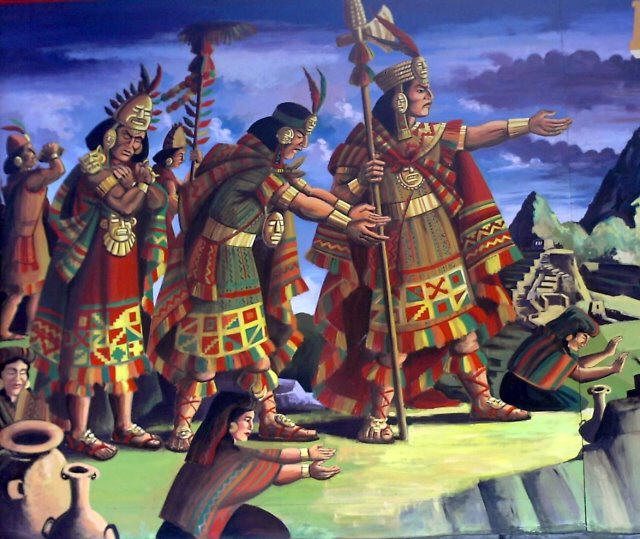 Cuzco Peru: Mural inside a store along Avenida el Sol.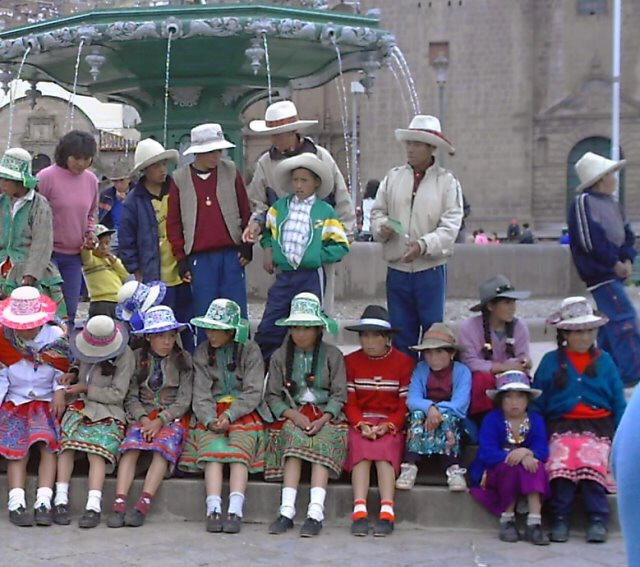 Cuzco Peru: A large group of indigenous people visit Cuzco and pose for a group picture. Tourists crowd around snapping pictures while the group's leader tries to cajole them into making contributions for the privilege... to no avail as there were just too many people taking advantage of the opportunity!