Hello from Puno on Lake Titicaca in southern Peru,
On 22 November I took one of the Cuzco based First Class Bus Company tours down to Puno near the border with Bolivia. This service costs about four times as much as one of the deluxe transportation only intercity buses and takes about two hours longer. However, it includes an English speaking tour guide narrating sights along the way and makes several brief stops en route at the village of Andahuaylilla and the ruins at Racchi and Pukara. A late morning comfort stop let us peruse the elaborate crafts on display and mingle with a small herd of llamas, alpacas and Vicunas. Later, about half way to Puno we stopped for an institutional buffet lunch... all for about $25.
Nine hours after leaving Cuzco the bus arrived shortly after dusk in Puno near the center of town. With light rain complicating the task of searching for a decent first night hotel, my good luck soon brought me slightly dampened to the comfortable Hotel Hacienda Puno, a block from the central Plaza de Armas. The hotel has free Internet and installed Front Page. It is a bargain at $30 per night. Such an excellent value explains why I have stayed so long.
The town is built on the slope of the foothills that reach down to the lake. Smart visitors and residents alike make use of the trishaws for trips up the hills as the cost is a nominal 60 cents. On one uphill return trip I tried one, but the obvious stress being experienced by the young peddler behind me touched my conscience and I got off and walked the last steepest segment. Climbing the inclines does put some extra stress on a flatlander's lungs. Like all better hotels in the higher altitude locations, this one has a basket of coca leaves in the lobby and hot water for making tea to fight altitude sickness, called Soroche here. Illegal in the United States in either the leaf form or packaged tea bags, locals recommend it as a medication for relieving the most severe effects of the high altitude. Since arriving in Cuzco I have had reoccurring bouts of anxious breathing accompanied by mild headache, sometimes awakening with a start and involuntarily breathing deeply until the urgency passes. After two weeks of using the coca tea daily I find the symptoms have abated somewhat.
Puno is located at an altitude of 12,500 feet or 3800 meters and is famous for two things: claims of extreme longevity and the Uros indigenous communities living on floating islands made from bundles of reeds. The latter draws a steady stream of tourists to the lake. I first heard of Lake Titicaca twenty years ago from a lecture widely distributed on cassette tapes by Joel D. Wallach, a veterinarian and naturopath entitled "Dead doctors don't lie." The Wallach hype about his vitamins promoting longevity has since died down, but the magic of the name Lake Titicaca remains stuck in my head. (You might wonder why I use so many hyperlinks in my musings. The simple answer is that I learn quite a lot about places I visit from articles available on the Internet. The links are there partly as a personal reference and partly as a service to readers who might like to investigate further themselves.)
The Indian women in their distinctive bowler hats, shawls and ankle length dresses all seem to have overly ample hips. For a while I thought it might just be the unflattering stylized costumes they all wear or some peculiar habit of keeping pockets full under their skirts. So, one morning I sat at a sidewalk coffee shop watching throngs of them with Santa Claus-like bundles on their backs fashioned from colorful shawls crammed full of the widest range of objects from babies to orange crates. As they ambled by my table in their funny little Charlie Chaplin-like bowler hats it became clear those hip bulges are mostly human flesh accentuated by the flaring skirts they wear! The middle aged men show signs of beer bellies, but their preference for Western clothes makes them look much like their North American counterparts. As I see many young women who do not look over weight, I must assume it is the Inca version of female middle age spread that leads to the distinctive fat distribution.
America's Thanksgiving yesterday has no significance in this part of the world. I did celebrate in a fashion with a big meal at Mario's, the best restaurant I've been able to find in the vicinity of the Plaza de Armas here in Puno. I chose a thick Llama steak broiled rare smothered in a typical Peruvian sauce. The agreeable flavour of the sauce covered the natural flavour of the sacrificed Andean beast of burden. Even cooked rare the meat still cut with difficulty and the outer fire darkened surfaces were tough. Before choosing llama I debated ordering a roasted guinea pig which seemed a closer substitute for the American turkey, but prior experience convinced me I would have to spend more time picking bits of flesh off the many bones than eating it and that the crackling thick skin would be difficult to cut and impossible to chew. All in all, memories of friends back home, the exotic ambiance and unusual llama steak made for a wonderfully memorable Thanksgiving. As the chef at Mario's takes his time preparing his gourmet selections, the waiter brings magazines for diners to peruse while they wait. A couple days later in one of the Uros Indian floating island communities I noticed several big domesticated birds that looked suspiciously like turkeys. I suppose a more persistence adventurer could have arranged for something closer to roasted turkey.
Enterprising entrepreneurs station themselves on the pedestrian mall near the Plaza de Armas as walking phone booths alerting passers-by they offer telephone service using the cell phones linked to their wrists by meter long chains. Rates are reasonable: about fifteen cents per minute for calls anywhere in the country and thirty cents for most international calls. The service is popular and a common sight is a person chained like a pet to their owner yakking away on a cell phone. Along the crowded pedestrian mall Indian ladies squat by their shawls displaying home grown vegetables or crafts they have made; scruffy old men in torn sweaters stand by small movable carts loaded with sundries while others dog potential buyers trying to dodge their insistent hounding. Shoeshine boys in ski masks follow people with scuffed shoes once they have decided among themselves who will attack the next target. In the residential areas vegetable sellers position their hand carts at the head of a street and proceed to loudly chant over a bull horn today's fresh specials.
Day before yesterday I witnessed a protest march of perhaps a thousand Peruvianos chanting "Zona Franca por Puno." It seems the close proximity to Bolivia a short distance down the shores of Lake Titicaca makes for some lively trade that is currently being taxed. The Puno merchants and workers don't like it and are agitating for a repeal of the taxes. The parade provided an excellent opportunity for photos of various indigenous people in their native dress. Everyone seemed delighted to have their pictures taken in this context and cropping gave me some interesting photos.
Photos taken on the way to and while in the town of Puno are here.
Finally, on my fourth day here I took a $5 guided tour out to the floating islands on Lake Titicaca. That such huge rafts constructed from bundles of reeds could provide the stable living platforms they do is a marvel. These "floating islands" have been in use by the small indigenous Uros tribes for centuries, originally to protect themselves from rival tribes and the Spanish conquistadors. Today, with the throngs of visiting tourists the only thing they protect the people from is poverty. The buoyant Totora reeds are amazing, providing flotation, structural materials and food for the isolated inhabitants. Gathered around the "campfire" we watched as our guide peeled the root end of a reed, broke off the dirty part and proceeded to eat the exposed raw vegetable like a banana. This plus the fish caught or farmed in the lake serves as the staple diet of the Uros people. Bundles of dried reeds create flotation devices capable of supporting enormous loads; from them are made boats and the foundations of the islands themselves. Dried reeds woven into mats are used as structural elements in the construction of dwellings, and of course they are used these days for making the popular souvenirs tourists want.
Peace,
Fred L Bellomy
PS: Today as I write this, it is World AIDS Awareness Day and that has prompted me to ponder just why the world remains so dysfunctional. Then a BBC in depth report about the worldwide pandemic focused on poorly educated, fanatically religious black women in Alabama who are twelve times more likely to contract the virus than their better off white counterparts. That Alabama is the epicenter of the American Bible Belt and one of the poorest regions in the country received emphasis. It occurred to me that religion feeds on hopelessness and that anachronistic ideas of religions practiced by poorly educated people promote scientifically unfounded socially dysfunctional behavior. This is no more true than in human sexual behavior. Where religious teachings based on "revealed truths" conflict with knowledge based on empirical evidence and scientific principles, the later clearly deserve to prevail. Sadly, exactly the opposite is true for a majority of the world's inhabitants.
A few of you may recall I have been attempting to formulate an hypothesis which reconciles the important roles both science and religion play in everyone's lives... including those of atheists! Without demeaning the role of beliefs founded on faith unsupported by verifiable evidence, it seems to me possible to embrace the evidence of our senses and reason without sacrificing the comforting faith based beliefs in situations where such beliefs commonly improve the quality of our lives. After all, most of us already do something like that almost everyday. Anytime we get totally engrossed in a fictional story our minds automatically shift to an acceptable state of gullibility. Never mind there is no actual person named Nemoy Gorkle or that travel through "space-time wormholes" is unsupported by empirical evidence. Turn off the video or close the book and we quickly return to the reality supported by our five senses and our reason. It seems to me the same mind set should be possible for the realms of religion and rationality: each predominating in its own appropriate life domain.
Education undoubtedly is the key and it is most needed in teaching people the most objective histories of the ancient "sacred" writings upon which our world's numerous religions are based. We might start by making elementary school classes in comparative world religions compulsory in all secular schools, possibly by a United Nations mandate. Anything like that would no doubt take many generations to accomplish, of course. The religious establishment in all its internationally varied manifestations has a vested interest in retaining the status quo. An enormous infrastructure and cadre of indoctrinators has grown during the many millennia of human history. New attractive roles for the practitioners and enhanced artistic appreciation of the physical heritage would need to be evolved. China's practical approach comes to mind. FB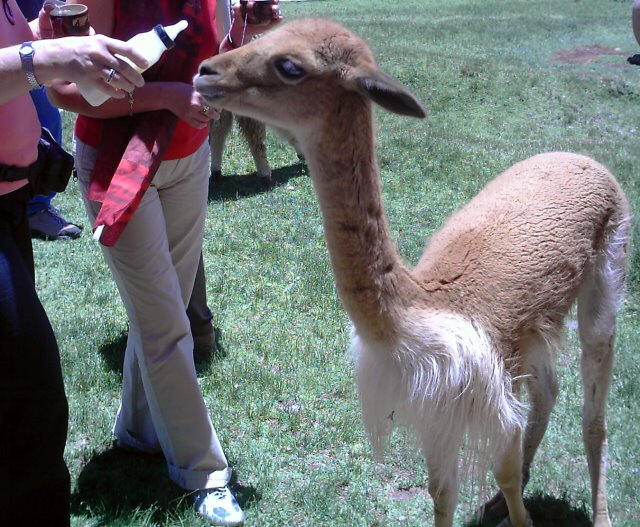 Puno Peru: Animals for tourists to admire during a comfort break in Reqchi on our tour to Puno. This is a Vicuņa.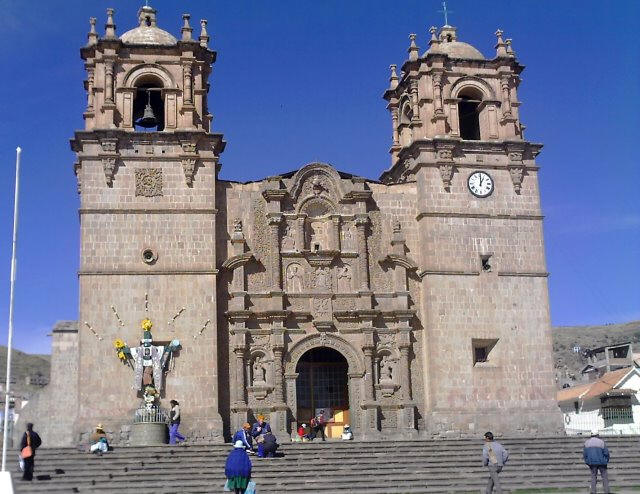 Puno Peru: Puno Cathedral on the Plaza de Armas.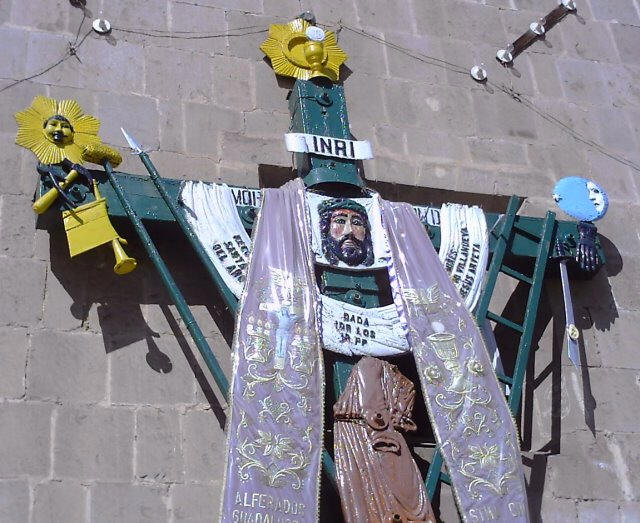 Puno Peru: Puno Cathedral on the Plaza de Armas.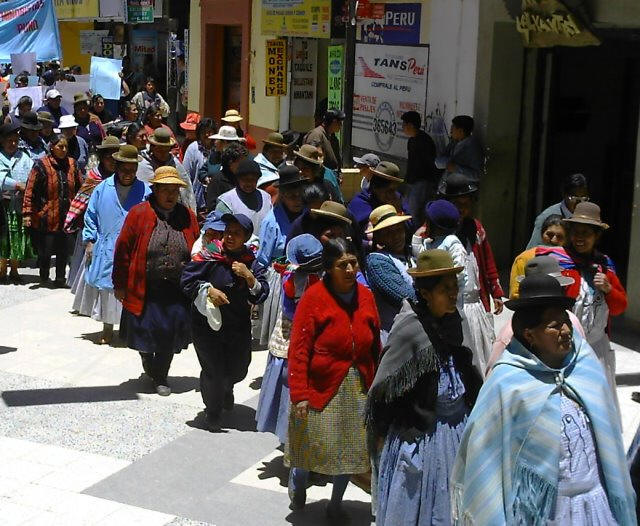 Puno Peru: Protest march to the Plaza de Armas. "Zona Franca por Puno" chants the crowd.

Puno Peru: Protest march to the Plaza de Armas. "Zona Franca por Puno" chants the crowd.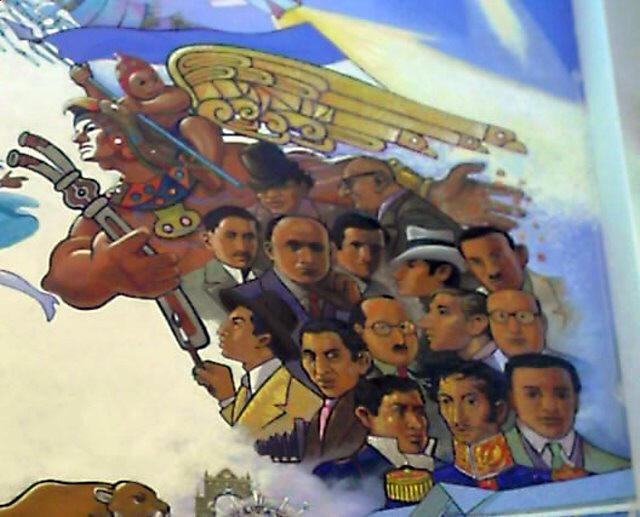 Puno Peru: Detail of a portion of the mural on the wall in city hall.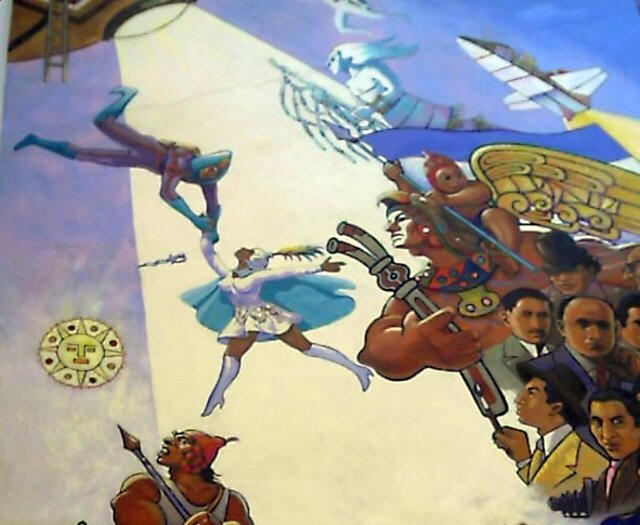 Puno Peru: Detail of a portion of the mural on the wall in city hall.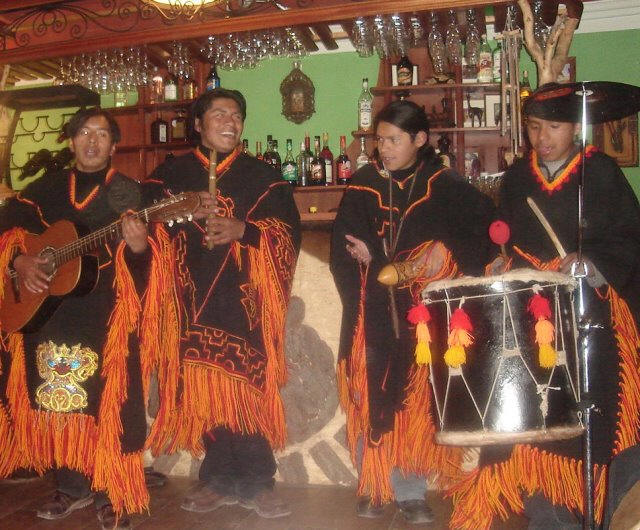 Puno Peru: Dancers entertain a tour group in a restaurant.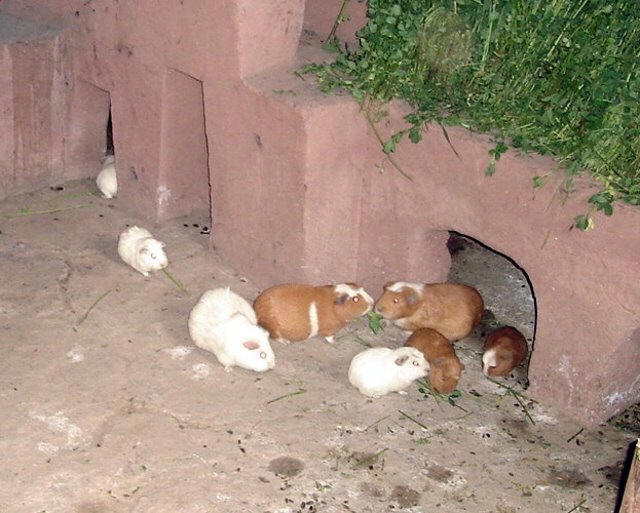 Puno Peru: Lunch. Actually, I did have a guinea pig for lunch one day; there were so many bones and so little meat these little guys will always have a place in science.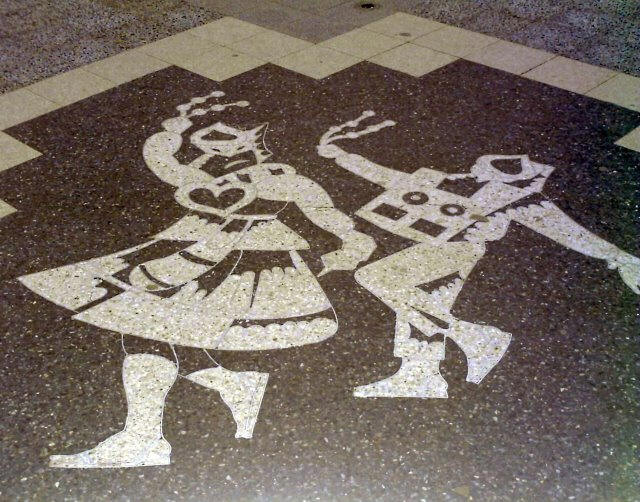 Puno Peru: These attractive tile murals graced the pedestrian mall in Puno.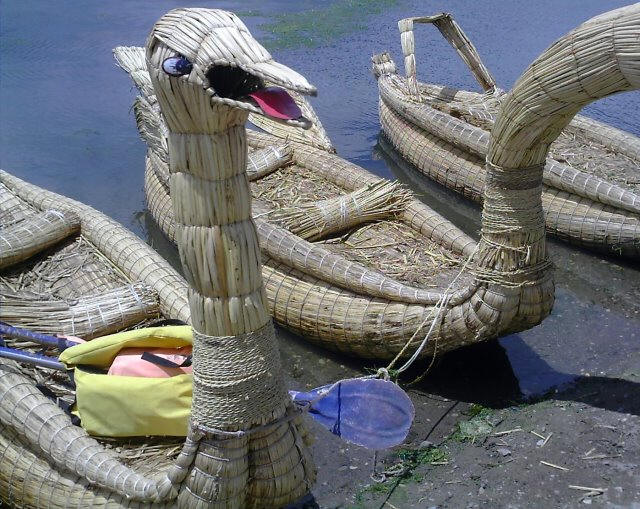 Puno Peru: These boats sat ready for hire in a closed lagoon near the harbor where the island boats waited for passengers.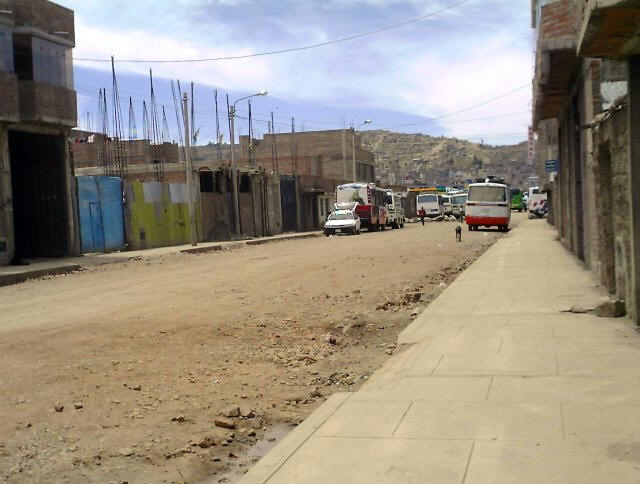 Puno Peru: "Bus station" for long distance travel buses.