Hello from the Panama Canal,
Leaving Orange Walk early by bus I reached the access road for the Belize City airport an hour later that morning. The flight didn't leave until 17:15 so I waited. The flight stops in San Salvador and San Jose Costa Rica stretching the total travel time to eight hours. Panama immigration formalities were simple and quick. I learned that Panamanian Balboas are exchanged one for one for dollars, but imagine my surprise when I selected $200 worth of Balboas and the ATM machine spit out $200 U.S. dollars! That is the only currency I ever saw used in Panama. Panamanian coins parallel their U.S. counterparts and are used interchangeably.
We arrived at the Panama City airport after midnight; all public transport had stopped running. My experience in Tegucigalpa suggested all Intercontinental Hotels might offer an affordable weekend rate... and one of their courtesy vans sat at the curb waiting for arriving passengers with reservations. So, I hitched a ride into town hoping to find a deal at the Intercontinental.
The delightful young receptionist quoted a $150 rate in response to my questions. "And, how about the special weekend rate?" I asked. "That IS the special weekend rate; the regular rate is $200." she replied with a smile. To my next question about more affordable nearby alternatives she pointed me to the Hotel El Panama directly across the way where I negotiated my way down to $85 from the first quoted rack rate of $140.
Looking back on all of my hotel shopping expeditions it is now obvious that less expensive hotels can usually be found in the immediate vicinity of major international five star hotels... and the receptionists at the former are eager to encourage scruffy characters like me to try one of them.
The El Panama is a first class hotel with another full buffet breakfast included... and the business office in the lobby has five Internet terminals for guests at a dollar an hour (the street rate is half that). Located in one of the several city centers, city buses pass the hotel going everywhere. Next to the hotel is a convenient Mc Donald's restaurant, a KFC across the boulevard and a modern Chinese restaurant around the corner.
Better hotels regularly display excellent tasteful art and floral displays in their lobbies. I know because I enjoy taking picture of them. Clothes washed in hotel shampoo smell good... and they dry shiny and easy to manage. Rarely do I use the hotel laundry services.
Panama is a comfortable country and boasts of agreeable weather with no hurricanes or major earthquakes. Many people speak English and enjoy an affluent life style. Real Estate prices are on the rise like everywhere else in the world, but are still at bargain levels compared to California. I see no obvious signs of racial discrimination, though every conceivable ethnicity is represented in the racially mixed population.
A majority of the city buses are decorated with garish paintings and psychedelic designs. Fascinated, I took lots of pictures. They remind me of the decorations on the private buses in Nairobi Kenya (see my Nairobi pictures). My little camera is attracting less attention this time. Of course, Latin America is not Africa or India. The end of the line for many city buses is the central bus terminal which serves both local and long distance transportation. One of the largest shopping malls is attached to this transportation hub. While walking the mall one day I heard a deafening explosion and later realized the metal roof had taken a direct hit from lightening as that event heralded five minutes more of rolling thunder and fifteen minutes of white noise produced by the downpour that followed.
The day I bussed over to the Miraflores Locks on the Panama Canal started off sunny. This is the main location along the canal where tourists may view the canal operations. There are several levels of viewing stands and an excellent gourmet restaurant with prime canal watching tables on the second floor. As the next large ship arrival would not occur for over hour I elected to wait it out in the restaurant. The $24 buffet lunch complete with my medicinal single beer made waiting a joy.
In the interim several small boats carrying tourists on Canal Tours allowed us to see the locks in action. Amazingly, filling and lowering any one of the locks takes less than ten minutes. The ships take ten hours to traverse the entire canal, but with lock operations they can expect to be somewhere in the fifty mile long canal for a full 24 hours. At our location two sets of locks operated independently side-by-side, making it possible to accommodate traffic in both directions at the same time. As the huge container ship approached our location the sky opened up dumping gallons of water in minutes before stopping as abruptly as it had begun.
Spectators out in the open scurried for shelter under one of the viewing stands.
Marsha, a friend in Santa Barbara asked; "What it is like in real time?" Most of the time my days go much the same as being at home, you know: sleep and eat and walk around, frequently pausing to play with the Internet. However, occasionally something out of the ordinary will cross my path and give me an excuse to take photographs and write. I'm afraid if I wrote about the ordinary mundane I'd get fewer wonderful letters from postcard readers and I love hearing tales of happenings back home. In many ways, traveling alone and occasionally contacting folks back home on the Internet is the best of both worlds. I have total freedom to do any crazy thing that comes into my head and still have people with whom to share the adventures. No sane person would join me in this voyage of serendipity... though several have hinted they might until I spelled out the realities of regularly jumping off into black holes.
As in every other adventure I am loosing weight and girth... at least four inches so far. It is so predictable someone really should write a book about The Traveler's Amazing Quick Weight Loss Diet. Eat all you want, carry a twenty-five pound pack between hotels, walk a lot and remove boredom from your life; what could be easier?
The Hurricane Katrina hit the area around New Orleans the day after I arrived in Panama and news of destruction and the horrific aftermath continues to make the TV reports down here. All of the hotels I've used lately have had only Spanish CNN, however. The disaster has been the occasion for my pondering just how near civilization still is to the ages of barbarism. Some big segment of every generation is genetically programmed to take all they can get, anyway they can get it. Hell, maybe we are all programmed that way and only the social institutions keep the majority of us in check. For example, for years I looked for every legal tax loophole and tactic to avoid paying too many taxes. Is taking money through cleverness any less reprehensible than naked looting? Of course we have evolved social contracts that lauds the one and condemns the other, but are they really that much different?
I'm not suggesting everyone should expect to get an equal share of the pie. However, it is an accident of nature that some of us are genetically endowed with traits that make it easier to for us to engage in economically valuable activities while others languish in relative poverty without the intellectual, motivational or physical resources to do otherwise.
I am still fascinated by the possibility that one day we will use our vastly improved knowledge of genetics to identify every infant's performance potentials in order to design custom educational tracks that will maximize it's chances for success. Already we can identify at birth individuals likely to become violently aggressive later in life. A whole catalog of personality traits correlated with genetic markers in the genome is being assembled as I write this. The cost of identifying those markers is approaching the means of average individuals and already could be justified on a national basis were an honest cost-benefit analysis conducted and the political will evolved. Of course, unpredictable social and physical environments will always play a big role in the course of an individuals life, but we have so far greatly underestimated the role our ancestry plays in determining future accomplishment.
I see a day, perhaps 20 years hence when every child will enter school accompanied by an accurate inventory of his/her genetically predetermined strengths and weaknesses... and when every educator will have at least completed courses teaching effective ways for helping children capitalize on their strengths and ameliorating the impact of their weaknesses. What we do now with crude intelligence and aptitude tests is anemic compared to what I believe should soon be possible. How many more Mozart's or Einstein's might be discovered in the dung heaps of our schools?
Shaking hands is the Trojan Horse of social greetings, something that custom encourages us to do to show friendly feelings toward one another, but something that guarantees a frequent transmission of disease causing pathogens! I have been trying to limit this form of social contact with strangers, but it is often so awkward I just go ahead and comply... and then try to find a convenient place to wash my hands. Each time a hand is extended in friendly greeting I seriously consider coughing into my right hand as an excuse for declining the gesture... and as an educational tactic. Who wants to shake hands with a sick person?
A two hour comfortable bus ride took me the sixty miles north to the Atlantic side of the canal and the coastal city of Colon. Colon is an interesting mix of old colonial and early industrial era structures with a pleasant hustle-bustle air of commercial activity. The main section of the city center covers no more than five blocks by four and is easily walked in a half hour. A pleasant park-like median separates the one-way streets running through town. Old folks sat on park benches watching the pedestrians ambling down the sidewalks. I debated shifting my base of operation to Colon for a few days, but the only hotel I could find must have been built about the time of the canal, elegant but dated. At $35 per night it could definitely be considered an authentic Panamanian experience, but I passed on that one.
For three hours I wandered the smelly waterfront looking for rumored fishing boats that carry passengers down to Venezuela... and frequently carry contraband of one kind or another. I didn't find any. At the the luxury cruise ship port I learned love boats never board new passengers during their stops in Panama.
Panama has been slow to complete the Pan American Highway through the Darien Gap jungles in the eastern extremities of the country, citing formidable engineering barriers and political instability along the border with Colombia as the principal reasons. This decision effectively isolates Central America from South America, to the economic detriment of both I suspect. After unsuccessfully searching for either land or sea transport south to one of the northern countries in South America, I gave up and booked a flight to Cali Colombia by way of Bogota.
The pre-flight airport security check again resulted in an unexpected confiscation; this time my little bottle of super glue! I am trying to imagine how would-be hijackers might take over a plane with super glue. Perhaps gluing all the toilet doors closed in the economy section and all but one in the first class section would do it. Hey, those guys in first class paid a lot of money for their privileges! If anyone can think of other original and practical strategies, let me know.
As our 12:30 Avianca Flight 059 MD83 taxied out for take off on its first leg to Cali something didn't seem normal; we were taking way too long to get to the head of the runway and the air conditioning failed to cool the hot passenger cabin. The stewardesses were neglecting strict adherence to pre-flight safety procedures - the passenger in front of me was allowed to continue with his seat reclined and a guy across the isle still had his tray table down. At the point when planes usually power up their engines in preparation for the takeoff run, our plane sat for five minutes with the engines intermittently testing itself. Eventually starting with less than full power and moving way too slowly down the runway, finally veering off and returning to the departure lobby.
In response to my question a member of the cockpit crew said they had detected a problem with one of the landing gears and would need to fix it, a procedure not expected to take more than 20 minutes. Back in the lobby passengers loitered around waiting for the eminent order to re-plane. An hour and a half later announcements told us the problem could not be fixed anytime soon and another plane would be available in a few hours. Those of us with connecting flights hounded the ground personnel and learned everyone would be connected one way or another... or Avianca Airline would put us up in a hotel in Bogota until a satisfactory onward flight could be arranged. My new "satisfactory" connecting flight arrived in Cali at 23:30. With expected immigration formalities and transport into town I could not expect to be at a hotel until well after midnight.
The harassed airline agent holding a handful of new plane reservations for those of us with connecting flights, showed no sympathy for my plight. Instead, with an exasperated expression she informed me that finding ANY replacement flight ended Avianca's obligation to delayed passengers and proceeded to deal with other anxious people. Another Avianca employee listened to my concerns and informed me that passengers facing any kind of hardship as a result of the delayed flight would be given hotel accommodations and meals in Bogota and that I should not worry. Never the less, I prepared myself for a night trying to sleep in a Bogota transit lounge.
Our scheduled 12:30 flight from Panama City airport to Bogota finally took off at 18:20 arriving about 21:00 in Bogota. All of us had to pass through the immigration procedures even if we had immediate connecting flights. The Avianca agents desk had a mob of passengers crowded around it. Fortunately, no arguments were required to reschedule my connecting flight to the next morning and the accommodating agent immediately agreed to getting me into a hotel with some real food as quickly as possible. Three of us facing the same problem waited about a half hour for transportation to an unknown hotel. That unknown hotel turned out to be the Bogota Intercontinental. What a delight! In addition to our more than adequate room, Avianca arranged for anyone who needed to do so to make one international phone call and gave us two hotel meal vouchers. I'll save the rest of the tale for the next postcard from somewhere in Colombia.
Peace,
Fred L Bellomy
PS: All of my postcards are now available on my website. Take a look here. F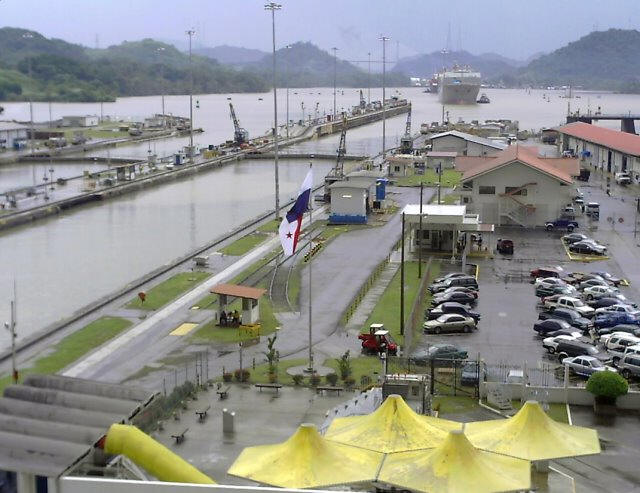 Panama City Panama: At the Miraflores locks on the Panama Canal.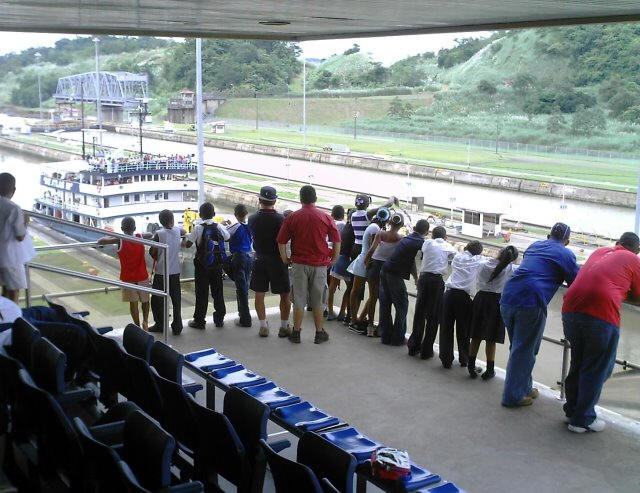 Panama City Panama: At the Miraflores locks on the Panama Canal. Tourists watching the ships rise in the locks for transfer into the next channel.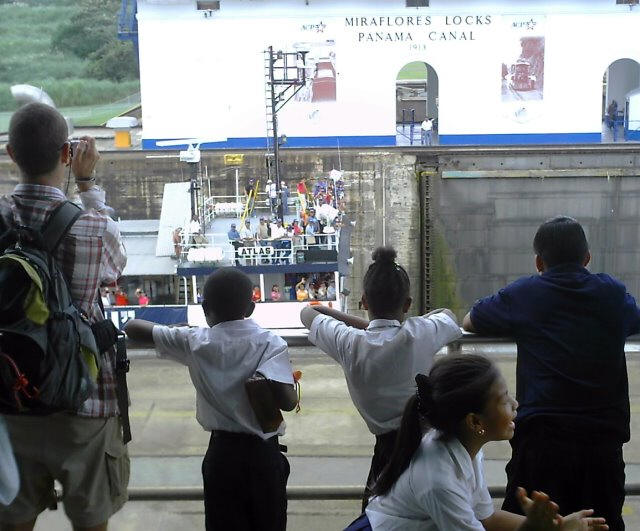 Panama City Panama: At the Miraflores locks on the Panama Canal. Ship passengers and watchers eyeball to eyeball.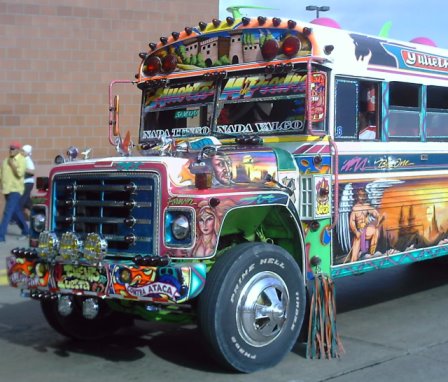 Many private city buses are painted this way.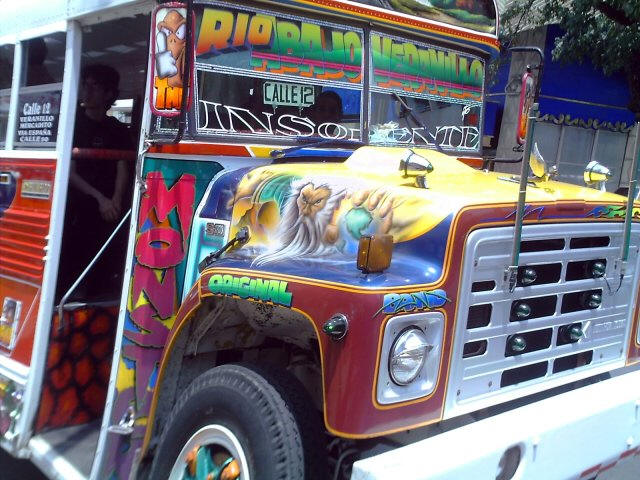 Panama City Panama: Most city buses are painted like this one. #7 All colorful; no two alike.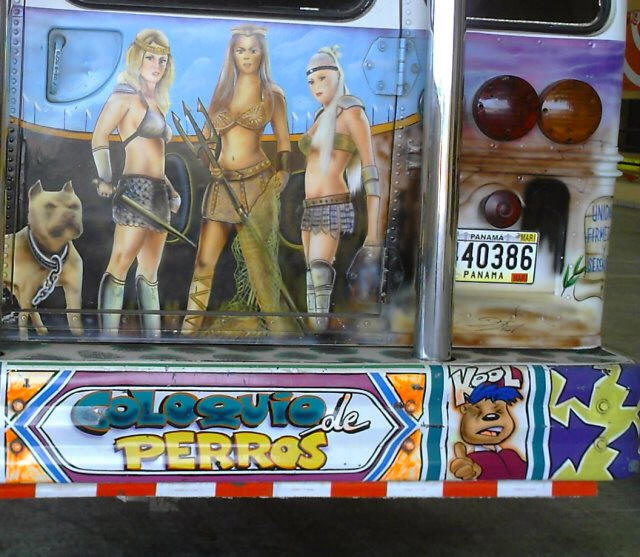 Panama City Panama: Rear of one of the colorfully painted private city buses.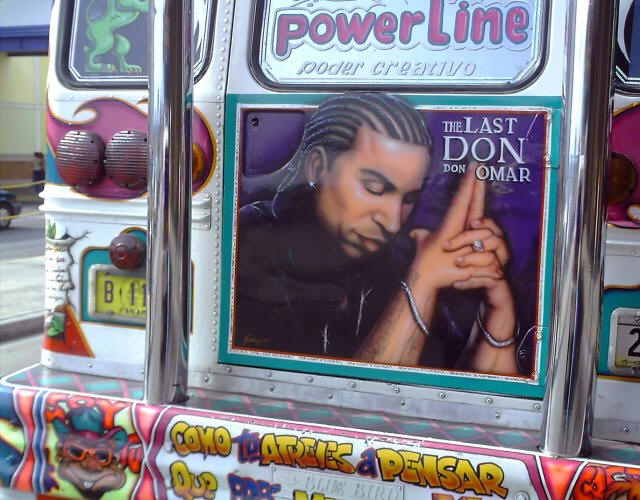 Panama City Panama: Rear of one of the colorfully painted private city buses. This almost looks like a commercial advertisement.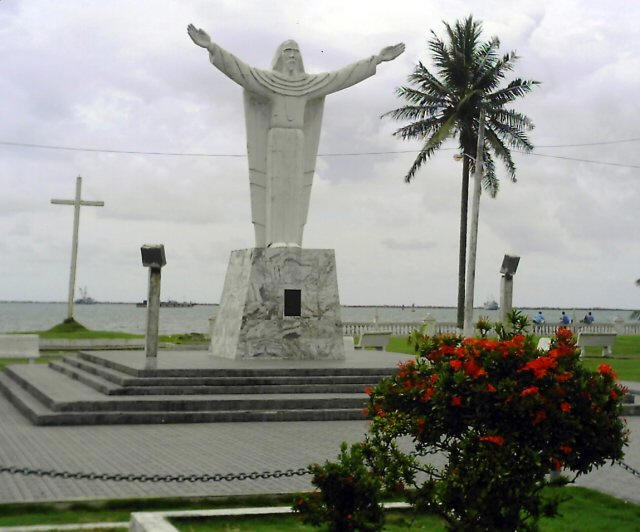 Colon Panama: My long walk through the cluttered area of the old waterfront finally brought me to this better developed area on the water. Many large boats anchored in the adjacent bay waiting for canal passage can be seen in the background.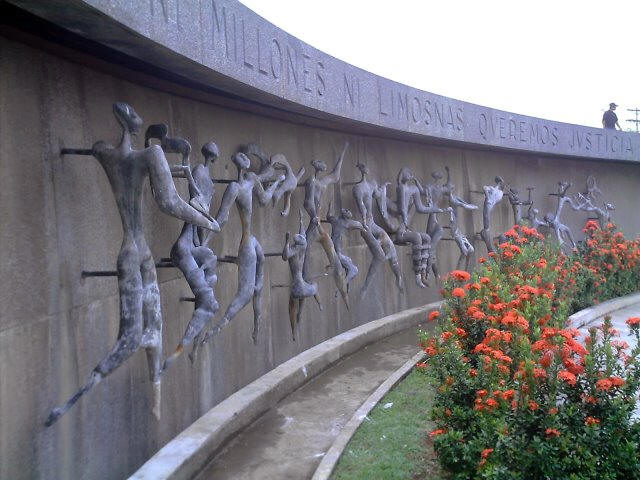 Panama City Panama: Another view of the unique mural opposite the Cinco de Mayo plaza.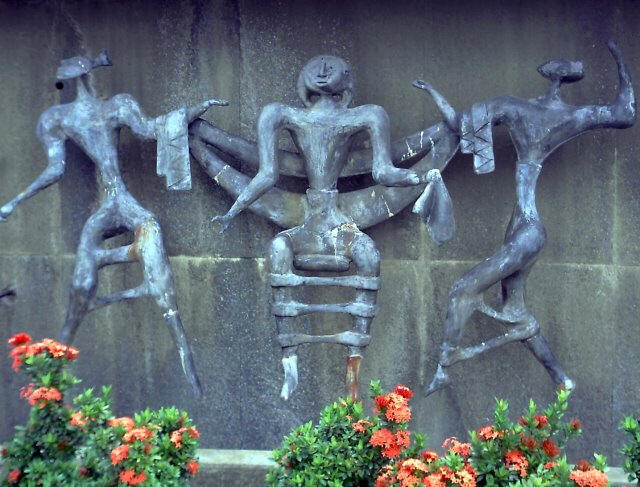 Panama City Panama: Closeup of a portion of the unique mural opposite the Cinco de Mayo plaza.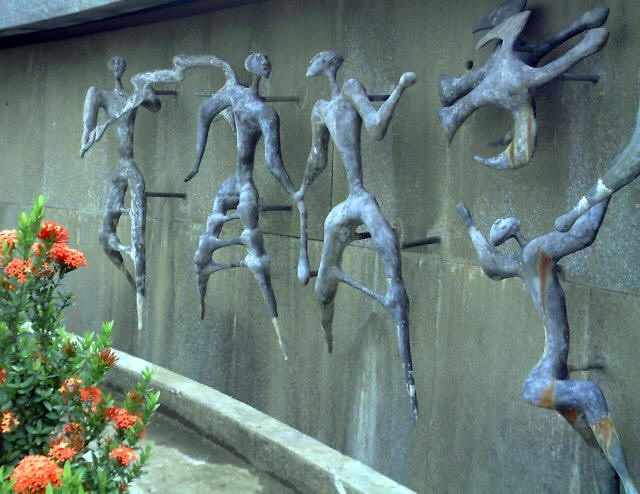 Panama City Panama: Another portion of the unique mural opposite the Cinco de Mayo plaza.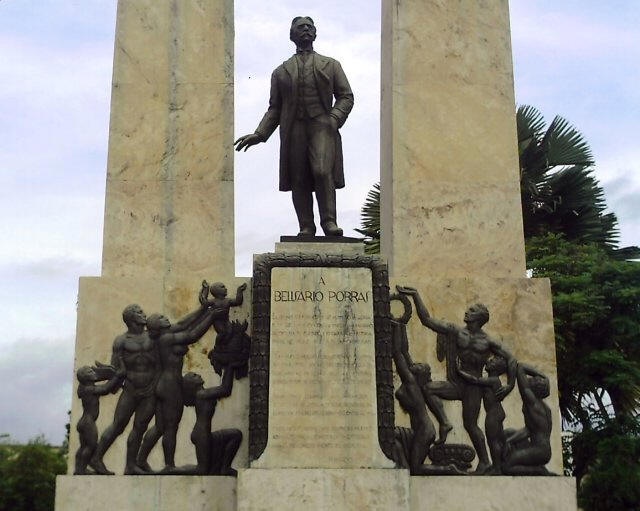 Panama City Panama: Monument honoring Belisario Porras in a park near one of the government buildings.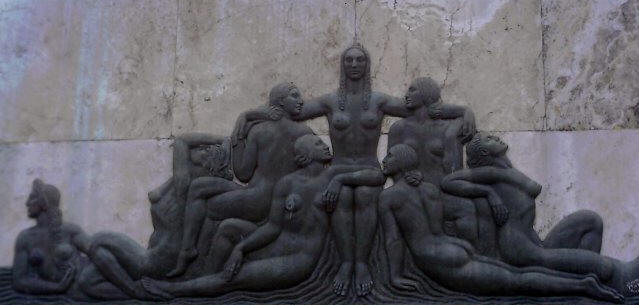 Panama City Panama: Another view of the monument in a park near one of the government buildings. This bas relief looks like a feminine version of Di Vinci's Last supper.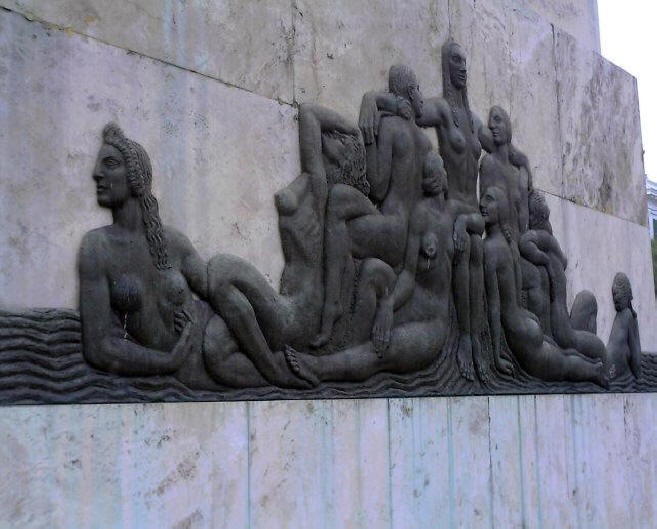 Panama City Panama: Monument in a park near one of the government buildings.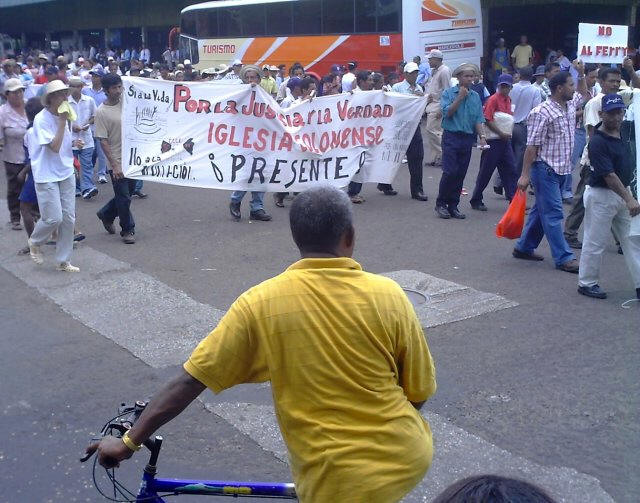 Colon Panama: Approaching the Terminal de Busses I ran into this protest march; not sure what the several hundred marchers were protesting, but I saw many police keeping an eye on the procession.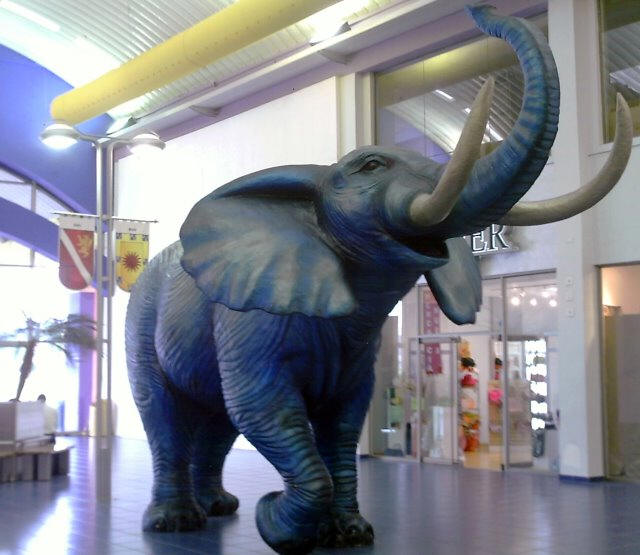 Panama City Panama: The big shopping complex adjacent to the Bus Terminal has many entrances. Each has a life size animal associated with it like this elephant.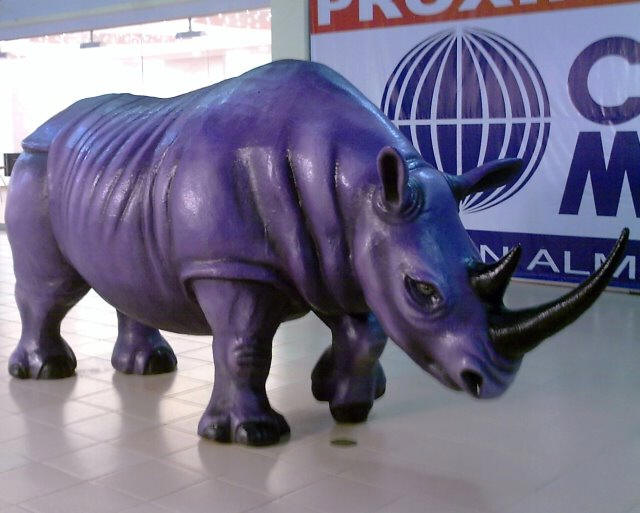 Panama City Panama: The big shopping complex adjacent to the Bus Terminal has many entrances. Each has a life size animal associated with it.